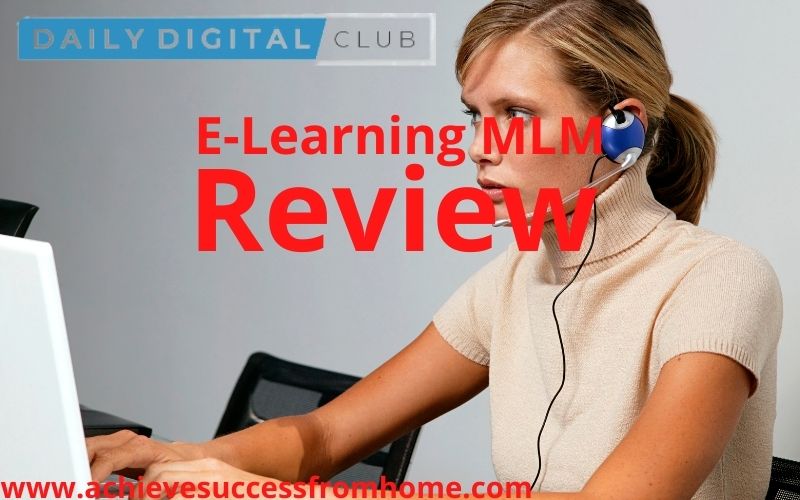 Hey Guys, welcome to my
Daily Digital Club Review
The e-Learning industry is expanding at such a rate it is forecast to exceed $350 billion by the year 2026. That's triple what it was in 2015!
This is noticeable by the number of companies coming on stream but we are seeing multi-level marketing businesses getting in on the act as well which is unusual.
What also is unusual is that DDC is set up as a cash gifting scheme which can be illegal we'll be talking about it a little later.
But, before we get started, we'd like to declare that we are not associated with DDC in any way.
This means that what you will get from us is an honest account of who Daily Digital Club really is.
That way you can decide for yourself whether DDC is right for you or not.
So, if you are wondering whether DDC is a scam or a pyramid scheme then everything will be revealed in the next few minutes.
So, let's get started.
---
[Affiliate Disclosure: This Daily Digital Club Review has been thoroughly researched from information and testimonials that are in the public domain. This post may contain affiliate links which means we may earn a small commission, however, this won't affect what you pay!]
---
Product: Daily Digital Club
Founder: Peter Wolfing
Website: www.dailydigitalclub.com
Product Description: e-Learning MLM
Cost to join: $25, $100, $1000
Recommended: Maybe
Summary: Daily Digital Club or DDC for short is an e-Learning platform operating under the MLM business model.
We don't often see an MLM setup as an e-Learning platform considering there are many platforms like Udemy to consider.
We mentioned that Daily Digital Club has all the traits as a cash gifting scheme which basically means there are no products as such to sell.
Emphasis is all based on recruitment and to become a member you have to be introduced.
On top of that, the founder has a very shady past.
However, if it's a business without having to recruit where the potential is much greater then you might like to check out this link.
Daily Digital Club Review – TOC
What is Daily Digital Club And Who is The Founder?
Daily Digital Club or DDC for short are a multi-level marketing company operating in the e-Learning industry.
An industry that many are turning to because of its simplicity and of course costs.
According to what many, are saying that Daily Digital Club started life in early 2020 but we found that the business is a lot older.
Whilst the domain was registered in 2008 we did find the YouTube channel "TheDailyDigitalClub" where videos are going back to 2010.
Now, that can either mean this had already been used for a previous venture or that the owner had the foresight to look into his crystal ball by 12 years.
We couldn't find the founder of DDC on the website and it took a little digging but what we did find was interesting.
What we have found in the past is that when the business owner is hiding then that's for a reason otherwise why would you?
They don't want to be associated with that business because they have very little faith in it and don't want comebacks.
The founder is Peter Wolfing who comes with a lot of baggage.
The training courses are all based around the make money niche and are disciplines that you would learn as an internet marketer.
Such as email, video and Facebook marketing just to name but a few and these courses can be taught on other platforms much cheaper.
You are obviously paying the monthly premium to become part of the scheme.
But, to become part of the Daily Digital Club, you have to be introduced by an existing member.
So, who is the founder of Daily Digital Club?
The name Peter Wolfing is linked to many systems that don't paint a particularly nice picture.
We found that he was involved with many programs of which most are not active today…
Pay Me Forward – Illegal cash gifting scheme
Turbo Cycler – Illegal cash gifting scheme
Business Toolbox – Pyramid scheme
Unfinity 100 – Illegal cash gifting scheme
Ultimate Cycler – Pyramid scheme
Direct Mail Pro – Pyramid scheme
Ueconomy – Illegal cash gifting scheme
Hand of Heaven – Pyramid scheme
National Wealth Center – Illegal cash gifting scheme
Which have earned him over $100 million in commissions.
He does however still have a business that is still active today and that is called Easy1Up.
It states that he has over 20 years of experience in network marketing and if that was the case then why do these systems always fall by the wayside?
According to Linkedin Peter is also associated with a company called MultiPlex Systems Inc but when we tried to access the website it couldn't be found.
The site that we could access was based in India.
Is Daily Digital Club a Pyramid Scheme?
All information points to Daily Digital Club being a cash-gifting pyramid scheme.
There are no products as such to sell and the only way you can make money through this MLM is by selling the membership.
Just for clarity on what a Pyramid Scheme is…
The consensus is that a company may be declared a pyramid scheme where the affiliates or representatives are paid a commission for recruitment only.
Where there isn't a product or service with an intrinsic value, which is a product or service that is useless and has no meaning.
In most countries this is illegal and in some countries, people go to prison for a very long time, an example would be China.
What normally happens nowadays is that companies hide behind products which makes it all the more difficult for the FTC to prosecute.
Why aren't these MLMs getting closed down?
There are so many MLMs that operate as a pyramid scheme and because there are so many it takes time for the FTC to get their act together.
After all, they only have a limited resource of people to investigate and by the time they get around to doing anything about it.
The company under investigation usually closes down and reopens as some other company probably doing the same thing but using a different name.
You might like to check out this short video…
Daily Digital Club Product Line

The courses that are available can all be found on e-Learning platforms like Udemy from reputable trainers and are much cheaper.
The training that we are listing below are samples of what the Daily Digital Club offer but titles will vary.
List Building Basics
Facebook Marketing Basics
Facebook Ad Basics
Facebook ReMarketing Basics
Product Launch Basics
Product Creation Basics
Bonus Creation Basics
Mobile Marketing Basics
Email Marketing Basics
Banner Marketing Basics
Twitter Basics
Twitter Marketing Basics
Video Marketing Basics
Affiliate Marketing Basics
Facebook Relevance
Split Testing
Timeline Advertising
Web Design
SEO
Hiring and Outsourcing
Email Marketing
Banner Advertising
E-Learning
Affiliate Recruiting
Native Ads
 Daily Digital Club Business Opportunity – What You Need to Know
You are obviously looking at Daily Digital Club as a business opportunity otherwise you would be researching proper e-learning sites.
Here we have a breakdown of what is involved.
How Much Does it Cost to Become a Member?
There are three membership options with $25 being the lowest which will give you limited access to the training modules.
The next level is $100 a month which will give you full access.
There's a one-off payment of $1000 which would cover you for life or until the system closed down.
How to Make Money With Daily Digital Club…
There is only one way you can make money with Daily Digital Club and that is through selling the membership and building a team.
However to really make money you are going to have to build a large team and ensure you teach them how to market and sell the products.
Depending on which membership you join will determine what commissions that you will be entitled to.
For instance, $25 a month will entitle you to only benefit from new members paying for the $25/month membership.
Meaning that if someone joins by paying for the $100/month membership then you are going to miss out.
That would be the same if someone paid the lifetime membership of $1000.
Daily Digital Club Compensation Plan
We have looked at this compensation plan and it is pretty straightforward according to the website, you could earn a ton of money.
Check it out for yourself and see what you think!
Are Daily Digital Club Affiliates Actually Making Money?
Unfortunately, there is no evidence that any Daily Digital Club affiliates are making any money.
Other than that, the videos that you will see on YouTube tend to be from people trying to make a sale and we consider them not trustworthy sources.
If you want to take a look at what the Federal Trade Commission have to say about multi-level marketing in general then feel free to check it out here.
Is Daily Digital Club a SCAM?
Based on Peter Wolfing's past experience with many systems that have failed then most will say that Daily Digital Club is a scam.
But, a scam would be when someone takes your money for a product or service and in return you get nothing.
Now, if you don't manage to recruit anybody and build a team then you won't be getting paid any commissions.
So, could you class DDC as a scam?
We'll leave that for you to come to your own conclusions.
What we Like About Daily Digital Club
There really is nothing we liked about Daily Digital Club and the best way forward would be to create your own online business.
What we Don't Like About Daily Digital Club
Not accredited with the Better Business Bureau and whilst this doesn't mean that the company is doing something underhanded.
It is a place we tend to check first for complaints, but if the company isn't accredited then we need to work on the side of caution.
This is a cash gifting pyramid scheme based on the fact the only way you can make any money is through recruiting others.
There are no products except training courses which you can not sell separately because they come with the membership.
Can you trust the owner and we think you can't, based on the vast number of schemes that he has been involved with which all but one failed.
If it was one or two products we could give them the benefit of the doubt but we are talking about 12 products.
My Daily Digital Club Review – Final Thoughts!
Ok, the only way anybody can make any money with Daily Digital Club is through recruitment.
This is clearly fraudulent and just a matter of time before the FTC gets on their case and investigates.
However, before that happens what you will find is the business closing down, the system will be revamped and given a name change.
Then the whole process will start again.
Cash gifting and pyramid schemes are illegal and will close and Wolfing's past experiences tell us this.
The only way Daily Digital Club can flourish as a business is through recruitment only and once that dries up (which it will) then it will close.
If you are looking for training then seek out reputable trainers on Udemy and forget about trying to make money with DDC.
Can you make money with Daily Digital Club?
Of cause, you can but you have to be either, one of the first introduced at pre-launch who tend to have a big following.
These are the ones who sit firmly at the top of the pyramid.
Or be very good at recruitment and guess what most people just aren't.
This is just another proposed get-rich-quick scheme that isn't going to be around for very long.
If you are looking for a sustainable business with long term success that pays extremely well.
Then we'd love to share with you what we do for a living in the next section.
Is There a Better Alternative?
After spending a couple of years with multi-level marketing businesses and earning absolutely nothing.
We found affiliate marketing to be the best business model and most cost-effective for us.
So if you are interested in creating a passive thriving online business that is responsible for us earning a mid-4-figure monthly income.
Then check out the link below which won't cost you a dime to look at.

Feedback, Comments and Subscribe
We hope you found this Daily Digital Club review helpful and that we addressed most of the questions that you might have.
If you have any questions for us then please add them in the section below and we will get back to you.
Until next time, stay safe