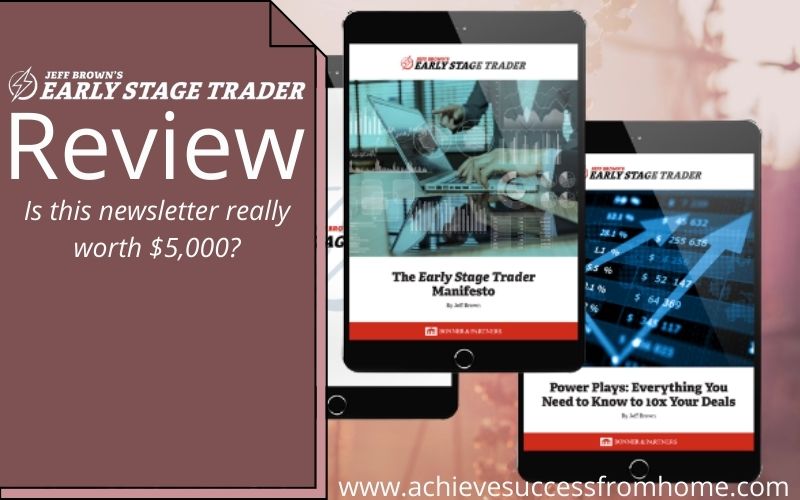 Hey Guys, welcome to the
Early Stage Trader Review
If you are a trader or thinking of becoming one then being privy to stock information early is what you are looking for.
Early Stage Trader is a monthly newsletter that gives you access to such information but it comes at a price that we'll be talking about a little later.
If you are looking for the full lowdown on "Early Stage Trader" then you are definitely in the right place.
Before we get started though, we'd just like to make a disclaimer that we are not affiliated with this newsletter or Jeff Brown in any way.
That means that we aren't getting paid for this review and we won't be trying to sell you anything.
However, we will provide you with all the facts so that you can make a decision on whether to join or research this further.
So let's get started.
---
[Affiliate Disclosure: This Early Stage Trader Review may contain affiliate links which means I may earn a small commission if you purchase anything through one of the links. However, this will not affect what you pay!]
---

Product: Early Stage Trader (newsletter – Brownstone Research)
Founders: Jeff Brown
Website: www.brownstoneresearch.com
Product Description: Tech company trading tips
Cost to join: $5,000
Recommended: No
Summary: All traders are looking for that edge, some information that other traders don't know about.
This newsletter claims to give you early information on tech businesses that are going to do very well moving forward into the future.
Biotech companies are where it's all happening all the time, with breakthroughs in medicine, AI, driverless cars, rocket exploration etc.
The Early Stage Trader is just one of a number of newsletters that are published by Brown Stone Research that offer you such information.

The Early Stage Trader – TOC
What is The Early Stage Trader?
The Early Stage Trader is a monthly newsletter that reports on Biotech companies in the early stages of their development.
These are businesses that according to Jeff Brown are going to explode in the near future.
These are usually startup companies that haven't yet floated on the stock market and the right time to get in is at the very start just like Jeff does.
Jeff Brown who is the editor-in-chief has had many successful returns through the information that he has been able to find in places like Silicon Valley.
He seems to be privy to such information by knowing what is going on in the background.
There are some mixed feelings by some who have purchased this newsletter both positive and negative.
But just because you are given a tip doesn't mean that it is going to be a winner, you still have to do your research first.
Because of the extreme cost of this newsletter, we would advise you to try the freebie first which is "The Bleeding Edge".
Then maybe paying for "the Near Future Report" which can be found as of this review for $49/year which is a great value.
Who is the founder of The Early Stage Trader?
Jeff Brown is the chief editor of The Early Stage Trader and the founder and also the chief investment analyst at Brownstone Research.
Jeff has nearly three decades of experience in tech business stocks and shares his knowledge within these newsletters.
According to Jeff, he discards around 90% of the tech stocks and studies only the 10%.
Over the years he has had a lot of success with tech startups and he claims that he has a win rate of around 96.5%.
However, those wins might only be fractional gains.
These are his long term gains and to give you some idea of the successes that he has had over the years.
Clovis Oncology – 585%
Esperian Therapeutics – 939%
Agios Pharmaceuticals – 741%
Bluebird Bio – 1,008%
Regenxbio – 768%
Anaptys Bio – 4,546%
Newlink Genetics – 793%
Five Prime Therapeutics – 9,125%
MyoKardia – 884%
Blueprint Medicines – 10,032%
All Biotech businesses have made Jeff very wealthy and many traders have subscribed to Jeff's Black Stone Research.
Jeff is known as an Angel Investor which is someone who seeks out startup companies that he predicts are going to do well.
Some of Jeff's winners can be seen in the above list and according to Jeff, he has predicted over 150 companies like this to explode once gone public.
Jeff prides his skills on being able to know if a company is valued just right at the IPO stage because often the stock is inflated.
You might like to check out this video from London Real to get a better feel for who Jeff Brown is…
What do you get with The Early Stage Trader?
What you will get with this newsletter will change all the time because it is a monthly publication so what you see mentioned here will have changed in 4 weeks.
Twelve Monthly Issues
As a subscriber, you will get access to 12 monthly issues which claim to guarantee a minimum of twelve early startup tech deals.
Some of these deals could be real money-spinners going into the future but remember to do your own research first.
Power Plays: What You Need To Know To 10X Your Deals
You will also get a special report that shows you how to make power plays.
How to understand them, how to trade them and how to profit from them.
Early Stage Trader Manifesto
This is a report that explains what to expect from the Early Stage Trader and how it works and how the information is derived.
How Jeff and his team compile and find this information.
Jeff's Model Portfolio
As a member of The Early Stage Trader, you will get access to Jeff's portfolio which shows you what stocks Jeff has had success with.
You will have access to this portfolio 24/7.
You will also have access to "The Bleeding Edge" and "The Near Future Report"
Weekly Updates & Alerts
Any changes that are going to affect the information that you have received will be updated immediately so as not to keep you in the dark.
90 Day Money Back Guarantee
You have 90 days to wade through all the past issues and Jeff's model portfolio.
If in that period you decide that you no longer want to become a member and stop receiving further editions.
You can get a refund, however, it's not in the traditional sense as your refund would be a credit note for you to use elsewhere.
This is a massive big red flag!
I'm sure you will agree after spending $5,000 only to find out that you won't get a full refund is not what you'd expect.
How much does it cost to join The Early Stage Trader? 
Before you even think of considering The Early Stage Trader I would check out first "The Bleeding Edge" which is FREE.
In addition, I would pay for The Near Future Report which you can find for $49/year by clicking the link here.
The Early Stage Trader will cost you as of this review $5,000 and this has to be paid upfront in full.
Another thing to point out is that whilst they say there is a refund, that doesn't appear to be the case well not in the real sense anyway.
You are given a credit note to spend elsewhere on his website.
I don't know about you, but if I was spending that sort of money, there would have to be some sort of get-out clause which is not what you get here.
The Early Stage Trader FAQs
Here's a quick rundown of a few questions that we think you'd be asking yourself first before joining such a program.
Is The Early Stage Trader Worth The Money?
Jeff does have a wealth of information to share however it is a bit of a gamble, to say the least, paying $5,000 and without a refund policy.
We have come across many reviews where people have said that the Early Stage Trader is not worth the money.
They claim that The Near Future Report produces better results.
So personally, we would not purchase such a newsletter unless we were seriously making some real money through his cheaper newsletters.
Can We Pay In Installments?
Unfortunately, the 12-month subscription has to be paid in full.
Is There A Refund Policy?
We have just mentioned that there is a refund policy but not where you'll receive your full money back because you'll receive a credit note.
Which you will have to spend elsewhere within Black Stone Research or through one of their affiliate partners.
Is Jeff Brown Legit?
There are a lot of mixed feelings about Jeff and that his claims can't be verified.
With claims that he was part of a real estate fraud but our findings found that the person involved was Jeremy Brown and not Jeff Brown.
This is clearly stated on the FBI website!
He appears to be in big demand with news media channels and can be found all over YouTube so this is a judgement call you will have to make.
What we do know is that he is very well regarded amongst traders.
Is There A Better Alternative For Making Money Online? 
If it's trading that you are seriously looking at making a career of then you might like to check out…One thing is for certain you won't have to pay $5k.
Is The Early Stage Trader a Scam?
We can't really say that The Early Stage Trader is a scam although many will say that it is.
Especially as the refund now is a credit note to be spent either with Brown Stone Research or one of their affiliate partners.
That seriously does seem like a scam to us!
As part of our research, we found several websites doing the exact same as Jeff Brown up to the point that the websites are almost identical.
www.caseyresearch.com
www.palmbeachgroup.com
www.rogueeconomics.com
www.legacyresearch.com
Legacy Research appears to be the main website with links to all the above sites including Brown Stone Research.
What does that tell us?
Well, we'll leave that up to your own judgement.
One thing we noticed is that all payments appear to go through Bonner & Partners.
Therefore, if you are seriously considering becoming a member of one of Jeff Brown's newsletters then go with The Bleeding Edge first.
Do not jump straight into the Early Stage Trader unless you have a good enough reason.
You might like to take a look at some of the unsatisfied members here.

The Early Stage Trader Pros and Cons
we are at the stage of this review where we compile what we think are the most important things that you really need to know about.
PROS
Jeff is well regarded as the Tech investor to go to:
He manages to be able to get in at the very early stages which is where you really need to be and look at long term investment.
Appears to be on-demand by certain media channels like London Real.
Focused on the tech industry: 
It is the technology that allows us to grow and expand as a race and therefore it makes perfect sense to invest in that particular industry.
CONS
The refund policy is really not a refund policy: 
There is a 90-day refund however what you actually get back is a credit note that you have to spend either on Brown Stone Research.
Or on one of the other affiliate partner websites.
Brown Stone Research is not accredited by the Better Business Bureau.
Here you can find a number of complaints.
The Early Stage Trader Review – Final Thoughts!
Traders are always looking for that piece of information that nobody else knows about.
Researching tech magazines aren't going to give you that edge because everybody is reading the same stuff.
That's where someone like Jeff comes in but spending $5,000 to have access to this privileged information is not for most people.
Most people's budgets will not stretch this far.
If your budget won't stretch and you want to make some Real Money Online?
We have tried various ways to make money online and even trading but to no avail and eventually found a way that's called affiliate marketing.
It is a very straightforward way that many are using to earn mid-4-figures upwards just like we are currently doing.
If you are asking where is the proof, we don't do that because it is so easy to fabricate this information which everybody is doing.
All we will do is provide you with an opportunity and it's up to you whether you pursue this further or not.
If you have a passion for something and would like to make a business out of it then this training platform is one of the best you will come across.
Don't take my word for it, just take a look yourself and it won't cost you a dime and there'll be no credit card details asked for either.
Just how many sites will do this? Not many I can tell you this!

Feedback, Comments and Subscribe
Hope you guys got something out of this review and if there is anything you'd like to add just put it down in the section below.
Thank you for reading and stay safe.