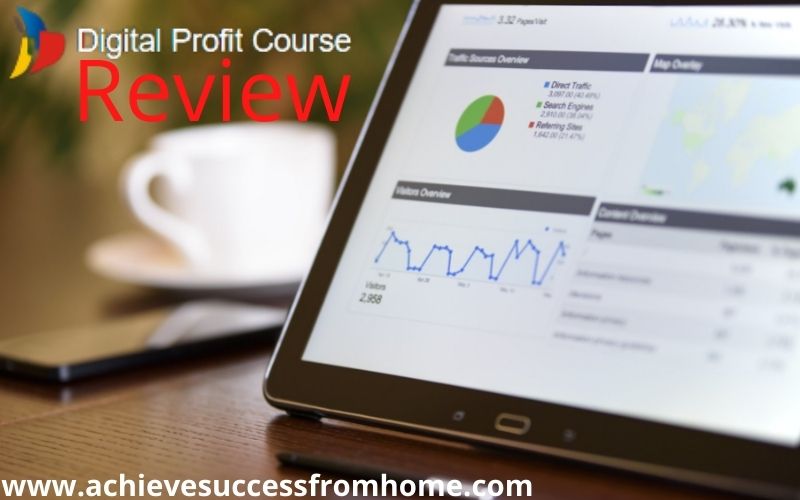 Hey Guys, welcome to the
Digital Profit Course review
A training course where you can learn a very popular and legit way of making money online, affiliate marketing.
There are literally thousands of making money online opportunities but most of them are just dead in the water.
That's why we can't stress enough that thorough research on your part is essential.
To exclude the scams and only find legit make money opportunities that are worth at the very least researching further.
At first glance, the Digital Profit Course looks legit but we noticed that there are some similarities to a training platform we know very well, but more on that later.
Before we get started we'd like to mention that we are not affiliated with Digital Profit Course in any way.
So, what does that mean to you?
It simply means that we will not be pitching or trying to sell you anything, however, we will be giving you the full lowdown on DPC.
That way you can decide on your own merit whether to pursue this opportunity further or not.
With that said, let's get started?
---
[Affiliate Disclosure: This Digital Profit Course Review has been thoroughly researched from information and testimonials that are in the public domain. This post may contain affiliate links which means we may earn a small commission, however, this won't affect what you pay!] 
---
Product: Digital Profit Course
Founder: Service Magic Pvt Ltd is the parent company, Anubhav Jain, Nubhav Jain
Website: www.digitalprofitcourse.com
Product Description: Affiliate marketing training course
Cost to join: 4950 Indian rupees or $68
Recommended: Maybe
Summary: Training courses are everywhere on the internet, some are good, some are OK, some bad and some are really bad.
Now if you are looking for a course like Digital Profit then we can assume that you are a complete beginner in the make money online niche.
Finding the right training platform is essential, not only for your success but to avoid the weeks and months of wasted time.
The Digital Profit Course is a short training program.
That teaches you the basics of how to start an affiliate marketing business but is only open to residents of India.

Digital Profit Course Review – Table of Contents
What is the Digital Profit Course About?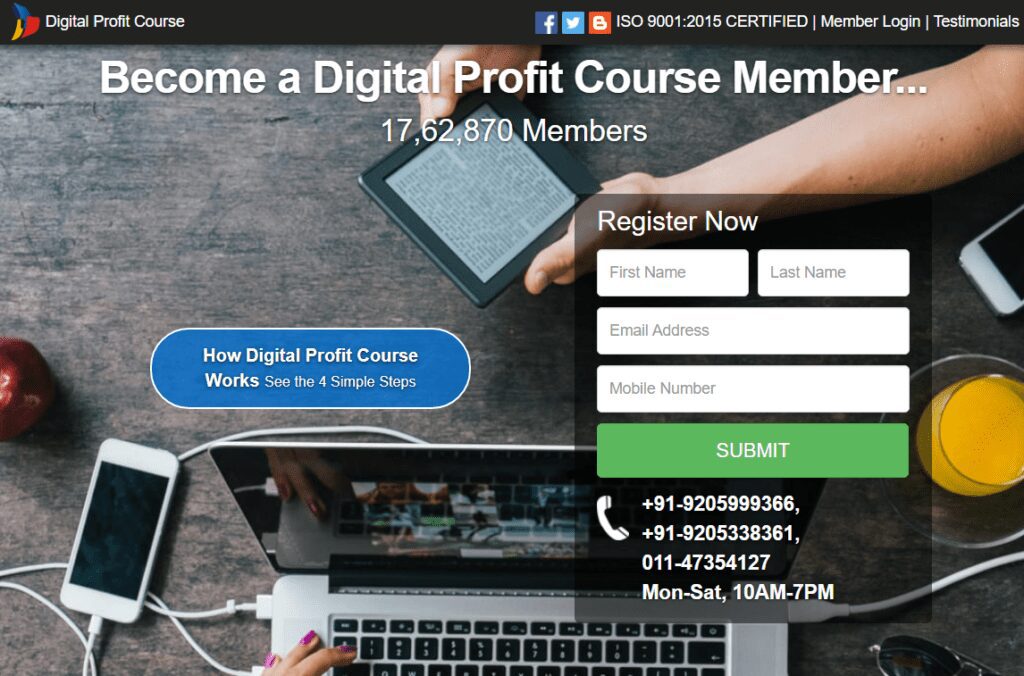 The Digital Profit Course is an intensive 3-month course that teaches you how to become an affiliate marketer, which has been around since 2014.
The course as far as we can see belongs to the parent company Service Magic Info jobs Pvt Ltd which is owned by Anubhav Jain and Nubhav Jain.
So, if you are looking for a work from home opportunity then in theory Digital Profit Course should be able to put you on the right path.
However, what we have found in the past is that a course that only lasts for 3 months is hardly enough time to even get you to first base.
Would require between 3-12 months to start earning with a more realistic time span of between 1-2 years.
This would mean that 3 months (the length of the course) is the critical period for starting to earn as an affiliate marketer.
Once you have finished the course, then there is no recourse, it's assumed that you can go off on your own without further help.
Let me tell you that without help and support the majority of people will not continue with their newfound business venture.
Continuous support is what people need.
Remember I mentioned earlier that there were some similarities, well that is because of the format that they are using.
Looks identical to the training platform that is brought to you by Wealthy Affiliate.
Who are the Founders of the Digital Profit Course?
With very little real information on the Digital Profit Course website, we had to do a bit of digging to find out who was responsible.
We found Service Magic Info Jobs Pvt Ltd to be the parent company which still didn't highlight who the founders were.
However, we did eventually find 2 guys who do appear to be the most likely candidates responsible for DPC.
Those are Anubhav Jain and Nubhav Jain who both were involved with 4 companies together, with two of them, Revglobe Technologies and Atoot Retail Solutions falling by the wayside
The company Vaadi Herbals is a multi-level marketing business in the Heath and Wellness niche and is still active.
What do they teach at Digital Profit Course?
Affiliate marketing is a simple business concept as you can see by the image below.

Those are the 4 steps that you need to follow to build a business as an affiliate marketer.
Choose a niche that is what your business will be about
This could be anything and the most important stage of your business because ideally, it should be something that you are passionate about.
But it must be a niche that is going to be profitable too.
Everybody nowadays in business needs a website and that website will be about your niche.
Bill Gates once said, "if your business isn't on the internet then it won't be in business very long"
Attract prospective customers by writing content that they want to read
You write content about your niche and what people are searching for in the search engines, through keyword research.
By promoting products and services within your content
It's not rocket science and anybody can learn this business model!
However, it is only a 3-month course and our experience tells us that this is not enough time to master the concepts.
We find that after the 3 months are complete that any help and support you had through the course will no longer be available.
Three months is the stage where people tend to give up because things aren't happening quick enough.
Which would mean additional training to get you to where you needed to be.
At Wealthy Affiliate, there is no problem with help and support because it is there in bucket loads.
Who is Digital Profit Course for?
First and foremost this course is only available to residents of India.
Digital Profit Course is for anybody who is looking for a work from home opportunity as an affiliate marketer.
This is not some push-button system or a get rich quick scheme, it's a legit business model that takes a lot of hard work.
The course is aimed at complete beginners who have no previous experience in the make money online niche.
How much does it cost to join Digital Profit Course?
As we mentioned earlier this is a 3-month course that you pay for upfront which will cost you as of this review 4950 Rupees which equates to around $68.
This is a one-off fee with no recurring fees, not like a membership site.
However, you really do not know what you are getting until you actually pay for the course.
This is extremely annoying especially as we are reading about people who are paying upfront only to find out the course isn't as claimed.
But when they try to get a full refund then this is where the problems are.
Digital Profit Course FAQs
Is the course worth the 4950 Rupees?
We don't see any reason to suggest that paying the equivalent of $68 for a 3-month course would not be worth the money you pay.
Even if the course only provided basic information.
If I decide that the course isn't for me, can I get a refund?
There is a 30-day money-back refund available although we are seeing many problems from people trying to claim this.
How long is the course for?
This is a 3-month intensive course and what we don't like about this is once the period is up then that would also mean help and support would go too.
How long will it take before I start making money?
This is a million-dollar question and we have seen people earning within 3 months but realistically you should be looking at 6-12 months.
Ideally, 12-24 months for you to see bigger returns.
The reason why is because it takes time for your website to mature and for Google to trust your site.
Is there a better alternative that you could suggest?
There is a better alternative and that recommendation for us would be Wealthy Affiliate.
This is a training platform that we are still active in because training and support are second to none.
Digital Profit Course Complaints
It is obvious that Digital Profit Course is not the training course that they are claimed to be.
You can see by the numerous negative reviews that many have been misled into thinking this course was something that it isn't.


It is courses like these that lead to bad experiences that stop people from pursuing their dreams and give the rest a bad name.
It's obvious that the owners of Digital Profit Course are just blatantly refusing to pay back people's money and should be ashamed of themselves.
These are just a few reviews of many that you can find online.
Is Digital Profit Course a Scam?
Digital Profit Course could be considered a scam based on the vast number of negative reviews that we are seeing.
Not to mention the fact that they aren't been transparent about the training course and it's only when you pay your money that you really find this out.
The owners were not easy to find and should be there on the website if there is nothing to hide.
It does however teach affiliate marketing which is a legit way of making money online and one that we would recommend to anyone 100%.
This course as we have already mentioned is a copy of Wealthy Affiliate however a very poor copy at that.
In our eyes, a three-month course is not going to be long enough especially as any help and support will end once the 3 months are up.
Whilst the Digital Profit Course may not be a scam it is also a product that we would not recommend.
If you really want to learn affiliate marketing where you get continued support which provides so much more and is free to start, then check out the link below.

What we like about Digital Profit Course
There really wasn't very much that we

liked about the Digital Profit Course other than the 3 things that we have highlighted below.
Normally a course like this would be paid as a membership fee meaning that you would pay on a monthly basis.
This isn't the case here as all it is going to cost you is the equivalent of $68 and that is for a 3-month training course.
Whilst the course is extremely low in price there are still numerous complaints.
The course teaches affiliate marketing which is a legit method:
Affiliate Marketing we believe to be the best way for making money online today and this can be seen by the increase in revenue since 2010.
Each year on it has increased by 10% and it is projected to be around $12 billion business by 2022 and that's only in the USA.
With around 4.8 billion who now have access to the internet, we can only see this industry getting stronger.
The 30-Day Full Money Back Guarantee:
If for any reason you don't like the training then you can get a full refund providing you get your request within 30 days.
Mind you saying that we are seeing many complaints from members saying that they are been ignored and not getting their money back.
What we don't like about the Digital Profit Course
There were more than enough red flags and

if you missed any of them then we have highlighted a few below.
We could have gone overboard but we thought it best to keep them down to a minimum.
Whenever a product, course, or service whatever it may be is not forthcoming with basic information then you should walk away no matter what you think.
Plenty Of Negative Reviews:
We found far too many negative reviews for our liking.
A 3-Month Course Is Not Long Enough:
They claim you will be earning almost immediately which is not true and we can test to that by being an active member of Wealthy Affiliate.
It can take 12 months at least and it's getting harder because more and more people are coming to the internet.
It Has All The Signs Of Ripping Off Another Well Known Site:
Yes, you heard that and the company is Wealthy Affiliate 
By Signing Up For The Course You Are Relenquiching Your Privacy:
Once you are signed up be prepared for constant emails and phone calls which we are seeing through some of the negative reviews.
The Digital Profit Course Review – Final Thoughts!
People eventually get wise to online courses due to bad experiences like many are having with the Digital Profit Course.
It also gives the industry a bad name and stops people from looking for other courses and often means that they could be missing out on legit make money opportunities.
Learning affiliate marketing is a great way to build a passive income and one we would definitely recommend.
It doesn't matter what business it is, it will take time and a lot of hard work but affiliate marketing is the easiest and most cost-effective.
It really is, just check what it costs us on a daily basis here.
Unfortunately, there are too many products claiming to teach affiliate marketing that just does not deliver on their promises.
The digital profit Course is just another one of those!
An Alternative to Digital Profit Course for Making Money Online?
The question normally arises that you can learn anything online for free and this may be true for some things.
But unless you know what you are looking for then how do you know whether the information is legit or not?
We tried to learn affiliate marketing through Youtube and yes we learned something but not enough and that is why finding a mentor is important.
Why reinvent something that is already working?
That is why we decided to find a training platform and the best one we could find was Wealthy Affiliate.
Check it out and see for yourself!

Feedback, Comments and Subscribe
Hope you enjoyed this review and that we managed to answer most of your questions.
If you have any questions for us drop them in the section below and someone will get back to you.
Thank you for stopping by and stay safe!