Welcome to this Color Street Nails review
Hey ladies, if you are looking for a product that will save you a ton of money rather than visiting your nail technician, then this could be it.
It may be that you have seen their marketing campaigns all over social media or even been approached by a Color Street Stylist.
Here you are wanting to know a little more before pursuing this company further.
Maybe even thinking about investing in their business opportunity.
But before you do there are a few things that you need to know first.
We will be disclosing everything about Color Street so that you are in a better position to decide whether this is a good investment or not.
So, in the next few minutes, you will know whether Color Street is a scam or a legit business opportunity.
Then let's get started.
---
[Affiliate Disclosure: This Color Street Nails Review has been thoroughly researched from information and testimonials that are in the public domain. This post may contain affiliate links which means we may earn a small commission, however, this won't affect what you pay!]
---
Color Street Nails Review – Summary
Product: Color Street
Founder: FA Park
Website: www.colorstreet.com
Product Description: Unique nail painting strips MLM
Cost to join: $129
Recommended: Maybe
Summary: Color Street or Color Street Nails is a direct-selling company that manufactures and sells a unique way of doing your nails.
For the entrepreneurial person, there is a business opportunity where you can make some money if you are prepared to work extremely hard.
However, you are going to need to be experienced as a network marketer as the main skill is recruiting.
Color Street Nails – Table Of Contents
What is Color Street Nails About?
Color Street is a multi-level marketing company manufacturing and selling its own unique nail polish strips.
Although the CEO and founder have spent around three decades perfecting this unique way it was in 2017 that the direct-selling business started.
Another thing we love to see is branching out into philanthropy and the charitable organisations that they support.
Since 2018 the Color Street Foundation has donated over $4 million to 54 different charities.
Here's a short video by the founder FA Park…
Who is The Founder of Color Street Nails?
FA Park is the founder and CEO of Color Street.
He came to the US in 1984 to make a career in Opera but whilst attending the music school noticed a woman struggling to paint her nails.
As a result, he invented the first 100% nail polish strip which was to revolutionize the way people painted their nails.
In 1988 he opened his first factory for research and development contracts with some of the major cosmetics companies.
In 2005 he came up with his first private brand and subsequently launched Incoco in 2007 and also managed to secure a contract with Avon.
He brought Color Street to the masses in 2017 to help women build their own online businesses and make some money.
Is Color Street Nails a Pyramid Scheme?
Let's get this straight out of the way first.
Color Street is not a pyramid or Ponzi scheme.
The product is legit and was according to the website the first company to create such a product.
This must have been a godsend to many women out there who struggled to paint their nails the traditional way.
Many people even today label MLMs as pyramid schemes simply because of their income payment structure.
This is incorrect, in fact, the majority of MLMs are legit businesses, it's just the minority that is set out to screw you.
Just for clarity on what a Pyramid Scheme is…
A company that operates in a manner where the affiliates or representatives are paid for recruitment only would be declared illegal.
Sometimes these companies operate where there is some form of training, a product or services in place however they don't have any real value.
It is just a way to hide the fact that they are operating illegally and these companies do get away with it because there are so many doing the same thing.
In most countries this type of behaviour is illegal and some go to prison for many years.
The  Federal Trade Commission has compiled a report on the way MLMs operate which you can read about here.
Why aren't these MLMs getting closed down?
There are so many MLMs that operate as a pyramid scheme and because there are so many it takes time for the FTC to get their act together.
After all, they only have a limited resource of people to investigate and by the time they get around to doing anything about it.
The company under investigation usually closes down and reopens as some other company probably doing the same thing but using a different name.
You might like to check out this short video…
Color Street Nails Products Line
The product range is extensive and unique with currently 114 different types of nail strips, colours and patterns.
The nail strip has three layers, the first layer is tacky so that you can apply the strip to the nail and comes with an overlay and topcoat which is dry.
They average around $13 for a pack of 16 strips so there is plenty left over if you make a mistake.

They come in 9 different categories…
Solid colours
Glitters
French manicure
Glitter designs
Nail art designs
Glitter dipped
Clear nail art
Pedicure
Prism FX
For a look at the full range of products and prices click on the link here.
Color Street Nails Business Opportunity – What you need to know
For the entrepreneurial types, this will be the section that should interest you the most.
How Much Does it Cost to Join Color Street?
Before joining Color Street you will need to find a sponsor and finding the right sponsor will help you to achieve longevity and success.
Your sponsor needs to be experienced especially if you are new to direct selling.
Ideally, they should be prepared to share their knowledge with the team otherwise the stylists will not hang around very long.
So a little research on your part is essential in finding the right sponsor.
Once you have found a Color Street stylist then it will cost you $129 which is for the Starter Kit. which includes…
12 sets of manicure strips
1 set of pedicure strips
72 testers
40 remover pads
100 prep pads
2 large nail files
2 nail buffers
60 min nail files
50 cuticle sticks
25 catalogues
25 opportunity brochures
Road to success booklet
Tote bag
How to Make Money With Color Street
There are 2 main ways to make money with Color Street.
Purchase the products and sell them to family and friends although this method is not going to make you a ton of money.
This method would be more of a hobby and many operate in this manner to start with.
The second method and this is not for everyone is to build a large team by recruiting others and making commissions on what they sell.
The problem here is keeping your team because people tend to leave as quickly as they came.
Color Street Compensation Plan
The compensation plan at Color Street is fairly straightforward and easy to follow.
There are 8 ranking levels and the higher you rank the better bonuses and awards are attained.
Stylist
Senior Stylist
Team Leader
Director
Senior Director
Executive Director
Senior Executive
National Director
You can click on the image below for more details about the compensation plan.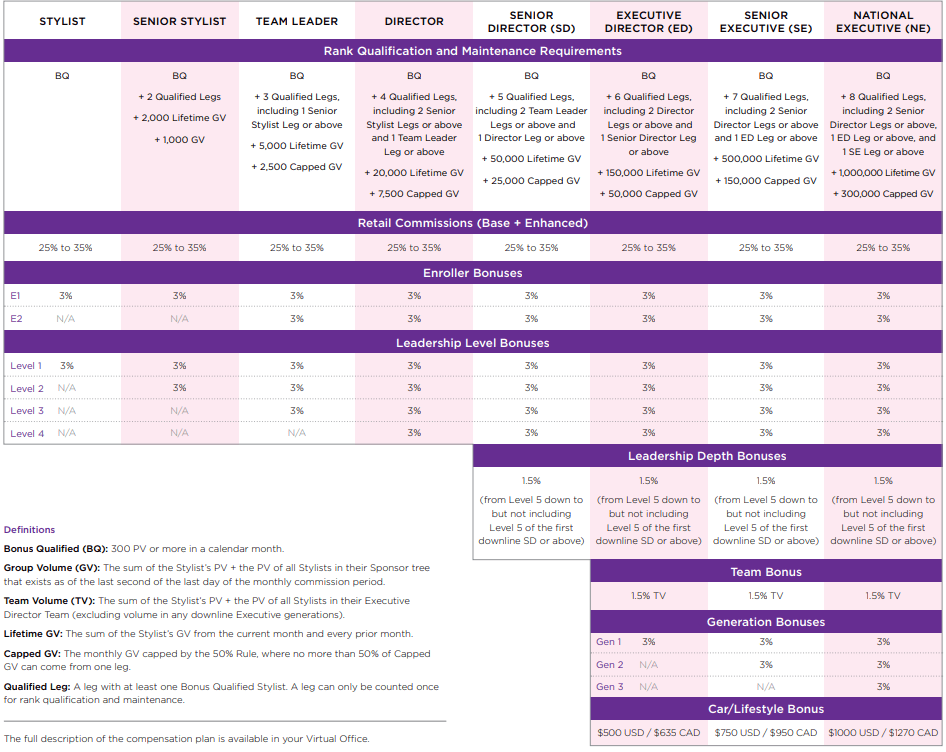 Otherwise, you can watch a Senior Color Street Director explain it in more detail…
Are Color Street Stylists Actually Making Money?
As you can see by the image below this is just typical of all MLMs with 99% where the average annual income is less than $20k.
Certainly not enough to replace a full-time job.
The Federal Trade Commission produced a report on the MLM business model and they confirm what the image states above.
You can read the report here but it doesn't read well.
The funny thing is no matter which Color Street Stylist you talk to they will all tell you that they are doing well.
After all, they are trying to recruit you so no surprises there.
Is Color Street a SCAM?
Color Street is not a scam but a legit business offering a unique way for women to have their nails done.
The nail strips at first glance do look like stickers but we can assure you they aren't and the time to complete the process is negligible.
We believe the products are of good quality which you can see from the feedback from women who apply the strips.
It is always about the business opportunity and how difficult it is to succeed.

What we Like About Color Street Nails
You Don't Have To Handle Stocks:
You heard that right, there are no stocks to handle on your part.
Once a customer has made an order through your personal Color Street website everything is taken care of order from the depot.
That means you can focus on promoting the products and not have to worry about purchasing the products.
This Business Was Unique:
You can find many other companies manufacturing their own similar products which means more competition too.
What we Don't Like About Color Street Nails
Products Are Expensive:
If you compare this product with the standard way of painting your nails the product is a lot more expensive.
Many people will join this type of company because they love the products and have no intention of joining and becoming a Color Street Stylist.
That's great because you can share the products with family and friends but if you are looking for a business opportunity.
Then running something like this no longer becomes a hobby but can take over your life if you are hoping to build a business.
Women Still Love Going to The Nail Technician:
My wife loves having her nails done by someone who knows what they are doing and I think most women are in the same boat.
Restricted To Who Can Purchase The Products:
As of this review, Color Street is only available to residents in the US and Canada
Color Street Nails Review – Final Thoughts!
Color Street had spent a number of years developing its nail paint strips and may well have been the first to bring this type of product to market.
However many other companies with plenty of clout, have manufactured their own so the uniqueness is no longer there.
On a whole, the products are reasonably priced and you don't need to become a stylist to purchase the products which is a good thing.
But if you are hoping to turn this into a business then there is a lot of hard work ahead of you, mind you any business requires plenty of hard work.
If you are looking for a better way to make money online then we'd love to share with you what we do for a living in the next section.
How we Make Passive Income Online?
Affiliate marketing for us is the answer to earning passive income online.
The possibilities are endless and you are not restricted to a particular product or service, not like you are with an MLM company.
You can literally promote and sell any product or service you like.
No recruiting which means no pestering friends and family
No products to purchase or holding of stock
No targets to meet
No conferences to attend
No handling of customer orders
Extremely low startup costs
This is a business that you can call your own
Looking at the last bullet is very important because in an MLM you don't own the business and if the MLM closes you are left with nothing.
The owners even have your customer list to do whatever they want with.
What I'm about to show you is a training platform that can set you up for life if you can follow simple instructions.

Color Street Nails FAQs
How Much Does It Cost To Become A Color Street Stylist?
The starter kit will cost you $129 and comes with various products with a retail value of $250.
It comes with samples, catalogues, 10 full sets and a personal website which will cost you $10 a month with the first 2 months free.
Which Countries Do You Ship To?
Currently, we only are shipping to the US and Canada, however, this may change in the near future.
Where Are The Nail Strips Made?
The nails strips are manufactured and developed in New Jersy, USA
What Are The Nail Strips Made From?
They are made from real nail polish and not from plastic or stickers which you can check on their website.
How Long Do Color Street Nails Last?
Depending on the type of lifestyle they should last for up to 10 days.
 What Do The Nail Strips Look Like When I Come To Do The Manicure?
The strips are around 95% dry which just about gives you enough freedom to move and position them.
Once fitted allow between 15 and 30 minutes for the strips to completely dry before getting your hands wet or applying any lotions.
Does Wearing Color Street Damage Nails?
No, Color Street is basically made from 100% nail polish and the risk of damaging the nail is no different if you were painting them normally.
Is Color Street Sold In Stores?
Color Street Nails can be purchased online and from a stylist and unfortunately, you will be able to find them in stores too.
Do Color Street Nails Peel Off?
With Color Street and the average person with good nail health, there shouldn't be a problem.
But, Color Street is just like regular polish and could peel at times.
Is Color Street Nails Worth Buying?
The company has been operating for a number of years and many women love this type of application.
Color Street nails are a lot easier to do than using normal nail polish.
What Is The Best Selling Color Street Color? 
The top-selling Color Street shade is Tokyo Lights
Is Color Street Toxic?
All the Color Street strips have low levels of Toluene which is safe to use with nail polish.
Furthermore, the Color Street nail strips are partially dry which means any fumes from chemicals would be negligible.
Feedback, Comments and Subscribe
Ok, guys, thank you for reading this Colour Street Nails review and we hope that you have benefited from it.
If there is anything you'd like to add or ask us then feel free to put anything down in the section below.
Until next time, stay safe