Welcome to my Valentus Coffee Review
You are probably here because a friend told you about Valentus and their amazing products but more importantly a way to make some extra money.
Well, I have to commend you for doing your research first before jumping in feet first and possibly making a big mistake.
You can't be too careful today and it is the only way to find legit make-money opportunities.
But just for transparency, we are not associated with Valentus in any way which basically means that we are not getting paid for this review.
It also means that this review will be factual, honest and unbiased.
So if you had questions like, "Is Valentus a pyramid scheme?", "Is Valentus a scam?"
Then don't worry because we have you covered and in the next few minutes you will have your answers plus a lot more.
So with that said, let's continue.
---
[Affiliate Disclosure: This review has been thoroughly researched from information and testimonials that are in the public domain. This post may contain affiliate links which means we may earn a small commission, however, this won't affect what you pay!] 
---
Valentus Coffee – Summary
Product: Valentus
Founder: Dave Jordan
Website: www.valentus.com
Product Description: Nutritional supplement MLM
Cost to join: $20 for the back office
Recommended: Maybe
Best For: Experienced network marketers
Summary: Valentus is a multi-level marketing company manufacturing and selling products in the health and wellness industry.
They also have a way to make some extra money if you like which you could turn into a very lucrative business with some hard work.
But before you do decide to take up their offer of making money through their affiliate program there are some facts you need to know about some of the products.
Valentus MLM – Table of Contents
What is Valentus?
Valentus Inc is currently going through a transition from Valentus Inc to Valentus Global Inc but these are early days.
They were founded in 2014 by its current CEO Dave Jordon.
Their products include dietary supplements and other health-related products, as well as a variety of programs, services and activities to help people achieve their health, wellness and financial goals.
In addition to their products, Valentus is also an active philanthropist and has partnered with numerous organisations to help provide access to healthcare, food and education for those in need.
Through their commitment to helping people improve their health and well-being, Valentus continues to be a leader in the health and wellness industry.
However, there does appear to be an issue where some countries have actually banned some of the products.
Such as Singapore, Denmark, and New Zealand with trading standards in the UK stepping in and closing distribution outlets down.
Related Business Opportunity: Opulence Global
Who is Dave Jordon?
Dave Jordon is the CEO and founder of Valentus with over 2 decades of experience across several direct-selling companies.
Prior to this, he had success in the construction industry until he had a health issue which got him to focus on his health and helping others.
Is Valentus a Pyramid Scheme?
Valentus is not a pyramid scheme and the reason for this.
Is that its independent resellers can make money by just selling the products without having to recruit others into the company.
However, for a company like Valentus to grow and prosper they have to recruit constantly to replace members who end up leaving.
Just for clarity on what a Pyramid Scheme is and what you need to watch out for…
For a company to be declared a through-and-through pyramid scheme it would have to be paying its distributors only for recruiting new members into the company without a product or service to show of.
The FDA or Federal Trade Commission explain this in a document they devised some time ago which you can read here.
You might like to check out this short video…
Related Business Opportunity: Javita Coffee
Success is Rare With Valentus
Success is rare because it is the top .1% who earn all the money with as many as 97% and probably higher that don't make enough money to replace a job.
With as many as 65% that leave within the first 12 months and that is why it is so important for recruiting which is to replace the ones leaving.
Valentus do not even offer an income disclosure statement which is another red flag in our books.
Related Business Opportunity: LiveGood
Valentus Products Line
Before you even contemplate joining an MLM you need to have a grasp on the products and what they offer.
The products come within 4 categories…
Weight management
Nutrition
Skincare
Food
Within those categories, they have a vast range of packs that you can benefit from that vary in price up to as much as $1199.95 for 36 prevail products.
We would suggest heading over to the Valentus website to get a better feel of the products before you decide to join.
Valentus Products Business Opportunity – What You Need To Know
If you are thinking of taking Valentus up on their work-from-home opportunity then this section will be what interests you the most.
How Much Does it Cost to Become a Valentus Affiliate?
There is a one-time fee of $20 which gives you access to the back office.
With a number of packs that you can benefit from…
Basic – $59.95 – 50BV
Starter – $160.95 – 100BV
Advanced – $263.95 – 150BV
Business Builder – $633.95 – 400BV
Career Success – $1319.95 – 800BV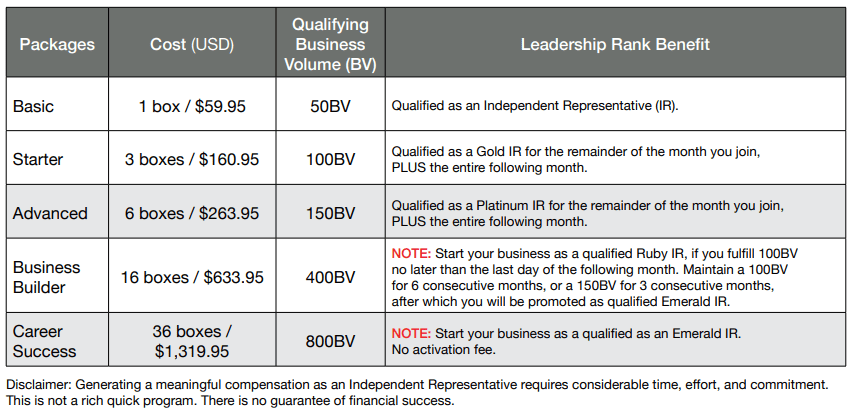 How to Make Money as a Valentus Affiliate
There are 2 main ways to make money as a Valentus independent representative.
Purchase the products yourself at wholesale and sell them retail.
Recruit other people and make commissions of what your team sell as well as what their team members sell.
Obviously, there are various ways you can market the products such as events, social gatherings in pubs and restaurants, and even homes…
Let's Take a Look at The Valentus Compensation Plan
The compensation plan at Valentus is how you make your money which is often complicated and not so easy to understand.
The reason why we don't go into any detail is because of that and they do have a tendency to change at any time.
So here is a plan in pdf format that you can read or else listen to a Valentus Independent Representative explain it in the video below.
Are Valentus Affiliates Actually Making Money?
This is a difficult question to give a true answer to as we normally have to rely on an income disclosure statement of some kind.
This however is not present on the Valentus website.
That said we do know from reviewing many MLMs that they never read well.
If you are looking for confirmation then why not read what the Federal Trade Commission has to say here?
Can You Make Money as a Valentus Affiliate?
It is possible to make money as a Valentus Independent Representative but it is very difficult.
To stay active, you have to find a monthly sales quota (which often means IR's purchasing the products themselves).
As well as building a team of your own so that you make commissions from your team's sales.
This is not often realized until you have already become a member which is too late.
The emphasis is on recruiting which isn't for everyone because you need to be able to take rejection of people saying "NO" all the time.
Is There a Refund Policy With Valentus?
There is a 100% refund policy that works within 90 days of your purchase but to qualify the packaging must be intact and the product not opened.
Strange really when people are more likely to want to try the product first to see if it does what it says on the packaging.
I would be very reluctant to purchase any products from a company with this sort of refund policy and they deduct shipping and handling costs too.
Related Business Opportunity: Velovita
Valentus MLM Review – What Others Have To Say About The Company
Valentus have a 4.5 out of 5 rating on Trustpilot based on 300 reviews which when you break it down works out at around 78% out of 100% rating.
This still means that there is a 21% rating of people giving only 1 star.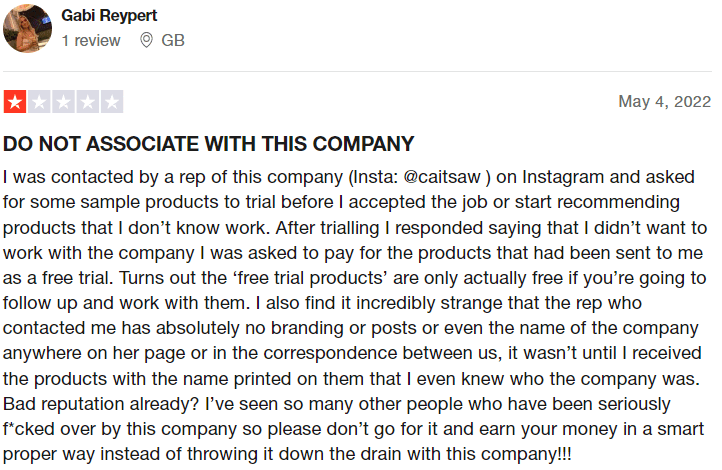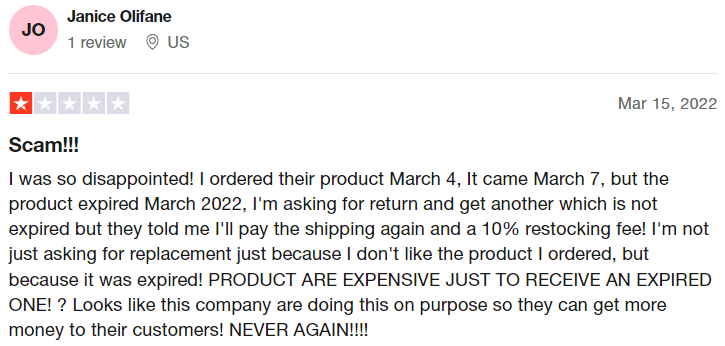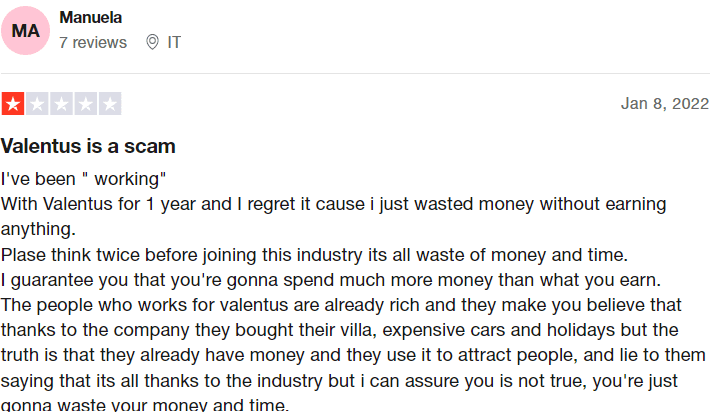 What we did notice which is unusual, is that Valentus didn't even respond to the negative reviews that were given which is not a good sign.
That to us shows a total lack of interest and not caring.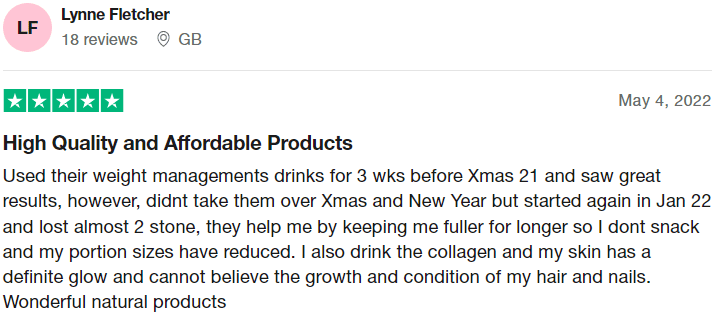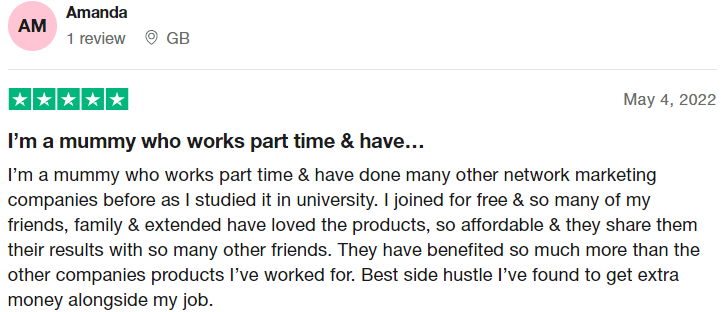 Related Business Opportunity: Veluntus Coffee
Is Valentus a Scam?

Valentus is not a scam because they provide a vast number of products that cover a wide area for your health and well-being that people, in general, seem to love.
They also pay their IRs as they claim they do.
However, there is a lot of negative feedback from people who joined and then left.
Valentus MLM – What We Like!
They have a large range of products that people overall are happy with.
Valentus MLM – What We Don't Like!
Expensive products will make life more difficult to sell because of the competition out there.
There is no income disclosure statement.
Hidden expenses that you will not be aware of when you join.
You have to find the right sponsor who is prepared to teach you what they know and motivate you however, this rarely happens.
Google trends over the last few years as dropped meaning that people are not as interested in Valentus as they were.
Verdict – What We Thought!

It's not that we hate the multi-level marketing industry, we don't because there are many people making a great living from them.
But these are experienced network marketers who know how to recruit, market and sell.
It's that they are unfair for misguiding complete newcomers and giving them false promises.
That's why it is important to be able to recruit and often people get frustrated and desperate and end up telling all sorts of lies just to get someone to sign up.
So, if you want to succeed in an MLM you have to know how to recruit because this is a constant battle.
People will leave by their numbers and you have to keep replacing the ones who leave.
That's why over time and usually between 5 and 10 years the interest in the company drops off meaning fewer people join and eventually the company closes.
We have first-hand knowledge of this so we have some sort of idea of what we are saying and that's why we choose affiliate marketing.
Is Affiliate Marketing The Best Way to Make Money Online Right Now?
Affiliate marketing is a simple concept, where you act as the middle person and connect customers to merchants.
What better way than to build a business about something that you love rather than sell something that you don't?
If you have a passion (and we all have) for anything then let Wealthy Affiliate provide you with all the training to succeed.
Just check out the reviews on Trustpilot.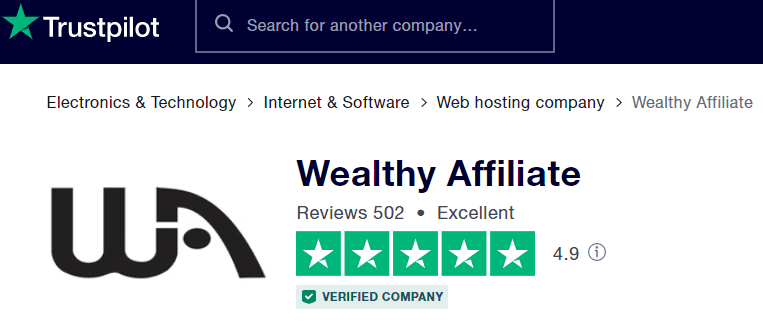 They can provide you with all the training and I'm sure you will agree that the training platform
Education and training, Web development, Hosting your website, and a community that cares and is full of experience on many levels…
Under no obligation, no credit card information is required and no spam!

Valentus Coffee Review- FAQ
Unfortunately, we couldn't find a FAQ section on the Valentus website but we did find people asking a number of questions in the search engines.
How Much Does It Cost To Join Valentus?
There is a $20 one-off fee which gives you access to the back office system plus you will have to purchase a pack which is between $59.95 and $1319.95.
Do Valentus Drinks Replace Meals?
No, these are all functional beverages that are for different purposes which help in weight management.
How Will I Feel With Taking Slimroast?
Each person will react differently but the main changes that you should notice are a suppressed appetite and increased alertness and focus.
If you find that the dosage is too strong then just take half the required portion.
Are Valentus Products Gluten Free?
Yes, and they are also non-GMO, free from chemicals and pesticides and vegan-friendly.
How Can I Receive Valentus Products For Free?
If you are a preferred customer then all you have to do is get 2 customers to sign up for the monthly loyalty purchase and you will get your next order free.
I Understand That Some Of The Products Are Banned In Some Countries?
Yes, and that is down to some of the used ingredients that don't comply with certain country health and safety regulations.
As far as we can see this applies to Singapore, Denmark, New Zealand and the UK.
Are The Products Approved By The FDA?
No, they aren't but then again you will find this with all MLMs.
Feedback, Comments and Subscribe
Well, here we are at the end of this Valentus Coffee review and hope we managed to answer some of your questions.
If you have anything to add then please add any comments down below and we will get back to you at our earliest convenience,
Thank you for being so patient, until next time, stay safe!