Hi, I'm Mick and welcome to this
OfferNation Review
If you are looking for a way to make money online then you are definitely in the right place.
You might have seen or even tried one of OfferNations sister sites, RewardingWays or SuperPayMe and if you have then you will know they are not too dissimilar.
Before we get started we'd just like to mention that we are not associated with Offer Nation in any way and we won't be pitching or selling you anything.
We will however be making some recommendations which we hope you will appreciate.
So, rest assured, we will be giving you an honest account of who Offer Nation is and give you all the facts so that you can decide whether to join or not.
So let's get started.
---
[Affiliate Disclosure: This post may contain affiliate links which means I may earn a small commission if you purchase anything through one of the links. However, this will not affect what you pay!]
---

Product: Offer Nation
Founder: 99 Ventures Limited
Product Description: GPT or Get-Paid-to site
Website: www.offernation.com
Price of product: Free to join
Recommended: No
Summary:  Finding legit make money opportunities can be difficult especially when you have just started to look for ways to make money online.
You often don't know which way to turn.
If you are new to this then take it from me that most of the make money opportunities are just not worth looking at.
That's why it's a breath of fresh air when we can at least find something that may be worth your attention or at least further research.
If doing online surveys is something that you enjoy then because you will only earn a few bucks.
We always suggest joining one or two of these sites, that way you're earning potential increases somewhat.
You already have SuperPayMe and RewardingWays but you might like to add Prize Rebel and Idle Empire into the mix too.
However, if you are looking for a way to leave those surveys behind and earn some real money then you might like to take a look at the link below.

---
If you are sick and tired of SCAMS, Pyramid schemes, MLMs, recruiting, having to purchase stocks, haggling family, friends and customers. Looking for a proven method of making money online, then check out my #1 recommendation. 
---
Internal Summary and Navigation
---
What is OfferNation about and who are the Founders?
OfferNation is a GPT or get-paid-to-click site that has been around since 2013 although the domain was registered in 2007 and this can be found on "who is".
We are not sure what happened in the 6 six years but they probably found the right domain name and just bought it until they decided what to do.
They are a free site like all of these GPT sites are and they offer ways to earn money through doing simple tasks like surveys, watching videos, playing games etc
Offernation alone has 152973 members and has paid out $1,695,370.
They belong to the market research company 99 Ventures Limited along with SuperPayMe and RewardingWays ( with another addition coming soon) and are based in the UK.
A quick look at the websites and you can see that they are almost identical.
According to 99 Ventures, they have paid out $8 million to its members.
Its 2 sister companies, SuperPayMe and RewardingWays have a good following and good ratings on the review sites.
So, we aren't expecting too much negativity in this review, but all the same, we need to address what is on offer.
---
How does OfferNation

W

ork?

According to the website it only takes about 60 seconds to join.
Just a few personal details to add along with your payment methods, which can be PayPal, Skrill or Bitcoin.
But, if you don't have any just add "None" in the appropriate fields and you can add them at a later date.
There is no email activation so once you have been accepted you are straight into the member's dashboard with a signup bonus of $0.25.
At first glance, you will see there is a lot going on and it will take a while to get familiar with the site.
OfferNation use both a points system and a straight cash equivalent
1 point = $0.01 or 1 cent
100 points = $
Taking Surveys
One thing is for sure and there is no shortage of the number of surveys available to you.
Just by clicking on the surveys tab will show you surveys that are local to OfferNation, in other words, their own surveys.
[The list of surveys can be sorted so that you are seeing the highest paid ones first, which is useful]
One thing that they don't make clear with OfferNations own surveys is how long they will take you to complete.
As for the other survey providers which as of this review are, 12 in the dropdown list and most are from 3rd party providers which means you will be re-directed to their sites.
That means you will be paid by the 3rd party survey provider.
Promo Codes
From time to time Offer Nation posts promotional codes on their social media accounts, such as Twitter, Facebook and Instagram.
These codes are not posted too often so I wouldn't spend much time looking because the most you will be able to make with these codes is around $0.20.
They do, however, send out emails sometimes to inform you of additional ways that you can earn a few cents.
Sign up for offers
On the "Offer Wall" tab you can find many other ways to earn from which you are generally rewarded by way of points that you will have to convert at a later date.
Here you can find additional surveys which don't pay as much as the actual 3rd party providers.
You can sign up for trial offers, like using Amazon Prime, free for the first 30 days and for these you are required to give them your card details.
There are many like this but remember if you have only joined for the trial period to cancel your subscription before the period expires.
Otherwise, it will end up costing you money.
There are many other ways, like watching videos, testing products, playing games, install apps, clicking on websites, the list just goes on.
Contests
OfferNation like their sister sites RewardingWays and SuperPayMe run 4 main contests over the year for their highest-paid earners.
Which are paid to the top 20 with a first-place claiming $350, followed by $200 for second and $100 for third.
The rest so that's 4th place to 20th will get $50 each.
That's not bad as you are already taking part in surveys and over tasks but there are some really dedicated people on this site who spend an awful lot of time so you are going to have to bring your A-game to the table.
There are other contests that you can find on the website but this is something that you are going to have to check out yourself.
As you can see in the image below which comes from RevenueWall surveys.
Referring others to join
There is a referral program this is available to all its member's where you can invite people to join OfferNation.
As of this review, the commission rate is 25% which is pretty good when we are talking about GPT sites.
This is for life or until your referral leaves OfferNation which means for every $10 that your referral makes you will receive $2.50.
Introduce 100 people and they all earn $10/week.
That is $1000 a week of which you would get $250 and over a month this would be $1000.
That's not bad for doing nothing except for sharing your affiliate link.
Having said that it is not as easy as it may seem unless you have a big following on social media or you know how to create marketing campaigns to introduce people.
If you can learn how to do this then this could be better than doing surveys.
How you get paid
There are 2 balances at OfferNation, one for cash and the other for points of which you can convert if you need to.
There are currently 4 methods you could use…
PayPal, minimum withdrawal is $1
Payza, minimum withdrawal is $1
Skrill, minimum withdrawal is $5
Bitcoin, minimum withdrawal is $200
I guess then based on those methods that PayPal would be the method of choice.
There are also Amazon gift cards that you might prefer to use.
I know many of you would like to accumulate a decent balance before withdrawing but we would suggest not doing that.
The reason for this is that we have seen many people (not necessarily OfferNation members) ended up having their accounts closed, which meant that they lost whatever balance they had at the time.
---
How much can you make with OfferNation?
You can see that people are earning with OfferNation by looking at the payment proofs.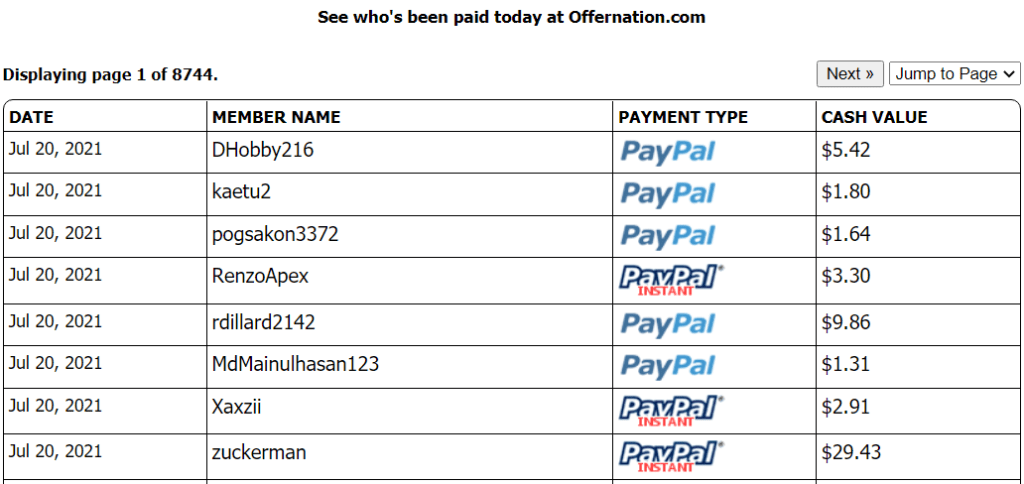 Just how much you can earn is all down to how much dedication you are prepared to devote to this survey platform.
If you look at what some people are earning with OfferNation I can tell you that some members must spend every waking hour doing surveys.
At the end of the day, the potential is there at OfferNation but be prepared to spend a lot of time especially if you want to be in the top 20.
I know for a fact that I have never been anywhere near what OfferNation are claiming some of their members are making.
In fact, we have to bring into question whether these figures are overly inflated just to get others to join but that is our opinion.
---
Who is OfferNation

 F

or?
Offer Nation is available globally and whilst it is, some countries are always going to do better than some others.
For instance, somebody coming from the US is going to have access to more surveys and tasks than somebody in France.
Something to be aware of is if you are registered in your country of residence and decide to go on holiday and carry on doing surveys.
This could be flagged up and your account might well be terminated.
---
What we liked about OfferNation
There are many ways that you can

earn few bucks on OfferNation and here we have a few positive things that we liked which we have managed to highlight below.
There are many ways to make money and not just through surveys although that is the main way of earning with OfferNation.
Available globally and whilst it is some countries are going to still find that the number of surveys and tasks available are not going to be as much as like the US or the UK.
A very low threshold which at $1 shouldn't take you very long to achieve.
Offer Nation is basically a duplication of its sister sites but that shouldn't be an issue because if a formula works then you stick with it, right?
There are no restrictions like if you joined RewardingWays that you can't join OfferNation.
Quite the opposite in fact, if you are earning with RewardingWays then you want to join OfferNation and SuperPayMe.
Many positive reviews that you can find on social media and review sites like Trustpilot and Reviews.io.
---
What we don't like about OfferNation
Offer Nation does appear to be one of the

better GPT sites and all you have to do is read the reviews from RewardingWays and SuperPayMe to see that.
Some of the tasks are just not worth your time for the amount of reward you get back, but you will notice this after a while and know which to go for and which do not.
Failure to qualify for surveys is always a problem with these online surveys but that is down to your demographics and something that you have to live with.
Getting disqualified from surveys when you have already been deemed qualified.
This can be very frustrating because it can happen at any time after you have started taking the survey and even after 20 minutes when you think that you have complete it.
The way to help avoid such things is to not rush, be honest and remember what you answered in earlier questions because some of the questions are there to catch you out and see if you are paying attention.
---
Is OfferNation

a SCAM or is OfferNation LEGIT?
OfferNation is definitely not a scam but a legit way to make money online.
Just looking at the positive feedback that you can find on the various review sites will tell you this.
However, whilst you can and will make money with OfferNation the amount that you will earn is going to be on the low side.
If you want to make some real money then you will have to focus your attention on other areas.
Something like affiliate marketing which we recommend at least looking into.
---
OfferNation Review

: Final Thoughts!
If you are looking for a little help and a way to earn a few bucks then by all means give online surveys ago but don't expect this to be a career change.
We know just how much time online surveys can take up along with the frustration of getting disqualified time and again.
---
How we make a Living Online
We aren't a big fan of paid online surveys, simply because of the amount of time that you have to dedicate for little reward.
We realize, however, that these sites offer a service and can help out people to some degree.
We mentioned earlier that Opinion City works within the confines of the affiliate marketing business model.
Which is how this website that you are currently on works and if you'd like to know what this entails then you can take a look here.
It's a very cost-effective way of building a very lucrative online business and you can take a look how many are benefiting from this training here.
The costs are minimal which you can see by looking here
Take a hobby, interest and turn it into a thriving business
No stocks to purchase because you don't own any
No order processing
No delivery of stocks
No handling of returns
No marketing costs because you will be learning a FREE method
It's free to join with no credit card details
We know this isn't for everyone but take a look and see what you think. Who knows this just might be what you have been looking for.

---
Feedback, Comments and Subscribe
Hope this OfferNation review helped and answered most of your questions.
However, if there is anything you'd like to add then feel free to put your questions below and we will get back to you.
Until next time, stay safe!