Welcome to What is Freemote
The internet is just teeming with make-money

opportunities but the problem is that most of them are just not worth your time.
That's why we created this website to help people like you find the right opportunity and avoid the vast number of scams that are out there.
If you are looking for the full lowdown on what Freemote is then you are definitely in the right place.
This is an area, where I have plenty of experience both with courses and a number of years of freelancing.
So, what do we know about Freemote? Well, we are going to cross that hurdle in a moment!
But, before we get started, we'd just like to highlight the fact that we aren't associated with Freemote in any way.
This means we will be giving you an honest unbiased review, that way you can decide whether this course is for you or not.
In the next few minutes, you will know all there is to know about Freemote so let's see what this has to offer.
---
[Affiliate Disclosure: This Freemote Review has been thoroughly researched from information and testimonials that are in the public domain. This post may contain affiliate links which means we may earn a small commission, however, this won't affect what you pay!]
---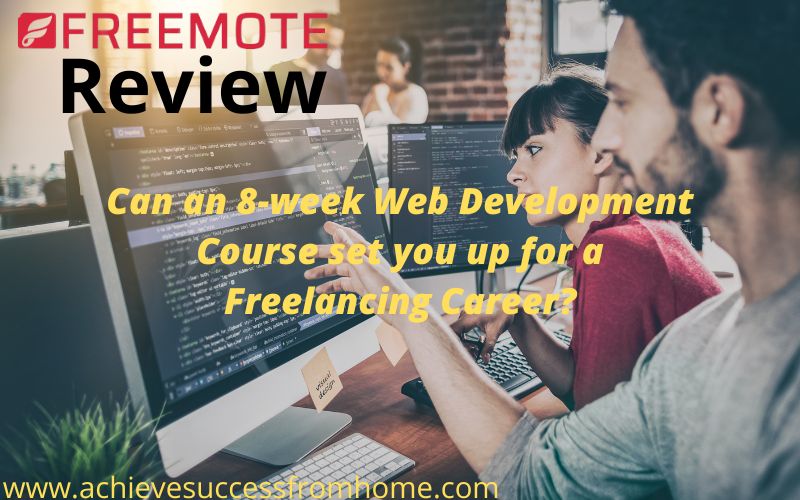 Product:
Freemote
Founders: Aaron Jack and Jan Frey
Website: www.freemote.com
Product Description: An 8 week software development course based around eCommerce and Shopify.
Cost to join: $1,997
Recommended: Maybe
Summary: Many people are turning to the internet not just for making money opportunities but to retrain.
Whether this is to improve their career prospects in their current job or to learn something entirely different.
This can be seen by the number of e-training sites that are coming on stream.
If you are looking for a career in web development then this course could be just what you have been looking for.
Mind you coming from a software development background of 30 years this is not as easy as they are making out, especially if you are a complete beginner.
Even someone who comes from a similar background in development would still take a considerable amount of time to become proficient.
They talk about being able to go freelance and earn as much as $150/hour and this may be the case a few years down the road.
Let me tell you something, freelance is not as straightforward as they make it seem and would require a number of years of experience.
Let's put it another way, if you were hiring someone, would you hire a person who had just completed a 8-week course?
Most probably not!
A better solution: You might however like to ease back on the spending and learn affiliate marketing where the money is much better.
If that interests you then take a look at the link below.
Freemote Review – Table Of Contents
What is Freemote About And Who Are The Founders?
Freemote as we have briefly mentioned is a software training course founded by Aaron Jack and Jan Frey in 2019.
The course is 8 weeks long and claims the course is for beginners as well as experienced software developers.
They however talk about having a fantastic career as a freelance web developer in as little as 8 weeks.
Maybe for someone who already comes from a software background but certainly not for a complete beginner.
It took me 6 years before I had the experience and confidence to go freelance.
So who is Aaron Jack and Jan Frey?
They both have a few years of experience in web development with a number of years as freelancers and offer to share their skills with anybody who is willing to pay their dues.
Jan Frey comes from a development background and has honed his skills in the eCommerce platform Shopify which is what this course is based around.
Aaron I see has a popular Youtube channel with over 250k subscribers where you can find a lot of free stuff there.
If you are considering this course then shoot over to Aaron's YouTube channel and check him out first.
How Does Freemote Work?
The course was originally spread across 7 weeks and now it's been extended to 8 weeks.
It's just a basic 8-week course that according to the course founders will turn you into a competent web developer and move into freelancing in that time.
Courses only ever give you the basics and the projects they allow you to work on in the course are test projects and not in a live situation.
Let me tell you this would not be possible and would require additional training besides.
Not to mention experience which is what clients will be looking for before you even got through the door.
If you told the client that you'd just completed an 8-week course they would laugh at you and send you straight back through the door you came in.
The reason why the rates can be so high is that clients are looking to hire experts in a particular field.
There are claims that some of the students have even managed to secure $65/hour within 1 month of the course with zero knowledge.
Even someone who has tripled his yearly income to $75k in the same amount of time.
If you think that you could get employed for $150/hour which incidentally is $1200 a day then go for it but the course founders are just trying to pull the wool over your eyes.
Those rates are for someone with 5-10 years of experience, not someone coming off an 8-week course.
The course should give you an understanding of certain fundamentals but something like learning JavaScript is massive and would take time.
What You Get With Freemote
The training course is spread across 8 weeks and covers training in various web development skills like HTML, CSS, JavaScript programming language along with Shopify development although it doesn't go into any great details here.
This is a crash course and therefore would appeal to software developers coming with a considerable amount of experience because they would be able to adapt a lot quicker.
There are around 26 hours of training videos which are split into 165 lessons. So really what you are getting is just over 1 day of training!
Here's a summary of what you can expect.
Week #1 – HTML and CSS Basics
This course covers both the basics and advanced HTML and CSS.
However, the course can't really go into any advanced techniques due to the length of the course.
Week #2 – The Shopify Platform
This goes into some detail about the front-end side of Shopify which uses Polaris which is the design system.
Briefly talks about the back-end part of the system to which you have limited access.
Week #3 – Basic Shopify development
Goes into more details about the Shopify platform which covers the development environment, the theme files and Liquid which is Shopify's own programming language.
Week #4 – Freelancing Skills and Strategies
This training covers just what you need to know about going freelance and how important networking on social sites like Linkedin can be.
They also cover the site Upwork and how to negotiate contracts etc
Upwork and Fiverr might be the route to take where we can see you picking up the odd project.
Week #5 – JavaScript Basics and the Mechanics
JavaScript is one of the main programming languages along with Java which is beyond the scope of this course.
Let me tell you learning a language can take years and JavaScript has evolved over the years to become one of the main languages for web development.
I have several books at home which are extensive.
Week #6 and #7– Advanced JavaScript and Web Development
Goes into some advanced JavaScript techniques but both courses only cover 9 hours in total which we have concerns about.
Week #8– JS Frameworks and React
React is a framework that has become popular nowadays and is used by most high-tech companies.
How Much Does Freemote Cost?
Freemote would cost $1,659 if you paid the full amount upfront or you could spread the costs over 4 monthly payments of $497 totalling $1,988.
As you can see the course has increased to $1,997 if paid up front or spread over 4 instalments of $597 which totals $2,388.
The course price was originally set at around $750.
Weekly programming courses could easily cost you $3,000 -$5,000 and full courses could even cost you anywhere from $30k to $50k.
You have to question whether the Freemote 8-week course is going to have enough content to compete with a 9-month course and the simple answer is that it won't.
Software courses are spread across longer periods for a reason.
There is just too much to learn and most people aren't capable of absorbing the vast amounts of information these courses provide.
We can understand this course appealing to many due to the fact the course covers eCommerce and Shopify but you have to be realistic about this.
Are People Who Are Taking This Course Having Success?
Well, it depends where you look but there isn't a great deal out there.
You have to check forums like Reddit where we see people who are on the course that are not happy or that it is too soon to know.

We can also see that there are few who do seem to be interested in joining this Freemote training course.
It also looks like if you were one of the few that purchased the course when it came onto the market, they did so for around half the current price at $750.
Reviews that we see on the Freemote website you can't really rely on, simply because these are always going to be positive.
For certain, eCommerce has really taken off and this course could be an insight into this world but would require further training and experience.
Of course, I may be wrong and you might be lucky, or you could be one who excelled and was a quick learner.
Is Freemote a SCAM?
No, Freemote is definitely not a scam because you would be learning a sought-after skill in web development.
I know from many years as a freelancer that those skills are highly desirable and this course could be the stepping stone into what could be a highly paid freelance career.
We don't like how they imply that all you have to do is jump on this 7-week course and off you go into the freelance world.
That is just not going to happen without plenty of experience.

What we Like About Freemote
Overall the course covers the basics which anybody coming from a software development background will be able to learn and adapt to better than a complete beginner.
The cost of the course is very reasonable coming from someone who has been on several courses throughout his career as a software developer.
They mention a course like this might cost as much as $30k and that could very much be the case as they do tend to be expensive.
The course comes with a full 60 days money-back guarantee which gives you confidence that the course should deliver.
The course covers eCommerce and Shopify which are very popular niches nowadays, so at least they are trying to specialize in a certain market area.
What we Don't Like About Freemote
We believe the founders of Freemote are kidding you by going freelance with no real experience.
If you are already a developer then freelance might be an option but for the higher rates, you are going to have to have several years of experience.
The course is pretty basic and we know that further training would be required and even that may not be enough.
We can't stress enough that experience is key here!
This course is not for beginners which is what the product owners are trying to sell it to, but it may be a decent starting point, however, what they teach on this course you could learn yourself on the internet for free.
Being able to go freelance after taking an 8-week course, especially for beginners is just not going to happen.
For the big bucks, a lot of experience is required and the last thing a client is going to want is a freelancer learning on the job.
Freemote Review – Final Thoughts!
Overall we thought the course was ok but as we have already said, it's pretty basic and whilst we don't think the course is for beginners.
You are not going to find someone with experience in software development purchasing this course either.
However, looking at the various forums I see that it is beginners who are choosing to opt for this course.
If you check out their private Facebook group you can see around 1,100 members which tell us the course has not been that well received.
Becoming competent in software development takes time.
I moved out of software development due to competition from outsourcing in countries like India where rates just weren't acceptable to me.
It did kill it for me!
That is why I decided to learn a new skill and why I decided that affiliate marketing was a much better alternative.
If this might be of interest then we'd love to share this with you in the next section.
How we Make Passive Income Online
Affiliate marketing is an extremely cost-effective solution for making money online.
You can check out what it costs us here which accounts for why we are earning a mid-4 figure monthly income that continues to grow.
You don't have to purchase any stocks
You don't handle any customer orders
You don't handle shipping or returns
You can market any product or service you like
All you have to do is connect the customer with the merchant
Wealthy affiliate is the company that provides the training and if you are still looking for a business opportunity then this has to be worth at least a look.
This training I recommend above all others and personally, I have had nothing but a positive experience.

Freemote Review FAQs
Is The Freemote 8-Week Course Worth The $1997?
Software courses have always been expensive and even at the current price, we do believe you will be getting value.
A course that is several weeks long could easily cost upwards of $30k.
This type, of course, is pretty basic so don't expect to be walking into a well-paid job within a few weeks.
If you are not prepared to shell out $2k then you might like to take a look at Udemy.
What About The Course Owners?
There isn't a lot of information about the product owners Aaron and Jan and they do come across as legit and genuine guys.
Aaron has his own YouTube channel with over 260k subscribers with plenty of free advice and we'd suggest nipping over and checking it out first.
Is There Any Previous Experience Required?
According to Aaron and Jan, no previous experience is required and is suitable for complete beginners.
However, development is not for everybody and requires a certain mindset so make sure you have done your research first before paying $2k.
The course is pretty basic and will require additional education to take what you learn to the next level.
Can I Spread The Costs Out?
We have mentioned this already and you can spread the course costs over 4 equal payments of $597 which brings the total to $2,388.
That's an increase of $391
Is Freelancing The Way Forward?
Freelancing is a great industry to get into but the rates have dropped considerably over the last 15 years.
The reason for this is outsourcing to other countries where they are prepared to work for a lot less.
As a freelancer, it is your job to continuously upgrade your skills and when you don't work you also do not get paid.
Is There A Refund Policy?
As of this review, there is a 60-day full refund policy which is great but we are not sure how this will work.
You will have to apply for this and considering the course is 8 weeks which means you could complete the course within the 60 days quite easily.
Is There An Alternative Solution That You Could Recommend?
If you are considering an IT Career then we are sure this course might appeal but a lot of work would be required.
Additional training is an additional cost to take into consideration.
I gave up freelancing to become an affiliate marketer and I would recommend this course 100%.
Is Web Development A Good Career?
Absolutely it is but going freelance requires a certain mindset and a certain amount of knowledge which a 8-week course is not going to give you.
It is all about confidence, as a freelancer, you are on your own and there is only so much BS an employer will accept and they will see through you.
Can I Learn Web Development In 3 Months?
You can learn the basics but because there are so many different skills involved as a web developer you will need additional training.
Is There A Big Demand For Web Developers? 
Absolutely there is but web developer skills are varied with some skills, not in demand as some others.
You can take a look at Jobserve in the US and in the last 7 days there are 165,000 jobs both permanent and contract.
Feedback, Comments and Subscribe
Ok, guys, I hope you got some benefit from this review.
Anything that you would like to add or maybe you have taken the course yourself and would like to share your experience with us.
Until next time, stay safe