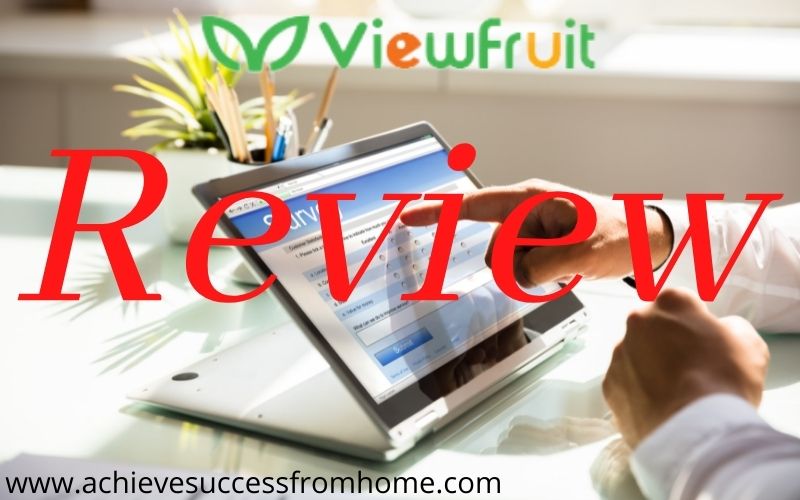 Welcome to the
ViewFruit Review
The internet is a minefield when it comes to making money online with the number of scams that far outweigh legitimate opportunities.
Online surveys are a place that many people tend to go because they are simple and you can make a few bucks in the process.
With so many of these sites around, it is often difficult to find the right site to spend time on unless you do your homework with thorough research.
I'm sure you have come across many reviews telling you that Viewfruit is a great opportunity to earn some cash.
Well, let me tell you, they are not being at all honest about their claims.
However, we are not one of those but what you will get from us is an honest unbiased review so that you can decide for yourself whether to pursue this opportunity or not.
Let's dive right in and see if ViewFruit can live up to their claims.
---
[Affiliate Disclosure: This post may contain affiliate links which means I may earn a small commission if you purchase anything through one of the links. However, this will not affect what you pay!]
---

Product: ViewFruit
Founder: Paneland Market research
Product Description: Surveys
Website: www.(country id).viewfruit.com
Price of product: Free to join
Recommended: No
Summary: Viewfruit is a dedicated online survey site which means there aren't any other simple tasks to occupy your time when you are struggling for surveys.
Not like a GPT site which most survey sites tend to be nowadays.
Viewfruit, I would say caters more to the Asian market as opposed to the US, Canada and the UK and therefore if you do come from those countries then don't expect too many surveys to come your way.
The major problem with all online surveys is that you ain't going to complete many no matter which country you come from.
Qualifying is often an issue but getting thrown out of a survey when you have spent 15 or 20 minutes on one is more of an issue.

---
If you are sick and tired of SCAMS, Pyramid schemes, MLMs, recruiting, having to purchase stocks, haggling family, friends and customers. Looking for a proven method of making money online, then check out my #1 recommendation. 
---
Internal Summary and Navigation
---
What is ViewFruit about and who are the Founders?

Viewfruit is an online survey platform that was founded in 2013 by the market research company, Paneland which is based in China.
Originally focusing on the Asian market but over the years have expanded their membership base across 32 countries.
What is noticeable are the number of dedicated sites for Viewfruit and is indicated by the country prefix in the URL.
So if you are going to join make sure you join the correct site usa.viewfruit.com, uk.viewfruit.com etc
At Viewfruit the only way to really make a few bucks is through taking surveys so if none are forthcoming then you'd better have a few backups.
Like Swagbucks, Freeskins, Prize Rebel or Survey Time to keep you occupied.
So who is responsible for ViewFruit?
Viewfruit is a trademark of PaneLand Market Research that was founded in 2011 and based in Shanghai.
Other than that we can't really see who the real owners are.
---
How does ViewFruit Make Money? 
Market research is the whole process that is very important in business because it can open up new market areas and expand current ones.
It also brings into play trends and consumer behaviour especially as the internet plays an important part.
It is Viewfruit's job to have a mechanism to connect its members with the 3rd party survey sites and in return are paid and the members take a percentage.
This all works under the affiliate marketing business model and can be a very lucrative strategy.
You do not need a product, all you have to do is connect the consumer to the product, in this case, the Viewfruit member to the survey router.
---
How does ViewFruit

W

ork?
With Viewfruit you can only make money through taking surveys and whilst there are other activities on the platform they won't make you any additional money.
What are points worth?
500 points equate to $1 and you will need 2,500 to cash out the minimum threshold which is currently $5.
However, if you come from the UK then the points to pounds ratio are 1,000 points to £1 which means you have to accumulate 5,000 which is twice as many.
There are 6-levels to achieve as a member at Viewfruit.
Level1 – 0 – 4,999
Level2 / 5,000 – 9,999
Level3 / 10,000 – 19,999
Level4 / 20,000 – 49,999
Level5 / 50,000 – 99,999
Level6 / 100,000+
The higher the level means that you will have access to other bonuses and benefits.
Available tasks are…
Surveys
Sweepstakes
Chatrooms
Polls.
Referring others
1. Surveys
Surveys are the only way of making money on Viewfruit and it will depend on which country you come from as to how many surveys are available.
Surveys are graded from 110 to 300 points which are all dependent on the length and difficulty of the survey.
If you are fortunate enough to come from a region where surveys are plentiful I wouldn't get too excited because most of the time you won't qualify.
Even when you do qualify there is a very good chance that you will be thrown out partway through a survey.
Many will blame Viewfruit for this when in fact it is the 3rd party survey router that is responsible.
I would work on 2-4 surveys a day that you will complete and if you manage to accumulate $50 in a month then you are doing well.
Remember to check your email account because Viewfruit send you to survey notifications but you need to be quick as they fill up quickly.
2.

Sweepstakes

 
These sweepstakes are free to join and will all depend on the region you are from.
I hate sweepstakes because you have to be lucky and the amount who enter the prizes aren't too great.
3.

Chatting With Members 
This is Viewfruits way of keeping you entertained whilst they sort out surveys for you.
As if we aren't inundated with enough social media like Facebook, Instagram and Twitter.
Mind you it is a place where members will report their problems so it might have some merit.
4. Polls
Not sure just what this is supposed to achieve.
Creating polls and getting other members to vote seems somewhat pointless to me and has absolutely no bearing on your earnings.
Viewfruits referral program 
All these survey sites have referral programs and are an incentive to make some additional money.
In fact, you could do well with the referral program if you knew exactly how to market Viewfruit to the masses.
Normally members introduce their family and friends but be careful because if they have a bad experience you will know about it.
How you are paid
You will need 2,500 points minimum to redeem points for cash and typically there are 2 ways you can use.
PayPal or Gift cards.
Remember using PayPal that they may be admins charges to take into consideration so check the terms and conditions first.
---
How much can you Realistically make with ViewFruit?
Taking surveys at Viewfruit is definitely not going to make you rich but that goes for every other survey and GPT site.
What you need to be aware of is that first and foremost you need to join the dedicated website otherwise they may not be any surveys for you.
Another thing to watch out for is the number of surveys that you won't qualify for.
Along with the high percentage of surveys that you will get thrown out of even though you were qualified to take that survey.
This happens quite often which accounts for around 80% of the surveys that you will not get qualified for or are thrown out.
Be offered 100 surveys and you will be lucky to complete 20 which is not good at all.
Expect to complete maybe 1-3 a day with earning and that's if you are lucky between $50 and $100.
---
Who is ViewFruit

 F

or?
Our experience with Viewfruit was probably the worst for the number of available surveys.
Coming from the UK and we see that the US are having a similar problem.
However, some countries might be better and seeing Viewfruit was initially developed for the Asian market then we suspect coming from that region you will have better success.
As Viewfruit only has surveys to make money then this will leave members sitting around doing nothing, annoyed, frustrated and will eventually leave.
We have given you several alternatives that are much better than Viewfruit and would suggest you try those.
---
What we liked about ViewFruit
Straight forward to sign up and the software platform was easy to navigate

Free to join
Low cashout threshold
You can cash out using PayPal
---
What we don't like about ViewFruit
Very low earning potential
Very high rate for disqualifications and been thrown out of the survey even after spending 15-20 minutes filling one in
Only one survey available for the UK
I found it strange why we couldn't find and reviews in any of the review sites like TrustPilot, Sitejabber…
Surveys are scarce and it works on a first-come basis and I would check your email inbox for survey notifications
---
Is ViewFruit

a SCAM or LEGIT?
In my opinion, Viewfruit is not a scam but it does somewhat lack positive feedback in review sites like TrustPilot or Sitejabber for that matter.
I did become a member and filled in all my particulars and went to the survey area of my dashboard to find just one survey.
After answering a few ridiculous maths calculations I was thrown out and told I hadn't qualified.
Obviously, the answers that I gave should have been incorrect.
Viewfruit might not be a scam but it certainly isn't a legitimate make money opportunity and we will not be recommending it.
---
The ViewFruit Review

: Final Thoughts!
Viewfruit claim that their site is available to 32 countries and that may be the case but you are certainly going to struggle coming from some countries.
With dedicated survey sites like Viewfruit they have to ensure that surveys are forthcoming otherwise members will leave.
Other sites like Swagbucks, ysense(Formerly Clixsense) do have other activities for when surveys do dry up.
We signed up to the correct website but still, we only received one survey and to be honest, we thought there might have been a dozen or so.
We can understand after a while of trying that surveys would eventually dry up but this site has been one of the worst experiences.
When I started my journey looking for ways to make money online, online surveys was where I started, but I found out very early this was not going to allow me to live the life I wanted.
I found a way and just as these others did below…

---
Feedback, Comments and Subscribe
Love to hear your feedback on Viewfruit and if you are a member we'd love to hear about your experience.
Any questions please don't hesitate to add them in the comments section below and will get back to you at our earliest convenience.
We reply to all our reader's comments.
Until next time, stay safe.