Hi, I'm Mick and welcome to this
TapInBox Review
We created this website to help people like you avoid making big mistakes by choosing the wrong make money opportunity.
Often it's not what people like to hear because they are trying to justify the reason for joining and therefore don't like it when a truthful review comes around.
Don't read the first review and jump on board and join, ensure you have read a few reviews to get a better handle on whether to join or not.
Before we start we'd like to state that we are not associated with TapInBox in any way and therefore you won't find us trying to pitch to you.
What we will promise you is an honest account of what TapInBox is all about so that you can decide whether to join or not.
We will also recommend additional and alternative ways to make money and don't be offputting by this.
I guess the big question, is TapInBox a scam?
Well let's see, shall we?
---
[Affiliate Disclosure: This post may contain affiliate links which means I may earn a small commission if you purchase anything through one of the links. However, this will not affect what you pay!]
---
Product: TapInBox or Tap In Box
Founder: Unknown, hidden using a privacy service
Product Description: Dedicated online survey site
Website: www.tapinbox.com
Price of product: Free to join
Recommended: No
Summary: There are literally thousands of make money online opportunities but the vast majority are just not worthy of your time.
It doesn't seem too long ago that I was you looking for make money opportunities and guess what, I started with online surveys too.
I didn't hang around too long because they were time-consuming, mind-numbing and extremely frustrating and realized that they were all pretty much the same.
TapInBox is a new "supposed" make money opportunity that hit our inbox and sounded interesting until we became a member and very quickly things went downhill from there.
The biggest "Red-flag" for us was the cashout threshold of $200 which we have never seen before and is set at that for a reason but we'll get into that a little later.
If you are looking for a life-changing opportunity…

---
If you are sick and tired of SCAMS, Pyramid schemes, MLMs, recruiting, having to purchase stocks, haggling family, friends and customers. Looking for a proven method of making money online, then check out my #1 recommendation. 
---
Internal Summary and Navigation
---
What is TapInBox about and who are the Founders?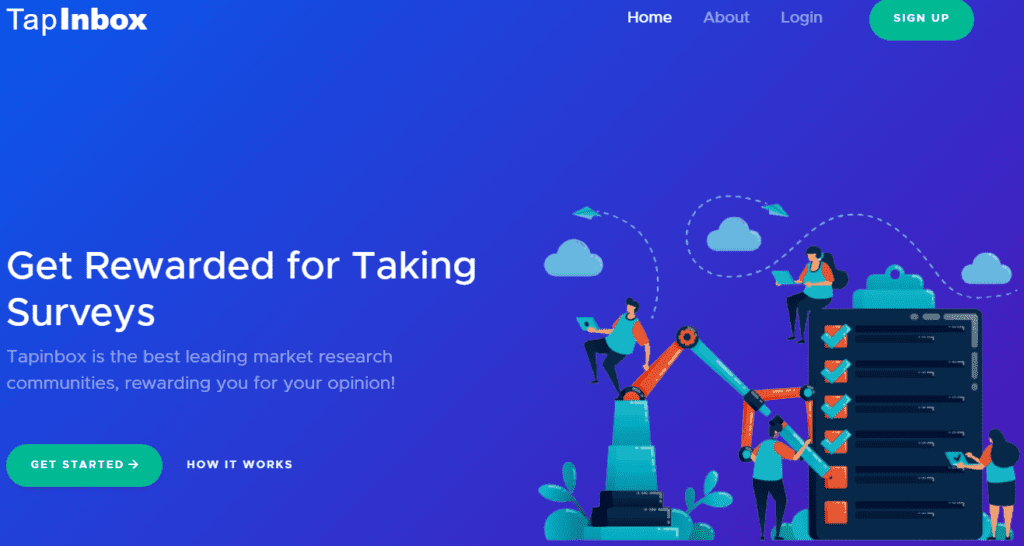 TapInBox is a dedicated online survey provider that only came about in August 2020 and based in Burbank, California.
They provide a way for anybody no matter which country you come from a way to earn a few bucks by taking part in market research and filling in surveys, or so they say.
What we noticed as another big "Red-Flag" was that TapInBox is hiding behind a privacy service which can be clearly seen by clicking this link here.
This says a lot about a make money opportunity and that you should tread carefully because where there is one red flag you are going to find many.
Anyway, we shall continue to see what else we could find about TapInBox.
---
How does TapInBox Make Money?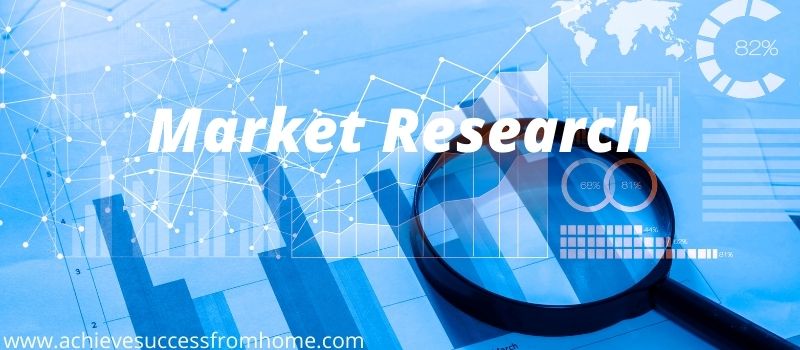 Market research is an important business strategy that all businesses should take advantage of but often aren't able to due to marketing budgets.
It's a way of gathering information relating to current markets and consumer behaviour to help improve competitiveness and can often find new markets to expose.
TapInBox is a business that operates in the affiliate marketing industry where they connect people, often to 1st party survey providers but in TapInBox's case, these are 3rd parties.
On completion of the task at hand then TapInBox is paid for their services and a portion is shared with the survey taker.
---
How does TapInBox

W

ork?
TapInBox is a dedicated online survey site meaning surveys are the main source of income.
It's a simple straightforward process to sign up which is completed when you reply to the email that TapInBox sends you to activate your account.
Once you have signed up TapInBox they give you a $10 incentive.
One thing you will not immediately when you sign into the TapInBox system is the popups on the top right side of the display.
In our case, these were to redirect us to some sexual type website which I find highly inappropriate.
You will also find links to scams regarding Bitcoin and using celebrities as the hook to get you interested.
But hey, what you should do now is give TapInBox a wide berth and if you have already become a member then we suggest you cancel your membership.
But, maybe the thought of earning that $200 minimum threshold is what interests you so continue to read.
Paid Surveys
Once inside the member's area there a number of surveys but these are all related to setting your profile up.
These should be filled in first which help TapInBox match the appropriate survey with yourself.
As you will notice there is a cash value that averages around $1 per survey for completing these tasks.
We did find an actual survey other than these profile ones to take but when we clicked on the survey we were instantly met with popups redirecting us to some scammy product or service so we came straight out.
Now you will notice your account balance increasing but you should know by now this is only to keep you interested and the big thing here is can you withdraw that cash or more to the point will you be able to reach that threshold of $200?
Referral program
As TapInBox operates their business in the confines of the affiliate marketing business model they offer an additional way to earn.
This is through their referral program, with recruiting others to join TapInBox by using your unique affiliate link.
Which you can share on social media or even send to your friends and family via email.
Now before you share this affiliate link to friends and family I would first ensure that TapInBox was a creditable business otherwise your friends will very quickly become non-friends.
Once your referral joins TapInBox and completes the profile surveys then you will receive $5, but not as a cash amount and not part of your earnings balance. This becomes part of your referral balance!
Which can be used to enter into prize draws as can be seen below.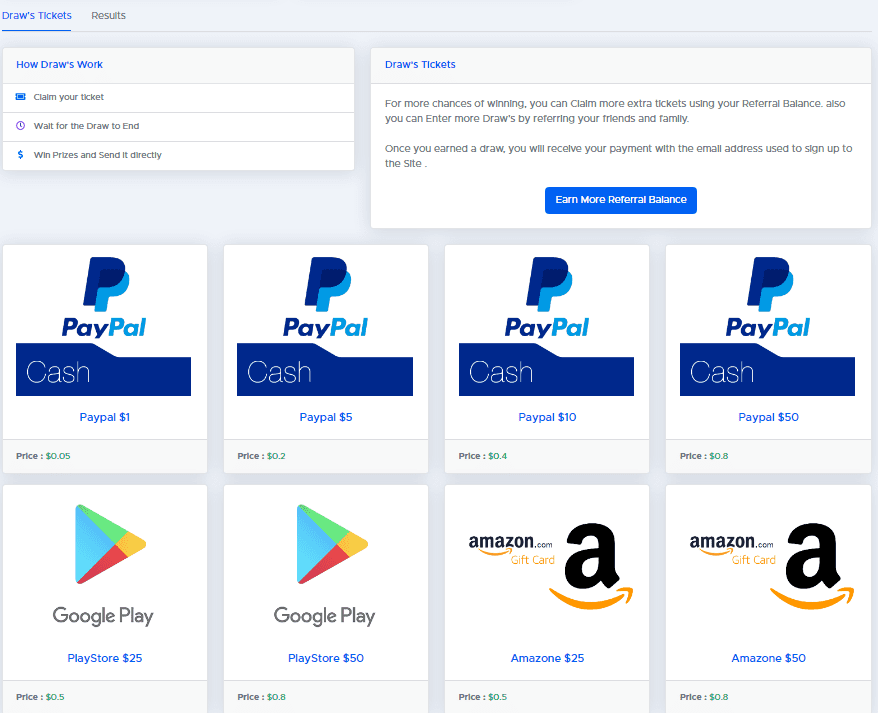 This is in the hopes that you can convert that referral bonus into hard cash but up until now, we can't find anybody who has actually won a prize draw.
This type of referral program is something that we haven't come across before and we see it as a way to keep you interested in the hopes that you may win a $50 cash amount which I'm afraid is just not going to happen.
Referral programs are designed in a way to help your earning potential by offering a percentage of that referral's earnings for life normally.
Some affiliate marketers do very well out of them as well.
Redeem your rewards
If you go into your payment options through your member's dashboard you will see that the screen is initially blank when you first join.
You have to add the type of payment whether PayPal or gift cards into your payment area.
We noticed other than PayPal there are other cash transfer equivalents…
Skrill
Western Union
Web Money
Payeer
The same goes for gift cards…
Visa Pre Paid Card
Amazon Gift Card
Google Play Gift Card
Now before you ever get to the redemption area, in other words before you can withdraw any money you have to achieve the minimum cashout threshold.
Which in this case is a hefty $200 and something we haven't seen before either.
Just looking at the reviews from TapInBox and they claim that you can get your account balance to $160 pretty easily.
But once you achieve that milestone then the surveys that Tap In Box send you suddenly are worth $0.30 and figures in that region.
The higher the balance the less the value of the survey that they send out to you and in some cases $0.01.
Just think how long it will take to achieve that figure.
It could take weeks, months and all they have to do is change that value to $0.001 and you will never achieve it.
Why is that you may think?
Simply, they make it impossible to reach that $200 threshold because they have no intention of paying you.
You might also ask why is it then that some reviews say that they have managed to withdraw several times?
You need to know that creating a review anybody can do, even the owners of TapInBox.
---
How much can you make with TapInBox?
We have come across and reviewed many of these sites where they offer large signing up bonuses and let me tell you $10 is large when it comes to this type of make money opportunity.
TapInBox keeps you interested by giving you surveys to complete for $5, and whilst these surveys are coming your way you are getting others to join which is the whole point and what TapInBox wants you to do.
Come the time when you are near the threshold of $200 those surveys will drop to $0.01 which means you are never going to get paid.
Even though you can read on TrustPilot that some are earning money, take it from us these are fake reviews.
---
Who is TapInBox

 F

or?
TapInBox or Tap in box is for nobody and should be avoided at all costs.
---
What we liked about TapInBox
There is absolutely nothing we liked about TapInBox but we are only here to report the facts, the rest is up to you.
---
What we don't like about TapInBox
The number of negative things we could highlight

in this section could take us all day to write so we have managed to only include what we think are the most important ones.
Pop-ups appearing all the time which really annoyed us to the point that we had to sign off due to the nature of these.
We were pestered with links to sexual sites as well as scams about things like Bitcoin using celebrities to try and get you to join.
Whenever I tried to move around the system popups would be constantly popping up trying to get me to install something.
Even when I tried to take a survey I was pestered with scammy offers.
The cashout threshold too high and at $200 this tells us that TapInBox just doesn't want you to achieve and have no intention of paying you.
The referral program was only designed to get you to bring in more people and there was really no incentive to take part in this for an entry into a prize draw which we just don't think exists.
Owners hiding behind a privacy service which we do system often and when seeing this then that is the time to move onto something else.
Trustpilot reviews indicating the issues when achieving a certain balance and how TapInBox all of a sudden starts sending you surveys with very little monetary value which can be seen below.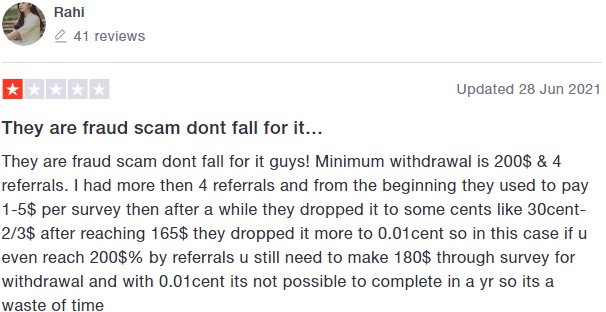 ---
Is TapInBox

a SCAM or is TapInBox LEGIT?
We hate to label any business or service a scam but sometimes that can't be avoided, but we're going to leave that to you to come to your own conclusions.
What we will tell you with complete certainty is that Tap In Box is definitely not a legit make money opportunity.
If you are looking for legit make money opportunities we would suggest you take a look at, Swagbucks, TimeBucks, or RewardXP 
At least you will earn something with these sites however it isn't going to be much.
---
TapInBox Review

: Final Thoughts!
One thing we hate and that is affiliate reviews where they don't come clean and tell you how it is and just leave you in wonderland.
Getting you to think that this may be a good opportunity to get involved in after all.
Taking online surveys is laboriously difficult to make money with but if your interpretation of money is a few bucks then that's fine but it isn't with us.
If you really want to change your life dramatically and start earning 4 and 5 figure monthly incomes then online surveys is definitely not the answer.

---
Feedback, Comments and Subscribe
Ok, guys, I'm sorry if this wasn't the review you wanted to read but one thing you will get from us is the truth.
If you enjoyed this Tap in box review then feel free to share it with your friends so that they aren't taken in by this site.
Any questions, just add them below and someone will get back to you.
Until next time, stay safe!