Welcome to this Stella and Dot review
Just another one of the many multi-level marketing companies manufacturing and selling their own brand of jewellery.
At a first glance, the products do look unique and exquisite and the ladies are going to love them.
However, if it's the business side that you are interested in then that is another thing.
With the jewellery industry alone worth around $250 billion, it's no surprise that there are so many MLMs online today.
If you are looking for the lowdown, and want to know, if Stella and Dot is a scam or whether they are legit, then you are definitely in the right place.
Before we do, we'd just like to declare that we are not affiliated with Stella & Dot in any way.
That way you can be sure to get an honest account of who they are and whether this business is something worth looking at further.
With that said let's begin.
---
[Affiliate Disclosure: This Stella and Dot Review has been thoroughly researched from information and testimonials that are in the public domain. This post may contain affiliate links which means we may earn a small commission, however, this won't affect what you pay!]
---
Stella and Dot Review – Summary
Product: Stella and Dot
Founder: Jessica DiLuLoo Herrin and Blythe Harris
Website: www.stelladot.com
Product Description: Jewellery and attire MLM
Cost to join: $59 plus upgrades
Recommended: Maybe
Summary: Stella Dot is a network marketing company manufacturing and selling exquisite fashion jewellery.
For the entrepreneurial type, there is a business opportunity where you can earn some money if you are dedicated and work hard.
Stella and Dot – Table Of Contents
What is Stella And Dot About?
Stella Dot is a network marketing company that manufactures and sells its own unique range.
Of fashion jewellery, apparel and accessories, including their own brand of skincare products.
The company was founded in 2004 by Jessica DiLuLoo Herrin and Blythe Harris and is based in the San Francisco area.
The extensive product range makes Stella & Dot a favourite amongst many women, especially with commission rates from 25% to 35%.
Stella and Dot are backed by the venture capital group Sequoia, which has paid out over $400 million to over 50k of their representatives in 6 countries.
Listen to what one of the co-founders has to say when interviewed on the Today Show…
Who is Jessica DiLuLoo Herrin?
Jessica Herrin is the current founder and CEO of Stella and Dot but it's not her first venture into running her own business.
In 1998 whilst at Standford Business School she managed to secure an investment of $1 million.
That fall she made the decision to drop out of Stanford.
In 1999 she co-founded the wedding gift registry website, Della and James which appeared on the Oprah Winfrey show.
The company merged with Wedding Channel.com, which she left a short time later and the company was eventually purchased for  $75 million by knot.com.
Prior to her dropping out of Standford and her business ventures, she spent 4 years in marketing, working for Dell.
Herrin has even been mentioned in Forbes magazine, New York Times and The Wall Street Journal.
Even picked up an award and was honoured by Ernst & Young and Inc 500 as a top entrepreneur.
There are plenty of high-profile interviews that you can find on YouTube for further verification of who she is as a person.
Is Stella And Dot a Pyramid Scheme?
The multi-level marketing business model is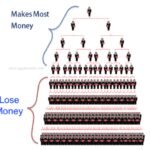 often associated with a pyramid scheme which often isn't the case.
The main criteria for legitimacy are the products.
They have to be legit and what people want.
In the case of Stella and Dot, they have an extensive range of products that many people are loving and have been active since 2004.
So in answer to the initial question, "Is Stella and Dot a pyramid scheme?" Absolutely not!
Just for clarity on what a Pyramid Scheme is…
The consensus is that a company may be declared a pyramid scheme where the affiliates or representatives are paid a commission for recruitment only.
Where there isn't a product or service with an intrinsic value, which is a product or service that is useless and has no meaning.
In most countries this is illegal and in some countries, people go to prison for a very long time; an example would be China.
What normally happens nowadays is that companies hide behind products which makes it all the more difficult for the FTC to prosecute.
Why aren't these MLMs getting closed down?
You'd be surprised just how many network marketing companies there are and how many that do operate as pyramid schemes.
Many just get away with it for years simply because the FTC has limited resources and by the time they do get around to being investigated.
The company usually closes down and re-opens doing the same thing but with a different business name.
You might like to check out this short video…
Stella And Dot Products Line
At Stella & Dot, they have a pretty extensive range of products that they have based on the founder's grandmothers.
They have a saying at Stella & Dot, "Trends of TODAY vintage of tomorrow"
The range is split across many categories which we have mentioned briefly below…
New

What's New
Trending Now
Collections

Jewellery

Necklaces
Bracelets
Earings
Rings
Personalized Jewellery
Covet Fine Jewellery

Charm Jewellery

Necklace Charms
Bracelet Charms
Charm Systems

Bags
Clothing
Gifts
Sale
ShopLive

Shop Ever
Shop Accessories
For a more detailed look along with prices, you can head over to the Stella and Dot jewellery website here.
You might like to check out these other companies with similar products…
Stella And Dot Business Opportunity – What You Need to Know!
With any multi-level marketing business, your main concern is the products and whether they are legit or not.
Once you have established that they are then it's the business opportunity that needs to be looked at in detail.
Below you will find the main details which should help in your decision-making, whether to pursue further or not.
How Much Does it Cost to Join Stella And Dot?
Becoming a Stella and Dot ambassador will only cost you a mere $59 which is for the basic startup package.
This consists of…
Personal website
Mobile app
Mimi, your personal digital assistance
Community and online training
S&D Lookbook
Ever beauty guide
New ambassador, 10 steps to success
25% discount on all S&D products
As part of your enrollment process, you have a 60% discount on any accessories and 40% on beauty bundles that you want to purchase.
In addition to the startup package, you are going to want to purchase additional products.
$250 value in accessories for $99
$500 value in accessories for $199
$1000 value in accessories for $399
Further details got to the website linked here.
How to Make Money With Stella And Dot
There are 3 ways that you can make money with Stella and Dot
Either…
Purchase the products yourself and sell them for a profit
Become a hostess and sell the products
Become an ambassador, recruit and build a team
Here are some other ideas…
Promote through social media, works great with a large following
Host your own parties is another great way to expand your customer base
Rent a stand at an event of some sort
Rent retail space such as a shop
Use online retail outlets like Amazon, eBay, Etsy…
What is clear as an ambassador, is that as of this review anything that you sell.
You will make 50%  between 20 and 40 per cent commission which is exceptional, although as you can see dropped considerably.
Stella And Dot Compensation Plan
Compensation plans are often complex in nature and can confuse most people.
Into believing that what they are getting is a better deal than they really are but that is just something we think.
For an in-depth look at the compensation plan, you can click on the link here.
Or you can sit back and listen to the founder Jessica Herrin explain it in this Youtube video.
Are Stella And Dot Ambassadors Actually Making Money?
When it comes to determining whether affiliates are making any money this is usually a judgement call on your behalf.
Stella and Dot, have included an overview of what their stylists made in the 2020 period.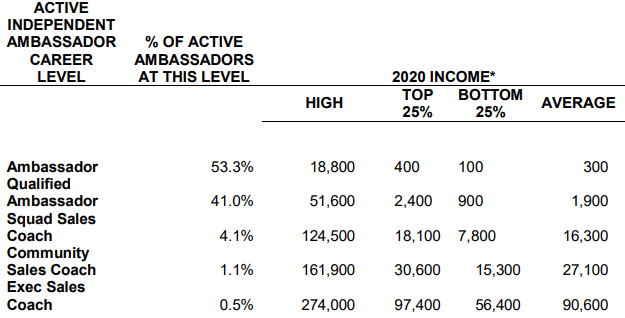 If you take a look at the diagram above it clearly states that 53.3% earn an average of $300 for the entire year.
A combination of the top 2 ranks which totals 94.3% earns an average of $1900.
This leaves the top 0.5% where all the money tends to go.
I'm sure you are looking at the high column and yes someone has earned that amount but to get there takes an awful lot of work.
The Federal Trade Commission has produced a report which makes for some interesting reading.
This often doesn't give you a true picture but you can at least see what they have to say about the MLM business model as a whole before you think about joining.
Is Stella And Dot a SCAM?
Stella and Dot is definitely not a scam.
They are a well-established business that has been around for over 17 years with an extensive range of products.
With well over 50k Stella and Dot Ambassadors across several countries.
Does that mean that we would recommend them as a business solution?
Probably not, simply because it takes a lot of hard work to succeed in this business model.
Unless you have been invited at the launch date or you have a massive following then it is going to be difficult.
Having said that though,  you might have the right credentials and you might succeed but this is highly unlikely.
If you are looking for an opportunity where you are in complete control and are not held back by restrictions then check out the link below.
It is free to check out and you never know it could be just what you have been looking for.

Stella And Dot Customer Reviews
No matter how good a company is you are always going to find a mix of negative and positive things said.
Although at first glance the products do look great we can see that some people are complaining about the condition over a period of time.
So,  we have included a few reviews from people below, not to tarnish Stella and Dot but just to make it real.
Of course, when you are looking at reviews you have to take them with a pinch of salt because these can't be verified either.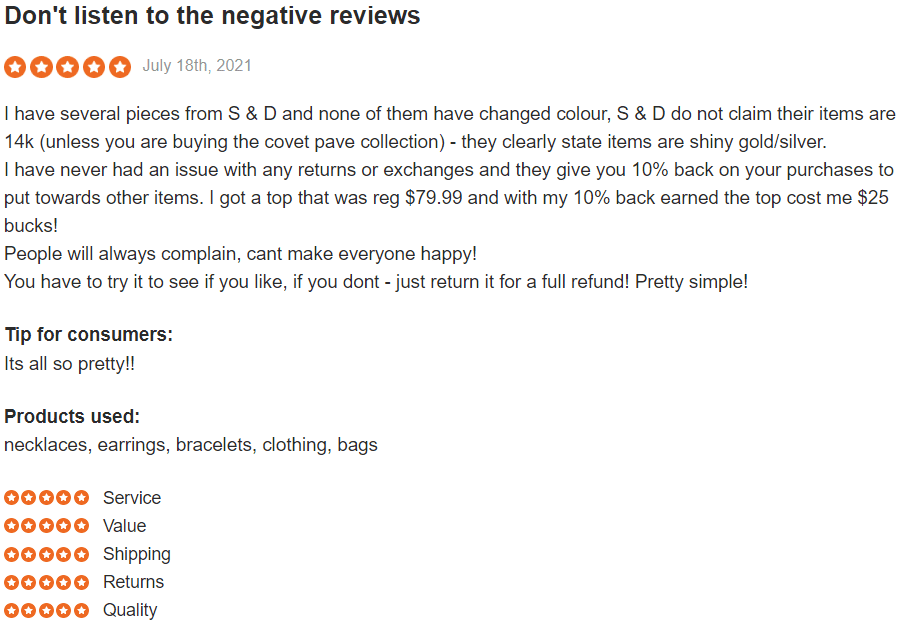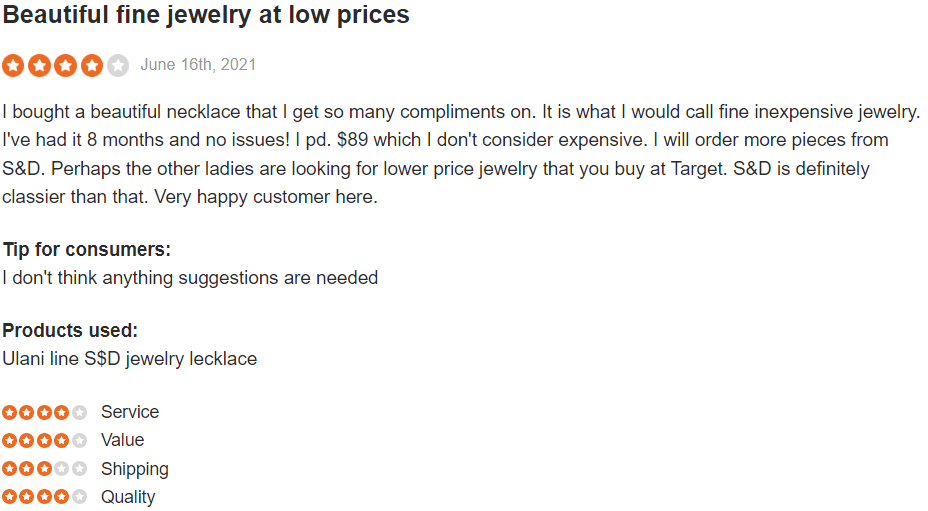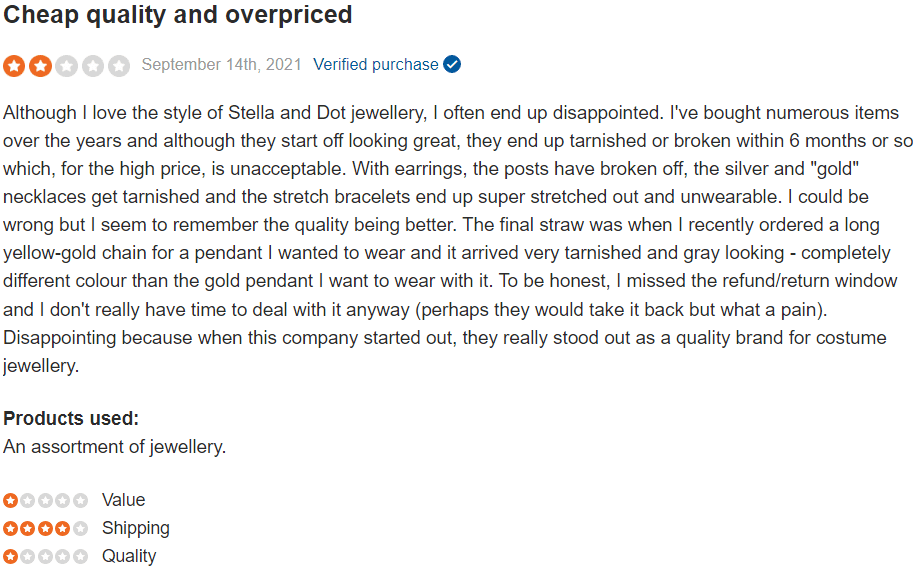 What we Like About Stella And Dot
The Business Is Well Established:
For a multi-level marketing business to have been active for over 17 years is impressive and we see the business continuing well into the future.
They have the support of an investor and well over 50k ambassadors and they have paid out around $500 million in commissions.
Impressive Product Range:
We do think they have an impressive range of products and should appeal to many.
Give To Charitable Causes:
For every sale of a product, a percentage goes to one of the many charitable organisations that they support.
Stella and Dot donate to charities like breast cancer.
They also support Healthcare Professionals, Racial Justice Advocacy, Families Struggling with Food, and Women Experiencing Homeliness.
They have been accredited with the better business Bureau since 2017 with a rating of A+.
Which is a good indication that they are operating a business in the right manner.
What we Don't Like About Stella And Dot
Difficult to make a Full-Time Income:
All multi-level marketing businesses are difficult to succeed in unless you have a big enough following.
If you want to succeed you have to be exceptional in recruiting and it isn't for everyone.
They have had to strengthen the business:
Meaning that in 2019, due to currency fluctuations with the Pound, Euro and Dollar, Stella & Dot decided to withdraw their business from Europe.
Concentrating more on the US market.
Here's a news clip that explains this.
We are hearing that the products are not staying pristine for longer periods of time.
The products when they arrive look great but in some cases, after around 6 months they begin to tarnish and look ugly.
Stella And Dot – Final Thoughts!
We hope this Stella & Dot review has helped to answer most of your questions.
Hope that we haven't put a damper on things but you have options here, purchase the products yourself and see what you think first.
Which would be the right course of action before making the decision to become a Stella and Dot ambassador?
Remember becoming an ambassador is not a decision to be taken lightly and if you want to succeed a lot of hard work would be involved.
The products might be good but it's the business opportunity that usually lets the side down.
If it's a business opportunity that you are looking for then we'd love to share with you what we do in the next section.
How we Make Passive Income Online
Earning a passive income has to be the dream for many and whilst Stella & Dot offers a way to make money it is far from passive.
Affiliate marketing is as far as we are concerned one of the best ways to make money online and one of the easiest to learn.
Extremely cost-effective to start
Earning potential is far greater than an MLM
No recruiting and pestering family and friends
No products to purchase
Promote any product or service you like
Do not handle the customer orders
In fact, all that you have to do is send the customer to the merchant and once they make a purchase you make a commission.
Check it out and see what you think, what do you have to lose?

Stella and Dot Review FAQs
How Much Is It To Join?
As of this review, it will cost you a basic $59 which hasn't changed for a number of years.
You will however have to purchase products to show customers.
How Much Can I Earn As A Stella and Dot Ambassador?
This is down to each individual and how much hard work you are prepared to put in to achieve your goals.
The better you are at recruiting the better chance you will have at succeeding.
Currently, the commission on sales can vary between 20 and 40 per cent which has gone down from 50%.
How Long Do Stella and Dot Ambassadors Stay?
People come and go all the time in any business but more so in MLMs with between 50 and 65 per cent who do not reach a full year.
What Is The Likelihood That I Will Succeed?
That's another good question and as we have already mentioned depends on how determined you are.
But as a guideline, as many as 97% do not earn enough to replace a full-time job.
Will, I Recieve Training And Support?
At Stella & Dot, here is what they call virtual training but the main training should come from your sponsor.
That's why it is so important that you select a sponsor who is prepared to share their knowledge and mentor you.
This we know can be difficult but not finding the right sponsor is one of the main reasons why people do not hang around long.
Did Stella And Dot Go Out Of Business?
Despite a mix of both negative and positive reviews Stella and Dot are still thriving as a multi-level marketing business.
With sales into the hundreds and millions.
How Much Is Stella And Dot Commission?
As you work your way up the ranks then you qualify for additional bonuses with the possibility of earning as much as 35% in commissions.
Feedback, Comments and Subscribe
First and foremost, thank you for reading this Stella and Dot review and we hope you got some benefit from it.
If you have anything to add or would like to ask us anything feel free in the section below and we will get back to you.
Until next time, stay safe