Welcome to this ONEHOPE wine review
You might be here because someone approached you on social media or you saw a ONEHOPE Wine marketing campaign and thought you'd check them out to see if they are a legit business.
Then welcome, as you are definitely in the right place!
The wine industry is massive just like the coffee industry so why would you be interested in a multi-level marketing business when you can purchase great wines from your local supermarket and at great prices too?
Maybe belonging to a "Wine Club" such as ONEHOPE Wine appeals to you because you love organising parties and socialising, and at the end of the day you could make yourself a nice little earner.
Well, as long as your focus is more on this as a hobby rather than a business venture to see how things work out would be my suggestion.
Don't worry, I am not here to sell you any wine although these wines do look OK and I am not here to promote a business opportunity either, but, I am here to give you the rundown on this company so that you can decide for yourself whether this is something you should pursue.
So less of the chit-chat and see what we can drum up in this ONEHOPE MLM Review.
---
[Affiliate Disclosure: This post may contain affiliate links which means I may earn a small commission if you purchase anything through one of the links. However, this will not affect what you pay!]
---
Onehope Wine Review – Summary
Product: ONEHOPE Wine
Location: Santa Ana, California, US
Founders: Jake Kloberdanz and Brandon Hall, Sarah Gora, Blake Petty, Tom Leahy, Kristen Shroyer, Tiffany Wojtkiewicz
Founded: 2007
Website: www.onehopewine.com (formerly www.onehopefamily.com)
Product Description: Production of fine wines with a business opportunity for anybody looking to pursue this further.
Cost to join: $99.00, $149.00, $199.00 + Yearly subscription.
Price of products: $20.00 – $210.00
Best For: Experienced network marketers with a passion for good wines.
Recommended: Maybe
Notes: For newbies coming into this "make money online" niche there are much better ways other than MLMs, which I go into a little later.
Onehope Wine – Table Of Contents
What Is ONEHOPE Wine About And Who Are The Founders?
ONEHOPE Wine is a multi-level-marketing business that was founded in 2007 by 7 close friends and are a producer of fine wines.
The winery resides in Napa Valley, California where many great wines come from.
Jake Kloberdanz one of the co-founders who spent a short time at E&J.Gallo along with a few colleagues learned the ropes in a little over 12 months and decided to take the reigns and start up their own business themselves.
Initially from Car boots but in a very short time, they managed to expand the business and in a few years to where they are now.
Interesting to know that E&J. Gallo is an extremely recognised wine company that exports throughout the world and can be found in local supermarkets in the UK.
Check out this short promotional video.
Giving back…ONEHOPE'S charitable work goes way beyond…
Through their product sales, a certain percentage goes back into local and world organisations and the amount of great causes I see ONEHOPE involved in far exceeds any other business I have come across.
From helping to fund meals for over 30 million children in the US, to supporting green issues by saving the planet, to providing clean water to communities in need right through to helping causes, such as Cancer, HIV, Alzheimer's and many other worthy causes.
This shows me without a shadow of a doubt that this company is all about giving and even though I am not a member, I would certainly put this high up on my list if I was considering a business opportunity.
Is ONEHOPE Wine A Pyramid Scheme?
MLMs are always getting a bad rep with links to pyramid schemes and a large percentage just don't fit into that category.
However, many do operate in a way that gets them noticed and put under scrutiny by agencies like the Federal Trade Commission and for good reason too.
There are many who just get on the pyramid scheme bandwagon with no valid reason except for the fact that an MLM business model is designed in the way of a pyramid.
It could also be that many included in the above statement come from bad experiences as members of MLMs and that's quite understandable too.
A pyramid scheme would be a business where the "Sponsor" or "Teamleader" was getting paid for recruiting others into their team without a service or product or a service or product that didn't have an intrinsic value.
ONEHOPE Wine is definitely not a pyramid scheme due to the fact that the products appear to be good and very well received by members and customers too.
Check out what the Federal Trade Commission has to say about pyramid schemes here.
Let's Look At The ONEHOPE Wine Products Range
A great selection of wines, whilst on the pricey side can be understandable if the wines are privy to ONEHOPE themselves.
Select products often come with a higher price tag.
They cover a wide variety of wines, from Red, White, and Rose to Sparkling and Champagne.
ONEHOPE Wine best sellers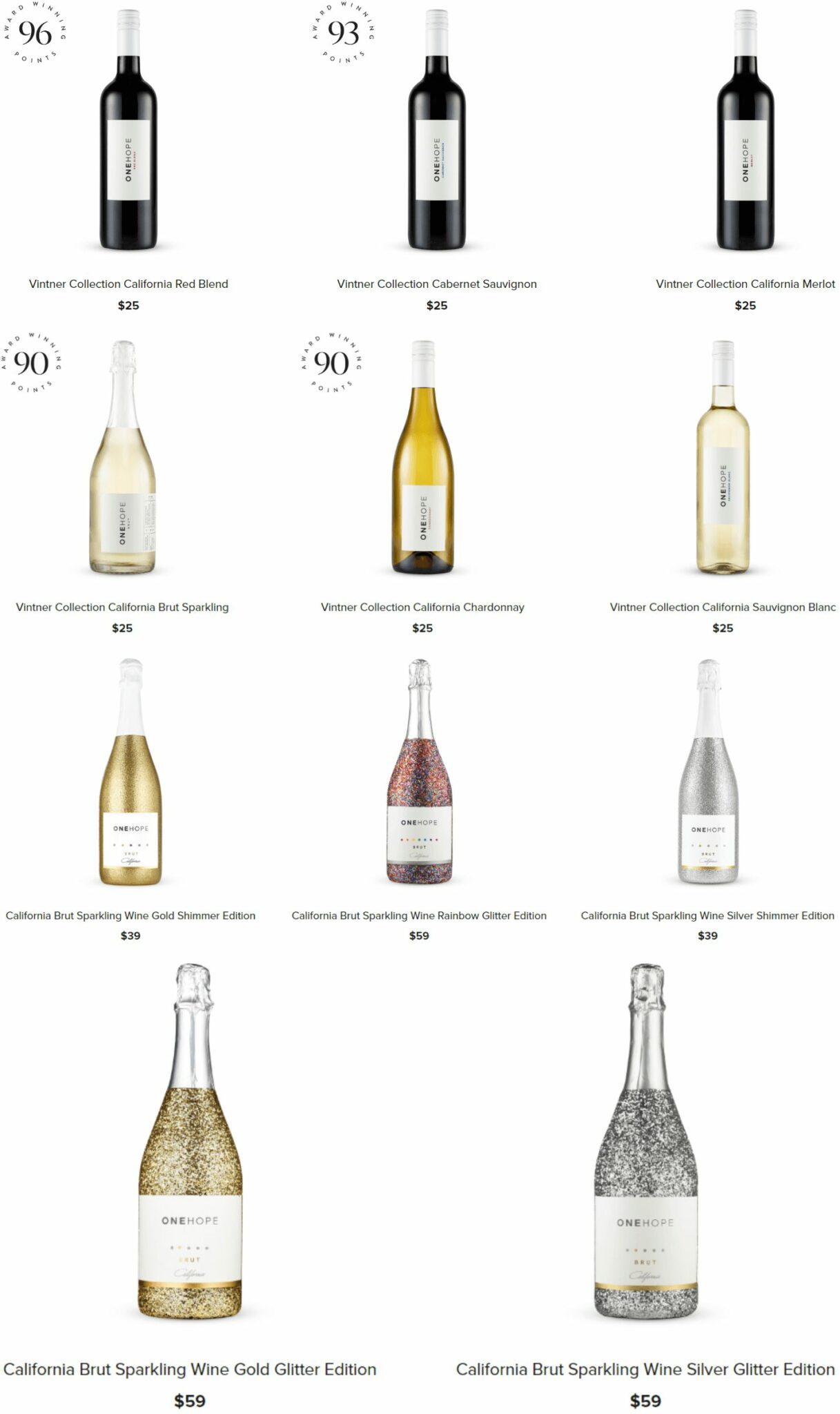 The ONEHOPE product range can be found within the categories listed below…
Red wines(16)
White wines(11)
Rose wine(4)
Etched wine(4)
Bestsellers(12)
Award-winning(6)
Mixed packs(3)
Gift Boxes (9)
Swag (11)
For a closer look at the ONEHOPE product range with current prices…
You can check out the ONEHOPE Wine Official website here
ONEHOPE Wine Business Opportunity – What You Need To Know

It's not always about the products that make a great company, you have to take into consideration many things, especially the business opportunity.
In this section, I go into great detail and highlight the main points that should be of interest to you.
How to become a ONEHOPE Wine cause entrepreneur?
The starting level is termed as a "Cause Entrepreneur" which everybody joins as.
It would be very wise to find a sponsor who comes with bags of experience and is prepared to train and pass on that information otherwise, one will be appointed.
Finding that type of sponsor is going to take time on your behalf unless you go straight to the ones who are really earning the big bucks which are what most end up doing.
This might be a bad move as all these will be interested in doing is recruiting and relying on you to put commissions into their pockets.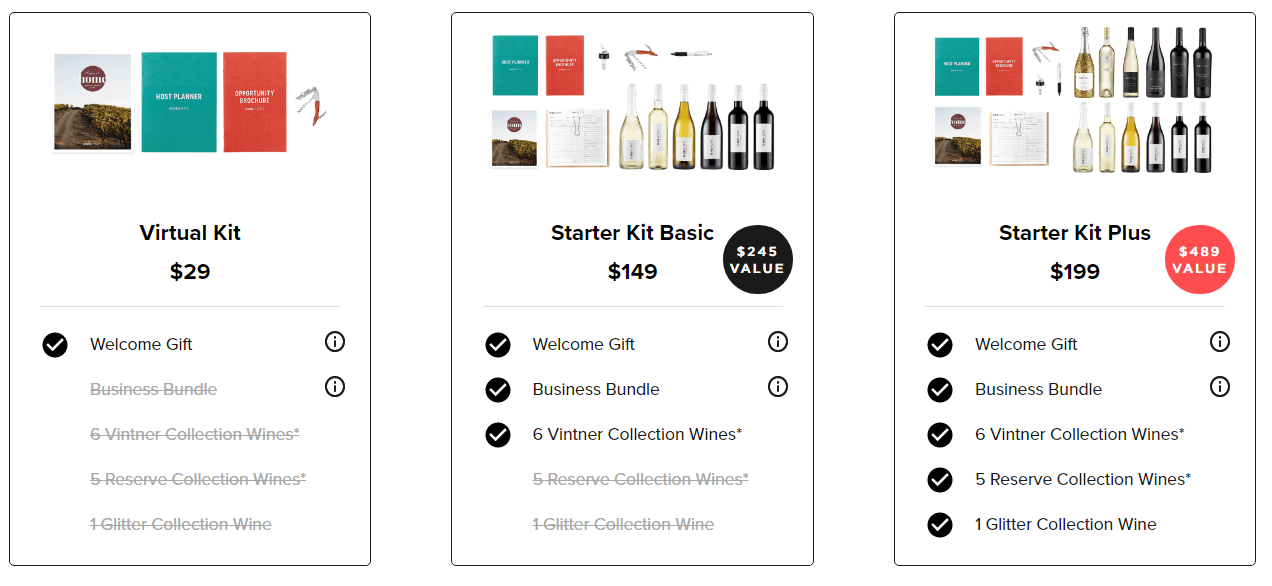 3 Membership Levels
Virtual Kit – $29.00
Basic starter kit – $149.00   (valued @ $245.00)
Welcome gift
Business bundle
6 vintner wines
Starter kit plus – $199.00   (valued @ $489.00)
Welcome gift
Business bundle
6 vintner wines
5 reserve wines
1 glitter collection wine
There is a yearly membership to pay for which can be paid
Monthly =  $12.00 * 12 = $144.00
Yearly = $99.00
Paying upfront for the years subscription will save you $45.00
The yearly or monthly subscription fee gives you access to…
Used to market ONEHOPE Wines and send them to your customers.
All your financials, customer orders, shipping details, and commissions.
Training material, manuals, videos etc
How to Make Money With ONEHOPE Wine
There are many ways to run your business and it all boils down to the level of experience you have as a network marketer.
The 3 main ways to start running your business are…
Purchase the products yourself at discount and sell them to family and friends.
Find and sell to prospective customers.
Recruit others into your team, train them and hopefully, they will stay around long enough so that you can benefit from their sales by way of commissions.
The 3rd option is the key to progressing up the corporate ladder so it's imperative that you get those recruiting skills down to a fine art.
There are many other ways such as social media, Youtube, Facebook, Instagram, Twitter…
Maybe your thing is organizing parties at home, local events and functions.
Remember that you are going to have to supply the wine and food which obviously comes out of your pocket which adds to the pressure of making sales.
At the end of the day creating sales is your priority whether that comes from yourself or other members in your downline. The volume of sales collectively determines how you progress up the ranks which are listed below.
Cause Entrepreneur
Lead Cause Entrepreneur
Senior Cause Entrepreneur
Executive Cause Entrepreneur
Director
Lead Director
Senior Director
Executive Director
Senior Executive Director
National Executive Director
To work your way up that ladder is going to take a lot of hard work, dedication and persistence.
This is not something that will happen overnight no matter what anybody tries to tell you.
Here you can check out the ONEHOPE Wine Compensation Plan for yourself
If you have a little spare time then you might like to go through the compensation plan document here or sit back and check out this presentation which will hopefully make it a little easier to understand.
Are ONEHOPE Wine Consultants actually making money?
Unfortunately, ONEHOPE Wine does not publish an income disclosure and probably for good reason too.
Since it is very well known within the MLM business model only the very top 1% earn the big bucks which leaves 99% that do not earn enough to replace a full-time income.
Unfortunately, you aren't going to hear this from other members trying to give you the sales pata and get you involved, because they are doing great right?
What Others Say About ONEHOPE Wine
When looking at reviews you should be careful what source they come from and besides it's good practice to take them not too seriously.
All the same, I don't think someone is going to make the effort to give a negative review, do you?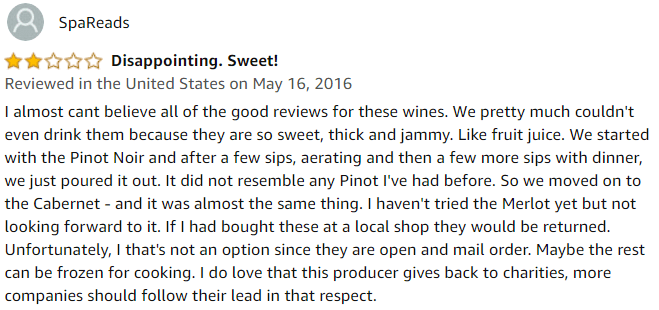 What I Like About ONEHOPE Wine
Here I have listed a few things that I found liking when I researched this business.
A member of the Direct Sellers Association (DSA).
They support many worthy charitable causes locally as well as globally.
A great way to get family and friends together for wine and cheese parties.
Great niche and doesn't appear to be overly saturated.
What I Don't Like About ONEHOPE Wine
On the opposite end of the scale, I did find a few things that I didn't like.
They are not accredited with the Better Business Bureau.
When reviewing a business always get into the habit of checking whether they have a rating with BBB first. You will find complaints here if they are any too.
Wine is on the pricey side and you'll probably be able to find far cheaper great wine options at your local supermarket.
Hidden costs
Such as going to events and organizing wine parties which you will have to fund yourself.
There are a few states in the US that do not allow the transportation of alcohol.
MLMs are notoriously difficult to master with only a few that actually have any major success with between 90-99 per cent that do not earn enough to replace a full-time job.
You have to really excel at recruiting others to join if you want to work your way up the corporate ladder.
Is ONEHOPE Wine A SCAM?
I can honestly say that ONEHOPE is not a scam.
I have come across many scams in the past and this is definitely not one of them.
They have an extensive range of wines that people seem to love but those people do appear to be Onehope members.
They do appear to be exempt from any lawsuits and investigations.
However, the business opportunity is somewhat lacking and it is going to be a tough cookie to crack although some do make it work.
Is ONEHOPE Wine A Worthy Business To Get Involved With?
I can bang on about why you should not take up this business opportunity and give you a one-sided review but that is never my intention and I like to present to you both angles, positive and negative.
At the end of the day, the decision is all down to you and if this review stops you from making a bad judgement call or at least gets you to do more research then I have done my job.
The one thing that should stop people in their tracks when contemplating joining an MLM is the FACT that 99% do not earn enough to make it a full-time job.
Look at me ranting on when in fact I fell into the MLM trap myself, not once but twice and they were both closed down by the authorities and guess what the owners ran off with all the money.
That was a hard lesson for me but it doesn't have to be like that for you.
Affiliate marketing is a far less complicated business model and you are more likely to succeed.
No recruiting
No stock to purchase
No monthly deadlines to meet targets
No huge investments
No selling face to face
Marketing costs can be zero using SEO
This is a business that you can pass down to your kids
Passive income that works 24/7/365
Plus many more benefits
No matter whatever business you pursue, it is not going to be a success if you are not prepared to pull out the stops and work extremely hard at it.
Nothing really worthwhile comes easy in this world!
This training platform was designed around the newbie with easy-to-follow training courses, with a community that has bags of experience that are only too happy to pass on and it's FREE to check out.

ONEHOPE Wine Review – FAQ
In this section, we found some questions that people are asking that we thought would be of interest.
Is ONEHOPE Wine An MLM?
Yes, ONEHOPE is a multi-level marketing business that sells traditional wine, they also donate to worthy causes for each bottle sold.
Can You Make Money With ONEHOPE Wine?
Yes, but like any MLM it takes time especially if you are new to this business model and do not have a following.
With 20 to 25 per cent commission, you can make through personal sales, events, fundraisers and online purchases.
How Does ONEHOPE Wine Club Work?
Becoming a member means you are part of a great community with like-minded people and ONEHOPE will donate 10% of every order.
To a nonprofit charity of your choice.
How Long Will It Take To Fulfil My Order?
Orders are normally fulfilled within 1 to 3 business working days with the exception of Saturdays and Sundays.
If for any reason you don't see any movement on your order please contact support and they will only be too happy to help.
How Much Does Shipping Cost?
1 plus bottles = £15
Wine club members who purchase 4,6 or 12 bottles can enjoy free shipping
Gifts sets are $15 each
Tasting flights are $10
Swag is $5 per item
Which State Does ONEHOPE Ship Wine To?
The wine that is purchased online can be shipped to the states listed below:
AZ, CA, CO, CT, DC, FL, GA, ID, IL, IN, IA, KS, LA, ME, MD, MA, MI, MN, MO, MT, NE, NV, NH, NJ, NM, NY, NC, ND, OH, OK, OR, PA, SC, SD, TN, TX, VT, VA, WA, WV, WI, WY
With the exception of the state below due to state laws.
AL, AK, AR, DE, HI, KY, MS, RI, UT
What Is The Returns Policy?
All the wines that are purchased from ONEHOPE are all in perfect condition and it is the policy of the company to ensure this is the case.
But, if you are not happy with the quality of the wine, ONEHOPE will replace any product.
That also goes for missing wine, the wrong wine ordered and damaged through transit.
Just get in touch with support.
What Is Your Cancellation Policy?
ONEHOPE will allow orders to be cancelled if they have not already left the warehouse.
Contact support for help in this matter.
Feedback, Comments and Subscribe
Well, I hope I have managed to address the main points and given you enough information for you to carry on with your research or make a judgement call.
If you enjoyed the review, why not show some love by sharing it amongst your friends on social media?
Until next time, stay safe.