Welcome to this Organo Gold Coffee Review.
If you have been on social media long enough you are sure to have seen all the Organo Gold advertisements, which is probably why you are here in the first place.
We all have addictions right?
Drinking coffee must be right up there as one of the biggest addictions there is and businesses like Starbucks, Costa and Organo Gold are relying on this to thrive in a very popular market.
Nowadays you do not have to purchase Organo products through an Organo Gold distributor or that you have to signup or become a distributor yourself.
The products can be found in many retail outlets such as Amazon, Walmart, Ebay, Q0010… Amongst others, if you took your time to look.
As a business opportunity, they fail to highlight this very fact and this will be discussed further into the review.
What I will make clear is that I am not associated with Organo Gold and therefore you won't find me trying to sell you their coffee or business opportunity, that will be down to you.
So is Organo Gold a pyramid scheme (in disguise)? Is Organo Gold a scam? Are the products great like many suggest and is there a business opportunity where you can make a living from?
All will be revealed so without further ado, let's get right into this Organo Gold MLM Review and see.
---
[Affiliate Disclosure: This post may contain affiliate links which means I may earn a small commission if you purchase anything through one of the links. However, this will not affect what you pay!]
---

Product: Organo Gold rebranded to Organo in 2015
Location: Richmond, Canada
Founders: Bernardo Chua, Shane Morand
Founded: 2008
Website: www.organogold.com
Product Description: A network marketing business manufacturing and selling an assortment of products in the health and wellness industry with coffee their main product.
Cost to join: $49.95 plus upsells which we will cover later.
Price of products: $1.75 – $329.00
Best For: Network marketers with plenty of experience.
Recommended: NO
Summary: Not recommended for newbies coming into the "Make money online" niche. There are much better opportunities out there.
---
Internal Summary and Navigation
---
What is Organo Gold about and who are the founders?
Organo Gold is a network marketing company that was founded in 2008 by Bernardo Chu and Shane Morand and reside in Richmond, Canada.
The products are sold in over 50 countries on five continents with around 1 million distributors.
Organo Gold officially started in business as a coffee distributor but over the years expanded the range of products to include tea, skincare, health and wellness, and personal care.
Their brands of coffee are quite unique which includes a form of fungi which grows on decaying hardwood trees, for what they believe are many health benefits.
Ganoderma lucidum or the red Reishi mushroom, or the "King of the herbs" as it is known, apparently has been used for 1000s of years in Asian culture and comes with many health benefits. Some we shall mention a little later.
In 2015 they went through a rebranding exercise and dropped the "Gold" from the name to obviously allow them more freedom to continue selling a wider range of consumable products through their network of distributors.
What is also interesting is that Organo Gold split ties with the US version of DSA (Direct selling association).
This is unclear why, although I have heard to avoid the suggestion of running a pyramid scheme, although recently they have been accepted by the Canadian DSA.
For anybody who knows about boxing, my research found a very popular boxer, Manny Pacquiao been signed up by Organo Gold, which clearly can be seen in this presentation.
Check out this short Organo Gold promotional video.
---
Is Organo Gold a Pyramid Scheme?
Organo Gold is certainly not a pyramid scheme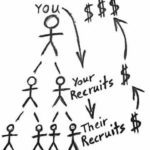 as can be seen by the full range of products which are highly recommended.
A business would be deemed a pyramid scheme if the business opportunity paid you for recruiting other members into your team with or without products that had no intrinsic value.
That could be deemed a pyramid scheme in disguise which many MLM companies operate under and sometimes hard for the authorities to clamp down on.
Check out what Wikipedia has to say about this topic right here.
---
Let's look at the Organo Gold products range
What makes Organo Gold Coffee stand out above the likes of Starbucks and Costa is the addition of a fungi called Ganoderma
lucidum, which according to Organo Gold has many health benefits.
What really are the benefits (or health risks) of this "wonder  Mushroom" which grows on decaying hardwood trees?
Cardiovascular, antioxidant benefits, lowers cholesterol and blood pressure, liver benefits amongst many others.
Some side effects with prolonged use such as an upset stomach, dry mouth, dizziness, nosebleeds, headaches, itching and it is recommended that you consult a doctor before taking Ganoderma if you are pregnant.
If you are interested in finding out more about this mushroom, you can check out this article.
---
Organo Gold's most popular product range
The above image displays their current flagship products which all have the magic mushroom (no pun intended) in their blends.
---
The Organo Gold product range can be found within the categories listed below…
Beverages – Ganoderma lucidum
Gourmet Black Coffee
King of Coffee
Cafe Latte
Cafe Mocha
Cafe Supreme
Hot Cocoa
Green Tea
Red Tea
Espresso
Uno Espresso Decaf
Uno Espresso
Due Espresso
Tre Espresso
Espresso Capsules
Espresso Recipes
Body Management – Nutritional shakes with Ganoderma mushroom
OGX Fenix Rich Chocolate
OGX Fenix Creamy Vanilla
Ganoderma Lucidum. Helps support the immune system
Mycelium. Dietary supplement
Spore Powder
Grape Seed Oil
Personal Care
OG Smile
Premium G3 Beauty Soap
Skincare
Manuka
Jojoba
Bee Venom
Retinol
Tea Room
Red Tea
Organic Green Tea
Bubbly Lemon Organo Green Tea Summer Recipe
Berry Blast Organo Red Tea Summer Recipe
Moroccan Organo Tea Winter Recipe
Loose Tea Recipes
Green Tea Vinaigrette
---
For a closer look at the Organo Gold products range with current prices…
You can check out the full range of products here
---
Organo Gold Business Opportunity – What you need to know
Any business no matter what it is, takes a lot of hard work, patience and persistence and of course the right mindset.
MLMs get a lot of flack because people are bought into the millionaire lifestyle and promise that they are going to be successful and earn big bucks.
Only the very top 1% are the real successes in this game, but who knows maybe you will be part of that select crowd.
I mean, let's take a look at a very successful network marketer, Holton Buggs.
Heavily into debt and threw everything into Organo Gold as a distributor and built his business into a $1 million+ monthly payroll.
Now, could that be you?
---
How to become an Organo independent distributor?
The Organo Gold official website is not clear at all when it comes to becoming a new member.
Yes, it mentions the starter pack listed below that everybody has to purchase, but there is no mention of bronze, silver and gold packs.
It is only when you purchase the starter pack that the other upsells appear.
Business Entry Kit ($49.95)
One year to the back office and a replicated Organo Gold website for marketing purposes.
Binder, brochures and applications.
Variety of coffee samples and access to wholesale purchases.
Note:
Access to your own back office is only for 1 year and therefore additional costs will be incurred which means purchasing one of the three additional packs listed below.
Bronze Pack
$150 is the initial cost
$50/month auto-ship
Receive up to 10% commissions
$450 is the initial cost
$100/month auto-ship
Receive up to 15% commissions
Gold Pack
$1,300 is the initial cost
$100/month auto-ship
Receive up to 20% commissions


---
If you want to take full advantage of the commission rate you have to purchase one of the three packs indicated above.
(P.S. Autoship means you have to purchase a certain amount of Organo Gold products every month for which they will be shipped to you automatically. You can either purchase the products yourself, family and friends or others to earn a retail profit.)
---
To Re-Cap on what it would cost you in your first year
It all depends really on which package you feel good about.
Obviously coming into this business with plenty of experience in network marketing you would go straight to the Gold Package to take full benefit of the 20% commissions.
Bronze: $49.95 + $150 + $50/month for 12 months = $800
Silver: $49.95 + $450 + $100/month for 12 months = $1,700
Gold: $49.95 + $1,300 + $100/month for 12 months = $2,550
In my mind, this is a too bigger investment for a newbie and there are much better options out there which I will briefly discuss a little later.
---
How to Make Money With Organo Gold
I mentioned right at the beginning of this review regarding where else you could purchase Organo Gold products from and something that you won't find mentioned on the Organo Gold Official Website.
Amazon, Walmart, eBay, Q0010 amongst other retail outlets, which is going to make your job so much more difficult.
Something that I totally disagree with!
---
There are many ways that you could run your business but the 3 basic ways would be to…
Purchase products for yourself and family at discount.
Sell the products to customers.
Recruit others into your team and make commissions on what your team sell.
Option 3 is what you really have to learn and excel at if you really want to see some rewarding results.
Of course, there are many other ways to attract customers which are basically limited by your imagination.
Social media and Facebook, Youtube, Twitter, Instagram, Pinterest…
Choose your sponsor very wisely which is going to take some research on your behalf, because if you go in blind Organo Gold will allocate one.
You are looking for a sponsor who knows the ropes and is prepared to pass on his/her knowledge, that's why most will seek out the top earners and that's exactly why the very top few make the big bucks.
---
Here you can check out the Organo Gold Compensation Plan for yourself
There are 7 ways that you can get paid through the compensation plan which are highlighted in this document or click on the video below for a more detailed and easier to follow explanation.
---
Are Organo Gold independent distributors actually making money?
According to the 2019 Organo Gold income disclosure, 88 per cent of all Organo Gold independent distributors earn between $0.00 and $599.00 per annum.
That makes around 12% who are actually making somewhere between $600 and $100,000+
You can check out the pdf file here
So overall, based on those findings if there were 1 million distributors who had joined Organo Gold…
That means that 880,000 Organo Gold distributors are earning less than $600.00 a year.
What do you think? Would you say that this business opportunity was worth a punt or are you a believer that you could be in the top 12% but even that isn't enough? You should be aiming for the top .25 per cent.
---
What others say about Organo Gold
I am more of a tea person although I do enjoy a good cup of coffee, normally Latte at Costa or Starbucks. Unfortunately, Organo Gold isn't prepared to take on those 2 giants in the coffee shop industry, and therefore I for one will not be purchasing.
There is no shortage of Organo Gold reviews to read, so please ensure that you at least check out a mix of reviews before joining.
---




If you have 30 minutes spare this documentary is worth watching and is very funny too.
---
What I like about Organo Gold
Income disclosure
The problem with MLMs, in general, is the absence of any proof of earnings, but Organo Gold offers this information which is in plain sight when you sign up as a member, even if the reading is not good.
Products are well received with many positive reviews.
Giving to others
Bags for life is a non-profit organisation to support women in impoverished areas by sending recycled trash, in this case, empty sachets for the women to turn into bags, which are auctioned at OG events and the proceeds passed back.
Products are very reasonably priced.
---
What I don't like about Organo Gold
The products are very well received but as we have seen many times before it is not all about the products that make a great company great.
They are not accredited with the Better Business Bureau
Only the very top 1% earn the real bucks with 99% that don't earn enough for it to become a full-time income
They parted ways with the Direct Selling Organisation (US version) and many believe to avoid being dragged into the pyramid scheme scenario.
In recent times they have been accepted back into the Canadian DSA.
The requirement to stay active.
The pressures of having to maintain a certain amount of sales monthly in-order keep an Organo level can be overwhelming to many.
We see many, purchasing too many stocks and going into debt.
Recruiting
This is a major concern for many because unless you have this skill to recruit you will struggle.
What tends to happen is that members try to recruit friends and family which is a sure way to lose that friendship.
---
Is Organo Gold a SCAM?
No, Organo Gold is definitely not a scam because the products are genuine and there are plenty of good reviews to back this up.
However, I do have issues with the way Organo Gold distributors approach prospective customers with many false claims to get you to purchase or worse still to get you to join as a member in their downline.
I also have an issue with them not declaring exactly what is involved to become a distributor with this information only becoming available when you purchase the "Business Starter Kit"
---
Is Organo Gold a Worthy Business to get involved with?
You should have more than enough information for you to decide whether this is a business worth participating in or not.
MLMs have never been my cup of tea as I have tried them and failed miserably.
Affiliate marketing is a much better choice, where you are in full control with no pressure.
Wealthy affiliate brings to you that training and the best thing about it is its "FREE" to join and check out.

---
Feedback, Comments and Subscribe
I hope you enjoyed the review and that you are in a much better place not just with Organo Gold but MLMs in general.
If you did like the review please help by sharing in social media amongst your friends to help them not make the same mistakes I did.
Any questions at all about this review or anything off-topic just stick them down in the comments section below.
Until next time, stay safe.