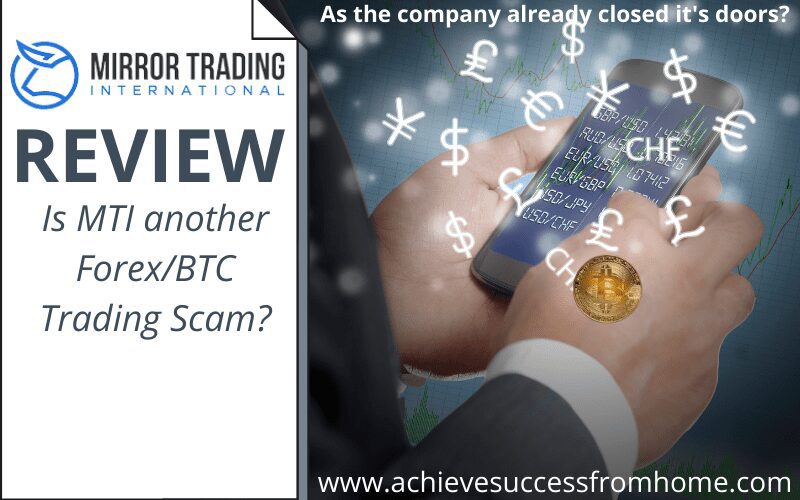 Welcome to this
Mirror Trading International Review
.
Cryptocurrencies are getting more and more popular these days but still a volatile and risky business to get involved with.
That's obviously why you are here reading this review about MTI to see if they are a legit company even though there has been a lot of bad press about them recently.
I would like to point out first that I am in no way affiliated with MTI and you, therefore, will not find me trying to pitch or sell you anything.
I am here to give you an honest unbiased review of Mirror Trading International and to give you all the facts and to put you in a position where you can decide the right course of action.
So, without further ado, let's get right into this Mirror Trading International review.
---
[Affiliate Disclosure: This post may contain affiliate links which means I may earn a small commission if you purchase anything through one of the links. However, this will not affect what you pay!]
---

Product: Mirror Trading International
Location: South Afrika
Founder: Johann Steynberg
Founded: 2019
Website: www.mirrortradinginternation.com
Product Description: MLM in the Cryptocurrency and Forex trading industry
Cost to join:  $100 – $10,000+
Best For: Nobody
Recommended: No
Summary: Whenever you review a business opportunity, no matter what it is, always do your own research thoroughly, that way you cut any surprises down to a minimum.
Pay particular attention to the people running the business.
If the company is not openly upfront about the basic information, like who owns or runs the business, then be very careful when making your final decision to join or not. In fact, I would walk away!
---
If you are sick and tired of SCAMS, Pyramid schemes, MLMs, recruiting, having to purchase stocks, haggling family, friends and customers. Looking for a proven method of making money online, then check out my #1 recommendation. 
---
Internal Summary and Navigation
---
What is Mirror Trading International about and who are the Founders?
Mirror Trading International are a network marketing company offering a business opportunity to members trading in Crypto and Forex.
Founded in South Afrika in 2019 by Johann Steynberg.
In the last few weeks, major things have been happening with MTI to the point that the company may already have been closed down.
All the signs were already there that major issues were going to come into play.
The promise of daily ROI, through what they called an AI bot which was to automate the trades or was this just a bunch of lies?
In fact, if their "AI Bot" was so good with consistent returns, then why would they share it amongst other people like its affiliates?
Makes absolutely no sense at all, because if it were me, then I wouldn't be telling anybody about it.

Any mention of automation, especially with trading, is probably just pure BS, especially when we are talking about an MLM.
If you look at the affiliate reviews that are dotted around, it is quite compelling that MTI is/was running a Ponzi scheme.
The writing was on the wall way back on the 26th October when homes were raided and goods seized by the FSCA from Cheri Ward, Clynton Hugh Marks and the owner Johann Steynberg.
All 3, Cheri Ward, Clynton Hugh Marks and Johann Steynberg come with a checkered history of been involved with MLM Ponzi Schemes.
Of course, the affiliates are the last to know about any such proceedings.
Johann Steynberg, the founder as apparently done a runner and can't be found. In fact, it is believed that he has left South Afrika and nobody appears to know where.
What I find extremely strange is that Steynberg was the only person who had access to the trades and how they were paid out.
I thought the whole point in a "Wallet" was to ensure any investment was safe for the investors, but it would appear affiliates gave permission for their "Wallets" to become available to Steynberg and whoever else.
It looks highly likely that Mirror Trading International has been closed or maybe just suspended to try and sort out this whole mess.
---
Is Mirror Trading International a Pyramid Scheme?
Well, a pyramid scheme according to the Federal Trade Commission is any MLM where the emphasis is on the affiliate to recruit others into the business without a product or service of value.

Some may be able to but many can't!
That was prior to the FSCA seizing assets from 3 of the main people and raiding MTI offices.
With Mirror Trading International recruitment is key but they have no retailable products or services, then under the FTC guidelines would constitute Mirror Trading International as running a pyramid scheme.
As you are probably aware that pyramid schemes are totally illegal in most countries and even if they are still operating that is only because the authorities are very slow to act.
I would strongly suggest you stay away from Mirror Trading International.
You can take a look at what Pyramid Schemes are all about in this short video.
---
Success is Unlikely with Mirror Trading International
It is a known fact that all Multi-level-marketing companies are extremely difficult to succeed in.
Before the company is available to the public there is a Pre-launch, which allows the founders to invite usually big investors, to join.
These big investors usually bring large followings which is great for the owners.
These is how the business payment structure is set up first, the top 1% and where all the real money goes.
Once the top of the payment structure or pyramid is in place then the doors are opened for you and me.
It's a known fact that around 90% actually lose money in these ventures.
With around 50% to 65% that do not stay around long enough to see in their 2nd year.
With an MLM, the odds of succeeding are always stacked against you.
---
Let's look at the Mirror Trading International products
MTI have no products or services and the only way is for affiliates to market and promote the MTI affiliate program.
---
Mirror Trading International Business Opportunity – What you need to know
Is there a business opportunity at Mirror Trading International?
Well, considering the FSCA as come in then as far as I am concerned there isn't a business and even if this was a temporary situation then nobody is going to come anywhere near.
Just ask the approximate number of affiliates which is in the 300k range.
Where Mirror Trading International will be in the foreseeable future is anybody's guess.
All the same, we shall still continue with this MTI review…
---
How to Become a Mirror Trading International Affiliate
It's free to join, but you would need a sponsor first to register.
That will give you access to the back-office where you can start investing.
A minimum investment of $100 is required but the more you invest the more RIO you will make or so they claim.
---
How to Make Money with Mirror Trading International
The main way of making money is through recruitment where you make a commission on what your recruited affiliate invests and a smaller percentage of what they recruit and invest.
The 2nd way is through any investment you make in Bitcoin with a promised daily ROI.
Let me tell you, there are absolutely no guarantees when trading, just ask Warren Buffet?
---
Mirror Trading International Compensation Plan
Mirror Trading International uses a binary structure as can be seen below.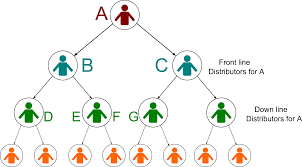 To qualify you would need to invest a minimum of $200 even though on their website they state that the minimum of $100 would be required.
Dependant on how much you invest determines how many levels you can go down in the payment structure.
Invest…
Between $200 and $999 to earn commissions down to 10 levels
Between $1,000 and $4,999 to earn commissions down to 20 levels
Between $5,000 and $9,999 to earn commissions down to 30 levels
Between $10,000 or more to earn commissions down to the infinite level
Invest $200 to $999 and earn residual commission 10 levels down
---
Are Mirror Trading International Affiliates Actually Making Money?
Through a mix of Mirror Trading International affiliate reviews, we can see that many are happy whilst many aren't.
However, there is no way that we can validate this because of how easy it is to create false reviews.
What we do know though is that most of the money is funnelled through to the top 1%, leaving the rest struggling, with around 90% actually losing money.
---
What I like about Mirror Trading International
There is nothing I like about Mirror Trading International.
---
What I don't like about Mirror Trading International
Not sustainable
Once the affiliates realize that making money with MTI is unrealistic then they will leave, with as many as 65% that will in the first year.
Outsiders looking in will see this as well as mounting complaints and they will go looking elsewhere.
Eventually, the number joining will not replace the ones leaving which will mean no commissions filtering through and the business will close.
Of course, there will be a contingency plan in place and should be evident when the time comes.
MLMs are extremely difficult to succeed in
I have tried them and never earned a dime but that is not to say that you won't, but to succeed takes a lot of experience, especially in recruiting to a cold crowd.
Pyramid Scheme
They have all the hallmarks of a pyramid scheme and even if you think otherwise because they are still operating, it is only a matter of time before the authorities catch up.
Not regulated
Like we find with many MLMs in this particular niche, they are not regulated and therefore committing securities fraud.
---
Is Mirror Trading International a SCAM?
We are seeing many indications that this could be the end for Mirror Trading International.
What with their founder doing a disappearing act and nobody seems to know where he's gone.
The FSCA raiding homes and offices, just look pretty bleak and just where this leaves the affiliates is anybody's guess.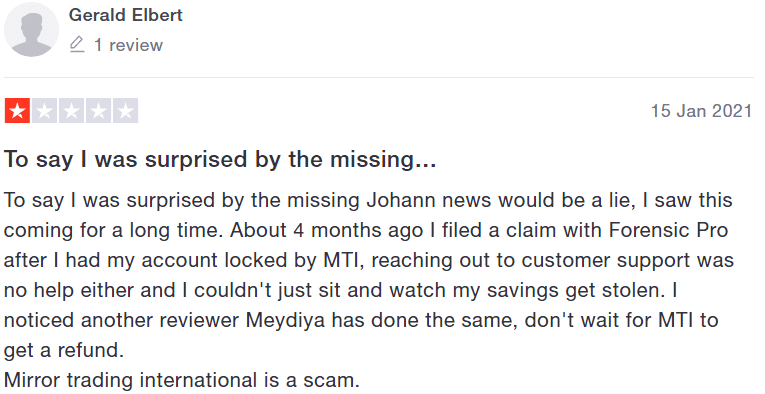 ---
Mirror Trading International Review – Final Analysis
As you can see Mirror Trading International is just one of the many MLMs that promise you the world but never deliver.
This happens all the time and the reason why I decided to turn my back on the MLM business model.
If just doesn't work and will leave most people out of pocket.
However, a business model that does work is Affiliate Marketing.
No recruiting
No hidden costs
No pressure from sponsors above
No restrictions
The business model couldn't be any easier and something everybody can adapt to…
Have an interest or a hobby
Create a website to promote your interest/hobby
Write content for your website
Make commissions
There are literally hundreds of millions of products to promote and not restricted like an MLM.
Wealthy Affiliate has been around since 2005 with many success stories and without doubt probably the best training platform there is for learning how to become an affiliate marketer.
---
How I make a Living Online
I decided to call time on my full-time career to spend more time with my family and to allow me to do what I wanted and whenever I wanted.
A full-time job doesn't allow you to do this.
There are many success stories at Wealthy Affiliate, these are just a few which are very typical.
The training platform is, without doubt, the best I have come across and one you can check out yourself for free. If you are ready for this amazing journey then you can join here.
---
Feedback, Comments and Subscribe
Hope you found this Mirror Trading International review helpful.
If you have any questions regarding MTI then please let me know below in the comments section.
Do you have experience with this company or any other similar company?
Would you like to share your experience with our readers?
Until next time, stay safe.