Welcome to this
iQuandex Review
.
Another multi-level-marketing business trying to capitalise on the cryptocurrency industry.
iQuandex has been showing some interest amongst social media, and whether you have seen their marketing campaigns or been approached by an iQuandex affiliate, then welcome to this Iquandex reviews.
You are definitely in the right place because, in the next few minutes, I hope to show you what this company is about and whether it could be an investment that you might want to consider or not.
Before we go any further I'd like to point out that we are not affiliated with iQuandex in any way and you won't find us pitching or trying to sell you anything.
However, we will be giving you an honest unbiassed account of who iQuandex is so that you can make an educated decision whether to join or not.
So, without further ado, let's get right into it.
---
[Affiliate Disclosure: This post may contain affiliate links which means I may earn a small commission if you purchase anything through one of the links. However, this will not affect what you pay!]
---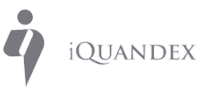 Product: iQuandex
Founder: Abrarov Rinat Fanozovich, with business partner Denis Derkach
Founded: Russia
Website: www.iquandex.com
Product Description: A cryptocurrency multi-level-marketing business
Cost to join:  $25 – $5000
Best For: Nobody
Recommended: No
Summary: Crypto is a volatile and risky business and you should not invest more than you are prepared to lose, but be prepared to lose.
The ones who capitalise in this industry are the big investors because it's them that control the variances.
More and more MLMs are getting in on the act because they see this as an easy way to make a quick buck.
Don't be too surprised if iQuandex is no longer around by the time you read this review.
---
If you are sick and tired of SCAMS, Pyramid schemes, MLMs, recruiting, having to purchase stocks, haggling family, friends and customers. Looking for a proven method of making money online, then check out my #1 recommendation. 
---
Internal Summary and Navigation
---
What is iQuandex about and who are the Founders?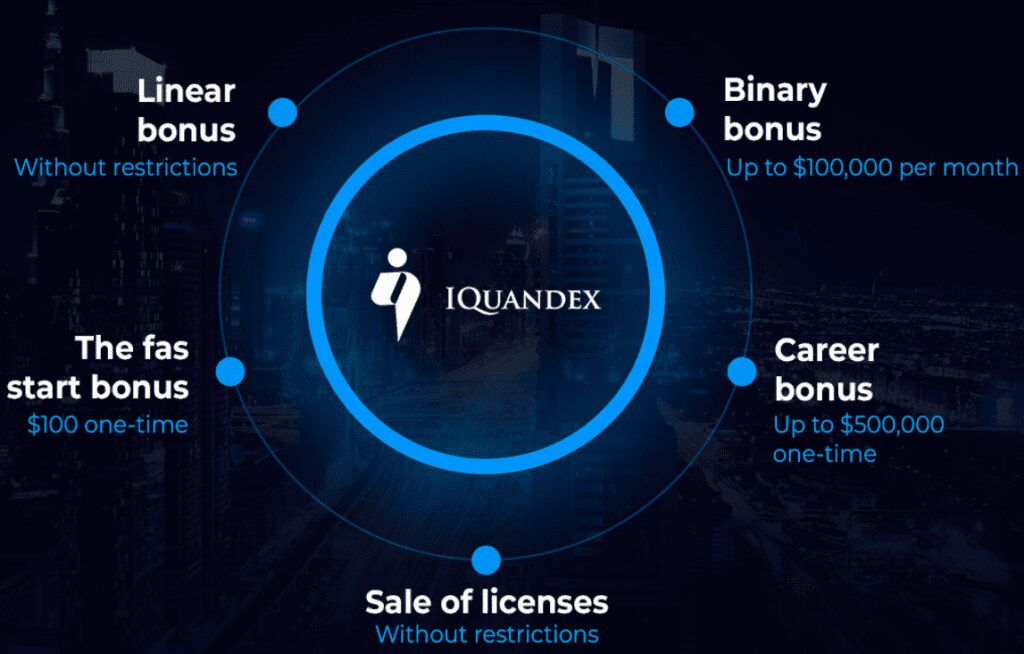 iQuandex is a multi-level-marketing cryptocurrency trading platform that is registered in Russia.
Straight off the bat, we see that the website gives you absolutely no information at all other than a registration webpage.
I don't know about you, but I like to know exactly what I am going to buy into.
When you struggle to find the simplest of business information, like who the founders are or where they are based then its time to ask the question, why are they hiding such information?
It is obvious that these people are blatantly trying to blind-side investors by withholding important information about the company.
However, people still join these businesses knowing all this beforehand, or is it that people just would rather believe the BS that these affiliates tell them, giving them that little bit of hope for some financial reward?
It is difficult to actually find out who the owners are although 3 guys did crop up in our research, Abrarov Rinat Fanozovich, Denis Derkach and Georgy Plugin.
However, keying in the name Abrarov Rinat Fanozovich into the Google search engine produces no results at all meaning it is most probably an alias.
Denis Derkach claims to be a cryptocurrency consultant and can be seen in Youtube videos although a little sketchy and besides they are all in Russian.
He was, however, a member of Kannaway up to quite recently. A reputable MLM business in the CBD Oil industry.
Prior to this, he was involved with the Bitclub Network which turned out to be a Ponzi scheme taking the investors for over $700 million.
Georgy Plugin is the CIO and we found that from Linkedin.
Check out one of the very few video presentations in English
---
Is iQuandex a Pyramid Scheme?
iQuandex do not have any products or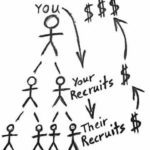 services that we could find and would according to the FTC, place them in the pyramid scheme category.
As there are so many of these MLMs currently trading in this way, are allowed to continue because regulatory agencies like the FTC are slow to act.
To avoid been closed down the owners usually register the company in countries where restrictions are almost non-existent.
You can take a look at what Pyramid Schemes are all about in this short video.
---
Success is Unlikely with iQuandex
Multi-level-marketing businesses are structured in such a way that they only ever benefit the owners and the people invited at the pre-launch date.
The owners want to make as much money as they can in as short a period of time because who knows what is around the corner.
Investors come with large lists. People who follow their every move and this can only be a good thing for ones at the top of the payment structure.
To succeed in an MLM is extremely difficult with between 50% and 65% that don't make it beyond the first 12 months.
In fact, around 90% of members actually lose money.
Even income disclosures that you do find often do not even try to hide the fact.
In the case of iQuandex, who don't have an income disclosure, how are you to convince people that what they have to offer is a good investment?
---
Let's look at the iQuandex products
We couldn't find any products or services of any value on their website which leaves members only able to sell the affiliate membership itself.
---
iQuandex Business Opportunity – What you need to know
Is there a business opportunity at iQuandex?
All we could find on their initial website was a registration page with no information regarding how the whole business worked.
That been said, let's continue…
---
How to Become an iQuandex Affiliate
Of course, if you want to take part in the business then you need to find a sponsor first.
Depending on which product type you purchase determines just how much money you can invest, with a minimum of $50 to a maximum of $5000
---
How to Make Money with iQuandex
The main way to make money with iQuandex is through recruiting others into the business and becoming part of your team.
The other way is through the promise of a daily ROI which they claim is guaranteed.
---
iQuandex Compensation Plan
Normally when it comes to this section we come across a Youtube video which goes into detail saving us the time but unfortunately, we couldn't find one.
The amount of commissions paid is all based on one of the 5  business packages that you purchase for…
$25 and allowed to invest $250 – $1500 with a promise of 110% ROI
$250 and allowed to invest $250 – $1500 with a promise of 150% ROI
$750 and allowed to invest $200 – $5500 with a promise of 150% ROI
$1500 and allowed to invest $7500 – $15,000 with a promise of 150% ROI
$5000 and allowed to invest $20,000 – $60,000 with a promise of 160% ROI
Affiliate Ranks
There are 10 affiliate rankings associated with the business packages which are capped with the amount you can earn up to.
Bronze – Allowed to earn up to $1000
Silver – Allowed to earn up to $3000
Gold  – Allowed to earn up to $10,000
1 Star – Allowed to earn up to $30,000
2 Stars – Allowed to earn up to $80,000
3 Stars – Allowed to earn up to $240,000
Diamond – Allowed to earn up to $720,000
Red Diamond – Allowed to earn up to $2,180,000
Blue Diamond – Allowed to earn up to $6,500,000
Grand Blue Diamond – Allowed to earn up to $20,000,000
In order to achieve these rankings, it all depends on the number of people you recruit.
Affiliate Recruitment Commissions
All based on membership fees that the recruited affiliate has paid.
They invest $25 or $250 and receive 8% from the recruited affiliate
They invest $750 or $1500 and receive 10% from the recruited affiliate
They invest $5000 and receive 12% from the recruited affiliate
Residual Binary Commissions
iQuandex pays commissions via a binary payment structure.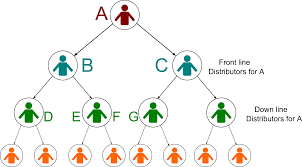 Membership fees are what dictates how much a recruited affiliate can make which converts into points.
Affiliates are rewarded with $25 for every 100 points matched on both sides of the team.
However, if you would like to go through the iQuandex business presentation then you can read about it here.
---
Are iQuandex Affiliates Actually Making Money?
Always difficult to answer because all the information that we have is what other people are telling us, and with no evidence to back their claims then we have to presume otherwise.
What we do know though is where the real money goes.
The top 1% is where it goes, leaving 99% who don't earn enough to replace their 9-5 job.
With between 50% and 65% that do not stay around long enough to see in their 2nd year.
The Federal Trade Commission as it well documented.
---
What I like about iQuandex
There is nothing I like about iQuandex.
In fact, this is about as bad as it gets with a company blatantly refusing to disclose even the smallest amount of information to people looking for a business opportunity.
---
What I don't like about iQuandex
There was a lot we didn't like about this company and had to cut back on the number of issues we found.
Not sustainable
The telltale signs that this business should be avoided are clearly evident and when members realize this they will leave and others looking for a business opportunity will see this too.
Once recruiting has dried up the business will close down, but the owners will know in advance what is happening and have a contingency plan and you are not invited.
Basic Website
If you can't find the basic information of a business on their website and you have to go looking elsewhere then you should stay well away.
What else are they hiding?
Pyramid Scheme in disguise
iQuandex have no products or services and the only real way of making any money is through recruiting others.
Not regulated
They aren't regulated and therefore committing securities fraud.
---
Is iQuandex a SCAM?

The more that people get interested in cryptocurrencies the more MLMs we see appearing, which makes it all too easy for the scammers to operate.
With outrageous claims made by them all, of daily ROI especially as crypto is so volatile. Nobody can offer such claims.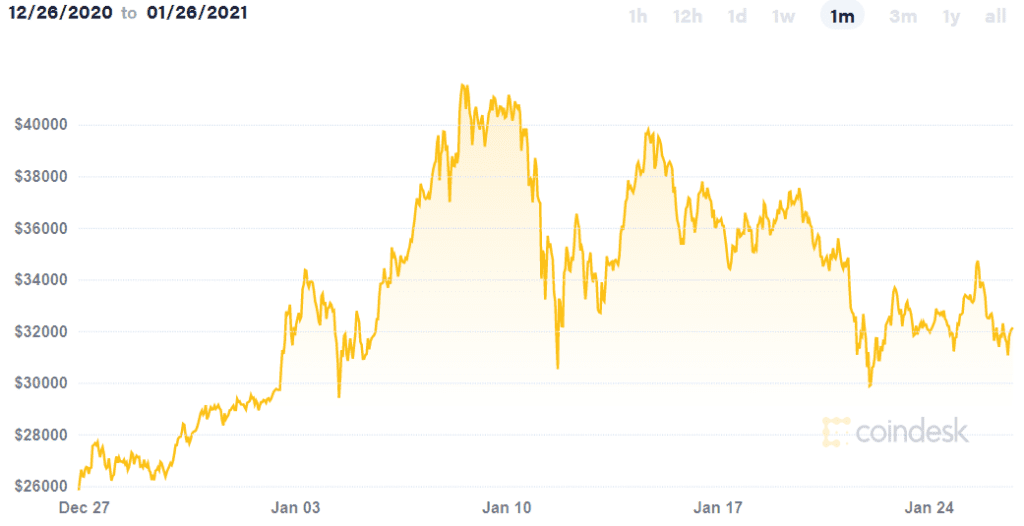 They even convince people that they have developed the next algorithm that will handle all this.

The only people who lose out in these schemes are the ones propping up the pyramid and once that company is closed down the ones who benefit are the ones invited at pre-launch and of course the owners.
Any money will be safely tucked away in Bitcoin wallets ready for the next venture.
I can't come out and blatantly tell you that iQuandex is a scam but there is enough information for you to come to your own conclusions.
---
iQuandex Review – Final Analysis
iQuandex is just one of the many MLMs that will come and go especially in the crypto niche and it will continue to do so until governments make a proper stand and regulate them.
The only way this could work is if all governments worked together.
MLMs did not work for me since I have tried them in the past, but Affiliate Marketing is by far the better business model and you can check how it works here.
Where you have the flexibility and you are in total control.
Wouldn't creating a business around something that you love, make more sense, like an interest or hobby?
Wealthy Affiliate has been around for over 15 years with well over 2 million members and without a doubt in my eyes the best training platform you will find for training anybody to become an affiliate marketer.
---
How I make a Living Online
After years of working away from home, I decided enough was enough even though that meant turning my back on some decent money.
I wanted to take my life back and spend more time with the family doing what I wanted to do and not been dictated to by an employer.
Affiliate marketing allows me to do that.
Just a few Wealthy Affiliate success stories which are just typical…
Building any business will take time no matter what it is, but the most cost-effective and straight forward business model I have found is by far affiliate marketing.
If you are ready for this amazing journey then you can join here.
---
Feedback, Comments and Subscribe
Hope you enjoyed this iQuandex review and that I was able to answer many of your questions.
If I missed out anything or you want to ask me any other questions please do so in the comments section below.
I read and reply to all my reader's comments.
Until next time, stay safe.