Hi, I'm Mick and welcome to this
Maru Voice UK Review
Making money online can be a difficult decision as there are so many ways to achieve this.
One of the most popular ways is to seek out online surveys that can come in various formats.
Either they can come as a dedicated survey site or they come through as a Get paid to site or GPT site, but the final outcome is the same.
Today we are reviewing Maru Voice UK and you are probably asking is Maru Voice UK a scam or is this a legitimate make money opportunity?
Well, for starters you are doing the right thing by research as it's the only way to ensure you find legit make money opportunities.
One thing you need to know before we continue is that we are not associated with Maru Voice UK in any way and therefore you will not find us pitching to you.
What you will get is an honest no holds barred review with all the facts so that you can make the decision as to whether you should join or not.
All will be revealed in the next few minutes, so let's see what Maru Voice UK has to offer.
---
[Affiliate Disclosure: This post may contain affiliate links which means I may earn a small commission if you purchase anything through one of the links. However, this will not affect what you pay!]
---
Product: Maru Voice UK
Founder: Maru/Blue which is part of the Maru Group
Product Description: Dedicated online survey site
Website: www.maruvoiceuk.co.uk
Price of product: Free to join
Recommended: No
Summary: Maru Voice is a relatively new dedicated survey site and registered in London, UK.
As they are new there isn't much data around to give you an idea of whether the site is legit or not and the only way to find out is to join and try it out.
You see many reviews around praising online survey sites as a good way to earn some money.
Well, through our experiences we find that these sites are not a good way to make money simply because of the amount of time that you have to dedicate to them for very little reward.
You would think that dedicated survey sites would have a big flow of surveys as this is the only way of earning, this often isn't the case and you are left waiting.
The reason why I stopped doing online surveys and found a much better way to make some real money…

---
If you are sick and tired of SCAMS, Pyramid schemes, MLMs, recruiting, having to purchase stocks, haggling family, friends and customers. Looking for a proven method of making money online, then check out my #1 recommendation. 
---
Internal Summary and Navigation
---
What is Maru Voice UK about and who are the Founders?
Maru Voice UK is a dedicated online survey site that offers its members a way to make some money through giving their opinions in surveys that are provided by 3rd party companies.
Maru Voice UK is the newest edition to the global survey sites and was founded in June 2018 and owned by Maru/Blue.
Maru Voice has 2 other survey sites like Maru Voice UK, in Canada under the name Maru Voice Canada and in the US as Springboard America.
---
How does Maru Voice UK Make Money?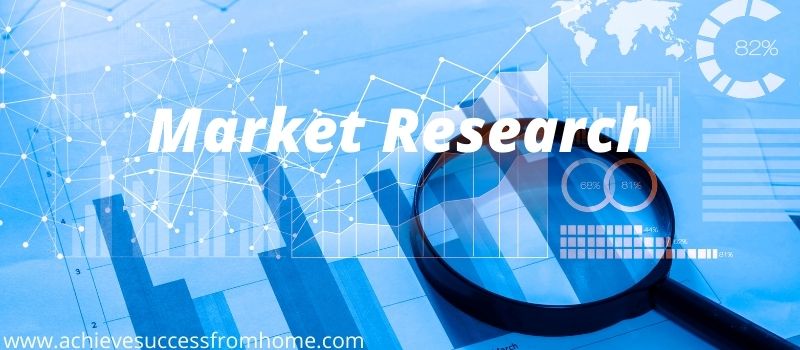 Market research is a business strategy that is so important in today's competitive markets.
It is a way to establish new markets and to expand existing ones not to mention consumer behaviour and trends.
All important areas which help the businesses to flourish and compete at the highest levels.
Maru Voice UK operate their business within the affiliate marketing genre and act as the middle person whose job it is to connect people like you and me to surveys.
Either through their parent company or through 3rd party survey providers.
Any surveys that are completed then Maru Voice UK are rewarded by way of a commission and it is their job to share this amongst its survey panel.
---
How does Maru Voice UK

W

ork?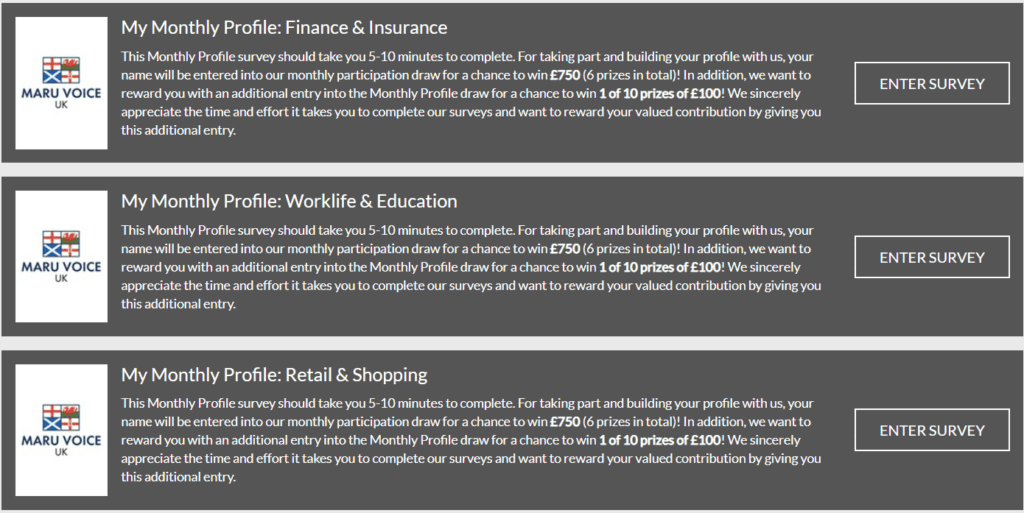 The registration is straightforward with a few personal details to enter to help Maru Voice UK match the right surveys to your profile.
An email will then be sent out to you so that you can activate your account and for becoming a member you are entered into a £1000 prize draw.
Once you sign in to your member's area you will see a number of surveys that all related to your profile and help towards matching the right surveys.
For every survey you complete which I believe was 7 or 8 you are entered into a sweepstake where you can win a prize.
Maru Voice UK uses a points system 
1 Maru point = £0.01
100 Maru points = £1
1000 Maru points = £10
Paid Surveys 
Paid surveys at Maru Voice UK is the only method of earning and at Maru Voice UK there are 2 types of surveys available to you, surveys from Maru and surveys from 3rd party survey providers.
Surveys at Maru Voice UK range from 50 – 500 points but the problem here is the number of surveys that you will be allocated according to their website is between 1 and 4.

Now a quick calculation will tell you that it is going to take a long time to achieve the minimum threshold of £10.
What is certain is that 500 points or £5 for a survey is going to be highly unlikely with between 100 and 200 more likely the average per survey.
Even if you managed to achieve 150 points per survey times 4 per month only amounts to 600 points or £6 a month.
Entering draws 
At Maru Voice UK, they automatically enter you into their sweepstakes where you could end up winning a prize.
How you get paid
The cashout threshold is currently 1000 points or £10 and when this is achieved you are able to redeem your cash either through…

---
How much can you make with Maru Voice UK?
Doing online surveys is never going to make you rich and according to what Maru Voice UK claim on their website.
Expect to receive 1-4 surveys a month which mean that even if each survey taken and completed gave you the maximum number of points of 500 per survey.
The most you could earn would be 2000 points or £20 which works out at £0.13/hour.
You tell me is this the right way to dedicate your precious time?
---
Who is Maru Voice

UK F

or?
Maru Voice UK is primarily for UK residents only who want to express their opinions in helping UK businesses thrive in competitive industries.
There are 2 ways that you can join, either directly or you could be invited.
However, it may not be as straightforward to become a member as you think, and you will only know whether you have succeeded when after you have filled in the profile questionnaire.
---
What we liked about Maru Voice UK
Our time on the site was enjoyable all the same you are here reviewing whether Maru Voice UK is a good choice for you but there were some issues that we have managed to highlight.

A slick looking site that is very easy to find your way around.
Earn points when you don't qualify for a survey which is a good thing because you will find that you will not be qualifying for most of the surveys that are allocated to you.
---
What we don't like about Maru Voice UK

We did find more than our fair share of negative things to say about Maru Voice UK which are listed below.
The number of surveys is somewhat lacking which leaves you hanging around with nothing to do.
This is a big problem with dedicated surveys sites with surveys as the only way to earn, that's why GPT sites are so much more popular.
I'm sure people are not going to be sticking around for long if the most surveys you can expect to complete is 4 in a month.
Not qualifying for surveys has always been a problem with sites like this and with the lack of surveys that are available to you all the more a problem.
You have to take into consideration that on average you are only going to qualify for 20% of the surveys that are allocated to you meaning out of 10 surveys expect to "maybe" complete 2.
Very low earning potential and this you will find across the board with all these survey sites.
Considering that the number of surveys is going to be limited anyway, you can expect to earn possibly £50 a month at best and that's if you are lucky.
That works out at £1.25/hour which is horrendous.
Registration can be a bit of an issue where we have seen with some people who were invited, sent out a confirmation email, then found they had not been accepted.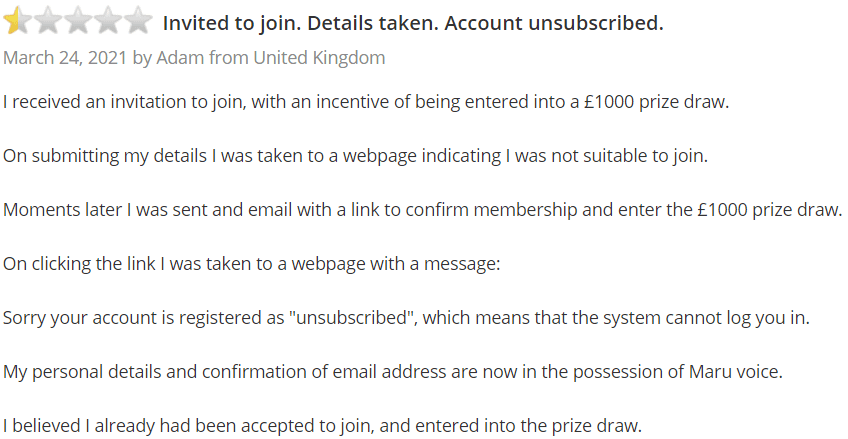 The cashout threshold whilst is low at £10 will take you a considerable amount of time to reach.
There is no referral program or we couldn't find one at Maru Voice UK which we find strange because normally this can be a better way of making money with these sites.
---
Is Maru Voice UK

a SCAM or LEGIT?
Maru Voice UK is a new online survey site and as it is there is not a whole lot of data to confirm whether this site is legit or not.
We did however signed up and become a member and whilst we managed to spend a considerable amount of time filling in our profile and partaking in a couple of surveys.
After maybe 2-3 hours we had only made 75 points which equates to £0.75.
The site is free to join and we did surprisingly enjoy the surveys that we took part in and found them interesting with not that many questions that were repeated like we often find.
Whilst we wouldn't say that Maru Voice was a scam we wouldn't recommend the site as a legit way of making money.
To make some real money you have to move away from that environment and find a better way.  Like we did!
---
Maru Voice UK Review

: Final Thoughts!
The site for us, we did actually enjoy our experience and were never disqualified part way through a survey.
However, we did take our time and thought about the questions properly which is all it takes.
But at the end of the day, there is no money to be made with Maru Voice UK and there are much better alternatives.
If surveys are what you enjoy doing then you might like to take a look at Freeskins, Reward XP, Branded Surveys, Idle Empire or Swagbucks.
All of which have good reviews with a lot more activities to help you earn more money, however, the amount will still be small.
However, if you really want to learn how to make some real money then…

---
Feedback, Comments and Subscribe
Hope you enjoyed this Maru Voice UK review and that we managed to answer most if not all your questions.
Maybe you are or have been a member of Maru Voice UK and would like to share your experience with our readers. We'd love to hear from you!
If there is anything you would like to add to this review or have a question then please add them in the comments section below.
Until next time, stay safe.