Hey Guys, welcome to my Gelmoment Review
There's no getting away from it that women love having their nails done but that normally means a trip to the local

nail technician.
Here we have a company that manufactures and sells their own range of one-coat nail gels.
You might have seen their promotional campaigns on social media or you might even have been approached by one of their consultants.
Whatever the reason you are here to find out if Gelmoment is legit and whether their business opportunity is worthy of your attention.
In the next few minutes, we will provide you with all the ammunition in order for you to make a decision one way or the other.
So let's begin.
---
[Affiliate Disclosure: My Gelmoment Review has been thoroughly researched from information and testimonials that are in the public domain. This post may contain affiliate links which means we may earn a small commission, however, this won't affect what you pay!]
---
Product:
Gelmoment
Founder: Dov Grossnass
Website: www.gelmoment.com
Product Description: Nail polish and beauty essentials MLM
Cost to join: $50
Recommended: Maybe
Summary: Gelmoment is a company that has been around for a few years that manufactures and promotes nail polish.
They offer the chance for the entrepreneurial-minded to make themselves some money.
This can be done through building your own team and making commissions from the sale of what your team sells.
However, making enough money to replace an existing full-time job is not as easy as you may think.
Gelmoment Review – Table of Contents
What is Gelmoment About?
Gelmoment is a multi-level marketing company manufacturing and selling mainly nail polish along with some beauty products.
They even have their own range of tea products.
They were founded in 2014 by its current CEO, Dov Grossnass with headquarters in Canada.
One thing that sets Gelmoment apart is that their nail polish is free of any toxic materials.
Lead-free, gluten-free, latex-free, vegan friendly and cruelty-free.
The drying period takes only a few seconds under one of their own heat lamps.
Here's a short video that shows you the whole process…
Who is the Founder of Gelmoment?
Dov Grossnass is the founder and CEO of Gelmoment.
Within 6 months he had expanded into three other countries and at the time over 5000 consultants.
Today there are over 45,000 consultants in 4 countries, Canada, the USA, Australia and the UK.
Prior to Gelmoment Dov has and still is associated with a skincare brand, Mosaic sales.
He even founded the first online coupon company and ran a school for the underprivileged.
Is Gelmoment a Pyramid Scheme?
Often companies associated with the multi-level marketing business model are labelled as pyramid or Ponzi schemes by many.
But that is simply based on their payment structure and whilst it may be in the form of a pyramid most MLMs do not fit into that category.
Since you can earn money by selling products which are legit and recruiting others and therefore Gelmoment is not a pyramid scheme.
But to earn real money you will have to get out there and recruit others and build a team.
What this entails is training your team and motivating them otherwise they will leave.
Just for clarity on what a Pyramid Scheme is…
The consensus is that a company may be declared a pyramid scheme where the affiliates or representatives are paid a commission for recruitment only.
Where there isn't a product or service with an intrinsic value, which is a product or service that is useless and has no meaning.
In most countries this is illegal and in some countries, people go to prison for a very long time, an example would be China.
What normally happens nowadays is that companies hide behind products which makes it all the more difficult for the FTC to prosecute.
Why aren't these MLMs getting closed down?
There are so many MLMs that operate as a pyramid scheme and because there are so many it takes time for the FTC to get their act together.
After all, they only have a limited resource of people to investigate and by the time they get around to doing anything about it.
The company under investigation usually closes down and reopens as some other company probably doing the same thing but using a different name.
You might like to check out this short video…
Gelmoment Product Line
We have already mentioned that their main product is a one-coat nail polish that dries within 60 seconds.
They offer over 80 different colours.

Over the years they have added to their range of nail and beauty products.
To include, Gel polish, Topcoats, Nail spa, Led lamps, Accessories, Nail art, Hair products, Body products, Tea products…
According to the Glemoment website, nail lamps come with a lifetime guarantee.
The nail polish is however expensive and at $25 a throw will certainly hold you back as you can find many products (name brands) much cheaper.
For a look at the full range of products and prices click on the link here.
Gelmoment Business Opportunity – What you need to know
For the entrepreneurial types, this will be the section that should interest you.
How much does it cost to join Gelmoment?
Before you can join Gelmoment you will need to find a sponsor and if you don't know one then one will be appointed to you.
The enrollment package as of this review is $49 which includes…
6 mini gel polishes
4 mini teas
2 mini nail spas
2 body spa mini scrubs
1 mini LED lamp
2 mini nail files
1 cuticle pusher
1 pack of 10 nail cleansers
1 pack of 50 gentle care removers
1 digitally printed nail card
1 enrollment beauty bag
1 colour chart booklet
3 hair spa samples
1 product catalogue
10 gel polish application cards
1 distribution guide
1 business opportunity guide
1 distributor part guide
5 hostess party guides
1-year eWallet and Website fees
After the first year, you will be charged $49 for the use of your personal website plus $24 for the eWallet.
You will have to maintain a certain amount of sales to stay active.
FYI, you need to maintain at least $200 worth of products every 90 days to keep your account active and qualify for commissions.
New distributors, on the other hand, need to maintain $500 worth of personal retail sales to be qualified for the fashionista rank.
Once the rank is fashionista level, the distributor must maintain at least $250 to $700 personal retail sales to be eligible for downline commissions.
While the business package is quite affordable compared to other MLM companies, the amount you need to keep your account active and be eligible for commissions is expensive.
Not only that, it's a pay-to-play system wherein you need to pay tons of cash first before you earn bonuses and commissions.
As a business, you should know that these are not the only expenses you need to shoulder so unless you really patronize their products, it's best to ignore GelMoment and look for a better offer.
How to make money with Gelmoment
There are 2 ways that you can make money with Gelmoment.
Purchase the stock for yourself and sell it to family and friends
Recruit others into your team and make a commission from their sales
Recruitment is key here if you want to excel and not for the faint-hearted.
Gelmoment Compensation Plan
The compensation plan is pretty straightforward at Gelmoment which is a good thing because they are mainly complex.
There are only four main business levels…
Gel Entrepreneur – Ranking levels, Gel Go, Fashionista
Gel Team Manager – Ranking levels, Gossip Girl, Drama Queen
Gel Beauty Administrator – Ranking levels, Princess, Diva
Gel Executive Leader  – Ranking levels, Perfectionist, Gel Goddess
Here you can see it in more detail…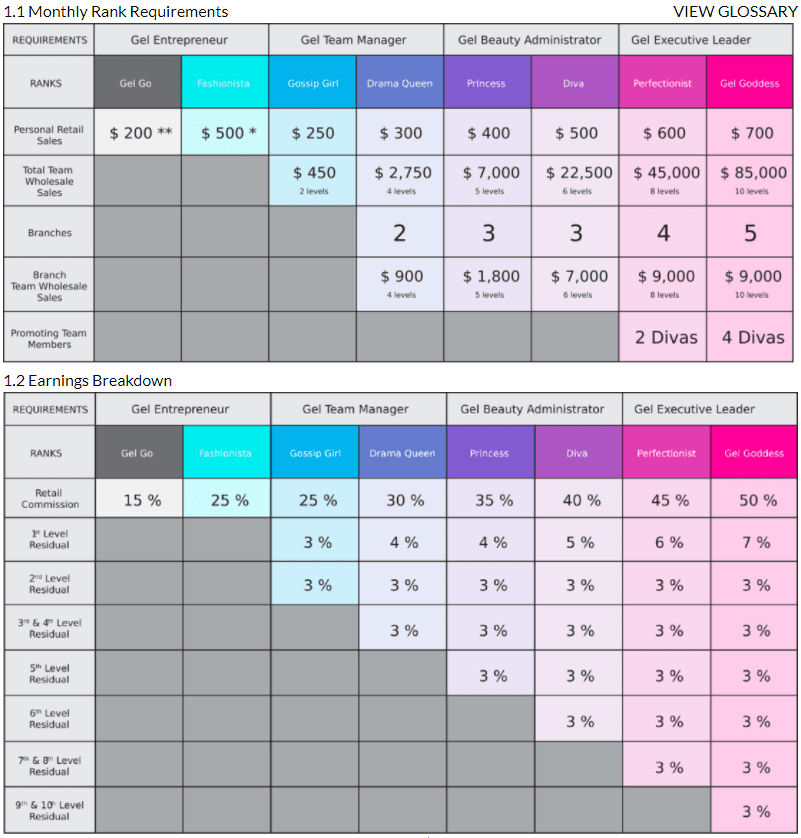 For the ones who want to have the compensation plan explained in more detail then you can click on the video below…
Are Gelmoment Consultants actually making money?
Of course, if you ask any Gelmoment consultant then they will all tell you they are doing well.
So, you have to make a judgement call and whilst reviews like the one you are on here will help we can only unravel so much.
Organisations like the Federal Trade Commission do monitor the MLM industry and their report paints a not too good picture.
However, this is based across the whole industry and really is not an indication as to whether you will make it with Gelmoment or not.
Is Gelmoment a SCAM?
Gelmoment is a legitimate company that offers a wide range of products.
There is a legit opportunity for making money but we wouldn't suggest jumping right in until you have thoroughly researched the company.
Unfortunately, with any MLM opportunity, you can only research what information is out there.
The problem you have here is that there is no income disclosure and no way of validating what people tell you.
You will have to take a leap of faith at some point.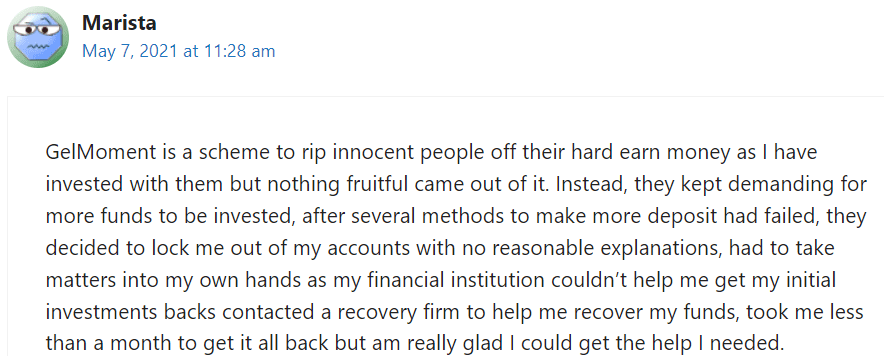 Gelmoment Review – PROs
Is This Business Unique:
We have not come across a business opportunity solely based on nail polish before so when it comes to competition there isn't really any.
That should make your life easier if you decide to take up their opportunity.
Gelmoment Review – CONs
Products Are Expensive:
Women love having their nails done and normally this is a trip to the nail beautician.
The products at $25 a throw are expensive considering similar products can be bought for a fraction of the cost.
Unless you have a wealth of experience in network marketing then you are really going to struggle.
With Gelmoment you are going to have to purchase the products to demonstrate them to your customers.
This means money going out with no guarantee of you making any sales.
Gelmoment Are Not A Member Of The DSA:
The Direct Selling Association are a non-profit organisation which is a good place to start when you are researching a direct selling company.
Becoming a member is not a straightforward procedure and requires the company to go through a vetting process.
Gelmoment Are Not Accredited By The BBB:
The Better Business Bureau is a non-profit organisation that rates a company based on business practices and how they respond to complaints.
Gelmoment Review – Final Thoughts!
In wrapping up this Gelmoment review although the products are legit it is always the business opportunity that lets the side down.
Many people do join this type of company more as a hobby first simply because they love the products and want to share them with friends and family.
There is nothing wrong with that but if it's a home business opportunity that you are looking for there are much better ones out there.
If you continue to read on then we will share with you how we make a living online with none of the expenses that you will find with an MLM.
How we make Passive Income Online?
Affiliate marketing for us is the answer to earning passive income online.
The possibilities are endless and you are not restricted to a particular product or service.
You can literally promote and sell any product or service you like.
No recruiting which means no pestering friends and family
No products to purchase or holding of stock
No targets to meet
No conferences to attend
No handling of customer orders
Extremely low startup costs
This is a business that you can call your own
Looking at the last bullet is very important because in an MLM you don't own the business and if the MLM closes you are left with nothing.
The owners even have your customer list to do whatever they want.
What I'm about to show you is a training platform that can set you up for life if you can follow simple instructions.

Gelmoment Review – FAQs
Here are a few questions that we found people searching for in the search engines.
You could however go straight to the Gelmoment website where you can find all sorts of questions that will help you.
How Much Does Gelmoment Cost?
There is a joining fee of $49 and also a $24 fee for an eWallet which has to be paid annually.
You will be notified when the time comes through your back office.
Is Gelmoment Good For Your Nails?
The polish is safe to use and the removal system is not damaging to the natural element of the nail.
If you are worried about your child, then no need to as the polish is safe to use on children.
Can You Remove Gelmoment With Acetone?
The removal system is non-damaging and the removal pads will only take off the polish so there is no requirement to soak nails in acetone.
Why Does My Gelmoment Polish Peel Off?
if you happen to coat the nail too thickly then you will not achieve a full and complete cure which may result in flaking, bubbling and chipping.
It may also open you up to a risk of developing an allergy with the contact with the uncured gel.
Is Gelmoment Lamp LED or UV?
Gelmoment supplies an LED lamp that is guaranteed for life and therefore bulbs aren't required to be replaced.
Can You Use Other Polish With Gelmoment Lamp?
Yes of course that should not be a problem.
Feedback, Comments and Subscribe
Ok, guys, thank you for reading this Gelmoment review and we hope that you have benefited from it.
If there is anything you'd like to add or ask us then feel free to put anything down in the section below.
Until next time… Take care! Stay safe!