Welcome to the
CashKarma Review
Everybody loves free cash, right?
So, for all you mobile phone users this app might be the perfect solution.
But, I wouldn't download this app just yet until you have read this review, because it might not be as cool as what some are making out.
Great that you are doing your due diligence first as it is the only way to save time and money and to ensure you find legit make money opportunities online.
So, let's dive and see if this app is worth your time.
---
[Affiliate Disclosure: This post may contain affiliate links which means I may earn a small commission if you purchase anything through one of the links. However, this will not affect what you pay!]
---

Product: Cashkarma
Founder: Andrew Lin
Product Description: GPT Rewards App
Website: www.cashkarma.io
Price of product: Free
Recommended: No
Summary: Cashkarma is a GPT rewards site that allows you to make money by taking part in activities, such as playing games, watching videos and taking surveys.
If you haven't heard of GPT before, then it stands for "Get-Paid-To".
Very similar to Swagbucks, which I'm sure you will have heard about except CashKarma is primarily for mobile users although it was designed for the Ipad.
So, if you struggled with activities using your PC or Laptop then just think how difficult it is going to be using a mobile.
That said, if earning a pittance is not your thing and you want to make a difference then check out what 30 individuals have to say below.

---
If you are sick and tired of SCAMS, Pyramid schemes, MLMs, recruiting, having to purchase stocks, haggling family, friends and customers. Looking for a proven method of making money online, then check out my #1 recommendation. 
---
Internal Summary and Navigation
---
What is Cashkarma about and who are the Founders?
Cashkarma is a mobile app that allows you to earn gift cards and make some money however small by taking part in activities.
These could be playing games and completing offers like surveys.
The app was founded by  Andrew Lin, who is also the founder of Darkfield Software based out of San Francisco and specialize in mobile tech solutions.
Cashkarma might have a 4.5 rating on Google Play Store but there is a reason for that which we will cover a little later.
In order to get paid you have to have a PayPal account so creating your account if you didn't have one would be your first port of call.
Bearing in mind that you have to be at least 18 years to have a PayPal account.
The app can be downloaded from sites like the Google Play Store and the Apple Store and as it is means you can participate on the move.
You might like to check out this short video.
So who is responsible for Cashkarma?
Well, this is a guy named Andrew Lin, who is the co-founder of a company names Darkfield Software.
Which appears to be a software development company that specializes in all things related to mobile technology.
---
How does Cashkarma W

ork?
Cashkarma works closely with market research companies and operates within the affiliate marketing industry.
They make money from partner sites on a cost per action basis.
This means every activity you take part in and complete that they will get paid.
They also sell your personal information to 3rd party sites on all actions that you take, even financial information.
This at some point will mean you will be on an email list and sold back to companies that will send you offers and loads of spam in your inbox.
No joking, that's exactly what they do and they get paid handsomely for doing so.
Therefore, it is in the interest of Cashkarma to keep you occupied on their site for as long as they can.
It might not be what you want to hear, but this is the reality of it all.
However, you are paid a fraction of what Cashkarma are paid
---
Cashkarma

Pricing 
Cashkarma is 100% free to join and take part in the activities.
---
Can you make money with Cashkarma?

 
Yes, of course, you can make some money through Cashkarma however the amounts you make will be small and I guess that is ok for some people.
There is nothing difficult about how to earn money with Cashkarma which are broken down into 5 tasks which are…
Joining Bonus
You can join one of 2 ways, either straight through the Google or Apple store and download and join there or through a referral code.
This is where you click on someone's affiliate link that you may see on social media.
Through a referral link, you will receive 500 points and an additional 50 for verifying your email address.

Surveys
Before you start taking surveys you will need to fill in a questionnaire that enables Cashkarma to choose the right surveys for you which are based on demographics.
In most surveys, you are rewarded with less than 500 points per survey whilst some are between 500 and 1000 points but rare.
A thing to notice that happens with these surveys is whilst you are filling them in for no specific reason they will through you out.
Stating that you didn't qualify and if that is the case why did I have to fill in the questionnaire in the first place?
However, with most survey sites when this happens you wouldn't be rewarded, but with Cashkarma you are which is a plus in my eyes.
An idea of how many points would be on offer for getting thrown out or rejected from a survey…
Rejected 10 times and get 50 points.
Rejected 25 times and get 100 points.
Rejected 50 times and get 250 points.
Rejected 100 times and get 500 points.
Now, the most important thing to note is that you would need 10,000 points to redeem your $10 PayPal payout.
Badges and Bonuses
Badges and bonuses are another way of earning some extra points to add to your survey points tally.
Just checking in first thing in the morning will get you a few points and watching videos also.
Completing Paid Offers
In Cashkarma you are going to find an area where there are many offers to take part in such as polls and answering questions.
Whilst you will find some annoying, just be wary and read the small print because you may start receiving emails to your inbox.
At the end of the day, you will be trying to build your points total.
Watching Videos
Now, this is where you might lose the will to live because these videos are meaningless and don't last very long.
Maybe a few seconds.
The points rewarded will be very low and probably not worth your time.
As I mentioned earlier
These GPT sites are designed to keep you active and whilst you will earn some money it is not going to be very much.
So, let's be realistic about the earnings…
It all depends on how much time you are prepared to spend doing these mindless activities.
Take it from me, they are mindless too and you have to ask the question do you really invest your precious time with these sites.
Or, should you be looking for a worthwhile way of making some serious money online?
Based on my experience with using these survey GPT sites and have tried a few as well, a few years ago now when I was looking at ways to earn money online.
I realized very quickly this was not a legit way (for me) and I did lose the will to live and only ever make a few dollars.
If you can earn $50 a month then you are doing very well.
But. you are certainly not going to be able to make a living with these sites, not even if there were 100 hours in a day.
---
Who is Cashkarma

F

or?
Cashkarma is really for anybody looking to earn a few bucks and whilst the joining age is 13 years and above.
You have to be a minimum age of 18 years old to open a PayPal account which is how you would get paid.
I wouldn't recommend you putting all your efforts into this app as you will end up spending hours and not really making much at all.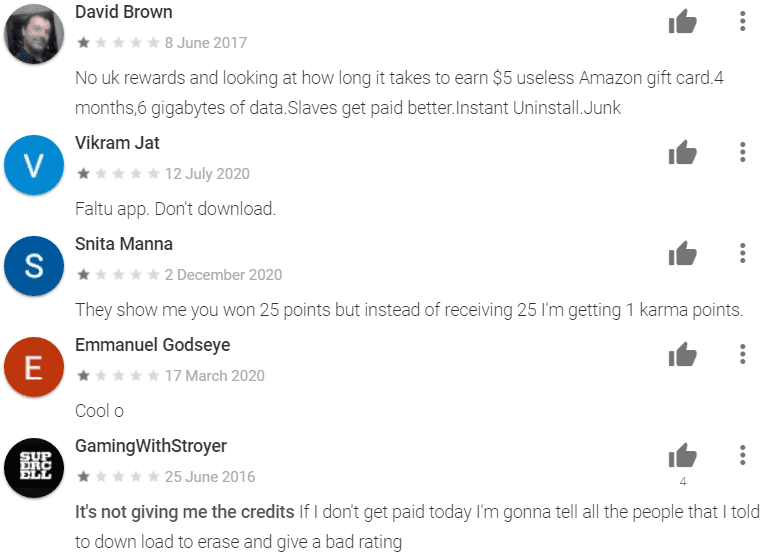 You need to start investing in your own future because Cashkarma is definitely not the right way to go about it.
---
What I like about Cashkarma
Based on the fact that I have tried many of these GPT sites in the past and they all had one thing in common, you are lucky if you make a few bucks.
So, there really is nothing else to say about Cashkarman in this section.
---
What I don't like about Cashkarma
Like the saying, nothing is perfect but there are more negative things to say about Cashkarma than they are positive.
Getting thrown out
This is a common problem with survey sites in general.
You fill in the questionnaire before you start which is supposed to help the provider give you the right type of survey.
However, what's the point when you get thrown out anyway with the reason that you didn't qualify.
Annoying Adverts
What you'll find with some of the activities are constant popups which are really annoying but great for Cashkarma because they get paid for doing it.
Plenty of Annoyed Customers
I mentioned earlier about the 4.5 ratings out of 5.0, well when you look at these reviews in Google App Store it becomes very clear why the high rating.
It's not because people think the app is great or anything like that.
They are using the 5-star rating along with their affiliate referral link to try and get others to join.
There are, however, many annoyed people as can be seen if you go to this link.
Low Earnings Potential
You are definitely not going to be able to earn enough to replace a full-time job.
I read a review of a person who had watched 499 videos, how soul-destroying is that?
---
Is Cashkarma

a SCAM or LEGIT?
As much as I would like to call Cashkarma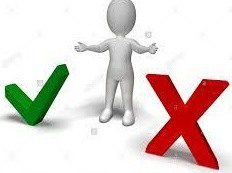 a scam, I can't, but what I will say is that it is not a legit way of making money either.
The constant number of mindless activities are only there to keep you active on the site to make the owners more money.
That's why there are so many of these GPT sites around.
These sites are notorious for passing on personal details to 3rd party companies for a fee, of course.
Whose job is to create email lists and sell on to other companies for marketing.
Ever wondered why you get these telephone calls from people who you don't know trying to sell you crap?
Or the constant barrage of spam that's gets sent to you.
So, I'm sorry but I won't be recommending Cashkarma to anybody.
---
Cashkarma Review

: Final Thoughts!
I'd like to say some positive but these
GPT sites are just so bad.
What I will say before you get involved with any of these sites is to do a thorough research which you are doing now, and make sure you read the reviews.
Don't take it that just because it has a 4.5 rating that the site is going to be any good.
It would appear that the people who are using this app are having all sorts of issues.
It seems only a few weeks ago that I can remember going down this route with survey sites when I was trying to make money online.
However, instead of giving up entirely, I did decide to learn how this was possible.
These people started just as you are doing now, but they chose to find a better way and they are all living what you might call the laptop lifestyle.

---
Feedback, Comments and Subscribe
Hey Guys, hope this Cashkarma review didn't burst your bubble and you did find it interesting and that it answered most if not all of your questions.
If you did enjoy this review then why not share it amongst your friends on social media.
As always, if you have any questions at all I will only be too happy to answer them.
Just add them into the section below and I will get back to you at my earliest convenience.
Until next time, stay safe.