Hi, I'm Mick and welcome to the Investment fund secrets review
If you are looking for a review on Bridger Pennington or his Investment Fund Secrets then you are definitely in the right place.
We created this website to help people like you find legit money-making opportunities.
We have reviewed many opportunities just like Bridger Pennigton and his Investment Fund Secrets.
So, in the next few minutes, you will have enough knowledge to take away and decide whether this is worth moving forward with or not.
But, before we get started we'd like to declare that we are not associated with Bridger Pennington or his product in any way.
With that said let's get to it.
---
[Affiliate Disclosure: This Investment Fund Secrets Review has been thoroughly researched from information and testimonials that are in the public domain. This post may contain affiliate links which means we may earn a small commission, however, this won't affect what you pay!]
---
Product: Investment Fund Secrets
Founder: Bridger Pennington, Mason Vranes
Website: www.bridgerpennington.com
Product Description: Investing/hedge funds
Cost to join: $4997
Recommended: Maybe
Summary: As soon as someone mentions the term hedge-fund we usually associate this with millions and often billions of dollars, right?
But Bridger Pennington makes out this is a lot easier than you may think.
For this to work, you will need money and lots of it, access to lawyers which costs money and lots of it and of course connections.
So having someone connected in this industry would be perfect, someone like a relative, like a father in fact.
For starters, this course is going to cost you several thousand dollars if you want to take full advantage.
Not to mention the many tens of thousands of dollars to start the hedge fund itself.
I think you can see where this is going!
An Alternative Solution: If it's an online business that you are looking for that won't cost you thousands but can earn you thousands each month.
 Investment Fund Secrets Review – TOC
Who is Bridger Pennington?
Bridger Pennington is the owner of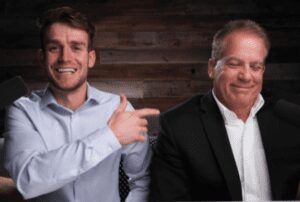 Investment Fund Secrets which teaches you all about hedge funds and how to go about starting one.
For Bridger Pennington (that's him on the left), it started way back in 2016 whilst as a freshman at university decided he wanted to get into investing.
According to his website, he started 7 companies in 2016 where some failed and some were successful. A busy person if you ask me!
On his 7th attempt, he took advice from an expert (maybe his father, on the right) about starting his own hedge fund and since then hasn't looked back.
Now it helps if your father is a hedge fund manager that is worth tens of billions of dollars along with all the contacts and connections.
Bridger Pennington is the owner of Black Bridge Capital but when you take a look at the website it is insecure and there is nothing to see.
I was expecting a professional-looking website with plenty of information about how Bridger Pennington could help me invest my money.
A little disappointing to say the least.
He does have a healthy YouTube channel with close to 30k subscribers which you can check out here.
We have reviewed many investment products over the years and we get a good feeling that his hedge fund business isn't quite doing as good as he would have liked.
Now, this review isn't about his hedge fund but his Investment Fund Secrets training, so let's dig a little deeper.
How it Works And What You Get With Investment Fund Secrets
Building a hedge fund would probably be the last thing on anybody's mind due to the enormous funds required or the enormous funds we think are required.
Bridger Pennington shows you that you can start a hedge fund on a shoestring budget without prior knowledge.
We are having a hard time believing this and just thinking this is some sort of fantasy.
Ok, there are some people who have made it by starting out small but there aren't that many of them.
What's more, how are you going to get investors with no past experience and with no results? This is where we think his father comes into the equation!
There is more than enough information online that you could research first before considering paying for Investment Fund Secrets.
For instance, we found an interesting article in the Guardian which breaks the process down and gives you an indication of what is required.
Just by glossing over that article will show you the amount of work that is involved and costs, with premises, staff, lawyers, accountants…
What you get with Investment Fund Secrets inside the Mastermind are over 10 hours and over 70 training videos.
I don't know about you but we think 10 hours of training just seems a little on the low side for getting you started as a hedge fund manager.
According to the claims. Bridger Pennington has put together a team that does in fact include his father, John Pennington.
Here is a breakdown of what you get…
The Funds Secrets Mastermind…
A complete A-Z of what it takes to put a hedge fund together
Which includes…
Market positioning and finding those deals
Putting a team together
How to structure the fund
Tax legislation and compliance
Hedge fund documentation
Hedge fund management and accounting
How to raise capital from investors
plus more…
The Ultimate Excel Vault…
Is a database of excel spreadsheets to help you track and report on the funds that you are managing.
The Fund Launch Workbook…
A digital workbook that you would use when going through the entire course.
A log so that you can go back and re-check anything.
Lifetime Platinum Membership…
Investment Fund Secrets is going to eventually be a membership site so this will help save you $3,564 for the first year if you take advantage of this course now.
Which includes…
Mentoring by top-level fund managers
Network of professionals to help build your own team
Weekly podcasts to answer all your questions
Live events
Plus so much more…
After the first year, you will have to find that additional $3,564 though if you want to carry on with support.
Limited Partnership Agreement and Private Placement Memorandum Templates…
The biggest part of a hedge fund is setting this up with all the legal documentation.
Here Bridger Pennington helps by giving you 13 documentation templates to cut back on costs.
Obviously, these documents are going to have to be overseen by your own lawyers to ensure the documents are legit and presented correctly.
BONUS – Lawyer and Accountant Backup…
There will be a host of accountants and lawyers attached to the Investment Fund Secrets team which you are going to want to take advantage of.
However, any advice that is given you will need to qualify this with your own accountants and lawyers, well that's what we'd do anyway.
After all, all you have is the say-so from Bridger Pennington.
FIRST 10 – Full Access To Live Flip…
This is nothing to do with Hedge Funds and is all about purchasing real estate and flipping for a quick sale.
To get a better feel of the terminology regarding hedge funds and what type of trades can be done you might like to take a look here.
Is Bridger Pennington a SCAM?
The jury is out on this one as there really isn't any evidence that Bridger Pennington has been successful as a hedge fund manager.
If he had then why isn't he focused more on expanding his hedge fund because there is obviously more money there.
He claims that you don't need a fancy degree or experience on Wall Street, well that is ok for him to say.
Seeing his father, John Pennington manages a multi-billion dollar hedge fund and probably where he got the money and his connections from.
The course is very expensive for what you get and there are a number of red flags which we came across and are not happy with.
Investment Fund Secrets is a course teaching you all about financial stuff but it states in black and white.
"Do not take any information as legal or financial advice"

Even goes on t6 say that the content is for entertainment purposes, well $5,000 is a lot for entertainment.
They are also forcing you to only write a review if the review is going to be of a positive nature.
This means that any issues you have throughout the course that you don't like you won't be able to talk about or mention.
One thing is for sure Bridger Pennington does know how to promote himself and his Investment Fund Secrets.
Check out his YouTube channel to get a better feel of who he is before considering taking the plunge.

What we Like About Investment Fund Secrets
We really can't see any good coming out of spending $5,000 on a course that is just over 10 hours long.
Bridger Pennington does go into details about why 95% of funds do not succeed and suggests that's because they try and do it themselves.
Not sure shelling out $5k for Investment Fund Secrets is going to make that much difference.
What we Don't Like About Investment Fund Secrets
The course is far too expensive with it costing $5,000 and then there is the rest that you will have to find in order to start the hedge fund.
Bridger Pennington will only allow students to write reviews about the course only if they are positive.
Which doesn't sit well with us. If something is not right then people need to know about it and this is why we review this type of program.
The testimonials that we see are only going to be positive and you can only find them on Bridger Pennington's website.
You'll need tens of thousands to start the actual hedge fund so you better be coming with deep pockets.
Bridger Pennington is not self-made and there is no indication of this other than the fact that his father runs a hedge fund that is valued at around $30 billion and is on his team.
There is no evidence other than a couple of paragraphs on his website.
In fact, if you take a look at the hedge fund that Bridger runs then you will see that there is nothing to see. Take a look here!
Investment Fund Secrets Review – Final Thoughts!
We hope we have delivered enough information to allow you to make that all-important decision.
Whether to move forward with Bridger Pennington or not.
We think the risks are far too high, but you know, if you have deep enough pockets and aren't worried about losing the lot then go for it.
That's why we won't recommend making money opportunities where the risks far outweigh the benefits.
If it's a business opportunity that you are looking for without the risks and is extremely cost-effective then we'd love to share with you something in the next section.
Is There a Better Alternative That You Could Recommend?
If it's an online business that you are looking for without all the costs then you might like to take look at affiliate marketing.
For anybody looking for a way to start making money online, this is a great way to create a passive income stream.
It is always costs that get in the way of people's pursuit but it doesn't have to cost the earth. Take a look at what I pay on a day to day basis.
This allows me to make mid-4-figures a month and sometimes more and this continues to grow exponentially.
The training platform is through Wealthy Affiliate, a company that I would recommend 100% to anybody.
This is not for everybody but certainly worth a look and besides it won't cost you a dime with no credit card details. But you won't know unless you have tried!

Investment Fund Secrets FAQs
Is Investment Fund Secrets worth the $4,997?
You get just over 10 hours and that's all it takes to get someone from knowing absolutely nothing about hedge funds
To become competent and start your very own hedge fund.
So do we think that is possible?
We believe this is very unlikely.
Can I get a full refund?
Yes, you can get a full refund and you have 30 days from the date you purchase the course but this comes with restrictions.
You have to be seen that you have at least gone through a percentage of the course and even then it is down to the discretion of the course administration.
What we believe is that it is highly unlikely that you will get a full refund.
That means that even if you are paying in instalments and your refund was rejected you'd still be committed to paying the full amount.
Can I pay for the course with instalments?
The full amount of the Investment Fund Secrets course can be paid in 3 instalments of $1,697 with a total of $5,091.
Is Bridger Pennington Legit?
There is very little online about Bridger Pennington and we can't tell whether he has been successful or not as a hedge fund manager.
He certainly has a good backup with his father who is responsible for a multi-billion dollar hedge fund.
Realistically how much money would I need?
We have come across people who have started hedge funds with only a few thousand dollars but these are very rare cases.
According to what Bridger Pennington says, you can start a hedge fund with $20-$30 thousand.
The problem you will have there is the lack of credibility when searching out investors.
Are there people who are making money with these courses?
This is another thing we can't confirm whether people are actually having success through the course or not.
Any success stories that we are seeing are on Bridger Pennington's website so we really can't use them for obvious reasons.
Besides, according to a disclaimer, nobody is allowed to create a review about Investment Fund Secrets unless it is a positive one.
Do you have any alternative recommendations?
There are plenty of ways to make money online with some very good courses which don't cost anywhere near the $5k.
A great training platform that has been producing success stories since 2005 with over 2 million members.
You can check it out here.
Feedback, Comments and Subscribe
Ok guys, any questions or if you'd like to add anything just feel free to add anything in the section below.
Until next time, stay safe