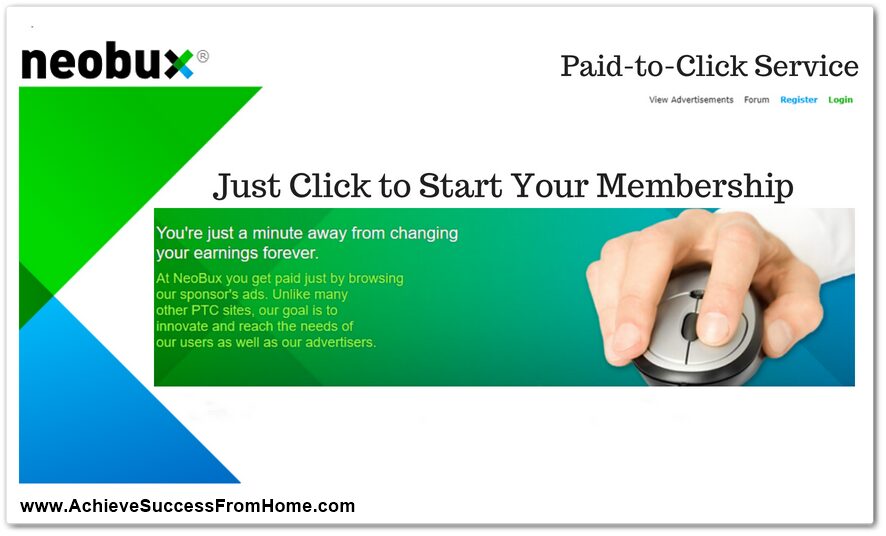 Welcome to What is the NeoBux Review
Looking for a way to earn some extra money from home, then maybe you have come to the right spot, and hopefully, I can show you in this NeoBux reviews that it is possible but it will cost you.
NeoBux is one of the original PTC(Pay to Click) sites that have been around for just over a decade now, which in the life of a PTC site is quite an achievement, or so it would seem.
With more and more of these PTC sites getting dropped by the wayside with PayPal not having anything to do with them, it looks like NeoBux has also gone the same way, but don't jump ship, not just yet!
What actually got my curiosity was the claims of some of the NeoBux members (within the forum) claiming to be earning huge amounts of money, by a technique that is unique to NeoBux, but takes time and can cost you a whole bunch of money, but we can cover that a little later.
Anyway, without further ado, let's jump right into this NeoBux review.
---
[Affiliate Disclosure: This Neobux Review has been thoroughly researched from information and testimonials that are in the public domain. This post may contain affiliate links which means we may earn a small commission, however, this won't affect what you pay!]
---
Owners: Neodev Lda (Porto, Portugal)
Product: NeoBux
Website: www.NeoBux.com
Price: Free, Golden Membership ($90), Golden Pack ($290,$490,$890)
Founded: 2008
Description: Get paid for clicking on ads, and taking surveys amongst other activities.
Recommended: No
Reasoning: Although you can earn small amounts be prepared to spend hours clicking on ads, taking surveys, and playing games for pocket money?
Here's a much better way to make money online:

NEOBux Review – Table Of Contents
What is NeoBux About?
NeoBux is a PTC (Paid to click) site that has been around since 2008 and is owned by a Portuguese company NEODEV LDA which is based in Porto.
I can't see any restrictions on members and which countries they come from and I believe it is ok to say that all countries are accepted into NeoBux. The problem might be when trying to access any money that you make.
Initially, this site was created to allow members to get paid by clicking on their client's advertisements, but over the years they have added a number of other ways to earn money, such as surveys, playing games, offers, etc.
Looks like they are trying to move from a PTC site to a GPT (Get Paid To) site just like Clixsense as there are many similarities.
How Much Can I Make with NeoBux?
Now you can check through the NeoBux forum and check out members' stats and how they are performing, as there are some interesting results if what you read can be believed, but I have no reason to disbelieve this, so feel free to check them out for yourself.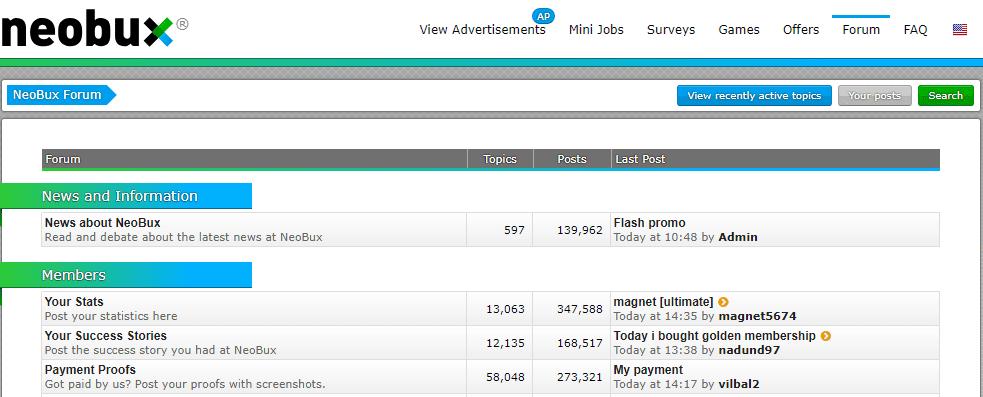 The main source of income on NeoBux.com is through "Renting Referrals".
OK, now this is where it can get a little complicated and when these types of sites have any sort of complexity then in my experience they are trying to hide something. I will touch on that method a little later in the review.
NeoBux was initially created as a PTC site so we'll take a look at the main source which is clicking on ads.
Just so that you don't miss anything, you can set up an alarm to inform you when these ads are getting posted to your account. Just go into your personal settings.
The below image is the "View Advertisements" display.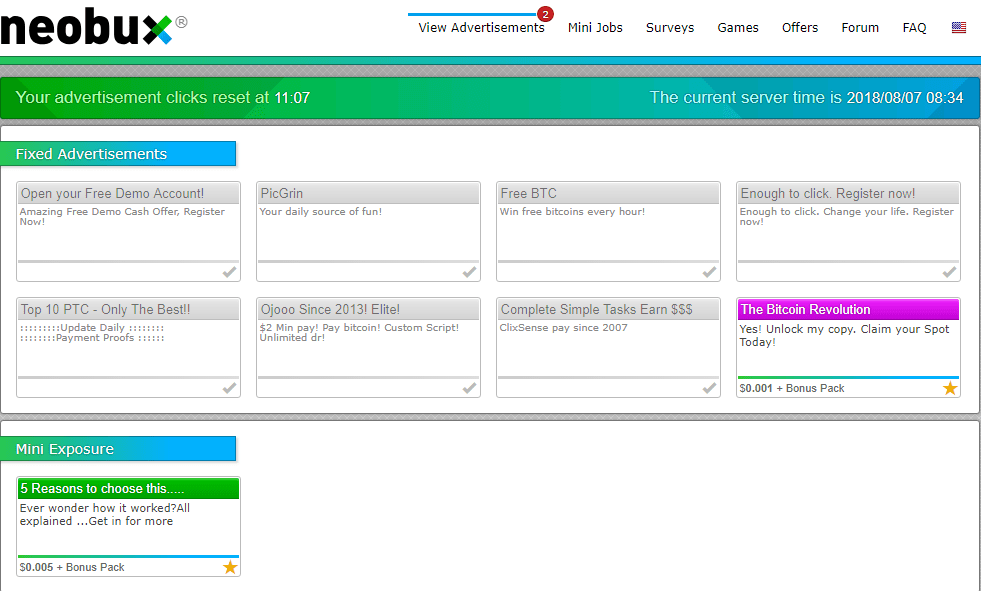 As you can see this is where the ads are stored for you to click on and get paid which don't come around as often as you'd like. In my experience, you get around 20 ads on a day to day basis.
All you have to do is click on the ad box and a red dot will appear which you have to click (God forbid if a robot was involved) and wait for the ad to display, then you have to wait until the time expires which in all takes about 12-15 seconds.
There are 2 different amounts to my knowledge that you can get paid for clicking on ads…
$0.001 which is the normal amount paid.
$0.005 doesn't come around often, so don't get too excited when they do.
That's 1/10th and 1/2 of a cent respectively
Let's just take a look at how long it takes to make $1
$0.001
If you managed to receive continuous advertisements (which you obviously don't) then to reach $1 it would take you approximately 4 hours based on 15 seconds per ad view.
Which gives you an hourly rate of around $0.25 for clicking 1000 Ads.
$0.005
It would take 50 minutes to generate $1.
That's an hourly rate of just over $1.00 for clicking on around 200 Ads.
Experience tells me that you will be lucky if you are given 20 ads in a day to click on!
Now, it doesn't take a genius to realize that this is absolutely horrendous pocket change, but I do understand in some countries where the economy is bad with jobs and money extremely tight, that every little helps and that this type of online opportunity seems to be acceptable.
Since I became a member of NeoBux.com I've come to realize that I was wasting my time and that there are better opportunities out there such as…
Swagbucks and TopCashBack which are better alternatives if earning a few bucks here and there is what you are happy with?
Alternatively, you could look at the bigger picture and focus your time in a more productive way and learn how to build an online business, and the beauty about this is that it is FREE to join and NO CREDIT CARD will be asked for.
How to Get Started with NeoBux
That's pretty straightforward.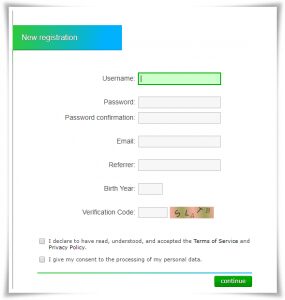 Just click the Register tab at the top right of the display on the main screen and enter your…
Username
Password
Email address
Referrer, if you have come through a referral.
Date of birth year
Select terms and consent and continue.
Almost immediately you will receive an email to activate your membership and then you are ready to go.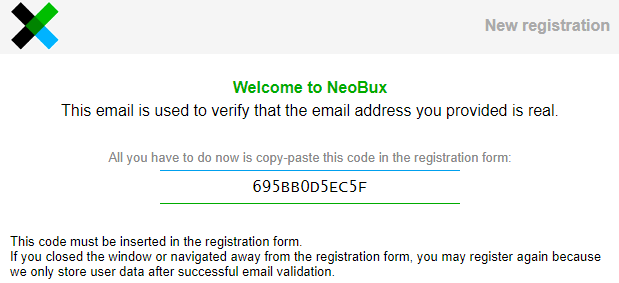 Other Ways to Maximize Your Money with NeoBux
OK, so we have pretty much covered the main source of earning with NeoBux which is clicking on ads. Now let's take a look at other ways to at least keep you moving in the right direction.
Want to mix it up a little then check out the mini-jobs, which incidentally don't look too mini to me. Take a look for yourself!

Let's take a look at the 2 so-called mini-jobs that you can see in the above image.
There are 105 tasks before you reach your goal of $0.75 and just how long the tasks take to complete is anybody's guess. I wasn't about to try!
In the 2nd job on the list, here you have to complete 1000 tasks before you reach the same goal as the one above of $0.75. Come on seriously?
Note: It is my understanding that you could be spending several hours on let's say the 2nd job with 1000 tasks, and right up to completing those tasks which are going to be taking some considerable time, you could be thrown out and end up losing everything, well the 75 cents anyway.
Now I don't know about you but I have spent many hours in the past doing surveys earning very little money, and quite frankly I hated them.
Nowadays they are even worse as there are so many more similar sites competing for the same space.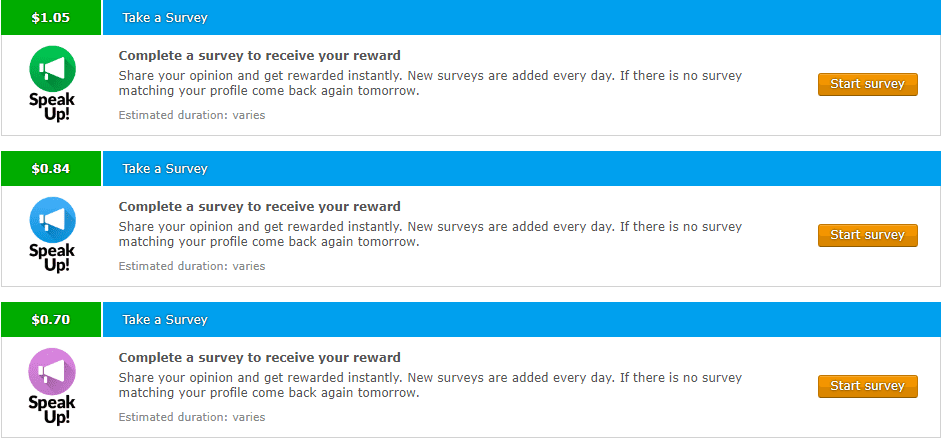 I tried around 10 surveys spending quite some time filling in the pre-qualification questions only to be thrown out and been told that I didn't qualify, and that's a big problem nowadays, not just here with NeoBux but with all the other survey sites.
Another addition to helping increase the time you spend on the NeoBux.com site, and it just doesn't seem to be getting any better!
There is a maximum number of games you can play in any 24 hours, which is 250. Mind you, who is going to play 250 games in any one day? Not me that is for sure!
The maximum time that you have to play a game is 2 minutes.
Maximum number of games = 250 * $0.001 = $0.25
Yes, a quarter of a dollar for playing games for 8 hours and 20 minutes.
Coin offers are the NeoBux virtual currency that can be exchanged for money.
Here you have a whole host of other ways to earn a little money, such as watching videos, surveys, shopping etc
But, you'll have to wait 60 days from the successful offer completion date for these to be credited to your account.
If you are curious to know more about this virtual currency and the value of exchanging it for real currency then you might want to check out this explanation.
Direct referrals can only be invited after you have been a member for currently 15 days and that you have clicked on at least 100 ads.
There are limitations on how many referrals you are allowed to invite, based on which membership level you are currently on.
Free: 30
Pioneer: 60 (Free member who joined before 1st May 2008)
Golden: 200 (Cost $90 a year)
Golden + Pioneer: 250 (Cost $90 a year)
Golden + Emerald: 300 ( Cost $90 + $290 = $380 a year)
Golden + Sapphire:  300 (Cost $90 + $290 = $380 a year)
Golden + Platinum: 400 (Cost $90 + $490 = $580 a year)
Golden + Diamond: 400 (Cost $90 + $490 = $580 a year)
Golden + Ultimate: Unlimited (Cost $90 + $890 = $980 a year)
In NeoBux, this subject is quite vast and therefore I won't be going deep into this complex area. Well, it's complex for a reason, right?
What I will tell you is that "Rented Referrals" are supposed to be members who haven't made any referrals.
Now, if you go into the forum and start to look at some of the stats of members who are supposed to be raking in the money, you can see against just the one member that there are thousands (10s of) of rented referrals.
Remember these are supposed to be actual members, and therefore I guess we are talking about millions of these rented referrals. So that should mean that there are millions of members on NeoBux, right?
If that was the case then don't you think that promoting "the current number of members on NeoBux" would be a good selling point, and a way to get even more members recruited?
Of course, you do, but I can't find a mention anywhere of how many NeoBux members they currently are. Do you see where I am coming from?
What I will mention is that you can only rent a certain amount of referrals based on your membership level, which comes down to a yearly cost, which I have highlighted above.
Rented referrals are purchased for a period of time and have to be extended at cost.
You have to monitor those rented referrals because if they aren't clicking on ads then you are paying for nothing. There is the software to purchase to help you here, at a cost of around $7.
Remember you are making a percentage of what your rented referral is making, and considering a single advertisement you can make either $0.001 or $0.005.
That's a % on either a 1/10th or 1/2th of a CENT, SERIOUSLY!
Don't forget that although it could cost you nearly $1,000 to upgrade your membership, it will still cost you in addition for each "Rented Referral", not to mention costs for extending those referrals too.
If you are still interested to know more about "Rented Referrals" then you can check out a couple of resources that I found for you which explain it in more detail, but remember what I said earlier in the review, that there was a complicated element? Well, this is it so good luck!
Introduction to NeoBux and Rented Referrals
NeoBux ultimate guide of Rented Referrals
How Does NeoBux Pay You?
I guess we all have a PayPal account but unfortunately this is not a payment method that is open to you. PayPal decided to pull the plug!
You need to set up an account with either…
Skrill, which is a payment management company from the UK
or
Netteller who are based in the Isle of Man
Although NeoBux is open to all countries then you should seriously do your research and find out exactly whether there might be issues with the type of payment method that you have to use.
NeoBux Pros and Cons
It doesn't matter what type of business or company when it comes to issues they all have their fair share of them, but I am struggling to actually find anything positive to say about NeoBux.
Pros
My first glance at the software looks very professional.
NeoBux is available in all countries, and what they don't explain in detail is that there are only 2 payment processes that you can currently use and this could be a problem within some countries.
Cons
Free, well it really isn't!
Free it may be to join, but as you have seen in this review in order to try and progress and earn more money you have to upgrade your membership, which could end up costing you as much as $980 a year as well as other costs on top of that too. I have seen reports of 10s of 1000s of dollars!
PayPal generally is the normal payment process online, and it's one that we all know and is used to, but NeoBux lost the backing of PayPal and I guess this is down to PTC sites and the way they operate.
Well, it starts off OK at $2, but each time you cash out it goes up in increments of $2 until it reaches the upper level of $10.
There is no mobile app which means you have to be near a laptop or pc which means you can't be out and about.
Not qualifying for surveys

Hanging about filling in pre-qualification surveys is not my idea of a good time especially when you can't seem to qualify for a damn survey.
Reading many reviews from members, it would appear that you have to watch what you say in the forum and can get banned for asking the wrong questions.
I have also heard it going around that they monitor for things being said about the company which gives them a reason to ban you.
In many cases, I have seen members complain of losing everything even though they have been with NeoBux for a number of years.
It's a bit of a closed shop when trying to find out just how many members there are at NeoBux.com and I couldn't find any mention of this anywhere.
Having a referral program is usually a big plus but here at NeoBux.com, you are restricted on the number of referrals that you can invite, and the way to extend that number is to upgrade your membership which costs money.
Many members are suggesting that those so-called rented referrals are in fact just bots, but there is no way that I could confirm that one way or the other.
Maybe the reason why we can't find out the total number of members that are on NeoBux is that this might disclose where those rented referrals are actually coming from.
Paying for Rented Referrals
This is where it starts to cost and the amounts are quite staggering and well into the tens of thousands of dollars. I have seen it mentioned as high as $75,000 for renting 1,000s of referrals and to get to that point will take you years.
NeoBux Review – Final Thoughts!
Is NeoBux a legitimate online business and I have to say it is, but for me, that's where the buck stops, because as you can see you are not going to be earning great amounts of money and the main reason why I would not recommend NeoBux.com.
Some will disagree with why I am not recommending this online opportunity, but the facts are there for everybody to see.
Even when I look at all the positive reviews on sites like Trust Pilot, I still can't get my head around why this is the case, but maybe people are just happy with a few bucks here and there and I'm OK with that.
I do understand that some countries which I have noticed are struggling with their economy and therefore any amount of money is better than none, but rather than spend all day on these sites wouldn't it be more productive learning how to build an online business and switching places?
I was that person not too long ago now, taking surveys and clicking on ads and they drove me mad until I decided that either I learn how to make some real money online or give up altogether and get a real job. Guess what I did?
Well, I didn't get a real job, well one that I would have to leave home for because I continued to research other ways.
Wasted a couple of years trying to make money in a couple of MLM (multi-level-marketing) businesses.
Wish I'd read an article like this then I wouldn't have wasted so much time.
Persistence, that's what it took on my part and found that affiliate marketing was a better option and so easy to learn and adapt to.
Wealthy Affiliate is a training platform that teaches you everything about affiliate marketing, and with a community, I now call home.
The beauty about this is that it won't cost you a penny and you'll never be asked for credit card details. Check it out, don't like it then just call it day.

Comments
Anyway, if you are reading this then I have to thank you for your time and patience, and hopefully, I have managed to give you most of the facts.
If you are a member of NeoBux.com then I would love to hear from you and tell me how it's been going? Did you manage to crack the rented referrals? How much did you have to invest and how much did you make?
Any problems with NeoBux I'd like to know.
If you enjoyed the review then why not share a little love and share it amongst your friends who are maybe looking for a little guidance.
Thanks for your time