Hey Guys, welcome to this website.
The topic of discussion today; What is the App Academy Bootcamp?
In simplistic terms, App Academy is a training platform that provides the skills for a high paying career as a software developer.
Something that I am very familiar with as I spent many years as a freelance software developer.
Nowadays, I spend my time working on my own terms, at home with the family working as an affiliate marketer.
But just before we get started we'd like to make a bit of a disclaimer and that is, we are not associated with the App Academy in any way.
That simply means that we are not getting paid for this review, but what we do promise, is to provide you with an honest account of who App Academy is.
And whether this would be a suitable solution to your needs.
So, let's get started.
---
[Affiliate Disclosure: This App Academy Review has been thoroughly researched from information and testimonials that are in the public domain. This post may contain affiliate links which means we may earn a small commission, however, this won't affect what you pay!]
---

Product: App Academy
Founders: Kush Patel and Ned Ruggeri
Website: www.appacademy.io
Product Description: IT training platform
Cost of training: ($28,000 – $36,000)
Recommended: Maybe
Summary: One thing that is very clear in the current employment market.
Is a massive shortage of skills to meet demand, especially in the tech industry.
That is why we are seeing many online businesses just like App Academy who are trying their hardest to bridge this gap.
To give you some sort of idea of what we are talking about, let's head over to Jobserve for one minute.
You see that; in the last 7 days, there were over 193,000 various roles for Full Stack Software Engineers.
Granted most require 2-3 years of experience but I'm sure you can find a suitable junior role.
So demand far outstrips supply, right?

App Academy Review – TOC
What is the App Academy?
App Academy was founded in 2012 by Kush Patel and Ned Ruggeri and is based in the San Francisco area.
The training platform specializes in only one skill, full-stack software engineering.
For which I think we have already shown you how much demand there is.
For anybody who is not familiar with programming, you can register on the App Academy website and learn to code for free.
This way you can get a better idea of whether this is really what you want to be doing for the foreseeable future.
If costs are an issue then App Academy makes it easy for you.
By deferring payment for the course until after you succeed in finding a suitable job.
Having said that the tuition fees are very expensive and expect to be paying back around $31,000.
What do they teach at the App Academy?
The main goal of the App Academy Bootcamps is to train you to become a full-stack software developer.
Or, if you like a web developer.
Expect to learn, Python, JavaScript, SQL, HTML, CSS, Frontend, Backend, Git, GitHub plus so much more.
With nearly 2 billion active websites there will always be a place for these skills.
Bill Gates once said something like, "If your business is not on the internet then you won't be in business very long"
Ok, many businesses don't have websites but I guess what Gates was talking about was business growth.
At App Academy, they provide 3 ways of studying, either on campus or full and part-time…
On-Campus – 16 weeks
This is a full-time on-campus Bootcamp that is only available in either San Francisco or New York.
These on-campus boot camps are great for people who find it hard to focus on an online course.
According to their website, they have a placement success rate of around 87% with jobs between $80k and $105k.
Now we think those rates without any experience are on the high side and should expect a starting role to be around the $30k – $50k.
In this course, you would have to pay upfront a fee of $3,000 which is refundable and the rest paid after you find a job.
You can check out the full itinerary here.
Full time online – 24 weeks
For students who can't attend a nearby campus but expect and prefer working from home.
Mind you, the itinerary would just be like studying in a classroom, Monday – Friday 8 am – 5 pm (Pacific Time)
In this boot camp, you only pay when you find a job with a minimum salary of $50k.
You can check out the full itinerary here.
Part-time online – 48 weeks
As you can see this boot camp is 48 weeks, all the same, you will still be required to attend the class for around 27 hours a week.
This course is ideal for students who are already in jobs and want to spread out the training so that they can take in the information easier.
This course is also free until you find a job but expect the initial course fee to be several thousand more than the Campus and Full-time courses.
You can check out the full itinerary here.
4 Week Bootcamp in Preparation
There are 2 prep courses to get you ready for the actual boot camps which can be done on campus or online.
This is a 4 weeks course that covers…
Introduction to web development and JavaScript fundamentals
Introduction to JavaScript with practice
Intermediate JavaScript
Advanced JavaScript
This obviously comes at a cost.
You can check out the full itinerary here.
Who is the App Academy For?
The IT industry is one of the most popular industries where there is and there is always going to be a big demand for certain skills.
The tech industry is changing all the time and at times hard to keep up with because new technologies are created all the time.
A great industry to be part of if you are looking for a rewarding career either in a permanent role or freelance, maybe a few years down the road.
At App Academy, they say that you don't need any programming knowledge but obviously having some is going to help.
There is a technical assessment exam and apparently, around 5% actually get accepted.
Programming is all about logic and the test will be on what is the next sequence in the series.
I know this because that is the type of test I had to take before getting accepted onto a programming course.
They will be looking for people who are serious, willing to work hard, fully committed and show aptitude and this will be looked at in the interview.
How much does it cost at App Academy? 
The course fees at App Academy are what will put most people off and it puts us off too.
Whilst the App Academy Bootcamps won't cost you initially to get started.
The prep courses getting you ready can cost between $995 and $3795 which have to be paid upfront.
Online or on-campus and this course doesn't give you a guarantee of getting accepted on the main course.
However, if you don't get accepted then you can get a full refund.
It might come as a big surprise when you find a suitable job.
When you are hit with a $28,000 to $36,000 bill to pay, which will be like a second mortgage.
These costs are well beyond most people's reach.
For this reason, you might like to check out some affordable options which are recommended below…
The App Academy Application Process
The application process is designed in a way that they will only accept serious candidates and is pretty in-depth.
That is why the number of candidates accepted is only around 5% of the total who apply.
So out of 100 who would apply, only 5 would be accepted.
This process is broken down into 5 steps…
When you apply you'd add all your background and any experience you have and why you want to retrain with App Academy.
Once you have filled in your application there is a non-technical assessment which will take around 30 minutes
Followed by a 25-minute non-technical video call.
The next process is whether you have been accepted or not and if you have then you will be given access to the technical challenges.
Complete the challenges in HTML, CSS, Git and logic and then you'll be enrolled on whichever Bootcamp you choose.
I know, this may seem like a long-winded, even over the top process to many, but they really don't want you to be wasting your money.
A point to note; is whilst they say that no programming knowledge is required it is obvious some is to complete the tests.
Help With Finding A Job
You will have a support team allocated to you once you have been accepted on the course.
Mentor, who is there to provide mentorship throughout the course.
Teaching assistants, are there to give you support on a daily basis.
Module instructor, who is an engineering expert available to answer any of your questions on that particular module.
Career advisor, who will ensure that your portfolio is prepared and will keep in touch throughout the course and there to help in finding a suitable job.
Is the App Academy a Scam?
Is App Academy a scam? Absolutely not!
Granted, App Academy only specializes in one skill, full-stack software engineer, but this encompasses many individual skills.
We have shown you that the skills provided are highly in demand.
You just have to look at the number of websites that are currently active which is somewhere in the region of 1.9 billion.
To see that demand will always exist.

App Academy PROS and CONS
PROS
Great Feedback From Past And Present Students:
There is no surprise here when you are paying as much as $40k and for some recognition of whether App Academy is good or not.
We would suggest looking at Coursereport and SwitchUp
The IT Industry has always been one of the top industries to get into because the roles are never static.
They are always evolving and we see this with the skills taught here at App Academy.
Most people use those skills to improve their career prospects at their current jobs but many get the experience.
With the intention of going freelance where the really big money is.
Success With CareerFoundry:
Since 2012 App Academy has helped over 4,500 people find jobs which isn't a great number.
But you have to consider that only around 5% get accepted onto the App Academy Bootcamps.
Interest From People Is Good:
Since App Academy was founded there has been a steady interest from people searching on Google.
Which sort of spiked in 2020, which is understandable because of the lockdown.
However, this is only interest and not an indication of people actually taking the course.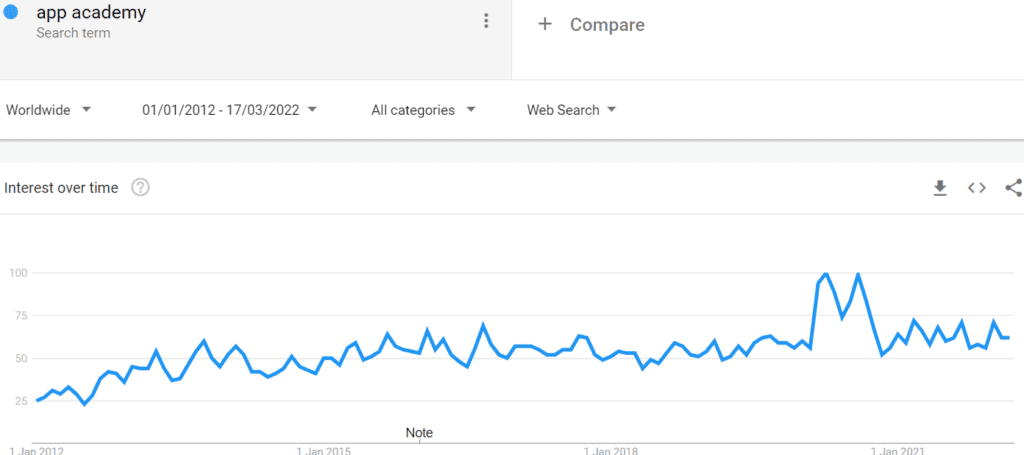 CONS
There Could Be More Skills Taught:
We can understand App Academy choosing a popular skill like a full-stack developer but we would have liked to see a few other career options to choose from.
One Of The Most Expensive Bootcamps We Have Come Across:
The whole point of studying online was to hopefully keep the costs down which App Academy just aren't doing.
There are many alternative training platforms where the costs are nowhere near in comparison.
The App Academy Review – Final Thoughts!
We have already mentioned that these boot camps are overly priced and just because they are.
Doesn't mean the course is going to be any better than one that is a fraction of the cost.
We mentioned earlier that we spent many years working in permanent roles but mostly freelancing.
I had a great career working in other countries and adapting to their cultures and still would be.
If it wasn't for the fact that I was away from the family too much.
As I also mentioned affiliate marketing is what I occupy myself with nowadays which is very rewarding because you don't have anyone to answer to.
If you'd like to know more then please read on.
How we make Passive Income Online?
The main reason for going freelance was to take back control but at the end of the day, you are still working for someone else and still 9-5.
Affiliate marketing allows you to work on your own terms but more than that, it allows you to create multiple passive income streams.
Where once setup there is very little intervention and it will generate multiple incomes 24/7.
Wealthy Affiliate is the training company that can provide this and one I am still a member of and will continue to be.
No commitment is required here as it is free to look and if you don't like it then just call it a day, but you won't know unless you try.

Feedback, Comments and Subscribe
Hope you guys enjoyed this review and that you got some benefit.
If you'd like to add anything or maybe ask me about my freelance career then just drop us a line below.
Once again, thank you and stay safe.