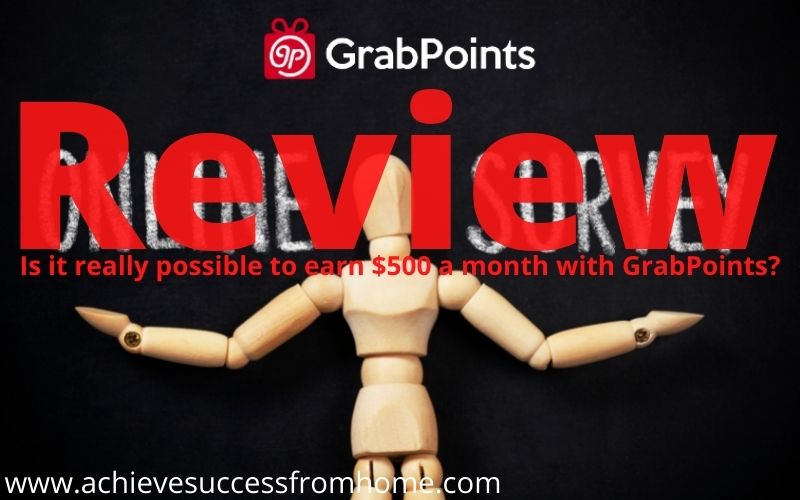 Welcome to the
Grab Points Review
If doing online surveys are something that you enjoy, then Grabpoints.com could be one to look at.
Online surveys are proving to be very popular nowadays and just one of the many ways you can earn some extra money.
However many of these sites are just not worth you spending your time especially as they can take up so much of it and for very little reward.
That's why it is so important to carry out your own thorough research as that is the only way to exclude any scams and to find legit ones that you can trust.
First impressions with looking at the review site Trustpilot seem promising, but sometimes you have to look deeper because of the probability of fake reviews.
Before we get into this review we'd like to make it clear about one thing, we are not associated with GrabPoints in any way.
Therefore you won't find us pitching or trying to sell you anything.
What you are going to get from us is an honest, unbiased and detailed review so that you can decide for yourself whether GrabPoints is any good or not.
So, let's get right into it.
---
[Affiliate Disclosure: This post may contain affiliate links which means I may earn a small commission if you purchase anything through one of the links. However, this will not affect what you pay!]
---
Product: Grab Points
Founder: Reward Holdings Limited
Product Description: GPT site
Website: www.grabpoints.com
Price of product: Free to join
Recommended: No
Summary: These GPT sites ain't going to allow you to earn big money but use them consistently and you could do ok.
That would mean you spending most of your social time doing surveys and I don't know about you but I value my personal time.
The best you can normally make with these GPT sites is between $50 and $100 a month but what we are noticing lately is those goalposts seem to be shifting.
If you check out the GrabPoints monthly leader board and if it can be believed then these figures for doing online surveys is pretty impressive.
In fact, too impressive, but we'll get into that a little later.
However, if you really want to make a massive impact on your life.

---
If you are sick and tired of SCAMS, Pyramid schemes, MLMs, recruiting, having to purchase stocks, haggling family, friends and customers. Looking for a proven method of making money online, then check out my #1 recommendation. 
---
Internal Summary and Navigation
---
What is GrabPoints about and who are the Founders?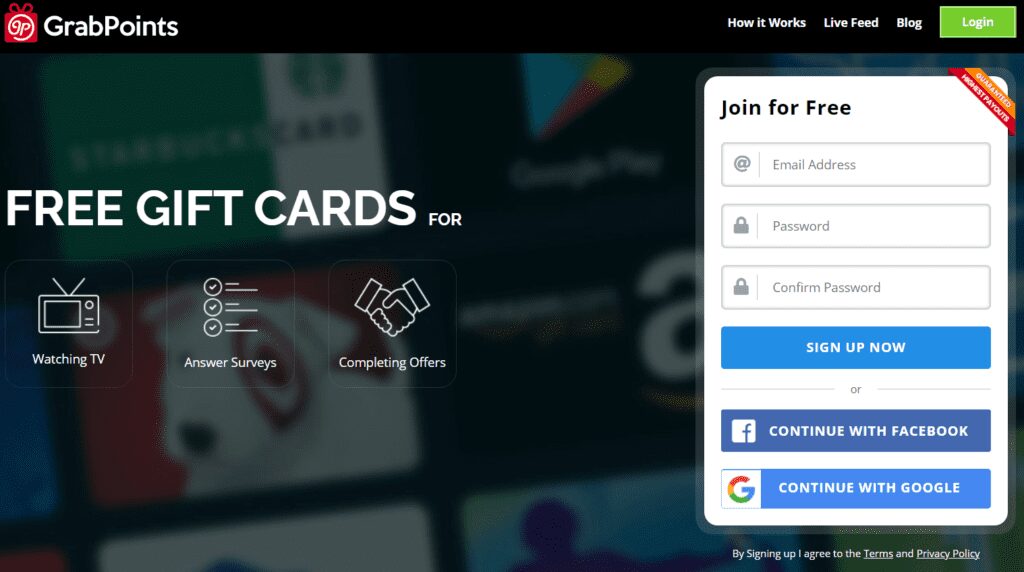 GrabPoints is a GPT or "get paid to" do simple tasks and be rewarded by way of points which can be redeemed as and when you like for cash.
Things like surveys, online shopping, watching videos, offers etc
They were established in 2014 so they've been around long enough to indicate that they must be doing something right.
Since GrabPoints was founded they've had over 4 million members.
Normally when we look at reward sites we tend to take Swagbucks as the site to compare against but nowadays that is changing somewhat.
Just the other day we reviewed a site that we think could be better than Swagbucks, and that is Idle Empire which you might like to check out.
There used to be a GrabPoints App on Google Play but that appears to have been removed for some reason.

So who is responsible for GrabPoints?
GrabPoints is owned by Reward Holdings Limited and is based in Hong Kong.
According to our research, we found Vik Tailor to be the owner of GrabPoints and is based in India.
---
How does GrabPoints Make Money? 
Some of you may be curious as to how GrabPoints are able to pay their members when in fact it is free to join?
Market research is a business strategy that all the big companies use as this gives them an edge when it comes to competition.
It allows them to find new markets, expand existing ones.
Trending and consumer behaviour play a very important part in all this.
GrabPoints operates as a go-between, a middleman and connector of sorts.
They connect members like you and me to 3rd party products such as surveys and for doing so get paid a commission which is shared amongst the members.
This all operates within affiliate marketing, just like this website you are currently on now.
---
How does GrabPoints

W

ork?

It's straightforward to signup, just select either Google or Facebook and you are in.
No messing about replying to emails to activate your GrabPoints account.
Probably not for everybody because we like to keep our passwords separate for security reasons.
The first thing you should do when you sign into the system is to fill out your profile demographic information.
That way GrabPoints can match you with the right type of surveys which will help you to avoid not qualifying for surveys.
A quick mention of points and how they relate to cash…
We have seen some of the surveys in the 10,000 point range which would be great if there were many of them.
$0.10 = 100 points
$1.00 = 1,000 points
$10.00 = 10,000 points
As you can see, you need to earn a heck of a lot of points to make this worth your while.
To give you a rough idea of how much you can expect to make, you can earn anywhere between 500-2,000 points ($0.50 – $2.00) for completing a 30-minute survey.
Sign up for a free trial offer and earn another 1,000 points ($1.00) or refer friends and family members to earn another 1,000 points ($1.00).
There are 3 options available to make money
Surveys
Watching videos
Offers
Surveys
There are several survey routers available with some paying as much as 10,000 points which equates to $10.

We noticed that there is a big selection of surveys ranging from around 4 minutes to as long as 50 minutes with some even longer.
I wouldn't suggest selecting the surveys that take 30+ minutes simply because of our experience with getting thrown out.
Often when you are participating in a lengthy survey and you complete it or at least think you have, for no apparent reason, you find yourself been thrown out of the survey.
This happens more than you'd think and can be very frustrating and just think doing a few of these can really peeve you off.
Trial Offers
There is plenty of free trial offers on hand which are supplied by the partners of GrabPoints.
Remember though that these trial offers will probably require your credit card details and if it's just an offer to claim some points.
Don't forget to cancel the offer before the trial period expires otherwise you will be charged.
Some of the offers pay you anywhere from a few points up to around 7,000 points.
Watching Videos
This is probably the lowest paying task and can be pretty boring unless you can find some videos that might be of interest to you.
You have to watch 3 videos that come with ads to make around 5-7 points.
Those ads that we all skip on Youtube, remember to not skip them here otherwise you won't get your reward.
Mind-dumbing stuff we know just sitting there waiting for a 10-minute video to complete and you have to watch 3 of them.
Downloading Apps
Downloading and installing apps is another way to redeem some points but this will normally mean playing the app and getting to a certain level to get rewarded.
Some apps all you have to do is open them a few times for you to get rewarded points.
You can some of these tasks from around 50 points to over 10,000 points.
Paid Trial Offers
Paid trial offers are another way of accumulating points but you have to be careful here.
It's all very well if you are looking for a specific paid trial that you actually want, but remember you are on this site trying to make money not give it away.
In some of these trials, you can pay around $5 to join and in return, you are rewarded with around 7,000 points which equate to $7.
There are plenty of those that you can seek out just be careful.
Referrals
Now I know it's hard to believe, but some people who join these GPT sites do earn quite a lot of money but not through taking surveys.
They do this by referring others to join like their friends and families.
However, normally the referral program allows you to earn commissions on your referral for life.
But the GrabPoints referral program only allows you to redeem one payment which is for joining and this is based on a country tier system.
You can find additional information here, and they even describe the right way to promote your campaigns which we find very helpful.
How you get paid
The threshold you have to reach to cash out is 5,000 points or $5.00.
PayPal and Visa are the 2 main cashout methods but there are a number of gift cards that are also available.
Bitcoin used to be a method but has since been withdrawn.
---
How much can you Realistically make with GrabPoints?
Yes, of course, you can and will make money with GrabPoints but how much is pretty much down to each individual and how much effort you put in.
If you are only going to spend an hour or two each day then I'd expect to earn between $50 and $100 a month.
Now, if you look at the leaderboard on the GrabPoints website these are members who are dedicated.
However, these figures do look a little extreme so maybe take these with a pinch of salt but let's just say they are real.

Now, if you check the stats for the leader you will see they have completed around 450 surveys. That works out at roughly $3.45 an hour.
That is around a third of the average wage.
Now, you could spend all your available free time doing online surveys for $3.45 an hour or you could make a drastic change in your lifestyle.
---
Who is GrabPoints

 F

or?
GrabPoints is for anybody who is looking for a few bucks but that really depends on which tier level your country would fit into.
---
What we liked about GrabPoints
For a rewards site, we thought that GrabPoints might be a site worthy of your attention and therefore have highlighted the positives for you.
Plenty of surveys
One thing we noticed when we became a member of GrabPoints was the number of surveys that are available.
Now as the system operates a country tier system then unless you come from tier 1 then expect not to have many surveys available to you.
Plenty of other options
If for any reason you needed a rest from surveys or you weren't receiving many then there are many other ways to accumulate points.
Low payout threshold
The cash out threshold is only $5 and that should take you next to no time to achieve.
Good earning potential for a GPT site
If you dedicate the time like some are doing then it is possible to earn around $500 for the month but you need a lot of patience and dedication.
Trustpilot
92% of the reviews at Trustpilot state that GrabPoints is a GPT site that is worthy of your attention.
However, some review sites you have to take with a pinch of salt but Trustpilot are usually pretty good and determining what is a fake review and what isn't.
What do you think?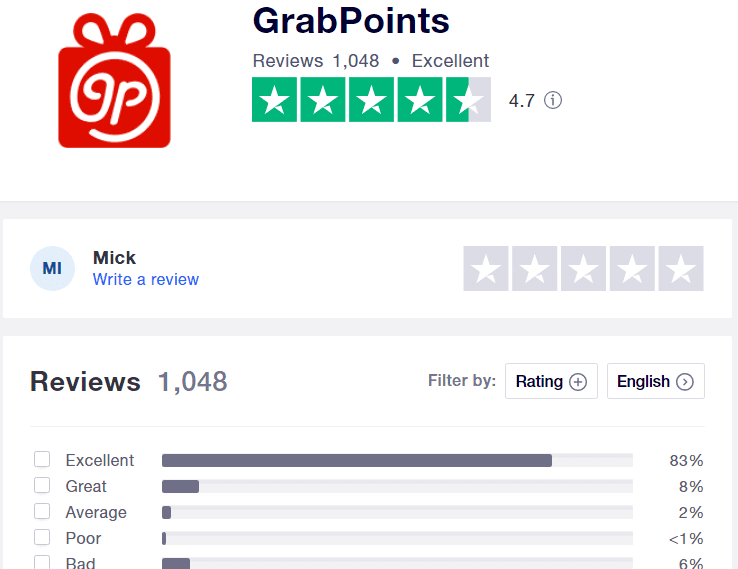 ---
What we don't like about Grab Points
There were a few things we didn't like about GrabPoints and these are listed below.
A limited number of surveys for some countries
Although GrabPoints is available worldwide unless you come from a 1st tier country then you will probably find the number of surveys is not forthcoming.
Problems with been disqualified
No matter how many surveys you have allocated to your account, expect to not qualify for most of them.
This could be as high as 80%.
Even when you do qualify for the survey and are redirected to the 3rd party survey router, there is the likelihood that you might still get disqualified even when you think you have completed the survey.
Referral program 
Referral programs are used to recruit others like family and friends and they normally pay throughout the referrals life as a member.
The referral earns and you, the person who introduces them earns a commission.
The referral program at GrabPoints does not work like that.
You can only redeem a number of points for them joining through your affiliate link and you can't earn any more from there onwards.
Tier 1 = 250 points per referral
Tier 2 = 150 points per referral
Tier 3 = 25 points per referrral
For further details about referrals and tiers visit here.
---
Is GrabPoints

a SCAM or LEGIT?
We have seen a few negative reviews but this is something you have to expect but these were mainly just a few niggly issues.
If it's the best product or service in the world there will always be people who are not happy.
We certainly don't think that GrabPoints is a scam although that doesn't necessarily mean that we are going to recommend them either.
But, if surveys are what you enjoy doing even with the low-income potential then this would be one to try out for yourself.
We would suggest checking out further "unbiased" reviews before you decide to devote time to this opportunity.
---
Grab Points Review

: Final Thoughts!
If surveys are something that you are happy with doing then by all means go for it, but if you really want to earn some real life-changing money then you have to come out of your comfort zone.
Remember this, most people looking for ways to earn money online go down the surveys route (me included) but many move on and find better ways.
Even GrabPoints are showing you better ways than doing surveys and that's something you don't often see coming from a rewards site.

Exactly what I did and learned all this from
Wealthy Affiliate
, which has been around since 2005 and seen over 2 million members.

---
Feedback, Comments and Subscribe
Ok, guys, this is the end of yet another review.
Hope you enjoyed this GrabPoints.com review and hopefully, we managed to answer most of your questions.
Maybe you are a member in which case we would love to hear from you and so how you got on.
As before, if you have any questions whether about this review or anything in general just add them in the comments section and we'll get back to you.
Until next time, stay safe.
#GrabPoints