Welcome to the
Reward XP Review
Rewards or GPT sites are ten a penny nowadays and because there are so many it's often difficult to find the right one to devote your time to.
As for Reward XP, we have only just become aware of this site and was on our list of projects to do to help people like you looking for a way to make some extra cash.
If we take a look at some of the feedback then things seem promising for Reward XP with some members even saying it is better than Swagbucks.
What you will get from us is an honest unbiased review and will give you all the facts.
That way you can decide for yourself whether Reward XP is a site that is worthy of your company.
So, let's get right into it!
---
[Affiliate Disclosure: This post may contain affiliate links which means I may earn a small commission if you purchase anything through one of the links. However, this will not affect what you pay!]
---

Product: Reward XP
Founder: XP Interactive, LLC (although they were dissolved in 2018)
Product Description: GPT site
Website: www.rewardxp.com
Price of product: Free to join
Recommended: No
Summary: More and more people are turning to the internet and looking for ways to make some extra money.
The problem you have here is that you are going to find a lot of unscrupulous people hell-bent on abusing the situation and therefore you have to be careful.
At least with reward sites, you don't have to weigh out any money to join, but that also means that you don't want to be wasting your time.
Most of these reward sites are just not worth your time, simply because they do not pay enough no matter how many you try.
Yes, you can and will earn some money with reward sites but what do you class as money?

---
If you are sick and tired of SCAMS, Pyramid schemes, MLMs, recruiting, having to purchase stocks, haggling family, friends and customers. Looking for a proven method of making money online, then check out my #1 recommendation. 
---
Internal Summary and Navigation
---
What is Reward XP about and who are the Founders?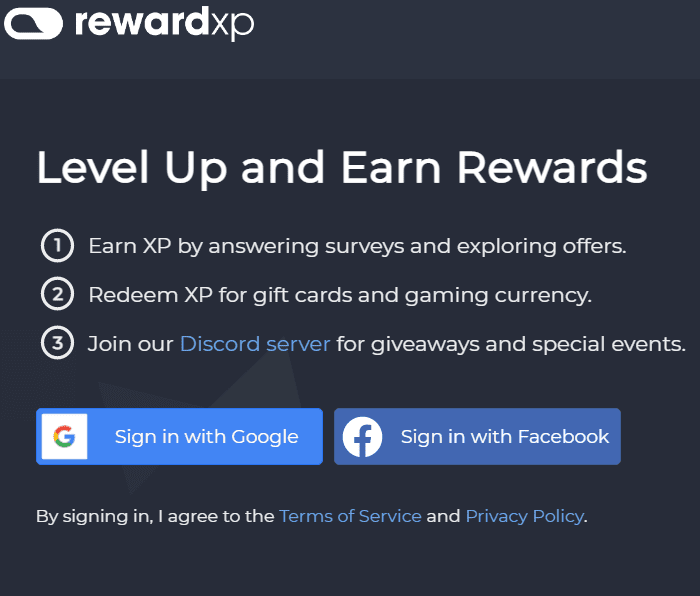 Reward XP is a get paid to or GPT site that allows its members to make money by doing various simple tasks.
Like taking surveys, offers and even watching videos.
Reward XP is a little different to other GPT sites in that it is more for gamers but don't deter you from that because there are many other methods.
A relatively new make money opportunity that came about in 2019 and based in Florida.
With it a relatively new opportunity that means there isn't going to be too much data around although Trustpilot seems very promising.
So who is responsible for Reward XP?
Our research through looking at the "Terms" on the Reward XP website there is a mention of a company, XP Interactive LLC.
Closer look at this company and it was dissolved in 2018, but the people attached to that company at the time were, Hillman Ball, Mathew Hamilton and Tyler Bailey.
---
How does Reward XP Make Money? 
A question that often arises is, "How can Reward XP pay money out to its members when it doesn't cost anything to join?"
Well, market research plays a very important part in product development to ensure companies get their product right before they go to market.
It also helps to explore current markets and explore new ones and also determines current trends along with consumer behaviour.
After all, more and more people are using the internet nowadays and it is only going to get busier.
The job of Reward XP is to connect users, in this case, their members with products and services which 3rd party companies provide.
For doing this they are paid by the 3rd party company and the amount is shared amongst the Reward XP members for taking part.
Whether it's a survey or testing a game or even watching videos that are promoting other products and services.
This all operates under the guise of affiliate marketing.
---
How does Rewards XP

W

ork?
Becoming a member of Rewards XP couldn't be any easier, just click on Google or Facebook and you are in without having to reply to an email to activate your account.
Once you are inside the member's area, the first thing you will notice is just how basic the platform looks and you might even draw the wrong conclusions based on that too.
But wait, before you do draw your own conclusions stay with us a little longer.
A quick mention of points and how they relate to cash…
Points at Rewards XP are defined as "XP" and 10,000 points equate to $1.
$5 = 50,000 XP
$10 = 100,000 XP
$100 = 1,000,000 XP
The rating system…
The more you are active on Reward XP the higher you will rise in the ranking levels.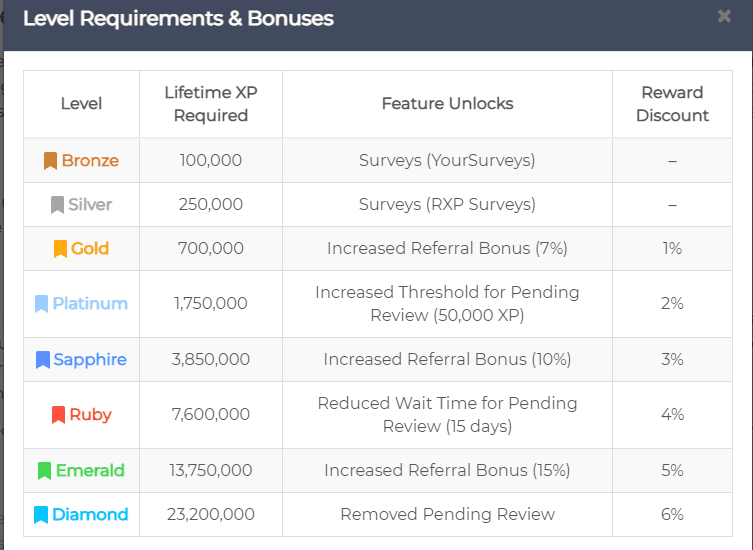 These levels once you have reached are there for life, meaning they do not go back to zero over a period of time.
By achieving the higher levels, Reward XP gives you access to additional benefits and bonuses.
There are 3 options you have to make money
Earn, where you have access to surveys, offers and videos
Explore, where there are games, apps and signups
Engage, where you have access to giveaways and contests
Surveys
Surveys are just one way to earn points at Reward XP.

With my membership, I have 5 survey routers and this could change based on your geographics so don't worry if it's different.
A router is another website that Reward XP will redirect you to if you are pre-approved.
One thing to know is that you will not qualify for a large percentage of the surveys and the ones you do qualify for might still be disqualified.
Even after spending 20 minutes doing a survey.
Remember this isn't the responsibility of Reward XP but the 3rd party site whoever that may be.
Overall the surveys pay out quite well and I have read that a member actually made $25 in one day, but these will be exceptional circumstances.
Just remember to be honest because some of the questions are to cross-reference the answers you made previously and if they don't match then you will be disqualified.
Playing Games
There is specific attention to gamers which is what the platform was developed for.
To get to the games section just click on the "Explore" tab and you will notice they are listed in categories.
Desktop games
Android games
iPhone games
iPad games
You will also notice that there are more games under the Android option.
To earn rewards you will have to play the games and get to a certain level within the game.
Once the level has been achieved then you will be rewarded and you can leave the game.
Remember you are helping the people who developed the games and if you enjoy games then this will be something you will go to often.
The King of Avalon: Dragon War, get to level 17 for the reward indicated which is around $37.00.
Paid Offers
You can find paid offers next to the "Surveys" tab.
Once again these are other websites that you will be redirected to.
You can expect to find a whole host of offers such as…
Free offers
Additional surveys
Shopping
Signing up to offers
Download games
Competitions
Plus many more…
Remember that some of the trial offers are for a period of time and when that expires you will be charged.
So, if you don't want to subscribe and only want to check out the service or product then remember to cancel before your trial period expires.
Watching Videos
You can actually earn points through watching videos which is a bit naff I know but the points all go to your overall cash out total.
You can find videos next to the "Offers" tab.

There are currently 2 routers on my memberships and this might change based on your location.
You only get points at Hideout.tv for watching the adverts between the videos so remember not to hit the "Skip" button.
There are promo codes that you can find on Facebook, Instagram and Twitter, under the hideout.tv account but these are only active for a short period of time.
Engage
Another way of earning points is by joining the discord server and engaging with others.
You join by downloading the discord app which allows you to communicate with other users and find "Giveaways" and "Contests" that you can join.
The app is available for several operating systems including Android.
Referrals
Every member has their own unique affiliate link which can be found by clicking on your account.
Referring other people to join is another way of earning a percentage of whatever your referral makes and that's for life.
This varies from 5% to 15% which is dependant on how active you are and where you are within the ranking levels.
Referrals who join receive 5,000 points.
People tend to invite their family and friends.
What I find often is people adding this link all over the place on social media, in forums, in the hopes that someone will click on the link and join.
Let me tell you this doesn't work, but if you can work out how to do this the right way it could be very effective.
Let me explain…
Get 100 people to join and each one of those referrals earns $10 a week.
100 refs * $10 = $1,000  – commission @ 5% = $50/week, $200/month
100 refs * $10 = $1,000  – commission @ 15% = $150/week, $600/month
How you get paid
The minimum payout threshold is $5 which equates to 50,000 points.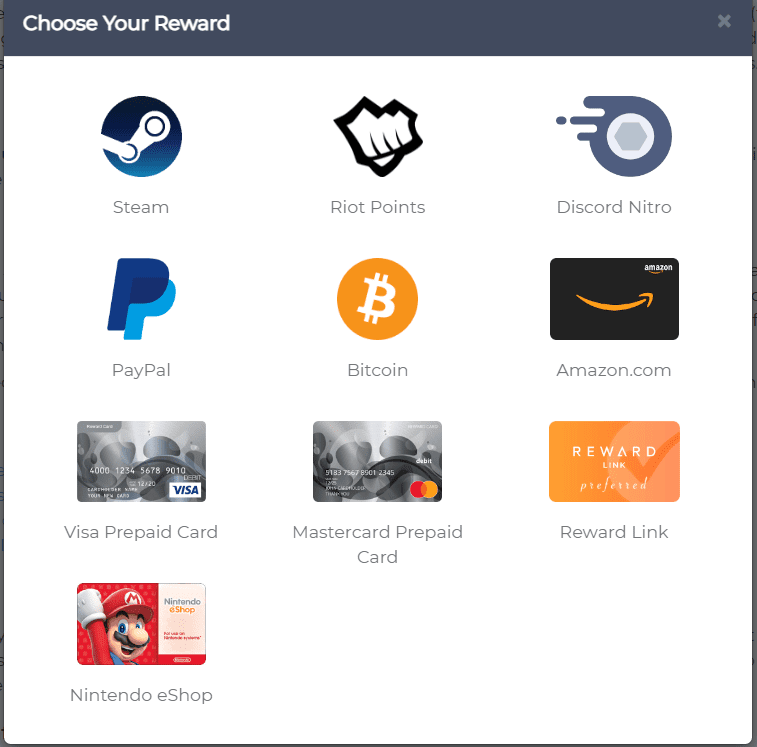 PayPal is the normal payment method that people would use but there are a few other methods that you could use and even Bitcoin.
There are no restrictions on how long you can store your points but you have to be active within 12 months otherwise you will end up losing them.
---
How much can you Realistically make with Reward XP?
You can and will make money with Reward XP but the amount is not going to allow you to leave your 9-5 job.
We have read some member earning as much as $25 a day but our experience with becoming members and the fact that we have researched many of these sites.
Tells us that you should be looking at between $50 and $100 a month or maybe a little more but this is a conservative figure.
I think if people were earning this type of money then it would be all over the internet but it isn't.
---
Who is Reward XP

 F

or?
Reward XP is for pretty much anybody who is looking to earn a few bucks and as long as you know that then you won't be disappointed.
However and according to the Reward XP site they claim that members from as many as 85 countries have joined since April 2020.
That alone doesn't guarantee that surveys and offers will be available but that is pretty much the case with all GPT sites anyway.
---
What we liked about Reward XP
There were a few things we liked about RewardXP

and we have highlighted the ones we think are most important.
The system is very simple
First impressions always count and that analogy might for many not apply with Reward XP.
The platform is very straightforward and for many might feel a little untrustworthy but they are relatively new and only time will tell.
Very easy signup process
Becoming a member is very straightforward with the ability to use your Google or Facebook account without any activation email sent out.
However, this might not be what everybody wants.
Plenty of ways to earn
There does appear to be a fair selection of additional tasks other than surveys at your disposal.
This should keep you active on the system.
Good support
Normally with GPT sites, the support is usually somewhat lacking, but we can see that support at Reward XP appears to be quite good.
You can normally tell when they are active answering reviews that members put up on review sites like Trustpilot.
You can also see that the owners are active within the platform which is always a good thing.
Low payout threshold
The low payout threshold of $5 is very good especially as it shouldn't take you too long to reach,
Quick payouts
There are various methods of Payment and this is quick especially with Paypal and with no charges applied.
---
What we don't like about Rewards XP
A few things we didn't like about the site and

what always stands out is the low earning potential and something you just aren't going to get away from.
The signing up process is not a favourite of ours
People like protection when it comes to personal data and using Google and Facebook accounts I see as not the way forward.
We'd like to see a change so that people can create their own passwords.
Still relatively a young site
We mentioned earlier that they have had some payment issues where they hadn't considered the growth rate with people joining which peaked around March 2020.
Things like this should never happen and that is something to watch out for if you do join.
Poor earning potential
It doesn't matter how hard you work these GPT sites they are always going to pay you bucks rather than real money.
I see people joining and trying to find ways to enhance their chances more by cheating and often ends up with the person with restrictions and in some cases getting banned.
---
Is Reward XP

a SCAM or LEGIT?
We can honestly say that Reward XP is not a scam but it's not a make money opportunity that we would recommend.
Simply on the basis that you have to spend a lot of time on the platform for very little rewards.
However, if you would like to join Reward XP you can do so here, and maybe take a look at these other sites we've reviewed recently.
Idle Empire, Swagbucks,  FeaturePoints, Branded Surveys, all good alternatives.
I know there isn't a lot of reviews on Trustpilot but what we liked was the negative ones were replied to by support with answers to their issues.
We understand in 2020 there was an issue with payments and that Reward XP had to put a restriction on the number of payments made.
Apparently, this was down to a big influx in people joining around March time but we hear things have picked up since.
---
Rewards XP Review

: Final Thoughts!
Dedicated survey and GPT site have never been favourite of ours but what we have seen in recent times is them getting better.
As long as you know they are not a way to replace an existing job but a stepping stone to something better, then that is ok.
But, that is entirely up to you, but the only way that you can earn a good living through the internet is to find some great training.
Companies like Reward XP operate within the affiliate marketing industry, just like this website does that you are on here.

---
Feedback, Comments and Subscribe
Hey guys, so what did you think?
Hope you enjoyed this review and that we managed to address the areas where you would have concerns.
Any questions feel free to add them in the comments below and we'll get back to you at our earliest convenience.
Until next time, stay safe.