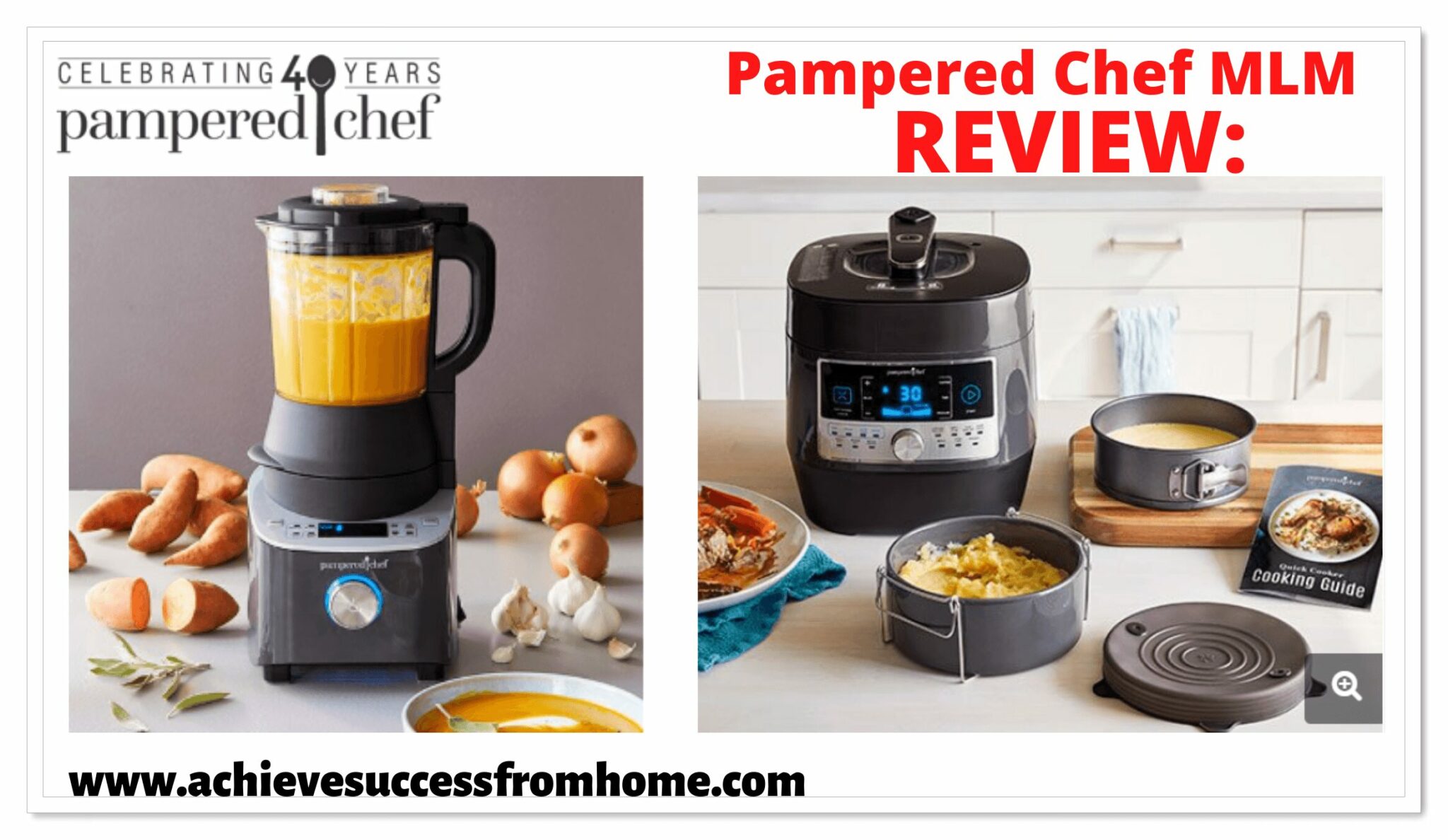 Welcome to
the Pampered Chef MLM review
.
An MLM business that has been around since 1980, that makes them probably the oldest company that we have reviewed, so they must be doing something right to have survived so long.
Well, that's what Warren Buffett thought when his Berkshire Hathaway corporation took over the reins in 2002, so he couldn't be wrong, could he?
Since then they have seen sales drop from $320 million in 2015 to $280 million in 2018 and with the UK interest closing in 2015 then it would appear that Warren Buffett must be losing his grip in his old age.
However, if cooking and party planning is your thing, then providing the products are top quality and the business plan looks great then maybe worth a punt, but I wouldn't jack in your day job just yet.
Therefore, let's cut the chit-chat and let's see what Pampered Chef is all about, what they have to offer and whether it is worth you investing your time and effort in.
---
[Affiliate Disclosure: This post may contain affiliate links which means I may earn a small commission if you purchase anything through one of the links. However, this will not affect what you pay!]
---

Product: Pampered Chef LLC
Location: Addison, Illinois, USA
Founder: Doris Christopher
Founded: 1980
Website: www.pamperedchef.com
Product description: A Multi-level-marketing business, promoting kitchen products, recipes, along with demonstration and food preparation techniques, as well as a business opportunity for anyone who is interested.
Cost to join: There are currently 3 start-up costs.                                                                                   Starter kit  – $99   / plus goods value $400+                                                                        Delux kit – $159 / plus goods value $700+                                                                  Ultimate kit – $259 / plus goods value $1100+
Price of products: $1.50 – $500
Best For: Experienced marketers who have an interest in cooking.
Recommended: I wouldn't recommend this MLM to newbies looking to venture online and learn how to make money and run a successful business.
---
Internal Summary and Navigation
---
What is Pampered Chef about and who are the founders?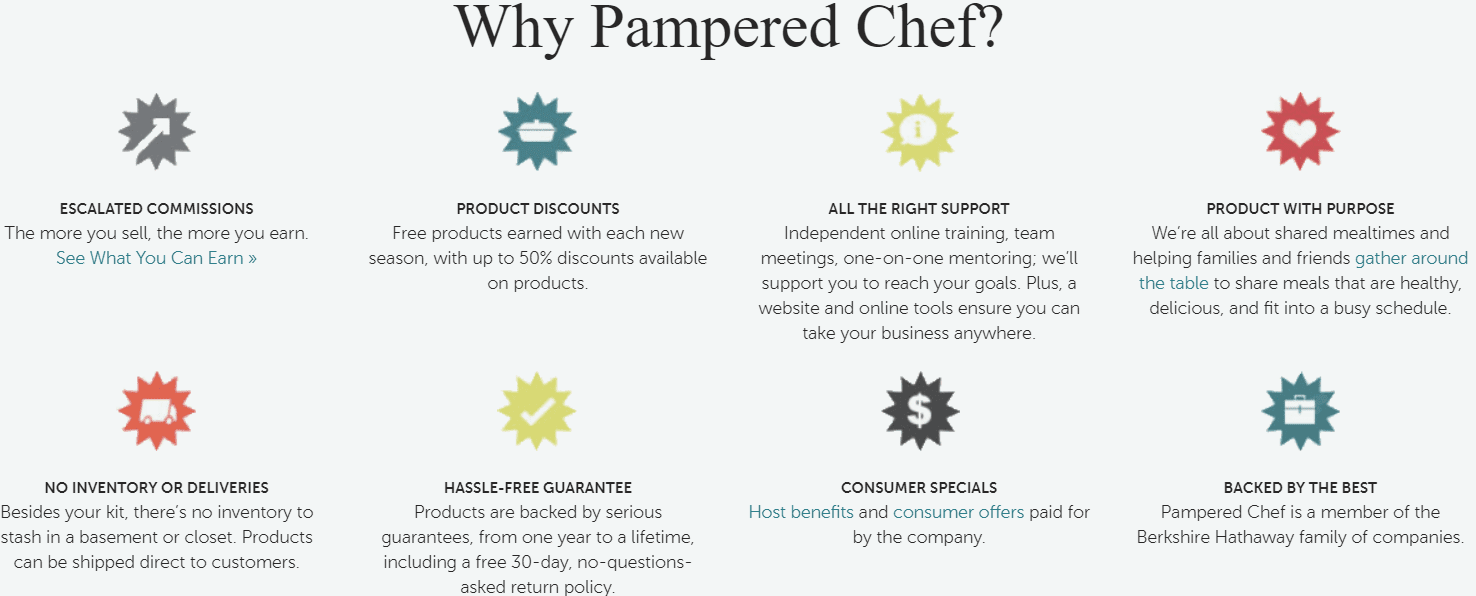 Pampered Chef is a party planning multi-level-marketing business, promoting and selling kitchenware from smaller utensil types that cost a few dollars all the way up to high-end products with a cost of around $500.
With parties and demonstrations the main focus, including the use of the products and sharing preparation techniques and recipes with customers along with a business opportunity.
A business that was started by Doris Christopher from her basement in Chicago back in 1980, with a loan of $3000.
At first selling to her family, friends and neighbours, and over the years the business as gone from strength to strength to a point where they were noticed by Warren Buffett's Berkshire Hathaway corporation in 2002.
Since then Doris as sort of taken a back seat, whilst still involved but now under the control of their current CEO, Andrew Treanor coming from his role as chief executive officer of Pampered Chef.
Check out this short promotional video.
---
Is Pampered Chef a Pyramid Scheme?
With any MLM type of business, there is always going to be controversy.
Always under the eye of the Federal Trade Commission because so many of these businesses do tend to hide behind a product or service of some description. I should know as I've been there!
All businesses operate in this fashion so nothing unique here.
With Pampered Chef they have an extensive range of products and many appear to be satisfied customers and the fact that they have been in business for 40 years should tell you that Pampered Chef is legit.
---
Let's look at the Pampered Chef products range
The Pampered Chef products are pretty extensive, at last count, there were nearly 700 products to choose from on their website.
What I did notice is that their top of the range products are expensive and wouldn't take long to find an alternative at a much more reasonable price.
---
Pampered Chef most popular product range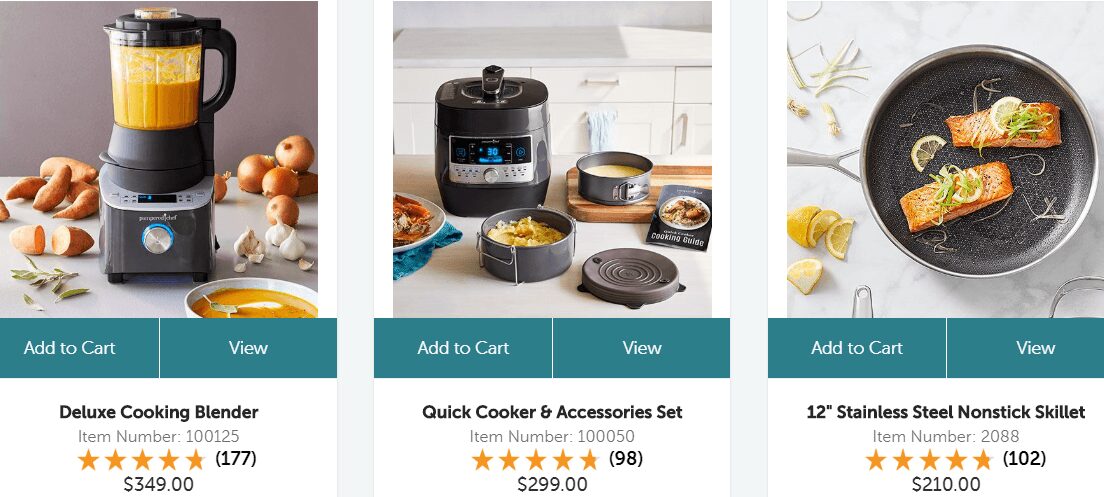 I don't know about you but I think these products which are Pampered Chef big sellers are somewhat on the pricey side.
I mean who pays $210.00 for a frying pan?
Obviously many have, as can be seen by the reviews so who am I to judge.
---
The Pampered Chef product range can be found within the categories listed below…
Cookware and Bakeware
Entertaining
Kitchen Tools
Pantry
Small Appliances
New
Favourites
Enrichables
---
For a closer look at the extensive Pampered Chef products range with current prices…
As there are so many products I won't be reviewing any of them and therefore feel free to check out the full range yourself on their website by clicking here.
---
Pampered Chef Business Opportunity – What you need to know
We can see there is a business opportunity due to there being well over 40,000 consultants earning anything from a few dollars to well over $100,000 but don't get too excited as there are only about 1% earning anywhere near that amount.
---
How to become a Pampered Chef Consultant
There are 1 of 3 ways to become a Pampered Chef Consultant.
Starter Kit – $99, which includes over $400 of products.

Deluxe Kit – $159, which includes over $700 of products.
Ultimate Kit – $259, which includes over $1,100 of products.
Not sure whether you will agree but I can't see that value in goods in any of the images above!
What you will also get when you become a Pampered Chef consultant are business tools…
Marketing emails.
Landing page.
Newsletters.
Catalogues.
A personal website that you can customize.
Plus access to the back office where you will find training material and all your financial transactions.
---
How to Make Money With Pampered Chef
There are various way's you can run your business and make money as an independent Pampered Chef Consultant.
Either by…
Selling to customers or even to yourself
This is your first port of call as you will be hoping to recruit others through your sales.
Purchasing the products yourself usually come with big discounts.
Hosting home or local venue parties
Hosted by yourself or a friend and they can be a home or venue locally to you and will probably include product and cooking demonstrations and therefore you will have to supply the food and drinks.
By using social media like Facebook will enable you to broaden your audience.
Just send out the current Pampered Chef catalogue via email and wait for orders to come in.
Kitchenware is usually one of the top gifts that wedded couples receive so what better way than hosting a wedding shower for the bride.
Building a team and earning commissions from their sales
If you want to progress and potentially earn a lot of money then you have to recruit others to become part of your team.
You have to train your team so you'd better come with some good past experience else your team members aren't going to stick around for too long.
---
These are just a few ideas to get you in the mood. At the end of the day, it is going to take time and dedication on your part.
Plus, when you want to shop yourself, there are some big discounts to be had, mind you, you'll find that discounts in some cases may not even bring the price down to what it would cost you to buy a similar product elsewhere.
It's no good coming into a business like this halfheartedly because you won't be sticking around for too long.
An important thing to point out is that you are going to need to be outgoing and prepared to put yourself about.
---
Commission rate table and earning potential
According to this chart, they make it look like earning a living as a Pampered Chef consultant is a breeze.
I know what is involved as an affiliate marketer and I can assure you, their working week of 8-15 hours is well off the mark.
According to what you can earn, between $1,400-$18,000 a month, which looks and sounds great but this is just not feasible.
You'll need to…
Find customers.
Sell the products either online or through parties.
Recruit others.
Train your team.
Develop your website.
Work out and expand your marketing strategies.
Organizing a party alone is going to take several hours!
---
Here you can check out the Pampered Chef Compensation Plan for yourself
This compensation plan is pretty straightforward and therefore two ways to digest this information, either by selecting the pdf here or watching the short video below.
You might need to pause this video at certain stages as the person making it appears to be in some sort of race. Best I could find though! 
---
Are Pampered Chef Consultants actually making money?
It's really hard to say due to the fact there is no income disclosure, which should open up all sorts of questions.
It is a known fact and I see it all the time that only the top 1-2 per cent are the real earners and even those aren't all earning big money.
It is also a known fact that as many as 65% will not continue in an MLM business after their first year ends.
However, Pampered Chef has been going for 4 decades, but even that doesn't tell or convince me that this is a viable business opportunity.
After all said and done, there is money to be made but you are going to have to work hard because it is not going to be given to you.
Hard work… dedication… patience… That's what it will take, just like any business venture.
---
What others say about Pampered Chef
Whenever I am reviewing anything whether it's a product or a business venture I always check out reviews and hopefully from a trusted source but even those can't be believed 100%.
The first thing I noticed when I was on the Pampered Chef website when I selected the "Shop" option was the rating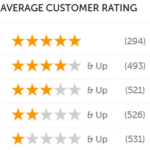 summary of the reviews.
Simple maths will give you a percentage that shows you what is going on.
I class 3 stars as mediocre so you would split the reviews here.
*            531
**         526
***      260
That's a total of  1317 against a total of 1047 for positive reviews.
That's 56% of which are negative reviews, and that paints a different picture to the one I had when I first started reviewing Pampered Chef.
There is no quick and easy way of looking at these reviews other than selecting each product and searching for the bad comments.
If you check their Google My Business by typing "pampered chef Illinois" into Google without the quotes, I only see 10 reviews there.
---
Anyway, I have dug out a mix of positive and negative reviews from the Pampered Chef website.
These 6 reviews are all against the pampered chef 6 piece nonstick cookware set, priced at $450, apparently with a life-time guarantee.

The same product of which is either a different batch/make, new and never been washed or people who just don't use dishwashers.


Anyway, I will leave this in your hands for you to come to your own conclusions, but how can the same product have such diverse reviews?
---
What I like about Pampered Chef
Accredited with the Better Business Bureau since 1998.
Extensive product range with something for everyone.
Big discounts when you purchase the products yourself.
Compensation plan pretty straightforward.
---
What I don't like about Pampered Chef
For a business that has been operating for 40 years, I find it strange that I couldn't come across a viable income disclosure.
Not recommended for newbies looking for a business venture.
Delivery doesn't appear to be able to keep up with demand.
Customer support not very good until the complaint goes to BBB.
Hosting parties takes a lot of time and money for very little reward.
There are only so many local parties you can organize.
Products are over-priced with the quality of many in question.
---
Is Pampered Chef a SCAM?
Pampered Chef is definitely not a scam as they have been around the block for some time now.
I am not happy with the lack of reviews on 3rd party sites, for a company that has been going for 40 years though.
All the same, many people seem to be happy with the products even if that is around 45% according to their website.
Mind you my research didn't extend to Amazon where you can find plenty of reviews.
---
Is Pampered Chef a Worthy Business to get involved with?
Not only are you competing against other Pampered Chef consultants when getting your campaigns out there, but you are also competing against Amazon as well.
If you come from a network marketing business with plenty of experience and hopefully success then this one might be for you.
That said, I think I have given you more than enough information for you to make an educated decision one way or the other or to take away and research this business further.
Like all MLM type businesses, I am not a fan due to a few bad experiences.
However, I didn't call it a day although I was close to doing until I started researching affiliate marketing.
Affiliate marketing allows you to really develop a business, with no parties to organize and no hidden costs.
There is absolutely no pressure to achieve certain targets and train others like there is in an MLM.
Take your passion or a profitable niche.
Create a website to showcase your niche.
Find out what people are searching in Google that relates to your niche and create informational reviews and posts. Don't sell because it doesn't work.  You have to help people. MLMs are a hard sell and very restricted.
What you are not going to get away from is hard work.
Learn how to do all this at Wealthy Affiliate, which is a training platform dedicated to affiliate marketing and designed with the newbie in mind.
Don't take my word for it, check it out yourself for FREE and remember I will be on the inside to help in any way I can.

---
Feedback, Comments and Subscribe
So, what did you think of the review?
Did I cover all the important facts about this popular company or were there some things missing?
Anyway I hope you did enjoy the Pampered Chef MLM Review
Anything you need to know about Pampered Chef or anything for that matter, I will be only too happy to help in any way I can.
Just put your question in the comments section and I will get back to you at my earliest convenience.
Until next time, stay safe.