Welcome to this Herbalife Nutrition MLM Review.
I am sure you will have seen their marketing

campaigns all over the place, even on the TV, marketed by some very influential sports stars, like the Portuguese football player, Christiana Ronaldo.
A household name they might be for a few but very controversial for many.
Herbalife has come under the spotlight on more than a few occasions, with the FTC and more recently found themselves under investigation by the FBI, and with some hefty fines as well.
On many occasions, they have been called a pyramid scheme by some very influential people and even had a movie made about them. Famous or infamous, that is for you to decide.
I want to make it clear that I am in no way associated with Herbalife Nutrition and therefore not here to sell you their products or their business opportunity.
All the same, I am not here to deter you from purchasing their products or taking a punt with their business opportunity either.
However, I am here to give you a completely unbiased review of this company and to give you the facts so that you are in a better position than you were before you found this website.
Through all the lawsuits and investigations they still manage to stay on top and bring in yearly revenues close to $5 billion, and still, they are one of the most successful MLMs you can find.
So, without further ado, let's see, what Herbalife Nutrition is about.
---
[Affiliate Disclosure: This Herbalife Nutrition Review has been thoroughly researched from information and testimonials that are in the public domain. This post may contain affiliate links which means we may earn a small commission, however, this won't affect what you pay!]
---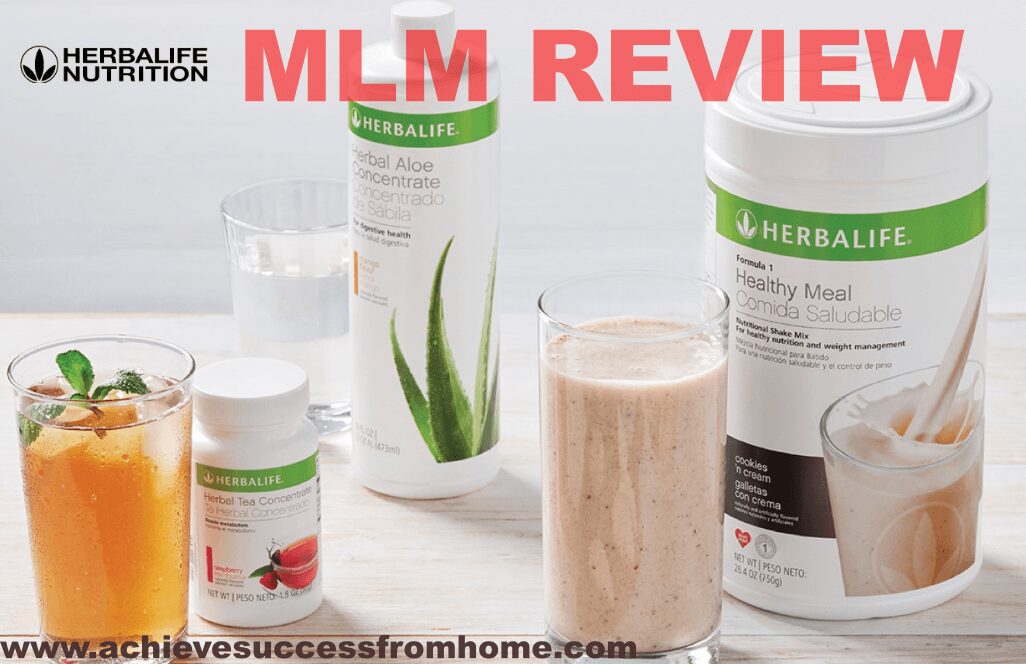 Product:
Herbalife Nutrition
Location: Los Angeles, US
Founder: Mark Hughes
Founded: 1980
Website: www.herbalife.com
Product description: A multi-level marketing company that manufactures and sells dietary supplements, health milkshakes, and skincare products along with a business opportunity.
Cost to join: $34.95 – $124.10
Price of products: $12.45 – $288.30
Best For: Experienced marketers.
Recommended: Not recommended for newbies looking for a way to make money online.
Summary: Herbalife is one of those direct selling businesses that everybody has heard of and for many reasons too and not all positive.
Lawsuits and terms like scams and pyramid schemes are thrown around loosely.
They have been around the block a few times and you can find their products sold all over the internet.
Which isn't a good thing if you decide to join their affiliate program and become part of their distribution team.
Competition can be a good thing but too much competition can be a killer.
One thing that Herbalife is that is they are a legit multi-level marketing company but there are a lot of things you need to know about them first.
Before you decide to pursue them further, that is why you are here and what this Herbalife review hopes to provide you with.
Answers to important questions, so stay with us and hopefully in the next few minutes, you will be in a better knowledgeable place.
Herbalife Review – Table Of Contents
What is Herbalife Nutrition About And Who Are The Founders?
Herbalife is a multi-level marketing business operating in the Health and Wellness industry, selling various nutritional products to help in weight management, fitness, health, and skincare.
Founded in 1980 by Mark Hughes at the age of 24 from the boot of his car, and built the business over the years into a multi-billion-dollar company.
A very well-known saying that Mark Hughes was known for saying at his events… "FAKE IT UNTIL YOU MAKE IT" … VERY NICE!
Mark came from humble beginnings and lost his mother when he was 18 years of age to an accidental overdose of prescription diet pills and alcohol.
Tragically, Mark would suffer a similar fate many years later in 2000 when he was only 46 years of age, but we are jumping the gun here.
In just a couple of years, Herbalife went from nothing to a 2 million dollar business, then floating on the stock market in 1996, netting Mark a very nice $250 million payday.
The company whilst incorporated in the Cayman Islands have headquarters in Los Angeles.
They employ around 9,500 people throughout the world and the products can be found in over 90 countries, with around 5 million distributors, and revenues approaching 5 billion a year, making them one of the more successful MLMs out there.
Over the years Herbalife has gone through a few rebranding exercises, maybe to hide behind embarrassing situations.
Check out this short promotional video.
Herbalife over the years has had the Federal Trade Commission (FTC) on their case and fined them heavily, ordering them to restructure their business.
Whether this will have an impact on the company or not remains to be seen.
There's a website dedicated to Herbalife for all those that are interested which you can find here.
Is Herbalife Nutrition a Pyramid Scheme?
Over the years there have been more than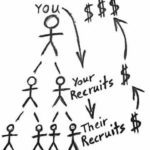 a few instances where Herbalife have found itself in the dock with the authorities.
A class-action lawsuit was settled out of court in 2004 on behalf of 8,700 current and former distributors who accused the company of running a pyramid scheme.
Even though Herbalife didn't admit to these claims they still went ahead and paid out $6 million in compensation.
In 2016 the FTC charged Herbalife $200 million in favour of the distributors and consumers for the company's compensation pay structure where it was found they rewarded distributors for recruiting others to join.
In fact, Herbalife sends its salespeople on world tours to recruit others and there is an emphasis on recruitment.
They even recruit at neighbourhood nutritional clubs with blacked-out windows to hide what is going on.
Around 60% are Latino, desperate to get themselves out of a hole but end up digging themselves in further.
However, if the FTC and FBI can't punish Herbalife to the extent that they close them down, then I guess then they may not be a pyramid scheme after all.
What do you think?
Here's a short video that will highlight the traits and what to look for…
Herbalife Nutrition Products Line
There are over 300 scientists employed at Herbalife Nutrition and with nearly 40 PhDs to ensure everything is above board.
Herbalife does have an extensive range of products with 112 showing at the last count.
Herbalife Nutrition's most popular product range is the Core products
Protein shakes appear to be the rage amongst the Herbalife products, with the Formula 1 healthy meal replacement shake coming out as the favourite.
With 21 essential vitamins and minerals, and comes in 12 flavours.
Mind you for a shake a little pricey don't you think?
The Herbalife Nutrition product range can be found within the categories listed below…
Core Products
Healthy Weight
Specialized Nutrition
Energy and Fitness
Skin and Hair Care
Sampling Tools
For a closer look at the Herbalife products range with current prices…
To get a better feel of the products and what they are about, and the current prices, not to mention the business offer then you can find all this on the Herbalife website here.
Herbalife Nutrition Business Opportunity – What You Need to Know
Around 96% of Herbalife distributors earn less than the average wage.
With 89% of Herbalife, members don't make a dime and the maths show some serious concerns.
According to my research, there are around 5.5 million distributors worldwide in over 90 countries.
That means there are 4,895,000 Herbalife distributors who don't make any money selling their products as a distributor. So around 750,000 are making something and bear in mind that it is only the top 1% where the real money is made.
The products aren't sold in shops, or that's what they say, but they are sold on Amazon, the biggest retail outlet there is, so not only are you competing with other Herbalife distributors but Amazon as well. Is that fair? I would say not!
How to become a Herbalife Consultant
If you check out the Herbalife website the only way you can become a member is by finding a sponsor and joining under them.
The problem here is that you haven't a clue who or what these sponsors are all about, in fact, you don't even know if they are having any success at all.
More than likely they won't be making much but they will tell you they are all the same just to get you to join.
There are a few ways you can go when joining Herbalife
Join as a preferred member for $34.95 if all you want to do is take advantage of the product discounts for yourself. These are currently at 25%.
You could convert to a Herbalife distributor by purchasing the conversion pack for $59.95 and taking some sort of training course.
Then you would have to purchase either…
The international business pack at $94.10 or the International Business Pack Super Starter at $124.10
OK, these costs are basically the minimum you should have to pay although I am reading that many prospective members have been convinced to purchase thousands to take them to a certain Herbalife status.
How to Make Money With Herbalife Nutrition
Like all MLM there are 3 main ways to make money and therefore nothing is different with Herbalife.
Purchase the products for yourself and get them at a 25% discount.
Sell them to customers.
Recruit others to join your team, train them and make commissions on their sales.
Of course, there are other ways, such as…
You could host parties at home or in venues.
Social media, like Instagram, Facebook, and Youtube.
Catalogue, by sending via email and just waiting for the sales to come in.
Advertise in newspapers and magazines.
Limited by your imagination, but there is going to be a cost factor here and you will have to pay for it yourself.
Here you can check out the Herbalife Nutrition Compensation Plan for yourself
Are Herbalife Distributors actually making money?
Well, some are and some are very wealthy, but the amount is far and few.
90% of Herbalife distributors will have left by the time the first 12 months have passed.
Many of these will have left with mounting debts because to maintain a certain status you have to make a number of sales, and what I am finding here is that many distributors purchase said amounts themselves and stockpile them hoping to sell on. Absolutely ridiculous!
Of course, if you decide to call time on being a Herbalife distributor then providing the products haven't been opened and they haven't passed their sell-buy date then Herbalife will refund you, and they will pay for shipping.
To be honest there isn't much in the way of income disclosure and for a company that is doing so well, I find it a little strange.
Is Herbalife Nutrition a SCAM?
There are too many reasons why I would not purchase their products and not buy into the business opportunity.
Films and documentaries dedicated to Herbalife.
Lawsuits and FBI investigation.
Wallstreet traders trying to short the business and close them down. That's a bet against the stock going down.
As with many MLMs, the products are expensive and can be purchased elsewhere for a fraction of the cost.
They are a hard sell and remember 90% of Herbalife distributors will have left by the time their 12 months are up.
However, they do have many products which apparently people are raving about and there is a business opportunity that you don't have to take on.
So, as you can see plenty of reasons to not get involved but as much as I'd like to call Herbalife a scam I really can't, but that is up to you.

What Others Say About Herbalife Nutrition
Might want to watch this 30-minute video explaining what MLMs are but more importantly what Herbalife is all about.
Quite entertaining but if you are still thinking of joining then I wouldn't advise watching.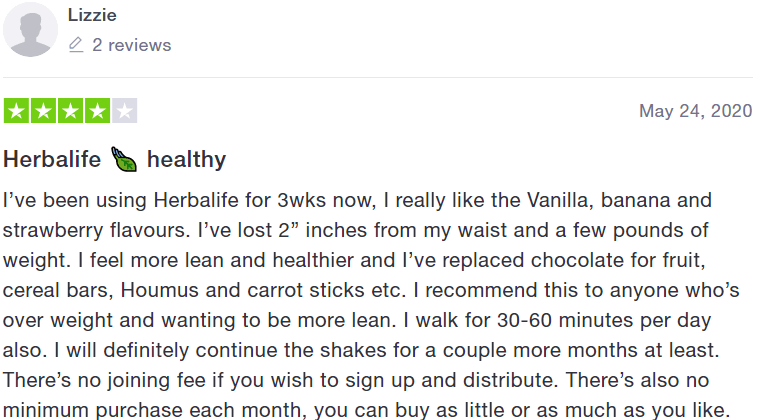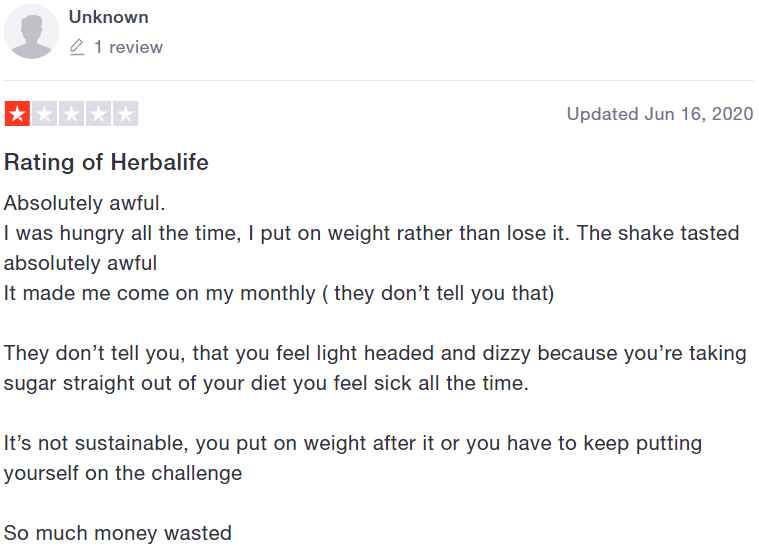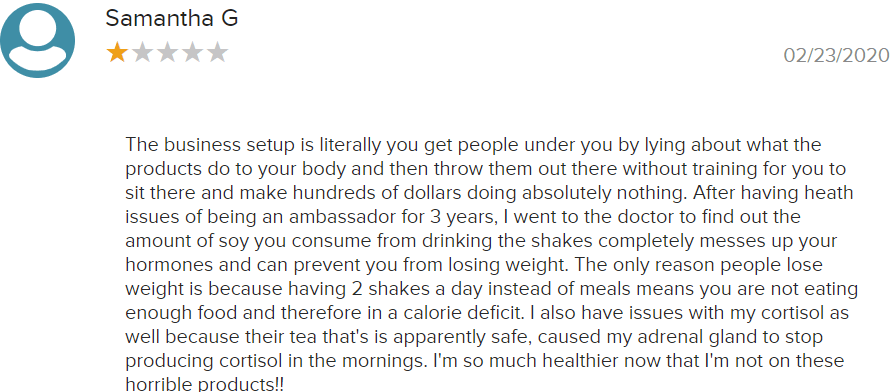 What we Like About Herbalife Nutrition
No set minimum number of products to purchase, although if you were looking to maintain your Herbalife status then you would have to buy more.
They do have an extensive product range.
Big discounts.
The compensation plan is pretty straightforward.
A great returns policy if, in fact, it works.
They support charities which is always a good thing.
What we Don't Like About Herbalife Nutrition
For a business that has been operating for 4 decades, I couldn't find a reasonable income declaration, and the ones I did find might as well not have been written in the first place.
Not recommended for any newbie looking for a way to earn money online.
Support is a bit of a shambles unless you send your grievance to the Better Business Bureau.
Expensive even with the discounts.
You can now purchase the products through Amazon. This is extremely naughty as this means the Herbalife distributor is going to find it even more difficult to sell their products.
Many complaints through the Better Business Bureau.
Lawsuits and continuous investigations by the FTC and more recently the FBI.
Wallstreet traders trying to shut them down by shorting the stocks.
Is Herbalife Nutrition a Worthy Business to Get Involved With?
Before I started researching Herbalife Nutrition I didn't really know much about the products or the business opportunity, but it really has opened my eyes.
I use vitamins myself but I purchase them from a reputable company that doesn't charge the earth and they do have an affiliate program that doesn't cost anything to join if you wanted a business opportunity.
I wasted around 3 years trying to make MLMs work and made no money at all. I am just glad I didn't call it a day and stop trying and certainly glad I moved into affiliate marketing.
This brings me to affiliate marketing and a few important facts.
A very simple business model that anyone can learn.
You don't have to recruit people.
You don't have to maintain a certain status.
You don't have to purchase products.
You don't have to host parties.
You don't have to pay for marketing.
You don't have to stick to a specific product
You don't have to rely on others for support and training.
You don't have to go to crummy events.
Plus there are many more additional advantages. These are just a few straight off my head!
It's all about finding the right training and one that isn't going to cost 1,000s and certainly one where you didn't have to purchase upsell after upsell.
However, I did come across details about Wealthy Affiliate and to be honest I thought it was too good to be true and you know what they say about that!
Anyway, curiosity got the better of me and joined their "FREE" membership and have been there ever since.

Herbalife Review FAQs
As Herbalife has been around a while now you can find all sorts of questions being asked in the search engines, these are just a few we dug out.
Is Herbalife Nutrition Safe?
Rest assured that all Herbalife products are safe to use when consumed as instructed.
They are one of the longest surviving direct selling companies that have been around for over 4 decades.
Always consult a doctor before taking alternative solutions as these products might counteract your own medication.
What Are The Side Effects Of Taking Herbalife?
There is always the risk of side effects ingesting any so-called nutritional products so you have to be very careful.
Herbalife has had complaints from people regarding their liver, nausea, jaundice, fatigue, tiredness, abdominal pain plus more…
What Are The Benefits Of Herbalife Products?
Due to the strict guidelines by the FDA regarding what you can and what you can't say regarding whether these products can help you health-wise.
But they may help in weight management, reduce stress levels, promote healthy digestion, boost energy levels…
Does Herbalife Burn Belly Fat?
Some of the products can help in burning belly fat when taken before training but they also say to reduce calorie intake and regular exercise.
Does Herbalife Damage Kidneys?
For the most part, healthy adults are unlikely to see damage to their kidneys through taking the products.
But if you already suffer from a kidney complaint then it wouldn't be wise to go ahead and take the products without consulting your doctor.
What Is Herbalife 21 Day Challenge?
You can sign up for the Herbalife 21 day challenge free of charge where you get access to other members of the Herbalife community.
Where you can discuss progress and ideas along with some of the coaches.
Can You Buy Herbalife In Stores?
Herbalife can't be bought in stores however we don't agree with this statement as the products can be found on Amazon plus many other online stores.
I guess what they meant was that the products can't be bought on the high street.
Is Herbalife Banned In Any Country?
No, Herbalife up to press has not been banned in any country but then again Herbalife is not registered across the globe.
However, they may be some countries where distributors are banned from selling the products.
Who Is The No 1 Nutrition Company in World?
In 2021, Herbalife was voted the number one brand for weight management by the Euromonitor International which is an independent market research company
Is Herbalife FDA Approved?
Herbal and dietary products do not require FDA approval and therefore do not need to meet the same standards as other drinks and foods.
Feedback, Comments and Subscribe
Anyway, I hope you found this Herbalife MLM review interesting and that I managed to cover all the main points.
If I missed anything then please tell me in the comments section below.
Anything else you would like to discuss, about Herbalife, or even the opportunity then you can also add this in the comments section below.
Until next time, stay safe.