Hey Guys, welcome to the
Land Geek Review
If you are looking for the full lowdown on Mark Podolsky and The Land Geek, then you are definitely in the right place.
Is the Land Geek a scam or is the Land Geek legit?
In the next few minutes, you will have a full account of everything that you need to know to make an educated decision one way or the other.
But, before we get started we'd just like to declare that we are not associated with Mark Podolsky in any way shape or form.
Meaning that what you will get is an honest unbiased review.
That said, let's begin.
---
[Affiliate Disclosure: The Land Geek Review has been thoroughly researched from information and testimonials that are in the public domain. This post may contain affiliate links which means we may earn a small commission, however, this won't affect what you pay!]
---

Product: The Land Geek
Founder: Mark Podolsky
Website: www.thelandgeek.com
Product Description: Real estate training course
Cost to join: $1,697 – $12,900
Recommended: Maybe
Summary: Investing in real estate is everybody's dream and most people at some point will purchase a home.
This is what we strive for and probably the best investment that you will make in your lifetime.
However, the longer you leave it the harder it gets as property prices increase whilst employment incomes don't.
A way to get on the property ladder could be through the Land Geek training course where this could be a side hustle to get funding for your first home.
This could also turn into a thriving business but expensive and risky.
But, this is not going to be an overnight success and just like any business you are going to have to work hard to see the benefits.
The Land Geek Review -TOC
What is The Land Geek About?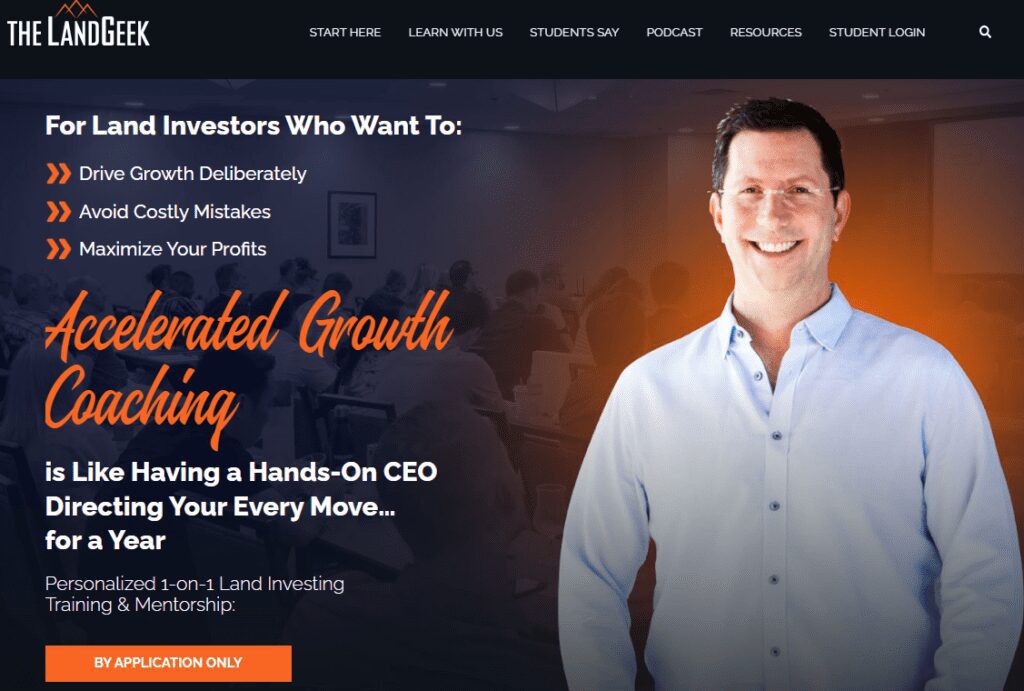 The Land Geek is a training program that was created in 2011 by Mark Podolsky.
Which teaches you how to invest in what they call raw land and turn it around quickly.
This land is usually way out in the sticks where there are no utilities to connect to but you can pick it up for a few hundred dollars.
Why raw land you might ask?
Avoid the risks of rodents, renters, and refurbishment
Extremely low risk and the worst-case scenario is you own the land
Hardly any competition
Won't cost you a fortune to get started
So, the business model isn't about purchasing mansions and doing them up for a profitable sale.
It's all about vacant land which can be anywhere, even land in the desert that can be bought and turned around for a few hundred dollars.
Like every business, you start off small and work your way up.
So, if you are looking for a quick solution to your money problems then this is not for you as it can take years to get to a place where you are financially secure.
Mark, talks about starting with limited funds and that he started with $3k but just what sort of land are you getting for that?
Not just that but who is going to want to purchase this land from you?
Remember, if you are wanting to pay for the course then this for starters is going to cost you several thousand dollars and that's before you've made your first purchase.
If it's just a business opportunity that you are looking for and costs are an issue then check out this one here.
You might like to take a look at a forum post where Mark Podolsky discusses The Land Geek here.
Who is Mark Podolsky?
Mark is the creator and owner of The Land Geek training course which has been around for a few years now.
He is also the founder of Frontier Properties which came onto the scene in 2001 which was when he first started investing in properties.
Since then he has made over 5,500 real estate deals.
But it wasn't always good times for Mark as prior to 2001 he and his wife were struggling paycheck to paycheck.
That was until a chance meeting with someone who was investing in real estate bought through foreclosure auctions.
From here he invested his $3,000 life savings and has not looked back since.
It is clear that Mark knows what he is talking about but it has taken him a number of years to get to the stage where he can share his experience.
Well regarded among people who invest in real estate themselves but not a great deal by people who have invested in his courses.
What You Get With The Land Geek Training Course
There are several courses available to you on The Land Geek to get a better feel of the actual course without spending any money.
You can check out the FREE course first which is listed below…
Whole Tailing Course 
This should tell you whether this business model is something that would fully interest you.
Buying Wholesale – Part 1 
Introduction
Syllabus
Module #1 – Buying Wholesale
Module #2 – Buying Wholesale Facebook
Module #3 – Introduction to Land Arbitrage
Module #4 – FAQ
Wholetail Marketing – Part 2
Introduction
Joining Buy and Sell Groups
Post an Ad with Land Geek Coach Mimi Schmidt
GeekPay Down Payments
Closing
Next Steps – Part 3
How to Take Your Land Business to the Next Level
Automate with GeekPay – Payment App, First Month Free
Automate with LGPass – First Month Free
The Investor's Toolkit – $1697 or $1997
This is the foundation course which is a shortened version of getting your business up and running quickly.
Know the best land to buy and where to find it.
Module #1 – Deal Flow
This module will teach you how to build a system where you are flooded with deals that will keep the flow of business running.
Learn how to find the best and cheapest land
How to find top properties full of motivated sellers
Learn how to do business via email
How to find the best offer price instead of employing an expert negotiator
Learn how to negotiate like a pro
How to avoid wasting time
Learn how to maximise your time and become efficient
Module #2 –  Due Diligence
Learn how to protect yourself and find those golden nugget land deals.
Here are just a few tactics to take on board.
Learn how to research and gather information on land parcels
Learn how close deals without even meeting
Learn how to source property pictures and videos without seeing the land
Learn how to set tax aside as long as possible
Use a batching technique to slash your due diligence
Follow the golden rule to save time when you can't value a property
Module #3 –  Expert Marketing
Learn how to build a responsive list of loyal people who are just waiting to purchase the properties from you.
Avoid the 3 main distractions that can drive your business to the ground
Learn how to use a simple web page to pull in eager buyers
Learn the 7 best places to sell your land purchases
Learn the 3 techniques that will build you a great reputation
Learn how to sell the properties in a super quick time
Learn what a simple guarantee can do to give you massive power
Module #4 –  Progressive Delegation
Learn how to spread your time more efficiently by outsourcing some of the work to free up your time to work in other areas.
Here are a few tools to help this happen.
5 best places to find those skilled virtual assistants
Learn how to create eye-catching job postings at a fraction of a cost
Learn how to avoid the biggest mistakes when seeking our VA's
5 secrets to getting the best out of the VA's
Learn the techniques to keep you on top of the game
Learn one basic rule that can save you thousands
Bonuses that come with the Investor's Toolkit…
Done 4 you paperwork
Virtual assistant management
Ad copywriting
Pricing strategies
iMacros training
Craigslist domination
eBay selling secrets
Wholesale riches
Art of the takedown
Offer generator
Deal tracker
FAQ and filling in the holes
Recommend tech tools
Hotlist of counties
2 FREE tickets to Land Geek Bootcamp
2 FREE 30-minute coaching calls
The Flightschool (Execution) – $8,900 – $12,900
This is a 16-week online course that is for people who are seriously interested in building a real estate business.
You will also get 6 months of access to the LG Pass which is The Land Geek Proprietary Automated Software System which will save you a lot of time.
Remember after the 6-month period this will have to be paid for!
The Flight School is a coaching program that is split into 2, either the Basic package or VIP.
Basic – $8,900 – $9,600
4-months of intensive education with Land Geek coaches
11 live video sessions with their top coach, Scott Todd
5 Q&A sessions once a week
Access to Frontier Properties wholesale land list
Free plug & play website template
Two 1-on-1 30 minute coaching sessions
Two free tickets to The Land Geek Bootcamp
Private Facebook group for one year
The Investor's Toolkit included
VIP – $11,900 – $12,900
All the above plus…
A conference call with Tate Lichfield to assist in acquiring 250 leads
A FREE acre lot which you could sell and make your first deal
First purchase deal review
First sale deal review
Lifetime access to call archives
Coaching 
You would have to apply for the coaching and then you would go on a waiting list.
Now we can't give you an answer as to how much the coaching will cost you but we suggest it may be in the region of $20,000.
You would be given priority consideration if you…
Complete the investor's Toolkit training course before you apply
Provide well thought out answers to the list of questions when applying
Demonstrate commitment by making a fully refundable $500 down payment
Virtual Bootcamp
These are online boot camps that come up from time to time without the expense of having to go to the event.
You would have to apply for tickets as and when.
Can I build a house on the land?
The land is mainly zoned for agriculture and you could install a manufactured home or trailer.
But a home, then you would have to apply to the local authority for change of use.
Is there a better alternative?
If the costs are too expensive which we believe they are and you are still looking for a business opportunity.
Then have you considered affiliate marketing?
This is an extremely cost-effective solution and besides, if you wanted, then you could use this business model to fund the real estate business.
Who is Land Geek For?
The Land Geek training course is for anyone who is looking for a business startup in real estate with a difference.
According to Mark, this business can be started on a small budget but we are not sure just what you could buy for a few hundred dollars.
Is The Land Geek a SCAM?
The Land Geek or Mark Podolsky are
definitely not a scam.
You can learn a lot from any one of the courses that are available however the VIP Flight School course is expensive.
So you better be serious about learning this business model.
Investing in real estate as a norm is usually profitable but all it takes is for a stock market crash and it can all come crumbling down.
We saw that in the 2007-08 financial crash and thousands lost homes.
It is so easy to fall into negative equity where the land is worth less than what you paid for it.
However, The Land Geek teaches you to make small purchases and hopefully make small returns on your investment.
What I mean to say is that you aren't going to be investing $100k for a piece of land until your business is thriving.
Any money that you use will be tied up in the land in the hopes that the land will be worth more.

What we Like About The Land Geek
Mark Podolsky is a legit person:
Mark has plenty of experience in this field going back 2 decades?
This is a business model that doesn't appear to be too competitive:
If you can turn around several property deals within a month like Mark claims then this could be a business to look at further.
There are a few strings attached but it means that you could go all-in and try this for 180 days.
If you didn't at least return your entire investment then a full refund plus Mark and his team would buy back any land that you had purchased.
A no-brainer really!
What we Don't Like About The Land Geek
It's all very well Mark suggesting that you can start this business on a shoestring budget but we suggest otherwise.
All you have to do is look at the actual cost of the course and the money that you will need to invest and we are talking about a serious investment.
You can understand investing in bricks and mortar increasing in value but a spare bit of land in the desert or a field in the middle of nowhere would be a struggle.
This is a difficult business model:
To succeed with this business model there are so many things that can go wrong and very restricted on how and where you can find land.
The Land Geek Review – Final Thoughts!
On the surface, The Land Geek seems like a great course and good business model to get involved with.
But it is all down to costs and whilst Mark says you can start this business with a few hundred bucks in reality this really isn't going to happen.
For starters, you are going to need several thousand just for the course alone, and as much as $12k.
If you want coaching then an additional $15k-$20k besides.
There are other costs to take into consideration too which are free for a period if you pay for Flight School.
Let's face it what land can anybody purchase for a few hundred bucks?
More to the point who is going to want to purchase that land from you?
This business model obviously works for some and if you look at Mark he has been at it for over 20 years.
Here's another business you might be interested in regarding real estate which is very similar but not as costly.
In general, people looking for online businesses are not prepared to work for nothing for months or even years and this is something you have to be prepared for.
It doesn't matter what business it is, it takes a lot of time and hard work with plenty of patience.
We review many products and services and some are good but most aren't and we aren't here to bad mouth a product and recommend another.
This looks like a great course but is extremely expensive but if you have the money and are prepared to take the risks then go for it.
But if you don't have the money and are looking for a way to build a passive business online then affiliate marketing we believe is one of the best alternatives.
Real estate can be volatile and very unpredictable whilst a digital asset is always continuing to grow.
Just think a digital asset could be a way to fund your real estate business and get it off the ground without it creating a debt for yourself.
In the next section if you are interested we describe what this entails.
Is There a Better Alternative?
Since 2014 the affiliate marketing industry has increased by 10% each year and is projected to be worth around $9 billion by 2022 in the US alone.
This is a cost-effective solution, just take a look at what it costs me here it produces us a mid-4-figure monthly income which is continuously growing.
Besides this training platform won't cost you a dime to check out and with no credit card details either.

 The Land Geek FAQs
Is The Land Geek Worth The Potential $12,900?
That's some serious money if you want to go all-in and pay for the flight school VIP course with instalments.
The course has been going on long enough and we have to ask the question why can't we find many great reviews about the course other than on Mark Podolsky's website?
Is There A Refund Policy In Place?
Yes, there is and what looks like a very good one as well.
Apart from the standard 30-day money-back guarantee that is with the course.
There is also a guarantee where you have to show your weekly progress over a 6 month period this is to prove that you have at least tried.
If you haven't earned enough to cover the course cost whichever one you have purchased then you will get a full refund.
Plus Mark Podolsky will buy any land that you purchased so that you totally aren't out of pocket.
That shows you just how confident he is that the training when applied will work.
Is Mark Podolsky A Trustworthy Person?
We couldn't find any real evidence to suggest Mark Podolsky was a person that you couldn't trust.
He is a successful businessman and he does appear to know what he is talking about.
if you need further clarification then just take a look at his YouTube channel with over 13k subscribers and over 1100 videos full of free advice.
 Can The Full Course Be Paid In Instalments?
You can pay for instalments with the Flight School training course…
Basic, $8,900 or 3*$3,200=$9,600
VIP, $11,900 or 3*$4,300=$12,900
What Is The Land Geek Bootcamp?
The training is designed for anybody who is ready to make a full 100% commitment.
The course is very structured and we can see that a lot of time and effort has gone into it.
Feedback, Comments and Subscribe
OK guys, hope you enjoyed The Land Geek review and that we answered most if not all the questions you had.
If there is anything you'd like to add or maybe you have had an experience with the Land Geek, then we'd love to hear about it.
Just add your questions below and we'll get back to you.
Until next time, stay safe