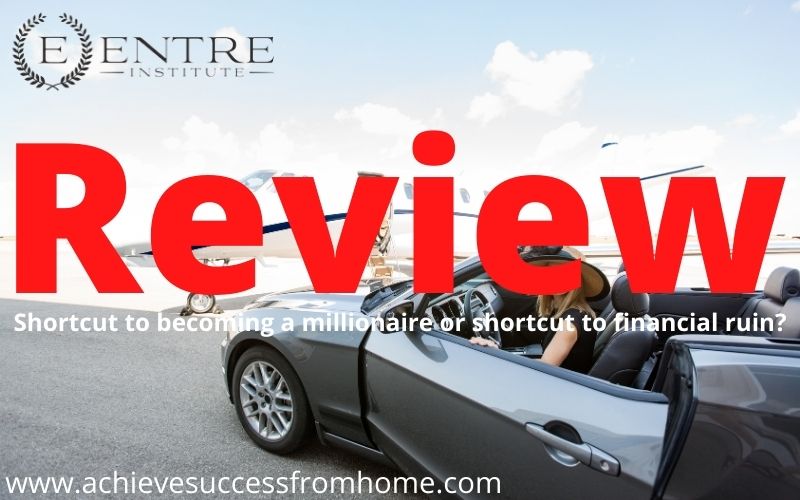 Welcome to
The Entre Institute Review
If you are looking for the lowdown on Jeff Lerner and his training platform, Entre Institute then you are in the perfect place.
Affiliate marketing, which is one of the disciplines that Jeff teaches is, without doubt, a great way to make a living online if you can find the right training.
But, it doesn't have to cost you a fortune and besides many coming into the make money online niche, just don't have wads of cash to hand out.
The reason I mention this is because if you know of Jeff Lerner and his training then you will know that it doesn't come cheap.
So, does the price tag fit the training or is it just a way to clean out your bank account?
Doing thorough research like you are doing is the only way to ensure that you save time and money, but more importantly that you find legit make money opportunities online.
I'm sure you have come across many positive reviews of Entre Institute, but most of them are from affiliates trying to sell you Jeffs training and in the process make a hefty commission.
That said, we are not associated with Jeff Lerner or his training in any way and we won't be pitching to you.
Therefore, what you will get from us is an unbiased review, giving you the facts so that you can decide for yourself.
So, shall we cut to the chase and see what Jeff and his training is all about?
---
[Affiliate Disclosure: This post may contain affiliate links which means I may earn a small commission if you purchase anything through one of the links. However, this will not affect what you pay!]
---
Product: Entre Institute
Founder: Jeff Lerner
Product Description: Affiliate Marketing
Website: www.entreinstitute.com
Price of product: $7 – $50,000
Recommended: No
Summary: Entre Institute is a product devised by Jeff Lerner and teaches people like you and me how to make money online.
Through 3 disciplines,  affiliate marketing, eCommerce and digital consulting.
Which all starts with The Entre Blueprint, which is the product that starts the ball rolling.
However, if you thought that you'd be learning about those 3 disciplines then you'd be wrong.
They are just some motivational training videos to get your mindset working in the right way.
If you go to the website and listened to some of the testimonials from supposed members, they talk about the "awesome life challenge".
Which is the 2nd module in the series of videos that talk about the 3 Ps.
Personal, professional and Physical.
Ok, now I know the right mindset is extremely important because I have struggled with it in the past, but that was mainly down to the number of bad products I'd come across on my travels.
You just know, that something big is going to unfold and it does but let's not get too far ahead of ourselves.
---
If you are sick and tired of SCAMS, Pyramid schemes, MLMs, recruiting, having to purchase stocks, haggling family, friends and customers. Looking for a proven method of making money online, then check out my #1 recommendation. 
---
Internal Summary and Navigation
---
What is Entre Institute about and who are the Founders?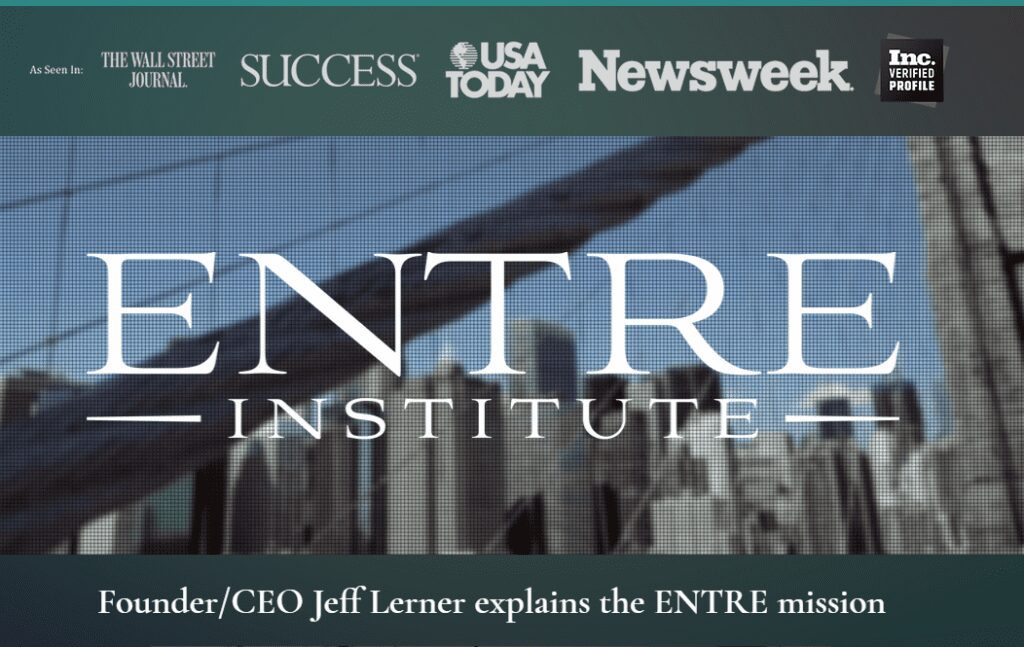 Entre Institute is an online training platform solution developed by Jeff Lerner in 2017.
In fact, we have recently reviewed a product of Jeffs, namely Class with Jeff, and whilst we thought it might be something new from Jeff.
lt was nothing more than a link through to the main product in question, which is where we are now.
Something we see often when a product has been on the market for a while is that product vendors decide to give it a revamp.
I'm not saying there is anything wrong with this but a little deceptive don't you think?
I just can't get my head around it why someone would try and deceive people by promoting something that is pretty much worthless for $39.00.
Whilst all along the real intention was to get you to go all-in with the hopes that you are going to pay nearly $50,000.
This is clearly evident in the 1st instalment within the Entre Blueprint bungle, with the 1 on 1 advisor.
A salesperson whose main intention is to try and convince you to upgrade to where the real training is.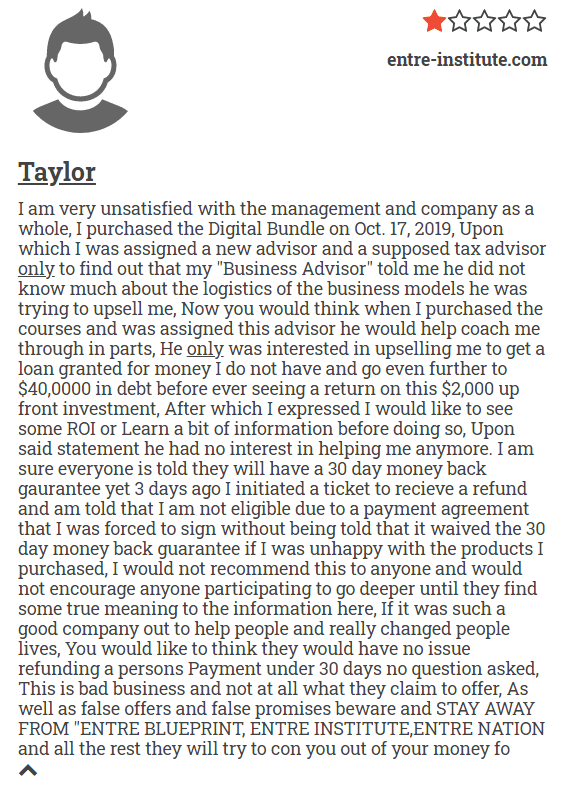 I just think it is obscene when there are more than enough adequate training platforms out there that do a much better job and that do not cost anywhere near as much.
Affiliate marketing is a great industry to work in but it is not going to happen overnight because it takes time.
Now if you want to speed up the process then paid traffic would be the way forward, but with spending so much money I'm afraid they'd be nothing left for marketing campaigns.
The only way to recoup those costs would be to sell each product and I'm afraid nobody is going to purchase a product for $29k off of you.
These are what we call high-ticket products, but before you can sell them you have to first purchase them yourself.
More on this a little later…
So who is Responsible for Entre Institute?
Jeff Lerner is a successful internet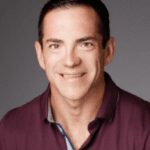 entrepreneur who started life as a professional pianist.
A typical rags-to-riches story and something that we are accustomed to with sales pitches like Jeffs.
After injuring his hand which stopped his pianoing days he decided to invest in a restaurant that went broke with him owing $400k to his investors.
However, he did manage to dig himself out of that debt in 18 months by affiliate marketing working 16 hours a day.
Impressive, except for one thing, his rags-to-riches story in his 6 Steps to Freedom product is totally different than the one you see here with Entre Institute.
---
How does Entre Institute

W

ork?

When you select the product to purchase, you will notice a countdown clock and a message indicating "Limited Spots".
That's BS and just another marketing ploy to force you into getting out your credit card. When it goes to zero it starts all over again.
Do you really think this course that could cost you $50,000 would have a restricted number of people who could join?
Well, the whole process starts with Entre Blueprint and if you go through the Entre Institute site – https://www.entreinstitute.com/products.
You will have to purchase the product without watching the sales presentation.
Therefore if this product does interest you then we'd suggest you go through the Class With Jeff site.
That way you'll at least know who Jeff is and what he is about, although they'll be very little about the actual Entre Blueprint course.
I nearly forgot he's also giving away a free book, "The Millionaire Shortcut"
You are paying for 3 modules which include 6 videos, but there is only one module that gives you any information.
Awesome Life Challenge.
Leading up to the end of Entre Blueprint Course
Possibly this might happen at the very start of the course where what they call a Personal 1-1 Business Advisor will be in contact.
Probably to see how you are getting along with the course and will probably ask you to send them a testimonial.
However, the important discussion will be about you continuing the course and purchasing additional upsells.
The only way that you will know whether this course is going to work is by purchasing additional courses, so you have an important decision to make.
Now, I find this interesting, but we couldn't find any reviews, either positive or negative except for just the one that we have highlighted.
Strange and leads me to think whether people have had to sign some sort of agreement, like a non-disclosure.
Continuing with the training…
I guess then that you have decided to continue although most people will pay the $39.00 and once confronted with those costs, will decide to call it a day.
However, it might be that this course is just what you have been looking for and will continue, to what level is up to you.
Remember, if you do decide to go all-in then after you have paid the $47,381.00 when it comes to the 2nd year you have to decide whether to pay the additional  $45,345.00 and the same again for the 3rd year.
You might be asking, am I not going to be making shed loads of money by then?
Probably not, because affiliate marketing takes time to do it the right way.
---
Entre Institute

Pricing 
Let's not beat about the bush and get straight into the costs.
The cost of going all-in with Entre Institute is a whopping $47,381 so what exactly are you getting for your money?
Entre Blueprint priced @ $39.00
Entre Nation Elite priced @ $348.00/year
Entre Digital priced @ $1,997.00
Entre Results priced @ $15,000/year
Entre Inner Circle priced @ $29,997.00/year
Entre Mastery is an introductory course for member earning $500k+
Entre Blueprint 
The price of $39.00 should say it all.
For anybody who hasn't a clue about making money online (and these will be the people who join) then you aren't going to know any better.
What you get with this software package are 6 videos that are more about motivating yourself rather than learning how to make money online.
The sort of stuff that you can find all over the internet for free.
A low-ticket product it may be, but why get people motivated only to become unmotivated when the salesperson hits them with figures?
The real training in this Entre Blueprint is the "Awesome Life Challenge" like we have just mentioned.
But the main thing on that list as far as Entre are concerned is the 1-1 Business Advisor who is a high-pressure salesperson.
We have just seen in the only review we could find that once the member wasn't ok with upgrading then the salesperson wasn't interested.
Now, if you look at what you are supposed to be purchasing then this is supposed to be someone who is there to help, not try and empty your bank account.
Entre Nation Community is a private Facebook group where you will not be able to say anything negative to upset others.
If you decide to accept what your Personal 1-1 Business Advisor instructs you to do then just follow the instalments below…
The Entre Nation Elite – $348.00/year
This is a training group where you will be trained by experts who are between 7-10 figure earners.
That means serious people who know their stuff and amongst those are billionaires.
So, this is a 4-week intensive course where you will be taught by Jeff's team a specific aspect of the business that Jeff built.
Entre Digital – $1,997.00/one time
This is supposedly their flagship training module which discuss the three disciplines and which one would be the right fit for yourself.
Affiliate marketing, eCommerce, and digital consulting
Entre Results – $15,000/year
This module will give you access to your own one on one business coach who will guide you through a business plan.
Setting goals, creating a business plan and how to go about starting your own online business.
Entre Inner Circle – $29,997.00/year
This is their top-level membership, the pinnacle as they call it, which is an annual coaching experience.
If you are ready for the next level as a business owner, then this is where you need to be.
It focuses on the Entre Institutes proprietary five pillars of entrepreneurship.
Mission, marketing, money, mindset, management
That comes from the book "Think and grow rich" by Napolean Hill.
You get first-hand private coaching from Jeff and his inner circle.
Direct access to Jeff's private mobile number
Two live workshops by Jeff, over a yearly period
Virtual workshops
Additional training exclusive to its members
So, this is the top-level training where you need to be to get access to Jeff personally.
After all, to become a millionaire you need to follow one.
Which Jeff's talk about in his sales presentation but this will be your first encounter with him here.
As you can see this is a yearly membership.
Entre Mastery
Now, this apparently is a personal introductory course where only serious entrepreneurs and invited.
When I say "serious" I mean people who are already having success with their business where they are earning $500k and above.
Now, what do you think?
As you can see the first part of the training is to get you in the correct mindset by teaching you motivational skills.
There is nothing wrong with that because you do need the right mindset but at what expense.
I'm all for giving people the opportunity to excel in life but this experience is like, in one sense they build you up by motivating you.
Then they hit you with the real costs and whether you are motivated or not, I'm sure this is where you will be not motivated anymore.
For many people, this is far from affordable and there is absolutely no need for it, because as I have already mentioned.
There are far better solutions out there that do not cost anywhere near this amount and much better too.
As far as I can see…
The individual high-ticket courses do not give much away and I'm sorry but I would need to go through the "eye of the needle" if I was even thinking of paying those costs.
I'm more concerned about recouping those costs because I just wouldn't be able to concentrate, for thinking about how I was going to pay the loan.
I know with what I do for a living that affiliate marketing when done the right way takes time.
I just know that Clickbank is going to come into this training at some point having seen Jeff's videos on YouTube.
After all, I do believe this is how he managed to dig himself out of the $400k debt that he incurred with his restaurant business venture.
---
Can you make money with Entre Institute?

 
The main goal of this training course
is to teach you how to build an online business and what is involved in doing so.
Really, when you get your business established, in other words up and running then for sure if you stay with the training.
But what normally happens with any type of training especially an online business, is that the member or student loses faith and becomes impatient.
Lose interest and end up failing, simply because they aren't making money quick enough.
But for anybody experienced there is a lucrative affiliate program that anybody can join for free.
This program allows you to promote the individual products and if someone purchases from you then could be a hefty commission on the way.
The beauty about this is that you do not have to purchase them first in order to do this.
---
Who is Entre Institute

 F

or?
Now I can tell you who this Entre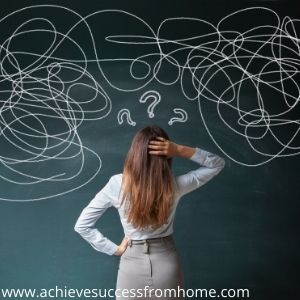 Institute training is not for and that will be experienced, marketers.
However, affiliate marketers that you do see promoting Entre Institute will only be able to promote the products that they have paid for.
So, Entre is really for people looking to escape the 9-5 job and to better their lifestyles.
People who are new to making money online and want to learn how to build an online business from the grassroots up.
However, what you do really need to know is that to accomplish such a task then you are going to have to pay considerably more than the $39.00.
As we have already mentioned Entre Blueprint is only to get you inside and to build your confidence with motivational stuff.
The real training begins when you start purchasing the additional upsells.
Although you don't need to purchase any upsells but, I'm afraid that you will not be learning the crooks of how to build an online business.
---
What I like about Entre Institute
There really is nothing we liked about Jeff's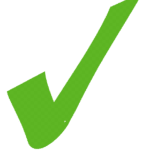 training course, and would that make a difference if the course was reasonably priced.
Probably not, because all we see is a lot of motivational things going on and besides there are no in-depth explanations of what the courses do until you have purchased them.
Money-back guarantee
There is a 30-day refund that you get with the Entre Blueprint however, this refund does not extend to the additional products though.
Entra Support
Ok, So I am not a member of Entre and decided to send them an email and ask them a question and got a courteous reply within 1-2 hours.
That has to be a plus in my books.
---
What I don't like about Entre Institute
We do not like how the initial
training course, Entre Blueprint is highly praised when all it is, is a few motivational videos.
To find out about building an online business is not discussed in this product and you have to purchase additional products just to find out.
Entre Blueprint is not going to get you to first base
The only thing you are going to learn with this course is how to improve your mindset, which is not a bad thing.
But, if you watched the sales presentation you are given the impression that you will be learning how to build an online business.
So, I guess you will be extremely disappointed when you realize that learning how to do this is going to cost you more money.
Hidden costs
There is no mention of any additional courses to pay for and the first time you are probably aware of this.
When your personal 1-1 Business Advisor talks to you to discuss future upgrades.
It's at this point that you are more likely to call it a day.
Where are the great reviews
Something we found strange was the lack of both positive and negative reviews.
High-pressure sales tactics
The reason for the Personal 1-1 Business Advisor should be to guide you through the training although Entre Blueprint should be self-explanatory.
This leaves us to believe that the main goal of the Salesperson is to get you to upgrade.
---
Is Entre Institute

a SCAM or LEGIT?
If you look at the Wikipedia definition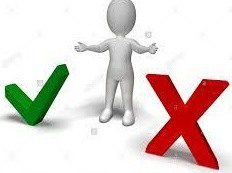 of a scam then the Entre Institute is a prime candidate.
What we don't like is the total lack of transparency when you listen to the sales presentation, however, if you purchased this product through the Entre Institute then you wouldn't see a presentation.
If you knew what the actual costs were upfront would you even entertain this product? Probably not!
We find this product well overpriced and whilst they talk about 50,000 who have gone through the course.
We'd like to hazard a guess that most of those were only through the Entre Blueprint course.
If you take a look at the Entre Blueprint Facebook page there has been no activity on there since November 2020.
I'm sure there is more than enough information for you to take away and make up your own mind as to whether this is for you or not.
What do you think? We'd love to hear what your views are?
---
The Entre Institute Review

: Final Thoughts!
Whilst it has all the hallmarks of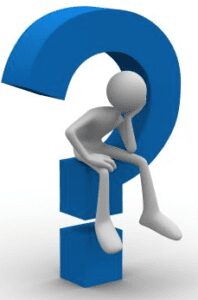 a scam, we shall leave it up to you to decide, but it certainly isn't something we'd recommend either.
Maybe, it's the price tag that has attracted you to Entre Blueprint or the sales presentation where Jeff makes out that all you have to do is follow his lead to millionaire status.
We can't even come to terms to say this course is even a legitimate one.
But I'm sure there will be many out there that disagree with us and those are probably from affiliates trying to sell this product for a hefty commission.
People just don't have the type of money they are asking for and should not put you in a financial situation.
There are many training platforms out there that give value, better training and without the price tag.
---
Feedback, Comments and Subscribe
Ok guys, hope I didn't burst your bubble but the facts are there for all to see.
If you enjoyed the review then why not spread the word and help people to be better informed.
Any questions that you need to add or maybe you have already gone through the course and you'd like to share your experience with our readers.
Just add them to the comments section below.
Until next time, stay safe.