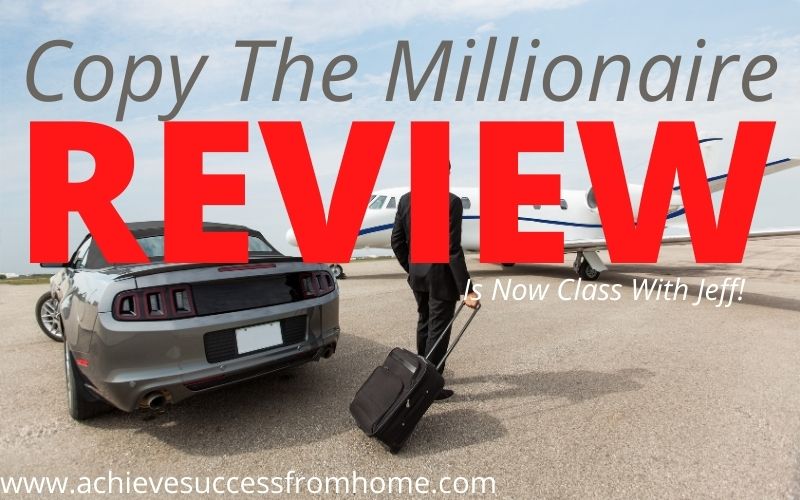 Welcome to
Copy The Millionaire Review
Jeff Lerner does seem to have been in the news recently and not for the right reasons either.
Might be something to do with the way you are redirected from "Copy The Millionaire" to his flagship product, Class With Jeff.
But wait just a minute, because Class With Jeff is not associated with a product either.
So what is going on here?
All will be revealed in a few minutes.
Research is key when you are looking for legit make money opportunities and the only way to ensure you save time and money.
One thing you need to know is that we are not associated with Jeff Lerner in any way and therefore won't find us pitching or trying to sell you anything.
So, let's dive right in!
---
[Affiliate Disclosure: This post may contain affiliate links which means I may earn a small commission if you purchase anything through one of the links. However, this will not affect what you pay!]
---
COPY THE MILLIONAIRE
Product: Copy The Millionaire
Founder: Jeff Lerner
Product Description: Affiliate marketing
Website: www.copythemillionaire.com
Price of product: $39.00
Recommended: No
Summary: Ok, so now this is where things get a little strange and we are talking now and not then.
Copy The Millionaire; although there is an active website with that exact same name, has no product, it's just a funnel through to some other product.
Namely,  6 Steps To Freedom, which was priced at $39.00.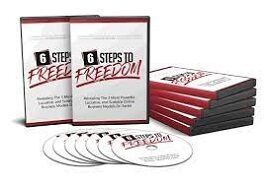 Now, if you key in the website Copy The Millionaire URL and hit enter, you will find that there is no 6 Steps To Freedom anymore.
Instead, you get redirected to another website, called Class With Jeff.
But wait just there, because the Class With Jeff product doesn't exist either.
Although there is a 15-page pdf with a load of fluff about becoming a millionaire and a rags-to-riches story.
It doesn't end there because when you enter your details for this 15-page pdf you are sent to a sales presentation from Jeff Lerner himself.
With the same rags-to-riches story you get in the 15-page pdf.
But now we get to find out just what the product is all about, and its Entre Blueprint, from Entre Institute.
I know, sounds a little confusing but all will be revealed.

---
If you are sick and tired of SCAMS, Pyramid schemes, MLMs, recruiting, having to purchase stocks, haggling family, friends and customers. Looking for a proven method of making money online, then check out my #1 recommendation. 
---
Internal Summary and Navigation
---
What is Copy The Millionaire about and who are the Founders?
So what we have here is…
Copy The Millionaire
Class With Jeff
Where products do not exist!
They are both redirects to Jeff's flagship product, Entre Blueprint of which is the same price as 6 Steps To Freedom which doesn't exist anymore.
So, it would seem that all Jeff's previous products are and there are a few of them, no longer exist and the URL's (not all) are just funnels to redirect you to the main training program, Entre Blueprint.
So, what is Entre Blueprint?
If you follow the steps and enter your details for the 15-page pdf, then you will hear Jeff talk briefly about Entre Blueprint, very briefly in fact.
The sales pitch is more about getting you in the right mindset.
Starting off with a rags-to-riches story which is what we've become accustomed to with sales pitches.
Talking about becoming a millionaire, showing nice houses, luxurious holidays, flash cars, you know the sort of stuff.
With very little in the way of how and what you will be doing on the course that you are about to purchase.
However, stay with us and all will be revealed.
So who is responsible for Entre Blueprint?
Jeff Lerner comes from humble beginnings, starting life as a freelance Jazz pianist, playing for wealthy people.
He decided to try and improve his life by investing all his savings into a restaurant business which unfortunately failed.
Leaving him with debts of around $400,000 and a wife who left him.
However, he managed to find a mentor, a millionaire who taught him about digital marketing or affiliate marketing for a better term.
Through his hard work, managed to dig himself out of that $400k debt and bring him back into the Black. 
This was around 2008 and since then Jeff has been extremely successful to the tune of around $40,000,000. Not bad eh?
---
How does Copy The Millionaire

W

ork?
As we have already pointed out Copy The Millionaire is a link through to Jeff's number one product, Entre Blueprint.
After you have listened to the sales presentation you are asked to click on the link below the presentation, which will send you to a purchase order form.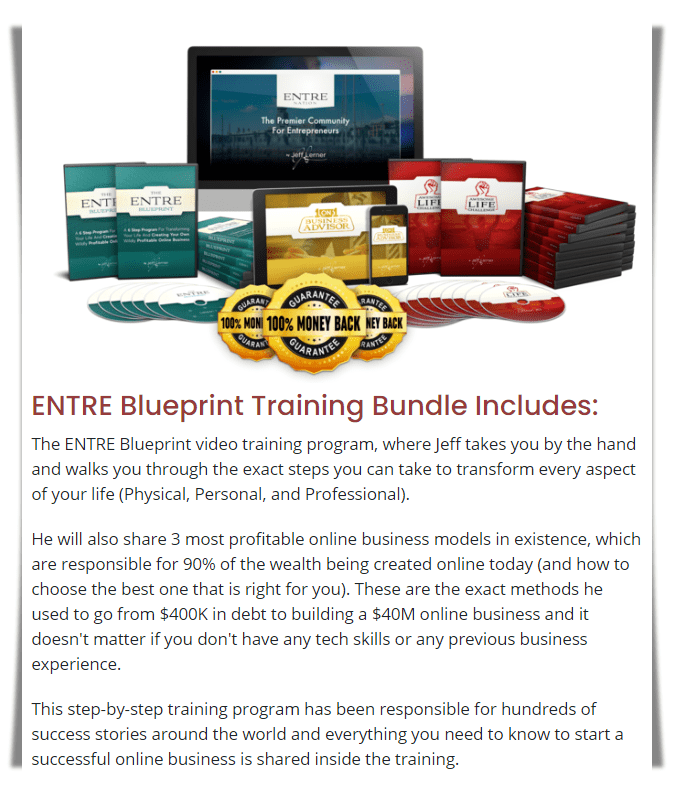 What you get with this product is…
Personal 1 on 1 Business Advisor
Awesome Life Challenge
Entre Nation Community
30-Day Money-Back Guarantee
Personal 1 on 1 Business Advisor
You are allocated a business advisor to help and guide you through the whole process and will personally get in touch through telephone.
To discuss the Entre Blueprint, but more importantly to discuss a business plan and where you would like to be in the foreseeable future.
Awesome Life Challenge
Here is the main part of the training, 6 videos which are nothing to do with how to build an online business.
They are more to do with creating and getting you in the right frame of mind.
What we might call a MINDSET, which is very important in life.
So, what we have here are a bunch of motivational videos, nothing more, nothing less.
I bet you are still waiting for the training on how to build an online business, right?
Entre Nation Community
This is nothing more than an invitation to the Entre Blueprint Facebook group where you can discuss topics with other members.
30-Day Money-Back Guarantee
With this money-back guarantee, you get to keep all the products which is extremely nice of them.
So, to recap on what you have purchased…
You have purchased nothing more than motivational videos to get you ready for the next step.
What next step, I hear you saying?
The important thing in this bundle that you purchased is the personal 1-1 business advisor which as they say is to help guide you and create a business plan.
However, what you are going to get is a personal call from a salesperson whose real job is to try and take you to the next level.
This is where things start to ramp up a little and sort of can get expensive.
However, this review is beyond that scope but as we have just completed a review on the Entre Institue, you can read about it here.
---
Entre Blueprint

Pricing 
---
Can you make money with Entre Blueprint?

 
In a nutshell, no you can't!
As we have just mentioned, all you get with the Entre Blueprint are motivational videos.
Which do nothing but get you to think in a positive way which is very important but absolutely nothing about how to build an online business.
Which you thought you were buying into, right?
I don't know about you but I'd feel disappointed and really let down and I guess it's at this point where many will decide not to continue with the training and to call it a day.
But, if you have around $50,000 at hand then maybe you'd like to take it to the next step but that is a serious life-changing decision.
That you'll have to decide for yourself!
However, if building an online business is what you were hoping for then all is not lost.
Wealthy Affiliate is a training platform that has been around since 2005 and seen over 2 million members come and go.
It's a training system that has everything you could possibly need to take your business from zero to untold success.
With many success stories as you can see by clicking on the link here.
What you get with this training is…
Free to join
No credit card details required
No Upsells
No BS, which includes no deceiving you
Won't be spammed pestering you to join or upgrade your membership
Great community and not some crappy Facebook group
Easy to follow training that anybody can follow
Even if you decided to upgrade that will cost $49/month and much cheaper if you paid for the year.
Take it from me, this training will blow away anything Jeff can provide.
Check it out and if you don't think it's for you just call it a day.
The 2 owners are millionaires but you will not see them bragging about their wealth and can be found in the system every day and approachable.
What I will tell you is this training is one of the best that you will find online and shows you exactly what is required and guides you through the whole process.
I pull no punches when I tell you that it takes…
Hard work
Consistency
Persistence
Above all, patience

---
Who is Entre Blueprint

F

or?
Entre Blueprint is for people who want to make a difference in their lives, well that is how it is sold to you anyway.
If what you are looking for is motivational skills then you can find them anywhere on the internet for free.
What really annoys me with this, is how they use 6 videos to try and get you in the right mindset. Building up your confidence!
If it did in fact work…
Then all that is going to happen, is that positive mindset that you have just found will be crushed in one fell swoop.
When the Personal 1-1 Business Advisor rings you and starts talking about upgrading to the next level.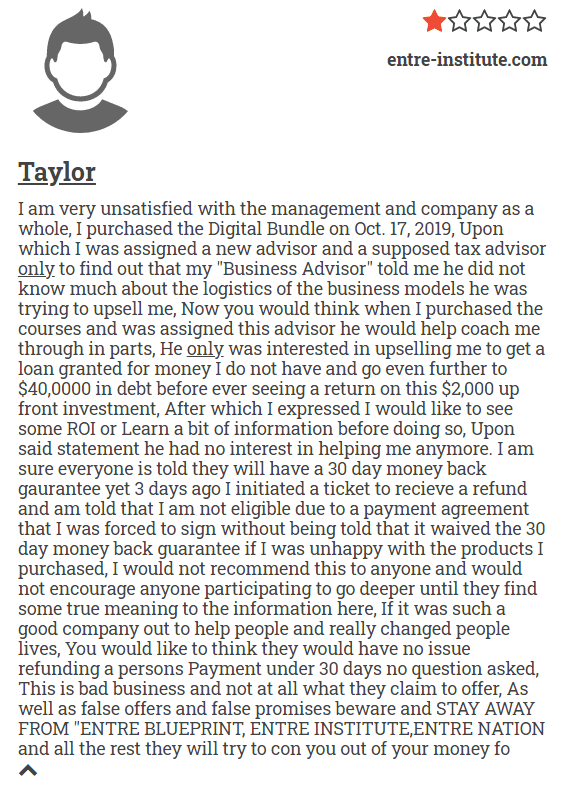 ---
What I like about Entre Blueprint
Seriously, for a product that is promoted as a way to untold wealth, which leads you to believe is all about learning how to build an online business.
It drops far short of the mark.
Entre support 
I sent Entre an email just asking them a question about their affiliate program and I did get a very courteous reply back within 1-2 hours which I was totally surprised about.
The money-back guarantee
The 30-day money-back guarantee has to be a plus here.
But, what you do need to know, is that the refund policy does not apply to any upsells if you want to take it to the next level.
---
What I don't like about Entre Blueprint
Everything about the Entre Blueprint is wrong and only to be seen as a subterfuge, which is exactly what it is.
Where are the great reviews? 
The only positive reviews I could find are the ones coming from affiliate marketers trying to sell you the product.
These are not to be believed because they don't care whether they sell you a piece of junk or not, they are just interested in the money aspect.
Likewise, any testimonials that you see on the Entre Institute website are not to be believed either.
In fact, if you listen to some of these testimonials they are mainly talking about Entre Blueprint and the "Awesome Life Challenge".
Building your confidence and taking it away
As we have already mentioned, Entre Blueprint is all about motivation and getting you to think in a positive manner.
That might work to some degree, but when you find out just how much it is going to cost you to take it to the next level.
I'm sure, that positive attitude will disappear.
Hopefully not, because you can take that positive mindset away with you and find a training platform that really delivers.
Limited spots available

This is just another marketing ploy to get you to make up your mind quickly before you have actually thought it through.
Come on, do you really think that there would be limited places with a $50k price tag?
What you can't see with that image which is just out of sight is a popup in the bottom left corner telling you who has joined.
Just another marketing ploy because if you wait long enough this is in a loop and the same people come up again and again.
---
Is Entre Blueprint

a SCAM or LEGIT?
I'm not sure that I have to declare whether it is a scam or not myself as I will leave that to you to decide.
But what it is not, and that's a legit product.
All Entre Blueprint is, is a product to give you a taste (and a bad one at that) of something bigger which is just around the corner.
You do not learn anything with regards to building an online business.
The Entre Blueprint Facebook page has had no activity at all since December 2020 and certainly with nobody other than Entre people.
Affiliate marketing is a legit way of making money online and doesn't need to be expensive for anybody, it really doesn't.
---
Copy The Millionaire Review

: Final Thoughts!
Ok, you found out very early on in the review that Copy The Millionaire comes with no product at all.
What "Copy The Millionaire" used to do was send you to the product "6-Steps To Freedom"
Which as we have shown you doesn't exist anymore either.
If you think of a magician and sleight of hand, that's what it looks like here.
They build up your confidence in one hand and take it away in the other.
After what you have gone through, this might have made a big dent in your confidence, I know it would me.
However, if you are seriously interested in doing what Jeff promised you without the price tag because it is free to join then check it out below.

---
Feedback, Comments and Subscribe
Well, guys, I'm sure you found it as confusing as we did when we first started looking into Copy The Millionaire.
Hope you enjoyed the review and if you have anything to add or maybe would like to ask me anything at all.
Just add your questions in the comments section below and we'll get back to you.
Until next time, stay safe.