Welcome to my Springboard to Wealth Review
This is a program that doesn't just specialize in a particular aspect of real estate they provide training that covers all various methods of real estate investments.
So if short-term let's are what you are interested in or maybe rental arbitrage then they have you covered here.
Real estate investing must be one of the most lucrative business opportunities to break into.
After all, this will probably be the biggest investment that you make in your lifetime.
But it is always about money or the lack of it why we never pursue a business in real estate.
Nowadays, things have had to change, so finding the funds may not be the case anymore with Springboardtowealth.
But before we get started, we'd just like to be transparent and make a disclaimer, that we are not affiliated with Springboard To Wealth in any way.
That basically means that we are not been paid for this review and rest assured we will not be trying to pitch or sell you anything either.
So if you had any reservations of whether Springboard To Wealth was a scam then the next few minutes should assure you that it isn't.
---
[Affiliate Disclosure: This Thach Nguyen Springboard To Wealth Review has been thoroughly researched from information and testimonials that are in the public domain. This post may contain affiliate links which means we may earn a small commission, however, this won't affect what you pay!]
---
Springboard To Wealth – Summary
Product: Springboard To Wealth
Founder: Thach Nguyen, Stephanie Owens, Marc Ericson
Website: www.springboardtowealth.com
Product Description: Real estate training and mentoring program
Cost to join: $5,000+

Recommended: Maybe
Best For: People who are serious about building a sustainable business and of course who have the required funding.
Summary: Springboard to Wealth provides you with over 75 years of collective real estate experience.
That comes from a team of well-established real estate entrepreneurs and since the company was formed in 2017 they have helped thousands of students achieve what they thought was not possible.
Half the battle is finding the right mentors who you can trust and we know many in forums like BiggerPockets will say that the information is already freely available and that might be right.
But how are you to know if the information is valid or even current?
What's more, is that joining a mentorship like Springboard To Wealth will hook you up with like-minded people who are in the same boat as you.
That's something that a book or video on Youtube will not give you.
But, one thing you should be asking is, is this the ideal time to get involved with real estate investing?
Springboard To Wealth – TOC
5 Key Skills To Succeed In Real Estate Investing
Networking and Building Relationships 
Having the ability to be able to communicate and form relationships with potential buyers, lenders, real estate agents, sellers and other investors.
Financial Analysis
You are required to have a good understanding of finances and be able to execute market analysis effectively and handle the cash flow.
Negotiation Skills
Most people do not acquire these skills but they can be taught over time and are essential when negotiating deals.
Property Management
Knowing how to manage and improve properties is an essential requirement if you are to have long-term success.
That's why it's important to bring together a team that you can trust in the early days this may not be so important but certainly moving forward.
Marketing
Marketing is probably one of the most important skills required if you want to see long-term success.
It is essential that you know how to market your properties to potential buyers and renters in order to make the most out of your investment.
Also gives you a competitive edge by understanding current trends and the need of the buyers and good marketing skills strengthens your brand.
Who Are The Founders of Springboard To Wealth?
Thach Nguyen is the CEO and founding member along with Stephanie Owens who specializes in mindset strategies.
Whereas Marc Ericson who is the 3rd founding member comes from a family of real estate investors.
Whilst Thach is the CEO of Springboard To Wealth he is also the founder of the Thach Real Estate Group which is based in Seattle.
But it wasn't all a bed of roses for Thach and his family as they had to leave Vietnam pretty quickly and came to the US as refugees.
However, through those struggles, he did manage to graduate and by the time he was 27 was already making $1 million a year.
Nowadays with over 1,000 real estate projects behind him with a value of over $100 million, he spends his time teaching others to do the same.
As of today, he has helped well over 2,500 people in real estate investing.
Could you be the next?
In this next section, we take a look at what the program has to offer.
What You Get With Springboard To Wealth?
We had to dig deep to find out what comes with the Springboard To Wealth program as there is no mention of this on the official website.
You can expect the training to be broken down into 11 modules.
Covering all the various methods of real estate investing that is open to you.
Learn how to find those hidden gems, what properties to look out for and the right location that best suits your purpose.
Learn how to add and force value, find areas to add square footage, and learn to add units and zoning codes.
Become familiar with the BRRRR method plus so much more.
You will have access to the private Facebook group where you are able to discuss any queries with like-minded entrepreneurs.
The course is updated on a regular basis and ensures that the information is current.
On top of all the scripts, contracts and templates that are provided, the icing on the cake is the coaching that is available on a regular basis.
Related Business Opportunity: Greg Luther Real Estate Coaching Program
Springboard To Wealth – Costs And Other Considerations?
There is no mention of what this program is going to cost on the website and therefore the first time costs are even spoken about will be when you schedule a call with one of the salespersons.
However, we are seeing figures of $5,000 and $6,000 spoken about.
Can You Pay With Instalments?
The payment for the mentoring program has to be paid in full upfront.
Is There A Refund That Comes With This SBTW Program?
There is no mention of a refund on the SBTW website which is another red flag but reading a complaint on the Better Business Bureau website there is a mention of a 30-day refund policy.
Related Business Opportunity: Des Walmsley Lifestyles Unlimited
Who is The Springboard To Wealth Program For?
This mentoring program is for anyone who is looking to get out of the 9-5 rat race and wants to take control of their own lives.
There are a lot of parameters involved to make real estate investing work and it isn't for everyone.
Besides the $5,000+ that it is going to cost just to get started with this mentoring program you are going to need a ton more money.
If you are coming into real estate investing without the funding then unless you qualify for funding from SBTW then it's a non-starter.
To qualify for funding you will be required to have a good credit score and this is where you really need to start.
Related Business Opportunity: Private Money Club
 What The Students Have to Say About The Springboard To Wealth Program
We couldn't find a great number of reviews and feedback from 3rd party review sites but what we could find was promising.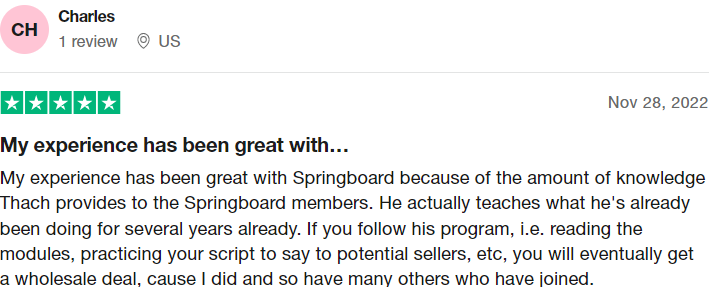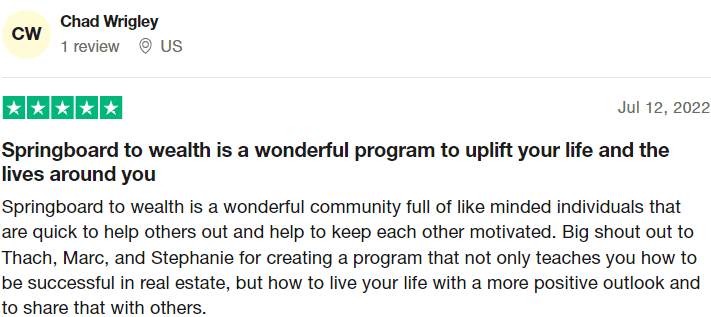 We did feel that we had to include this complaint which we found on the Better Business Bureaus website just to even things out a little.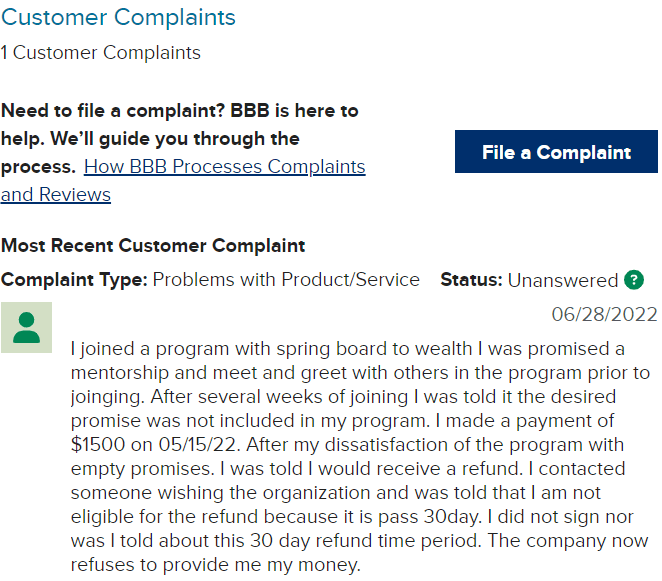 Springboard To Wealth Review – PROS And CONS
PRO
Over 75 years of experience in the real estate industry:
Great feedback from past and present students:
Comprehensive training and mentoring program:
A friendly  community with like-minded individuals:
CONS
No mention of the true course fee on the website:
No mention of what is involved in this mentoring program:
Requires a big investment:
Not accredited with the Better Business Bureau:
Verdict – What We Thought About Springboard To Wealth – Is Springboard To Wealth Worth it? 
If you follow the reviews and testimonials from past and present students then you might be inclined to say that this course is worth the money.
However, over $5,000 is a lot to pay out with absolutely no guarantees that this mentoring will even work.
But in general, you will only get out of a training and mentoring program what you are prepared to put in.
Like with any business venture, there is a lot of hard work that you have to be prepared to put in and will require a big investment on your part.
Profit margins tend to be on the small side unless you can afford to invest in luxurious properties in the perfect location.
But that's what the Springboard To Wealth program is all about and providing you put into practice what you are been told then anything is possible.
Is Affiliate Marketing a Better Way to Make Money Online Right Now?
Affiliate marketing is a simple and straightforward business model that has the potential to make you some serious wealth.
Whereas real estate investing is a great business model but is going to take a serious amount of money while affiliate marketing doesn't.
Wealthy Affiliate is a training company who have been around since 2005 and helped over 2.4 million start their first affiliate marketing business.
Just check out the reviews on Trustpilot.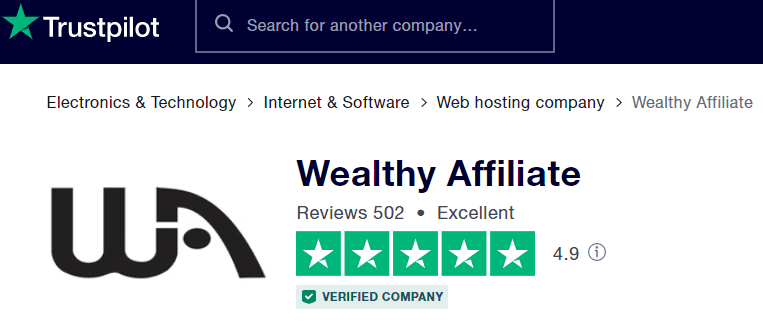 The training platform is a fully integrated one-stop-shop meaning that everything you need to succeed is in one place.
Education and training, Web development, Hosting your website, and a community that cares and is full of experience on many levels…

Springboard To Wealth Reviews – FAQ
Here are a few questions we found people asking that might be of interest.
How Much Will It Cost To Partake In The Springboard To Wealth Program?
As we have already mentioned there are various figures out there regarding the training and mentoring program.
With a figure of $6,000 mentioned but we are familiar with the acceptance process through the scheduled call and we estimate $5,000+.
I Don't Have The Required Funds, Is There Any Help Available?
We understand that funding can be the main factor but Springboard provides individual funding packages through their SBTW Funding which is a company founded by the same founders of Springboard.
What Is The BRRRR method?
This is a method that Thach Nguyen came up with and basically all it is a process of working.
B=Buy an ugly house (he says)
R=Rehabit it
R=Rent it
R=Refinance
R=Repeat the process
If you aim for 2 properties a year then in 5 years you will have 10 which is a substantial business portfolio.
Feedback, Comments And Subscribe
Ok, Guys, we are at this time of the Thach Nguyen Springboard To Wealth Review where we have to say goodbye.
We hope that this review gave you what you were looking for and that you managed to get some benefits.
Once again thank you for your time, take care and stay safe!