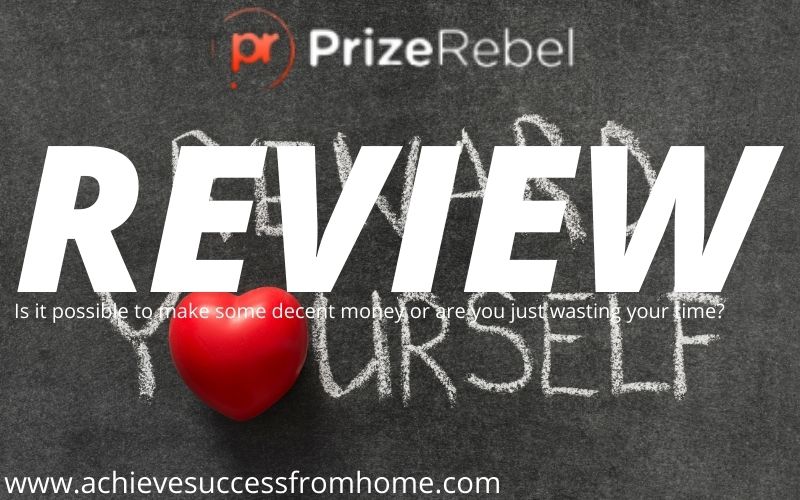 Welcome to the
PrizeRebel Review
GPT sites are all the rage nowadays and have overtaken dedicated survey sites to give you additional ways to earn money online.
PrizeRebel is a site that has been around the block for some time now and helped many to earn a few bucks here and there.
If it's the lowdown on PrizeRebel that you are looking for then you are definitely in the right place because in the next few minutes you will know whether this site is worth your attention or not.
As long as you are fully aware that PrizeRebel isn't going to make you rich and that you will need a lot of patience then that's ok.
However, I always suggest adding a few more survey sites to help to maintain earnings, such as Freeskins and Swagbucks who both pay and have big followings.
So, let's dive right in.
---
[Affiliate Disclosure: This Prizerebel Review has been thoroughly researched from information and testimonials that are in the public domain. This post may contain affiliate links which means we may earn a small commission, however, this won't affect what you pay!]
---

Product: PrizeRebel
Founder: Unknown
Product Description: GPT Site
Website: www.prizerebel.com
Price of product: Free to join
Recommended: No
Summary: You are always going to have mixed reviews when it comes to GPT sites and Prize Rebel is no different.
Trustpilot has an almost 60-40 split in favour of positive feedback which as far as we are concerned is not good at all.
Whilst many reviews you read about PrizeRebel are on the positive side I would take those with a pinch of salt.
PrizeRebel isn't going to replace an existing income but if you follow the guidelines then you might earn yourself a few bucks.
That said, being active on sites like PrizeRebel is going to take up most of your social time and should be looked at as a short term solution.
I mean, really do you still want to be doing online surveys in the next 5 years or do you want to learn how to earn some real money?
PrizeRebel Review – Table Of Contents
What is PrizeRebel about and who are the Founders?
PrizeRebel.com is a GPT (Get-Paid-To) site that was founded in 2007 which is free to join and rewards its member's points for taking part in surveys and other simple tasks.
These can be exchanged for cash and gift cards.
They have grown somewhat in the time they have been operating, with over 11 million members and handed out over 22 million dollars to their members.
They are based in California and according to their website membership is open to all countries from around the world.
It's clear then that a little over 50% of its members are actually from the US but does that mean that members there are given priority over surveys?
So who is responsible for PrizeRebel?
For a company that has been around since 2007, we thought we'd be able to find the founder's name.
Something we always look for with any business or opportunity and just goes to reinforce their creditability.
When we can't find the owners then that normally leads to some unscrupulous dealings although we aren't saying that here, not just yet anyway.
We couldn't find a founder as such but a person that came up in the PrizeRebels Linkedin account was Mark Va.
How does PrizeRebel Make Money?

 
When researching GPT sites like PrizeRebel people often wonder how they can pay their members when those members joined for free.
Just where does the money come from?
Well, PrizeRebel is a service provider for market research companies.
Market research is an important business strategy that helps to gather information about target market areas and consumer behaviour.
It helps a business to maintain that competitive edge.
Therefore it's businesses like PrizeRebel that help to piece together that information so that market research companies can operate and surveys are how they do this.
PrizeRebel will get paid for connecting its members to 3rd party market research companies.
This is known as affiliate marketing and that's how PrizeRebel operates, just like this website that you are on here.
How does PrizeRebel

W

ork?
Pretty much like all other GPT sites do.
It will take you just a few seconds to sign up and become a member of PrizeRebel.
Just enter the basic information, name, email and password and reply to the email they send out to activate your account and that's it, simple.
Once activated, you are straight into the member's dashboard where you can take a few minutes to get accustomed to the layout.
Here's a list of some of the activities available to you that all help towards building your account balance…
Surveys
Surveys will be your main way of earning points although there are other tasks that won't pay as much.
PrizeRebel is connected to quite a few survey routers and is partnered with OpinionWorld, Your Surveys, PeanutLabs, Daily Gold and Yuno.
Looking in those areas, we can see an abundance of surveys which is a good thing, although I would try not to get excited, because whilst there are many surveys, you will only qualify for a small percentage of those.
You will also be notified of surveys through your email account but remember it can work on a first-come basis as a lot of these surveys have a limited number who can be accepted.
Another thing to point out is as these are 3rd party surveys then you may be redirected to their own sites and sometimes the link can get broken.
The number of points varies from 10  to 90 points with an average of around 25-35 points.
1 point equals 1 cent, so 100 points are equal to $1.
Entering contests
Just entering lucky numbers, raffles and other contests all help towards your earnings.
Watching videos
If you get a little bored then you can watch some short videos which are about many things although the points received will not be many.
On topics like food, gaming, celebrities, movies etc
Taking part in games 
Downloading game apps and achieving scores to accumulate points.
Collecting daily points
Each day there is a list of opportunities that you can complete several times in the same day to accumulate points.
Offer wall
Earn additional points by going to the "Offer Wall" where you can find many activities that are sure to keep you occupied.
Like, as free trials, playing games, downloading and using apps, taking quizzes, signing up for offers, joining sites plus many more.
Introducing others
All these sites have an affiliate referral program which is basically your own unique link that you use to get other people to join.
Normally members use this link to get their friends and family to join but before you do that just ensure PrizeRebel is a legit site otherwise you might feel somewhat embarrassed if/when those members start having problems.
if someone joins under your affiliate link then as of this review you will make 30% from everything that member makes for life.
Obviously, there are a few exceptions to this which changes often so just check the small print first.
That's got to be worth it, right?
You can also check how much a member has made so that you can keep an eye on things.
Account-level bonuses
Achieve these bonus levels and Surveytime will open up additional benefits and offers.
Bronze – Referral 20%
Silver – Points required = 1000, referrals 25%
Gold – Points required = 4500, referrals 25%
Platinum – Points required = 10,000, referrals 25%
Diamond – Points required = 16,000, referrals 30%
Nice to know
The higher you climb the ranks the quicker you get paid as well as other bonuses that you will qualify for.
Can you make money with PrizeRebel?
There are plenty of ways that you can accumulate points and there does appear to be an abundance of surveys available.
If you read some of the comments from members some are even stating that they are earning between $5 and $20 a day with some reporting more.
Obviously, there are a lot of factors to take into consideration with the country being the number one for me.
It just makes sense with 50% taken up with people from the US that they will be given priority.
I know PrizeRebel states that this is open to all countries but that is a ridiculous statement because the surveys are all in English.
Who is PrizeRebel

 F

or?
These GPT sites are for anybody who is looking to make a few bucks and you tend to see a lot of the younger end using them.
What we liked about PrizeRebel?
We are hearing a lot of good things about PrizeRebel but we are also hearing a lot of bad things as well, so it really is down to yourself what to believe or whether it really matters.
Plenty of ways to build your earnings 
PrizeRebel reminds me of Swagbucks another very similar site where you are left twiddling your fingers with nothing to do.
There are many ways to help build points other than surveys.
Automatic entry into prize draws
When you achieve the Gold level by accumulating 4,500 points you are automatically entered in the prize draws which is sort of coll because there is plenty of these prize draws.
What we don't like about PrizeRebel
As I mentioned, there were a few things I liked about this product but there were more things I didn't like.
Disqualification
This is something you just won't get away from, being disqualified from a survey after you have spent as long as 20 minutes completing one.
This has to be the most frustrating and annoying thing especially after you think that you have completed one.
I'm sorry but their reasoning behind it does not wash with me.
I am more inclined to believe this is their way out of paying you and if people think otherwise I think they are been a little naive.
English is the language of choice
Another thing I do not like about PrizeRebel is that they state that the site is open to all countries but you know there will only be a handful of countries who speak and can write in English.
Let's say that 180 countries can join but only 50% can speak and write in English and 90 countries should be exempt.
That number however will be a lot lower than 90 though.
I just feel that the reasoning behind saying that all countries have access is to allow these people to try and get others to join.
You are aware that your data is passed on to 3rd parties?
When you are taking part in these survey sites you are willingly giving away a lot of personal data which is sold to 3rd parties.
Who simply repackage and sell on to marketing companies.
Hence the reason why you'll notice an increase in emails that you receive in your inbox.
Is PrizeRebel

a SCAM or LEGIT?
You can see by the length of time that PrizeRebel has been operating and the positive feedback that they get that PrizeRebel is not a scam.
However, nowadays they do appear to be getting their fair share of negative feedback and that sometimes happens over a period of time.
The company, in this case, PrizeRebel seem to become complacent and lose focus on where the business is going and just need to address this and get back on track.
That said, this is not something we would recommend especially if you really do want to know how to earn decent money which these sites, unfortunately, do not allow you to do.
PrizeRebel Review

: Final Thoughts!
Remember, some people make these sites their life and I seriously wouldn't advise that you let yourself get into that routine.
These survey sites are OK for earning a few bucks but you certainly aren't going to be earning the big bucks, that is for sure.
Everybody tends to head for the survey sites including me a few years back now, but I needed to find a better way and a way where I could leave my current career and spend time on my own merit.
You can too!

Feedback, Comments and Subscribe
Ok guys, then what is your take on PrizeRebel?
If you enjoyed this PrizeRebel review then feel free to share it with your family and friends, that way they are better informed.
Any questions for me just add them below in the comments section and we'll get back to you.
Until next time, stay safe.