Want to know just what Site Rubix is all about, and want to learn how to create a website using WordPress from within the Site Rubix Application, then follow me on this journey.
It's extremely important nowadays for anybody running a business, whether established or just starting out to have a website.
You just have to look at how fast the Internet is growing, to see that if you don't move with the times then you will lose out on a lot of business. With around 3.8 billion who has access to the Internet, that's around half the world population and growing at such a rapid rate.
There are many providers out there you could go to, to create your websites, like Wix, Site123, Sitebuilder and many others. The list is endless, but my recommendation and number one choice, along with many thousands of professionals and online marketers out there would be WordPress.
WordPress is a free and the most supported open source content management system (CMS for short) which is perfect for our needs, seeing as the content is key to creating a great business online, and much more than just your typical website builder.
When you create a website, what you are doing is promoting your brand, and its only right that you want everything to look professional, like it was developed from an external source. WordPress allows you to do that!
What are the benefits of using WordPress
What sets WordPress apart from all the others in my opinion is
Ease of use.
Over 40,000 plugins you can use to personalize your website.
No programming skills required, not like 5 or 10 years ago.
You are in complete control.
Extremely customizable.
It's mobile, where you can manage your website anywhere in the world.
Literally thousands of themes you can choose from, and change them whenever you like.
Responsive and great looking sites.
Search engines love WordPress websites.
Great content platform.
Highly supported
You see a few years ago when I was looking for a website builder I did get my feet wet with WordPress so I am quite familiar with the product, but back then it wasn't easy to figure it all out.
You needed to have some skills in a programming language such as HTML and CSS to be able to do simple tasks, where today this is all taken away and done for you, especially with the enormous amount of plugins available for you to do those tasks, in turn taking your business to higher levels and making you stand out above the rest.
Easy and Fast Steps to Build a website using Site Rubix
With WordPress as our chosen content management system, how can we possibly improve and make it better?
By using a product called Site Rubix!
Developing a website from the ground up is now a breeze, and Site Rubix makes it even simpler and quicker.
Site Rubix was launched in 2007 and was originally a drag and drop editor, and over the years it has been developed into a first class website builder, and at the forefront of technical innovation leaving its competitors way behind.
The platform takes away all the fundamentals you needed to know in the past and provides a newbie-friendly environment which is a complete pleasure to work with.
Everybody I have spoken to who use Site Rubix, and with many knowing absolutely nothing about building an online business or creating a website for that matter, have told me that the one thing that held them back, was the fact that they thought this whole thing about developing a website was going to be beyond them.
How wrong were they, I mean I was too!
Now with all the techie stuff been taken care of, it means that you can get down to learning how to build an online business quicker and with more confidence.
When I say quicker, I actually mean lightning fast!
Let's take a look at the Site Rubix Application?
Site Rubix makes it extremely easy and takes website development to a completely new level, by allowing you to turn your interest or passion into a thriving Internet business.
All the technical aspects that a software developer uses are completely removed, which will enable you to have your website up and running in literally minutes. In fact, the training video shows you that this can be done within 1 minute.
Site Rubix is powered by Wealthy Affiliate which provides you with training, support, and all the tools you would ever require in-order to become successful on the Internet.
Don't take my word for it, you have to try it to truly believe in what I am saying is 100% correct!
Not only is Site Rubix a truly remarkable tool, it is free and you get access to 2 websites along with hosting too.
Let's take a Quick look at the features within the Site Rubix Menu
Site Manager:
At a glance, you have all your website fundamentals. I won't go into details as it should be self-explanatory.
This is also your direct link to your WordPress dashboard.
A new addition to the Site Rubix manager as of October 2017 that you have access to, from the "Details" button in the lower right corner is a tool called Page Speed Insights.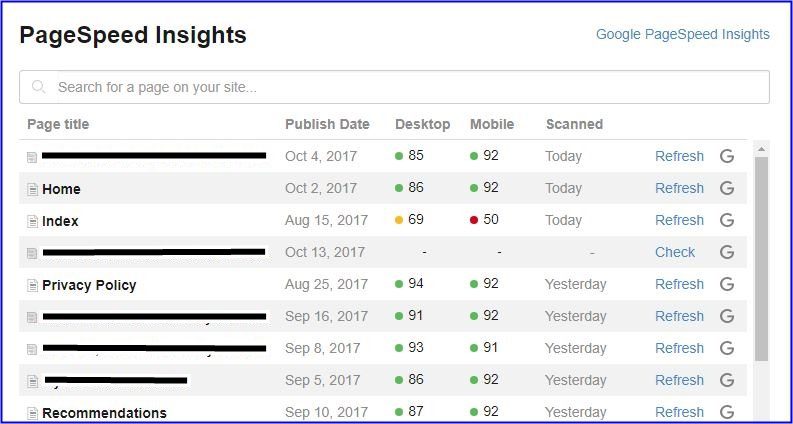 At a glance, it highlights possible issues with web page speeds when the reader clicks on your site.
A great tool that forces you to optimize your site as you go along.
Site Builder: 
Gives you control of whether you want to create a website on a free Wealthy Affiliate domain, a domain that you own or whether you wish to create and register a new domain.
As a FREE member, you have access to 2 free sites and as a PREMIUM member, you have access to 25 free sites!
Site Domains:
Maintain all your domains in one central location.
Search for your great domain, add sub-domains and transfer domains that are external to Wealthy Affiliate.
Wealthy Affiliate allows you to have everything in one location and you'll find it hard to beat on price too.
Site Content:
This is the ultimate writing platform for content marketers, authors, and webmasters, full of features that will help to simplify your writing experience, with available stats that will improve accuracy and increase efficiency.
Just added for October 2017 is access to over 1,000,000 FREE images which in its own right will save you a ton of money!
A writing experience and once again all in one central location.
Site Comments:
Site Feedback:
Is a way which you can forward constructive criticism and also allow other authors to return the favor. A great way to improve your business, but it has to be used in the correct manner.
Site Support: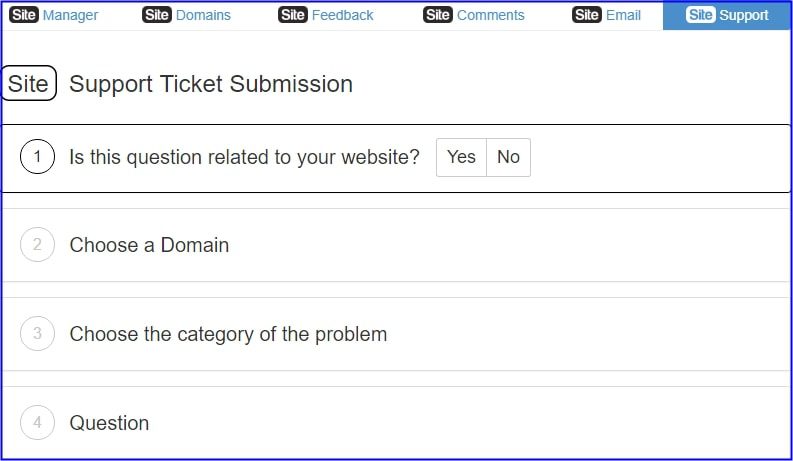 A facility which enables you to create support tickets for technical issues relating to your business amongst other things.
Whilst there are many other ways to get your answers within the Wealthy Affiliate community, such as, through direct messaging, live chat, blog posts, questions posted or through a dedicated classroom, It is always nice to have dedicated support which covers the technical aspects.
Not convinced yet?
Why not try it out, I mean what have you got to lose?
If you are interested in learning about building an online business from the grassroots up, with everything there at your fingertips on one platform, then I can assure you there is no better training on the Internet.
I know what you are thinking, just another load of "BS" right?
I'm not here to try and con you into anything. That is not my intention at all!
If I have managed to at least give you some insight into what is available, and that I have at least opened up your eyes to other opportunities, and given you food for thought, then as far as I am concerned I have done my job.
You certainly don't have to take my word for what I am telling you, but just think, what if, what I am saying is 100% correct?
FREE membership with absolutely NO up-sells at all, and wait for it – NO CARD DETAILS will be asked for either; well not unless you are serious and like what you see and would like to take this experience to the next level, but that is entirely up to yourself.
You can stay as a Free member, that is entirely up to you but when I joined as a Free member, it took me literally between 1-2 hours to decide that this was the real deal, because I had never come across anything like it on the Internet before, and that was with plenty of research too.
Why not try Site Rubix yourself and you can be the judge!
What about the Community?
The Wealthy Affiliate community is more than just that, it is a family that cares and provides you all the support you would ever need along with coaching and any other help.
If ever you are stuck no matter how trivial you think it is, no need to Google your problem, just create a question and before you have made a coffee the answer will be there in front of you with alternatives to choose from.
Whilst researching various training programs prior to Site Rubix and Wealthy Affiliate, I looked at many options on the Internet, but nothing was fully right for me, somethings were good but other things not so good.
There was never the right balance.
Where else can you approach the co-founders with questions and get answers?
You simply can't!
Through your development, what better way to give you confidence than to get feedback from experienced Internet Entrepreneurs that are already there and doing it.
Having a friendly community who are available and willing to help you every step of the way.
With Site Rubix and the Wealthy Affiliate community, you can't fail to succeed.
If you would like to read the full review of Wealthy Affiliate, Click here!
Final thoughts
Hopefully, you found this article of interest and that I have been able to give you another option, another direction for you to get even more confused with.
No joking aside, that was not my intention!
If you have time please feel free to leave comments below, negative as well as positive, I would love to read them both, and I will get back to you at my earliest convenience and answer them to the best of my ability.
I would like to thank you for stopping by and reading this review and maybe I will see you on the inside, but if not, then I would like to wish you the best in your research into how all this is done.
All the best in whatever you undertake
Mick
Owner – AchieveSuccessFromHome.com