Welcome to this Nu Skin Enterprises Review
You are here because of your interest in Nu Skin products, so welcome and hope I can help and share some facts, not just about the products which appear to be very good, but a business opportunity as well for those interested.
Ageing, affects us all at some point in our lives and there just is no getting away from it, but Nu Skin makes some big claims, as the premier anti-ageing company.
Don't worry I am not a Nu Skin brand affiliate trying to sell you Nu Skin products or to pitch to you their business opportunity, but I am here to give you the bare-faced facts so that you can decide on your own terms.
So, let's see what this Nu Skin MLM review has to offer.
---
[Affiliate Disclosure: This review has been thoroughly researched from information and testimonials that are in the public domain. This post may contain affiliate links which means we may earn a small commission, however, this won't affect what you pay!] 
---
Nu Skin Enterprises – Summary
Product: Nu Skin
Founders: Blake Roney, Steve Lund, Sandie Tillotson, Nedro Roney
Location: Provo, Utah, US
Founded: 1984
Website: www.nuskin.com
Product Description: Multi-level marketing business in the personal care and dietary industry.
Cost to join: Free to become a Nu Skin brand affiliate but you will have to purchase products to show to customers.
Price of products: $8.97 – $949.00
Best For: Network marketers with plenty of experience.
Recommended: Not recommended for newbies looking for a way to earn a living online.
Summary: Nu Skin Enterprises is a multi-level marketing company with a vast range of products in the skincare and beauty industry.
Whilst the products are well received by the majority, you can also take advantage of their business opportunity.
Through careful marketing, you are able to build a team where you can make commissions from your downline and work your way up the ranking system through their compensation plan.
Nu Skin Enterprises – Table Of Contents
What is Nu Skin About And Who Are The Founders?
Nu Skin is a multi-level marketing company founded in 1984 by 4 colleagues, Blake Roney, Steve Lund, Sandie Tillotson, and Nedro Roney and is based in Utah.
The firm engages in the provision of beauty, and wellness products and solutions.
They bring to the consumer their own brand of products such as personal care, anti-ageing creams, and dietary, and vitamin supplements. With brands which include Nu Skin, Pharmanex and ageLOC.
Through scientific studies done in-house Nu Skin claim to have made great strides with DNA and not only discovered the sources of genetic ageing but they have found ways to target multiple genes instead of single genes to produce the best results. Sounds good right?
They claim to hold many patents for their anti-ageing research, along with many awards and published scientific articles.
For a company that has been around for well over 30 years in a competitive industry does seem to know what they are doing.
Check out this short Nu Skin Enterprises promotional video.
Let's take a look at the 4  founders of Nu Skin Enterprises…
Blake Roney, in 2012 took a leave of absence from Nu Skin Enterprises and serves as a mission president (Priesthood Leadership position) of the Church of Jesus Christ of Latter-Day Saints (LDS for short) in France.
He is also noticeably one of the wealthiest amongst network marketers with a reported $600 million to his name.
Steve Lund is currently Executive Chairman of the board of Nu Skin Enterprises with a yearly salary of $627,578 and according to my research, there are 5 executives who get paid more.
He is very well known amongst Wallstreet Traders for making over 9 trades of Nu Skin stock in the last 13 years worth over $32,908,053
Sandie Tillotson is highly involved with her philanthropic initiatives as a trustee of the Nu Skin Enterprises "Force for Good Foundation" as well as being vice president of Seacology which is a non-profit organisation focusing on endangered animals throughout the world.
It was Nedro Roney who actually came up with the idea for Nu Skin and convinced her brother Blake.
She persuaded a Texan company to manufacture products without fillers and then started selling the products in her basement, and in a few years turned Nu Skin into a multi-million dollar business.
For a number of years, Nedro Roney has not been involved with Nu Skin but makes a number of stock trades like the rest of the top earners do.
Whilst the founders of NU Skin do come with impressive credentials it doesn't mean that Nu Skin has managed to avoid the odd lawsuit or three.
We shall cover these later in the review.
Is Nu Skin an MLM Company?
Some people refer to Nu Skin as a direct-selling company to possibly take away the fact that Nu Skin is an MLM company.
It often sounds better but in essence, they are both the same and the bottom line is that an MLM refers to multiple levels.
Many will say that normal companies operate in the same manner and they do.
But with an MLM company, the members are getting paid for recruiting people and building a sales team.
This is better explained by the Federal Trade Commission which set out the rules that companies like Nu Skin have to comply with.
This leads us to the next section in this NU Skin review.
Is Nu Skin

 a Pyramid Scheme?
MLMs, in general, tend to be put under the pyramid scheme spotlight and for good reason.
However, they do sometimes operate in a manner that opens them up to scrutiny and the constant watchful eye of government agencies like the Federal Trade Commission.
If an MLM has been operating long enough it will for sure end up with a string of lawsuits pertaining to operating under the guise of a "pyramid scheme".
As can be seen by the lawsuit brought about by the Chinese government in 2016 for which they were fined $47 million for operating a pyramid scheme.
The company was also fined by the Chinese for making false claims about their products and selling them illegally in 2014 and hit with a fine of $540,000.
OK, so they never admitted to running a pyramid scheme so does that mean that they aren't a pyramid scheme in disguise?
I guess many do get found out and then put their house in order.
The Nu Skin

Products Range
NuSkin manufactures and distributes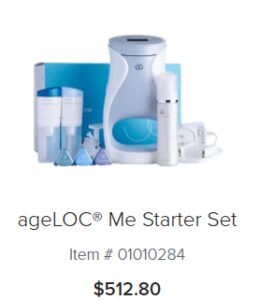 more than 200 products which cover personal beauty care, nutritional supplements and protein drinks.
They also manufacture an extensive range of beauty products which are quite expensive.
Added to the range are the ageLOC products which cover the anti-ageing process which many seem to be raving about.
Nu Skin's best sellers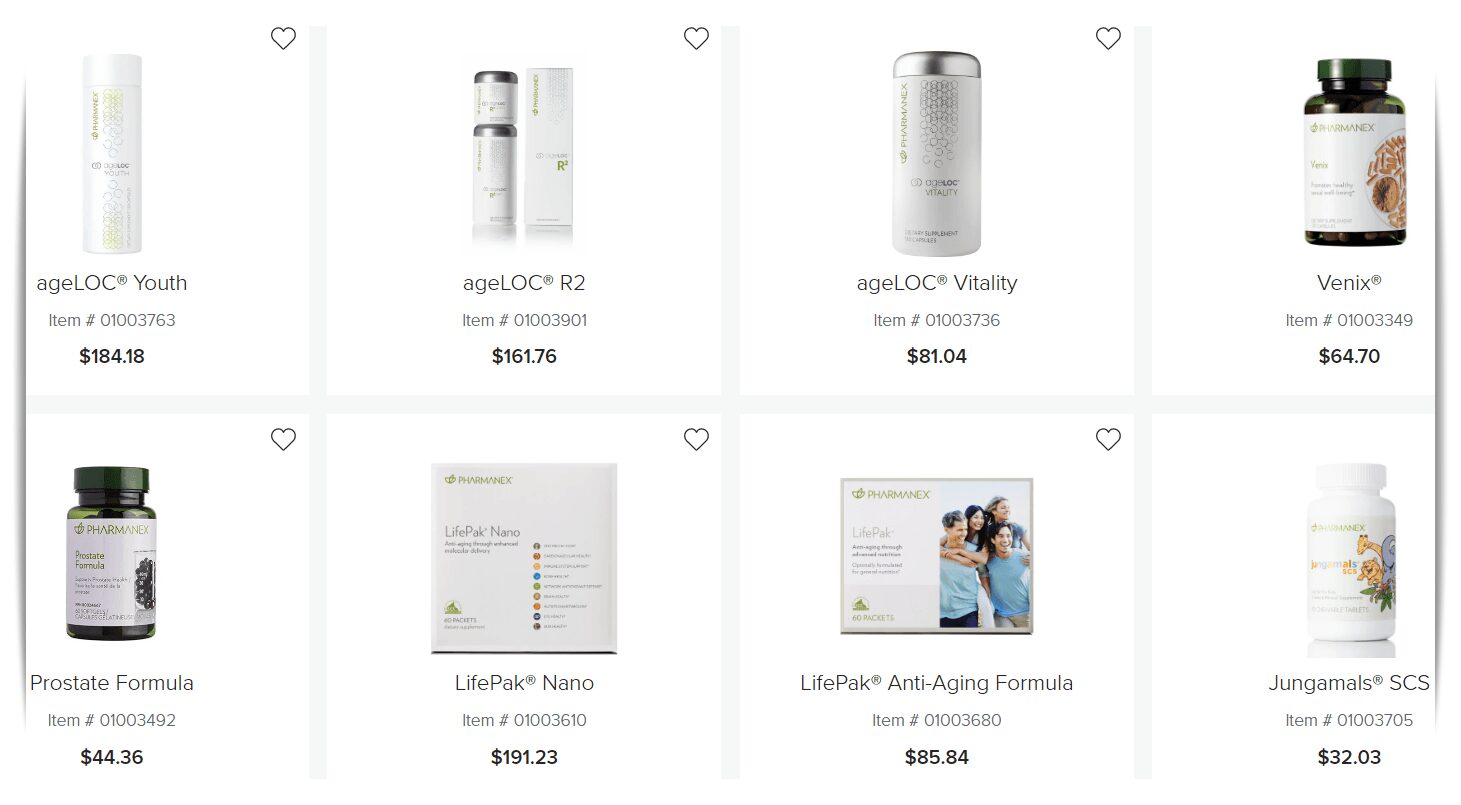 The Nu Skin product range can be found within the categories listed below…
Nu Skin
180 System (7) – Anti-ageing creams
AP 24 (8) – Oral health
Body (14) – Skin cream for a healthy look
Dr. Dana (1) – Healthy strong nails in 10 minutes
Epoch (9) – Revive and renew your skin creams
Nu Colour (12) – Full range of beauty products
Nutricentials (11) – Helps to rejuvenate your skin day and night
Tri-Phasic White (7) – Helps to reveal a brighter and more radiant you
Tru Face (7) – Uplifting creams and gels
Sunright (4) – Sun protection creams
Pharmanex
ageLOC R2 (2) – Target ageing at the source
ageLOC Vitality (2) – Helps you feel like when you were young
ageLOC Youth (2) – Youth promotes youthful ageing
g3 (3) – Juices
LifePak (7) –  Anti-ageing supplements
TR90 (7) – Weight management
S3 Scanner (8) -Anti-ageing formulas
ageLOC
Facial Spa (6) – Facial spa and gels
Me (5) – Customized skincare solutions
LumiSpa (23) – Softer smoother skin and facial products
TFEU (6) – Facial creams
Transformation (5) – Products to reveal younger-looking skin
For a closer look at the Nu Skin products range with current prices…
Too many products to start researching individual ones and therefore feel free to check out the full range here, or you can check out the current retail price list brochure here.
Nu Skin Business Opportunity – What You Need to Know
As can be seen, by the graph above, Nu Skin certainly became more popular at the time the pandemic raised its ugly head, so does that mean people are looking more to the Internet for a business opportunity?
How to Become a Nu Skin Brand Affiliate?
It is free to join as a Nu Skin brand affiliate but you need to join under a sponsor and if you don't know one then one will be appointed.
Although it is free to join, you are going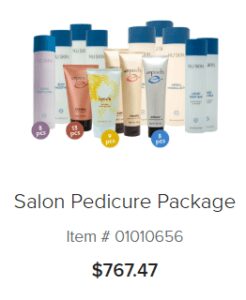 to need some products to show your customers and there are kits for this but these don't come cheap.
Just to give you an idea if house parties are going to be one of the ways that you market the Nu Ski products.
Of course, this is just an example, and these are only going to be samples for your customers which will need replacing at a later date.
How to Make Money with Nu Skin Enterprises
There are many ways to run an MLM business and this is all down to how much experience you have as a network marketer, but the 3 basic ways you would adopt first would be…
Purchase the products for yourself, family and friends at a discount.
Find and sell the products to customers.
Recruit others into your team, train them in the best ways to market the products and wait for the commissions to come in when your team start making sales.
The 3rd option is the one that you need to learn and be extremely successful at if you really want to earn the big money in any MLM.
There are many other ways to market the products, such as social media, which includes Facebook, Youtube, Instagram, and Twitter, but hopefully (unless you know how) you will have chosen an experienced "Sponsor" willing to train and share his/her experience.
You seriously need to be looking at creating your very own website too which will make you stand out amongst the crowd.
Nu Skin Compensation Plan
One thing can be said about compensation plans in general and that's they always seem to be overcomplicated with buzzwords that crop up all the time and make no sense.
In my opinion, they are designed in this way to make you think that you will be earning much more than you think you are going to earn, that's if you do earn anything at all.
You can check out the pdf version here or click on the link below for an easier-to-understand version.
Are Nu Skin Brand Affiliates Actually Making Money?
There are 10 levels within the Nu Skin pay scale and according to the 2011 income disclosure which you can find here, you have to climb to "Ruby Executive" to be earning $32,000 a year.
That's 7 levels and I don't know about you but that certainly isn't enough to replace a full-time income.
The absence of a current income disclosure for a company that has been operating for over 30 years. This just screams out to me "that they are hiding something".
If you come across Nu Skin brand affiliates they will always tell you that they are doing better than they actually are.
Bear in mind that 99% of the people who join any MLM don't earn enough to make a full-time income, in fact, most end up going into debt due to them trying to maintain a certain level within the company.
Not only are you competing with other distributors but you have Amazon and eBay to contend with too.
Nu Skin Enterprises – What Others Have to Say!
When it comes to reviews this is where you have to make a judgement call because many reviews are not to be believed especially when they come from a direct source of the company.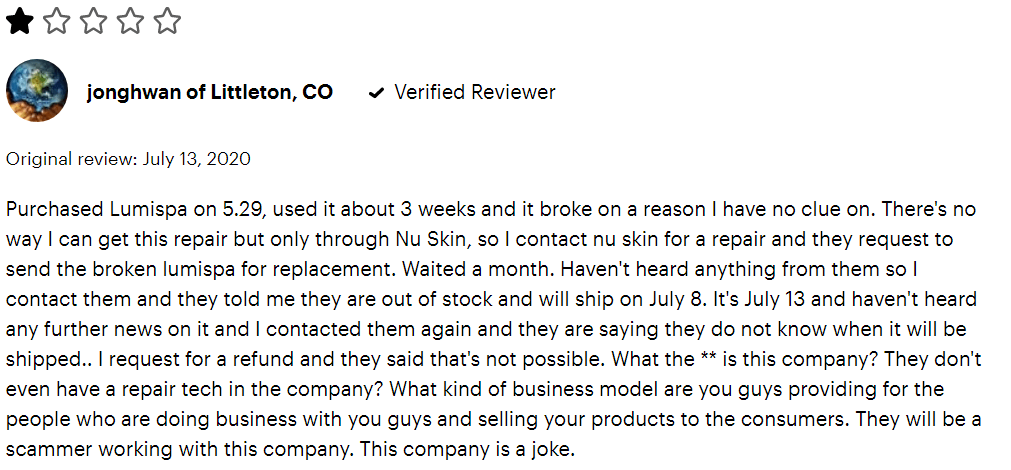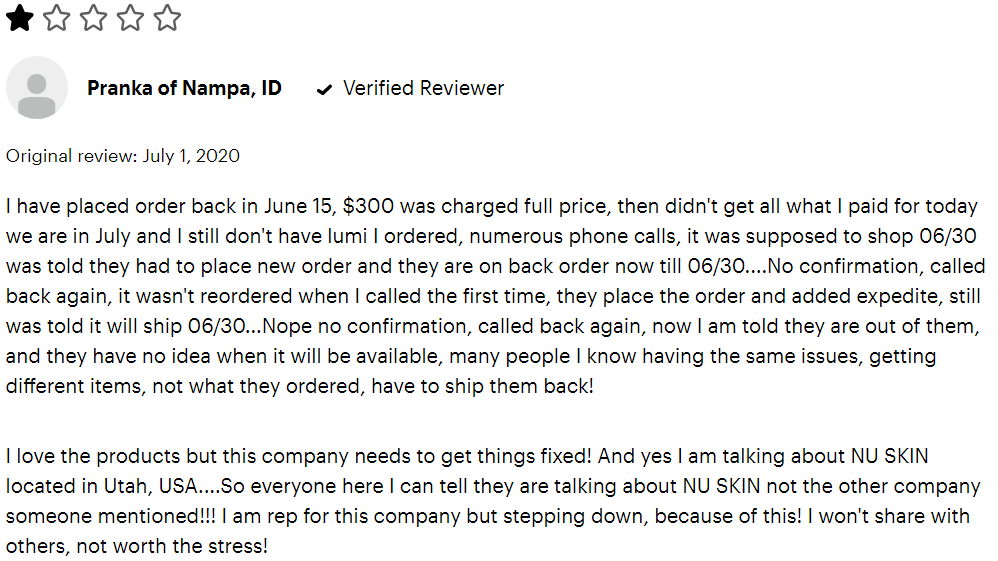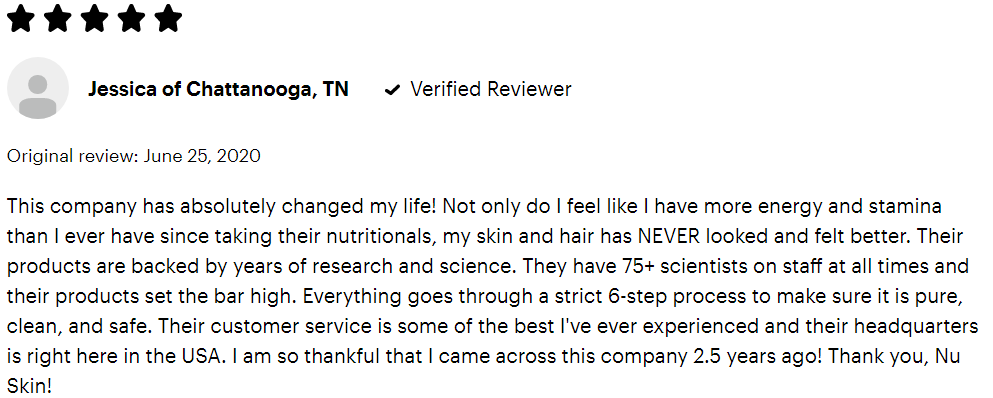 If you have a spare 30 minutes you might like to listen to this video, with a mention of Nu Skin. It is very funny, though!
What I Like About Nu Skin Enterprises
At the point where we try and pick up on areas that we like about NU Skin Enterprises and where they appear to be heading.
Accredited with the Better Business Bureau since 1986.
Extensive range of products that cover many applications.
Retail markup can be as high as 30%.
That's great when we are talking about products that go into the 100s of dollars.
Don't forget about recurring commissions for satisfied customers.
The products are very well received with some great reviews.
A well-established business with over 30 years and one of the top companies in the beauty care and wellness industry.
Giving back.
Always a good thing when giving back to charitable organisations, especially to children in poverty-stricken areas.
Taking care of the planet.
Since around 2018, they have been heavily into "Green" issues, such as plastics, recycling, planting trees etc
What I Don't Like About Nu Skin Enterprises
Unfortunately, all companies have their fair share of negative issues and Nu Skin is no different.
No current income disclosure.
We see this more often than not where MLMs do not keep others abreast of how the company is doing. Especially for people who become interested in the company.
If a company was doing so well, then wouldn't they have income disclosures for each year?
It just reaffirms that MLMs are just not the money-making opportunities that so many bangs on about.
Expensive products.
Products are extremely expensive, especially if you are joining as a NU Skin brand affiliate because you are going to need products for sampling with prospective customers.
Remember with an MLM it's the top 1% where all the money appears to go.
That leaves 99% of people who do not make enough money to replace their current jobs.
Very competitive.
Finding Nu Skin products on Amazon doesn't sit right with me especially as it is going to make marketing even more difficult.
Marketing tactics leave a lot to be desired.
You are not going to find a Nu Skin brand affiliate telling you that they are not doing well, now, are you?
There is a well-known phrase that has been around MLMs since they probably started, "Fake it till you make it". In other words, lie about everything until you make a sale.
This tactic might work for the ones at the top of the pyramid as this is a numbers game, but not for the ones propping them up.
Is Nu Skin a Scam?

Nu Skin Enterprises is not a scam.
Nu Skin Enterprises provides well over 200 products that are overall very well-received throughout.
Unfortunately, MLMs are not without their issues, especially for ones that have been operating for so long.
These MLMs are not for everyone and are tough cookies to crack.
Affiliate marketing is a much better choice where you don't have to purchase products and you aren't pressured into making sales.
Is Nu Skin a Worthy Business to Get Involved With?
Hopefully, I have given you enough food for thought to make an educated decision as to whether Nu Skin Enterprises is the right business for you.
As you can see, the products appear to be very good but at the end of the day, it's not all about the products that make a great company.
The tactics that MLMs deploy are nothing but miss-guiding and unethical that people should be aware of.
I should talk because I believed all the "BS" that the sponsors were telling me, not once but twice, so I obviously didn't learn anything from that first experience, but I was new to all this and probably just like yourself.
However, I did manage to learn my lessons and I did find an alternative business model and one that did appeal to me.
Affiliate marketing if you are interested, but don't take my word for it, because you can check the training platform out yourself for free.
If it's still a business opportunity you are looking for, where you are in total control then check out the next section.
Is Affiliate Marketing The Best Way to Make Money Online Right Now?
Affiliate marketing is where you act as a middle person and connect customers to merchants.
If you have a passion (and we all have) for anything then let Wealthy Affiliate provide you with all the training to succeed.
This is a one-stop shop meaning you have everything at your disposal to succeed.
Websites, hosting, live training plus 100s of hours of recordings, backups, 24/7 support plus you have me.
Just check out the reviews on Trustpilot.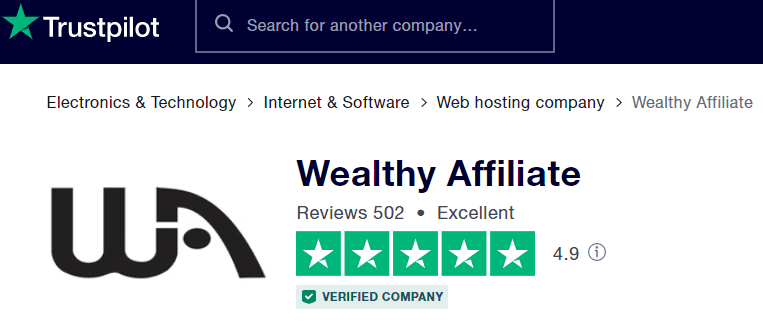 Education and training, Web development, Hosting your website, and a community that cares and is full of experience on many levels…
Under no obligation, no credit card information is required and no spam!

Nu Skin Reviews – FAQ
As we were researching this Nu Skin MLM review, we came across some questions that interested parties were asking in the search engines and thought they might help.
Who Is The Owner Of Nu Skin?
Nu Skin was founded in 1984 by Steve Lund, Sandie Tillotson and Blake Rooney and the current CEO is Ryan Nappierski.
How Much Does It Cost To Join Nu Skin? 
According to the Nu Skin website, there is no initial fee to pay which should appeal to many.
However, you will need to purchase some of the products to show customers when you join this Nu Skin MLM.
They do have a number of packages which range from $475 to $1,519.
There is the Automatic distribution program that Nu Skin will encourage you to join which requires a minimum $100 order.
What Is So Good About Nu Skin MLM?
Nu Skin is an MLM that has lasted nearly 4 decades and has a good reputation along with award-winning appliances and only uses the best quality ingredients with zero harmful filters.
The business thrives on its skincare technology, is committed to its future and sustainability and even supports some worthy charitable organisations.
What Is The Nu Skin Controversy?
As always with a company like Nu Skin MLM, they eventually come under scrutiny and in the 90s the FTC investigated Nu Skin.
Due to complaints that they were not operating within the guidelines set out by the Federal Trade Commission.
Settlements were reached in 5 states regarding falsifying income claims and deceptive marketing methods.
Is Nu Skin FDA Approved?
FDA only have to approve products where they claim the product will help on a medical level such as the Nu Skins facial spa device which was approved.
Nu Skin MLM work to and beyond GMP (Good manufacturing practices) set out by the FDA.
Feedback, Comments and Subscribe
Well, it's just about time to wrap up this Nu Skin Enterprises review, please tell me what you thought and did we cover the questions you were asking.
If you have anything to add then don't forget to put it down in the section below.
Thank you for your time, until next time, stay safe!