Welcome to the
Freeskins Review
I guess you have seen the marketing ads for Free Skins on social media and thought you'd do a little research to see what all the fuss was about.
If you enjoy doing surveys online then normally the big problem is getting paid and how long it takes to reach the payout threshold.
No need to worry about that with Freeskins as they have one of the lowest thresholds we have seen at $1.
Freeskins.com is a GPT website that pays you to do tasks other than surveys and therefore if you find yourself sitting around waiting for surveys then there are other tasks to occupy your mind.
So, if you are looking for the lowdown on Freeskins, then you are definitely in the right place.
In the next few minutes, you will have all the facts about Freeskins so that you can decide for yourself whether to pursue this opportunity or not.
Let's dive right in and see what unfolds.
---
[Affiliate Disclosure: This post may contain affiliate links which means I may earn a small commission if you purchase anything through one of the links. However, this will not affect what you pay!]
---
Product: Freeskins
Founder: Ross Brown
Product Description: GPT Site
Website: www.freeskins.com
Price of product: Free
Recommended: No
Summary: When it comes to making money online majority of people tend to seek out sites like Freeskin where you get paid for taking part in surveys.
Sites that were dedicated specifically to surveys have expanded to what we now call GPT (get paid to) do activities.
This is where members sign up to do additional tasks other than surveys, like watching videos, downloading apps, playing games etc.
These other activities are to keep you occupied on the site because the number of surveys that you receive on a daily basis isn't going to be many.
Even though you may see several surveys in your dashboard doesn't mean that you will be authorised to take them.
These surveys are classed as pre-approved.
Meaning that you only find out if you are approved by selecting a survey and answering the appropriate questions first.
You might even think that you answered the questions correctly because you are now doing the actual survey,
But, all of a sudden find yourself getting thrown out for no apparent reason or worse still completing the survey and then getting disqualified.
Surveys are ok but they ain't going to pay the bills.
Had enough of GPT and dedicated surveys sites then…

---
If you are sick and tired of SCAMS, Pyramid schemes, MLMs, recruiting, having to purchase stocks, haggling family, friends and customers. Looking for a proven method of making money online, then check out my #1 recommendation. 
---
Internal Summary and Navigation
---
What is Freeskins about and who are the Founders?
Freeskins. com is a legit GPT site where you get paid for filling in surveys and completing other simple tasks like downloading apps and playing games, shopping online, product tester and many more…
Freeskins is available in most countries but the dashboard you receive will be different based on the person's geographical location.
The GPT site Freeskins was founded in 2020.
However, we can see that the domain www.freeskins.com was registered in 2005, so the website has been around a while and been used for various types of other business.
For such a young site there is a lot of positive feedback and let's hope this continues and that they keep adding to and improving the system.
First impressions when looking at the site and many would think it was mainly to cater to the needs of the gamer, but there are many ways to gain rewards no matter who you are.
So who is responsible for Freeskins?

We did find a reference in the Freeskins terms to a company in Northern Ireland with the company number – NI663962 which refers to the company Gain.gg Limited.
Here we found a Ross Brown who is the director and a quick look at the website gain.gg and we found a GPT site very similar to Freeskins.
---
How does Freeskins

 W

ork?
You can join Freeskins.com by clicking
here
which will give you 100 coins to get started with.
There are 4 ways you can earn with Freeskins
Featured offers
Offer walls
Surveys
Referrals
The available offers and surveys that you have access to will be dependent on where you come from, so the dashboard that you see will be almost different from other members from different geographical areas.
To get you started quickly the featured offers are what everybody should see first which are tasks that can be done quickly and some of the highest-paid completed by Freeskin members in your country.
Offer Walls are basically advertisement platforms where you can download and install apps, play games, deals, product testing and many more and in the process get paid coins.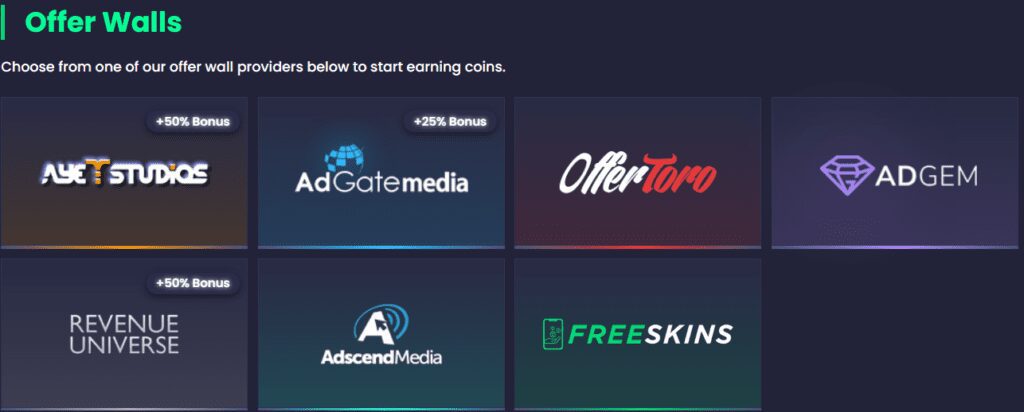 Surveys come from 3rd party sites so that will mean you will be redirected to other sites.

Before you actually start a survey, you will have to go through their profile questions to enable them to match you with the right surveys.
For some of the surveys you can get paid 1,000 coins or $1 for a 3 or 4-minute survey, however many of them are for a longer time period, like 20 minutes and for much less than $1.
Even though you qualify for the survey and start answering the questions to the survey you still could be thrown out and disqualified.
This happens more often than you'd think and can be very frustrating.
---
Referrals are the 4th way of earning with Freeskins.
Each member has their own personal affiliate link which you would use to promote on social media like Facebook.
Once they sign up through your link you would receive 5% of anything that referral earned.

Plus, any referral you introduce to Freeskins would receive a bonus of 100 coins as a welcoming bonus for signing up.
How you would get paid
As you can see by the image below there are many ways that you could redeem your earnings, with Paypal probably the quickest and the most popular.
You even have cryptocurrencies that you could use along with skins and gift cards.
---
Can you make money with Freeskins?

 
Of course, you will be able to earn some money with Freeskins.com but the amount is going to be minimal and it will depend on how much time and effort you spend on the site.
Surveys usually pay up to 1,000 coins which equates to $1 but I would think more on an average of maybe $.50 per survey.
That would be great if you had a string of surveys to take, but that isn't going to happen so you are going to have to include other tasks because surveys alone are not going to cut it.
You will read some Freeskins reviews telling you that you can earn a decent amount but I'm afraid they are just not been straight with you.
I know $100 a month would be a decent amount for some people who struggle with money and I see that.
But, the amount of time and effort you are going to have to devote to this site will mean you don't have any free time to do other things.
They even have a Daily and Monthly competition and looking at the monthly leader board, they have accumulated something like 470,000 coins which works out at $470.00
Based on surveys alone if there was enough to go around then we'd be talking $.50 per survey would mean around 940 surveys in a month.
The higher up the leader board the more bonuses you will get with the top 3 in the daily and monthly leaders that can expect…
Daily rewards between $3.5 and $10
Monthly rewards between $35 and $100
---
Who is Freeskins

 F

or?
Anybody looking to earn a few bucks without having to do too much, but Freeskins would be a good way to get started.
Making money online can be extremely difficult with the vast number of scams that are out there with many of them GPT sites.
That's why we find it very refreshing to see a site like Freeskins doing it the right way.
---
What we liked about Freeskins
As far as GPT sites go Freeskins is one of the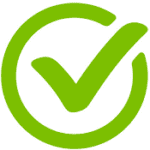 better sites and can be seen by the following they have.
Low payout threshold
Normally with GPT sites, we see the payout threshold usually around the $10 mark, and only recently we reviewed a GPT site where the threshold is $25.
What this means with Freeskins is that you will be cashing out more often and the threshold of $1 tells us that this site is legit.
Good atmosphere
People seem to be friendly on there looking at the chat and I guess the fact that people are actually getting paid which has a lot to do with it.
Great reviews
Reviews in Trustpilot are very positive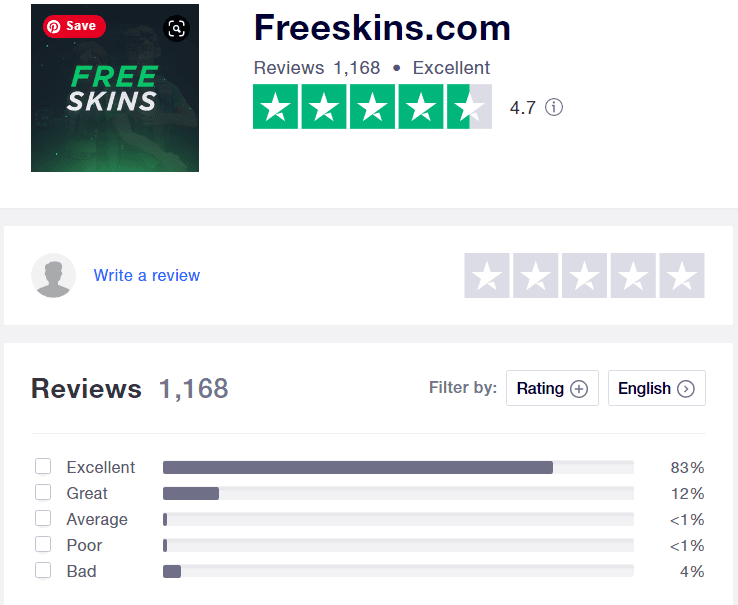 95% is pretty overwhelming if you asked me.
Different methods of payment
Paypal is the main method that requires a minimum of $5, but there are 3 cryptocurrencies that you could use, Bitcoin, Ethereum, Litecoin.
There are currently 14 gift cards that you could exchange your cash for.
Support
Normally with GPT sites, the support tends to be pretty non-existent.
I can see with looking through Trustpilot where members are having issues with the site that they are getting responses from Freeskins admin.
Secure network
Often these sites are not secure but Freeskins is.
---
What we don't like about Freeskins
Overall, we couldn't find too many issues and for a GPT site in our case, that is good.
Earning potential is low with GPT sites
Often is the case with these sites because to make any sort of reward you have to dedicate a lot of time to the tasks at hand.
However, we are seeing some people earning between $200 and $300 over a couple of months but with a lot of dedication then there should be no reason why you can't earn that amount in a month.
---
Is Freeskins

a SCAM or LEGIT?
Freeskins is not a scam but a legitimate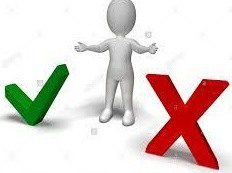 GPT website where you can make some money however, you are not going to break the bank and I wouldn't be thinking about ending your 9-5 job, just yet.
The site is relatively new and looking at the positive feedback they are getting then things are looking up for Free skins.
I like the fact that they are following trends when it comes to cashing out with the option to use cryptocurrencies.
---
Free skins Review

: Final Thoughts!
If doing surveys is something you like
doing then go for it because Freeskins is one of the better GPT sites, although they aren't as established as
Swagbucks
only time will tell.
They do appear to pay out as can be seen by the amount of good feedback they are getting.
It doesn't seem too long ago that I was doing surveys and I remember how much time and effort I had to devote to the site just for a few dollars.
For that reason alone we wouldn't recommend Freeskins but we can see why some would go against our recommendation.
For some, earning 100 or maybe 200 bucks a month might be great in someone's eyes, but what would 200 bucks a day be like?
Just take a look at the link below of people who started making money online doing just like you are doing here, surveys.

---
Feedback, Comments and Subscribe
Well guys, hope you enjoyed the Freeskins review and that we answered most of your questions.
Any questions for us just add them to the comments section below and we'll get back to you.
Maybe you have or are already a member then feel free to share your experiences with our readers.
Until next time, stay safe.