Hi, I'm Mick and welcome to this
Earnably Review
A site that has been on our radar for a while now and thought we'd check them out and see what all the fuss was about.
I'm sure you have already seen several Earnably reviews and hopefully, this will be the last one you need to read.
It's great that you are doing your own research, that way you can feel assured in the knowledge that you have done your best to avoid any scams.
Our assurance is that you will get an honest unbiased review of Earnably with all the facts, that way you can decide based on the knowledge you have whether to join or not.
So, is Earnably a scam or can you really earn some money?
If reviews in TrustPilot have anything to go by then things do look good but we have seen this before and until you have read this review don't join just yet.
Anyway, all will be revealed in the next few minutes, so let's get right into it.
---
[Affiliate Disclosure: This post may contain affiliate links which means I may earn a small commission if you purchase anything through one of the links. However, this will not affect what you pay!]
---

Product: Earnably
Founder: Parent company is Humble Fox Limited, Founder Ryan Davis
Product Description: GPT or get paid to site
Website: www.earnably.com
Price of product: Free to join
Recommended: No
Summary: GPT and dedicated survey sites are 10 a penny nowadays with many just out to take advantage of you.
Whilst some are legit and offer ways to at least make a few bucks here and there.
I say a few bucks because that's really all they are good for, and as you know this then wouldn't it be all the wiser to join 1 or 2 of these sites.
That way you can improve your potential earnings.
Here are a few similar sites to consider RewardingWays, Idle-Empire or Survey Junkie.
You could, however, check out the link below and see if this would appeal to you, mind you only if you want to earn some real money!

---
If you are sick and tired of SCAMS, Pyramid schemes, MLMs, recruiting, having to purchase stocks, haggling family, friends and customers. Looking for a proven method of making money online, then check out my #1 recommendation. 
---
Internal Summary and Navigation
---
What is Earnably.com about and who are the Founders?

Earnably.com is a rewards site or a better term would be GPT or Get-Paid-To site.
Where most people depending on your country can earn some money by taking part in online surveys amongst other simple tasks.
The site came into fruition in 2015 and belongs to Humblefox Limited that started at the same time.
This is the responsibility of  Ryan Davis who is a Welsh guy and based in the UK.
Earnably was available globally prior to May 2019 and therefore if you had joined then you are ok to stay.
Since then there are restrictions on certain countries but those countries are exempt because of very little business activity in those countries.
---
How does Earnably

W

ork?

First off you have to join which is a painless exercise and will only take a minute or so.
Once you have given Earnably a few personal details then they will send you an email for you to activate your account.
Click on the link and you are ready to go.
First impressions tell me that the system should be easy to follow with a help area that is well sorted where you can find all the essential answers to questions.
Everything is laid out and you should not have issues trying to find something.
However, you need to know what is on offer and whether you can earn from this site which we will look at now.
Earnably use a points system that is straightforward
1 point = $0.01
10 points = $0.10
100 points = $1
Surveys

Surveys are your main source of income here at Earnably and one of the options here is called daily surveys which when you click on opens up.
There you can find some popular 3rd party survey providers that you may be familiar with, like Theoremreach and Pollfish.
Daily surveys are what you need to click on, and a word of warning, we found that the surveys on "YourSurveys" didn't highlight the length of time or the amount you got paid.
So you are actually going into these surveys blind!
We actually spent 30 minutes doing one of these surveys for $0.80.
Many of the questions were repeated as well but that is normal because they are just trying to catch you out.
We were losing the will to live because we had no clue as to how long it would take.
We know through past experience that if we'd have rushed through the questions then there was a good chance that we would have been disqualified.
Take it from me spending 20 or 25 minutes doing a survey only to be disqualified is very frustrating and the reason we found a much better way to make money online.
The other 3rd party survey providers like Theoremreach and Pollfish should show you the length of time and how much you are paid.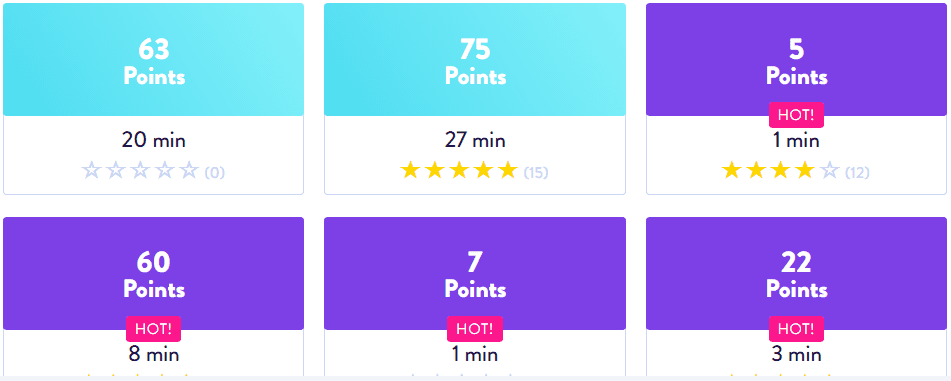 The above image is a snapshot of the Theoremreach platform.
Although you may find a large number of surveys (depending on your demographics) expect to not qualify or complete around 80% of the surveys.
That means for every 10 surveys expect to complete around 2-3.
Promo Codes
Quite often Earnably will post promotional codes on social media.
The one below is a recent promotion we found on Facebook.
A way to earn some extra points and as you can see with this promotion you get an additional 1% for everything that you earn in the next 8 hours.
We know it isn't much but it all goes towards your points.
You will have to check social media to find these codes and can be found on Twitter and Facebook.
You might receive emails from Earnably from time to time so keep an eye out for them because they often only last for a short period of time.
Apps
Downloading apps and signing up for offers is another way of earning more points but are you really going to want to fill your device's memory with apps you don't really need?
There might be some apps that you are happy with keeping but most apps you will want to remove. A pretty useless task if you ask me! 
You can play games, reach a certain level and then be rewarded with points but some of these games will take a lot of your time up.
You can install these not just on your mobile but pc or laptop.
With some of these games, they are in beta testing so you might enjoy the fact that you are helping them get the game to market.
Videos
Watching videos is another way to make some extra points but this is definitely not something I would recommend you do.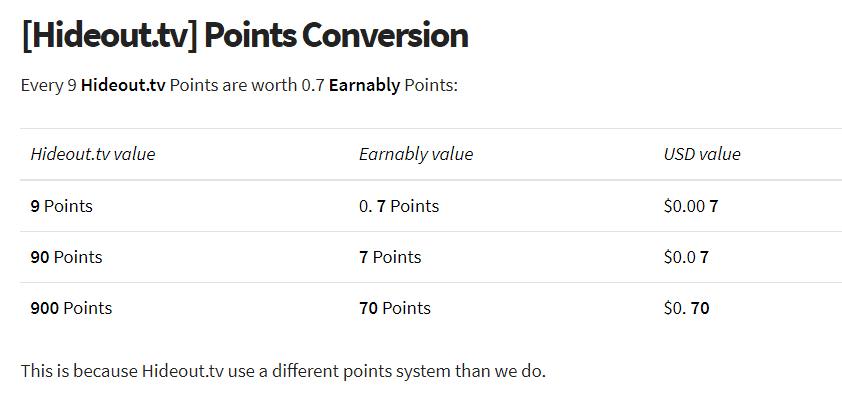 As you can see by the above image, the rewards are not that good with having to make as much as 900 points for $0.70.
In order for you to get paid, you will have to watch the video along with the adverts that are displayed.
You know the type. Those Youtube videos where you are always skipping the ads, well you can't here.
Offer wall
On the offer wall, you can find a mix of all sorts of different ways to make some extra points.
Here you can find trial offers, downloading apps, product testing, playing games and even surveys.
There's a lot of variation in the offer wall and should keep you active on the Earnably platform which is what they want.
Referral program 
Earnably is an affiliate marketing business and has an affiliate program that every member can use.
Members usually use these to get their family and friends to join.
When someone joins through your affiliate link you will earn a 10% commission on everything your referral makes.
So if they earn $10 you will earn $1 and that is for life or until the referral leaves.
A word of warning before you introduce a family member or friend please ensure that this opportunity is a legit one otherwise you are going to upset a few people.
Redeem your rewards
Once you have reached the minimum threshold of 150 points or $1.50 you can withdraw using PayPal and a few other gifts cards.
There are other gift cards that you can find which require more points.
This will obviously depend on which country you come from which will determine what offers are available to you.
---
How much can you make with Earnably?
Earnably has a fair amount of ways where you can earn some money but like always with sites like this, you have to dedicate a lot of your time if you want to make the most out of them.
That's why we always suggest signing up to more of these GPT sites to help improve your earning potential.
Like RewardingWays, Idle-Empire or Survey Junkie.
Whilst you are never going to earn enough to make a big difference in your life, Earnably is one of the better GPT sites that we have reviewed.
It all depends on what you want out of life and if earning a few bucks doing online surveys is all that you are interested in, then that's fine.
But, if you really want to make a big impact on your life you need to do something like this.
Just think about it, just 1-2 years and you could be earning a substantial income and one that would dramatically change your life.
Just take a look at what these people have to say.
---
Who is Earnably

 F

or?
As of this review, Earnably is available to 37 countries which you will have to check here.
Even though your country might be on that list doesn't necessarily mean that you will be invited to many surveys and tasks.
The number of surveys is based on demographics so someone living in Germany may not get as many surveys as a US resident.
This is something that these sites do not like to mention because whilst you are a member you could be getting others to join which is what Earnably want.
---
What we liked about Earnably
Overall, we thought that for a GPT site Earnably

was one of the better sites and this can be seen by the number of positive reviews that we are seeing.
The cashout threshold is low, with only 150 points required which works out at $1.50.
Positive feedback from Trustpilot with a rating that is around 93% is a good sign although you are still going to find people complaining, no matter how good something is.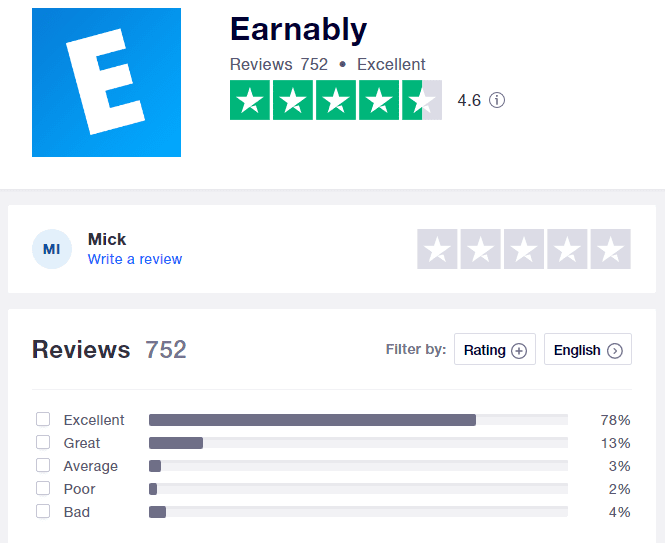 Support seems to be pretty good and it didn't take me too long to get a reply to a query through Facebook.
Available in 37 countries throughout the world.
There are many ways that you can use to make points.
---
What we don't like about Earnably
The things we didn't like about Earnably

is the same with all GPT sites and something you just can't get away from.
Very low earning potential as is with all these GPT sites and as long as you are aware of this before you join then you aren't going to be disappointed
Not qualifying for surveys that you attempt to take. This has always been an issue but this is basically down to your profile and where you come from amongst a few other things.
This is why they have a pre-qualification questionnaire prior to redirecting you to 3rd party survey providers.
Even when you qualify, this doesn't mean the survey provider will allow you to take the survey as they will be asking you similar questions.
The success rate for completing surveys is not good which could mean after you have gone through the pre-qualification and started taking the survey, even after 20 minutes you could be disqualified without warning.
That's why it's important to take your time and be truthful because some of the questions are there to see if you are paying attention.
Answering the questions too quickly can be one of the main reasons for getting disqualified.
---
Is Earnably

a SCAM or is Earnably LEGIT?
Earnably is not a scam but a legitimate way to earn a few bucks.
They have been operating now since 2015 and paid out millions to its members.
This would be a GPT site that we would be happy to join if it wasn't for what we currently do, but certainly, one to add to your list of sites to try out.
You might like to add these to your list too,  Swagbucks, TimeBucks, and RewardXP 
---
Earnably Review

: Final Thoughts!
We have already mentioned that Earnably is one of the better GPT sites that we have reviewed and it might be one you'd like to check out further.
Always, add a few other sites like Earnably to improve your earning potential because you will need them.
Other than that we thought for a GPT site Earnably had potential and if you decide to give it a try we'd love to hear how you get on.
---
How we make a living online!
We are not a big fan of GPT sites due to the amount of time that you have to dedicate just for a few bucks.
We do however realize that these sites do give many people hope no matter how small the potential may be.
But, just focusing that time on something like affiliate marketing can have a massive impact on your life.
The reason for this is simple, it's a very cost-effective way and…
Very cost-effective, just look at how much it costs me here
Take a hobby, interest and turn it into a thriving business
No stocks to purchase because you don't own any
No order processing
No delivery of stocks
No handling of returns
No marketing costs because you will be learning the FREE method
It's free and your credit card details will not be asked for
We know this isn't for everyone but if it interests you then I can recommend a training platform that I have been a part of for the last 3 years and it certainly works.

---
Feedback, Comments and Subscribe
Well, guys hope you enjoyed this review and that we answered most of your questions.
It might be that you are already a member of Earnably and if you are then why not share your experience with our readers. We'd love to hear about it!
If you have any questions for us or you'd like to add something to this review, then just give us a shout.
Just add your comments below and we will get back to you.
Until next time, stay safe!