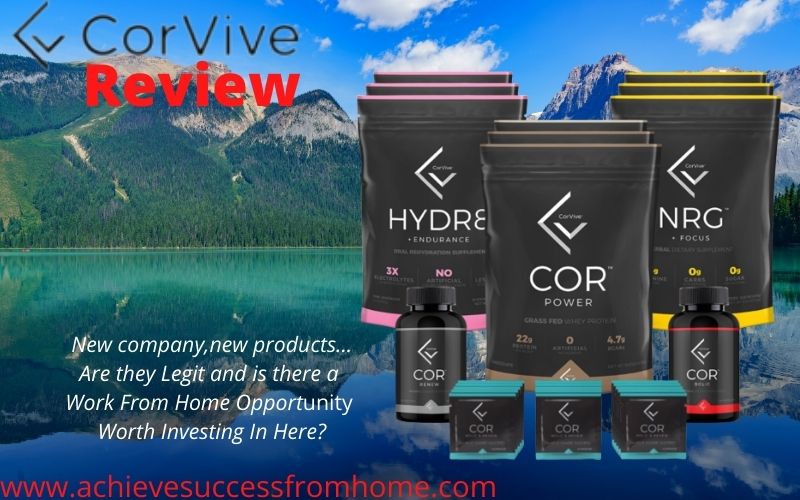 Hey guys, welcome to this CorVive Reviews
Chances are you have been approached by one of the distributors telling you about the amazing products and work from home opportunity.
So you thought you'd check it out and see if there was any truth in what they were saying.
One thing is for certain and that is you are definitely in the right place as we make it our mission to help people like you find legit businesses.
Just before we get started we'd like to declare that we are not associated with CorVive in any way.
That means you will get an honest account of everything that you need to know about this company.
So that you can decide on your own merit whether this is a legit business opportunity promoting legit products.
OK then, let's get started.
---
[Affiliate Disclosure: CorVive Reviews has been thoroughly researched from information and testimonials that are in the public domain. This post may contain affiliate links which means we may earn a small commission, however, this won't affect what you pay!] 
---

Product: CorVive
Founder: Jeremy and Candice Fouts
Website: www.corvive.com
Product Description: Health and Wellness MLM
Cost to join: $29.95
Recommended: No
Summary: CorVive is a relatively new company that has been making waves within the nutritional supplements industry.
There is no getting away from supplements and we are all turning to them, but with so many businesses around offering major life changes.
Surely they can't all be singing from the same music sheet, can they?
As well as selling nutritional health products they do have a home-based make money opportunity which we are sure may be of interest.
Bearing in mind that succeeding in this type of business can be costly and will take a lot of hard work.

CorVive Reviews – Table Of Contents
What is CorVive About?
CorVive is a direct selling company that manufactures and sells nutritional products in the health and wellness industry.
They came onto the scene in May 2018 and are based in Texas, US.
Here's a short video about CorVive that you might find interesting…
Who are the Founders of CorVive?
This belongs to both Jeremy and Candice Fouts.
They both have a wealth of experience in the network marketing industry, with Jeremy spending over 8 years at another supplement MLM.
This was Genesis Pure (who is now Pure) and according to what we could find out managed to achieve the rank of Crown Diamond IBO.
This was as we understand the top rank, so it would appear that Jeremy is an experienced and successful network marketer.
It is clear that while at Genesis Pure around 2014 the CEO and founder, Lindsey Duncan was sued for fraud.
Which was followed by a hefty fine of $9 million by the FTC.
Genesis Pure did continue but under a new name, just Pure.
By August 2017 Jeremy Fouts had left the company.
Obviously with the amount of money he made there realised that becoming a business owner with the same business model was the way to go.
His wife Candice has a background in science and got her degree in microbiology and also helps with marketing.
Check out this video presented by Jeremy and his wife Candice…
Is CorVive a Pyramid Scheme?
CorVive is not a pyramid scheme and let me tell you why.
A pyramid scheme would be you getting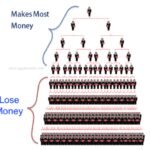 paid purely for recruiting other people into joining your team.
However, at CorVive members can get paid for purchasing the products and selling them without having to recruit anyone.
Mind you, if you want to take part in the affiliate program you will have to recruit and take part in the compensation plan.
It is at this point where CorVive is open to some elements of a pyramid scheme but more on that a little later.
Just for clarity on what a Pyramid Scheme is…
A company that operates in a manner where the distributors are paid for recruitment only would be declared illegal.
Sometimes these companies operate using a product or service, however, they don't have any real intrinsic value.
They are just there to hide the fact that they are operating illegally and these companies do get away with it because there are so many of them.
In most countries this type of behaviour is illegal and some go to prison for many years.
The  Federal Trade Commission has compiled a report on the way MLMs operate which you can read about here.
Why aren't these MLMs getting closed down?
There are so many MLMs that operate as a pyramid scheme and because there are so many it takes time for the FTC to get their act together.
After all, they only have a limited resource of people to investigate and by the time they get around to doing anything about it.
The company under investigation usually closes down and reopens as some other company probably doing the same thing but using a different name.
You might like to check out this short video…
CorVive Products Line
Before you consider getting involved with this company you have to first know that the products are legit.
The products are all marketed under the brand ASCH13VE.
ACH13VE Transformation is the main selling point of CorVive which you can purchase as packs but are quite expensive.
Depending on your needs can be anywhere from $100 – $300 but you can opt for a cheaper route with individual products that you can buy.
The products can be found within the categories below…
CorBolic
CorRenew
Cor Power
XLR8 Keto
NRG + Focus
HYDR8
Corimmune
CBD Balm
Before contemplating taking any vitamins it is advised to take medical advice from your doctor.
Here are the current top 4 selling products at CorVive…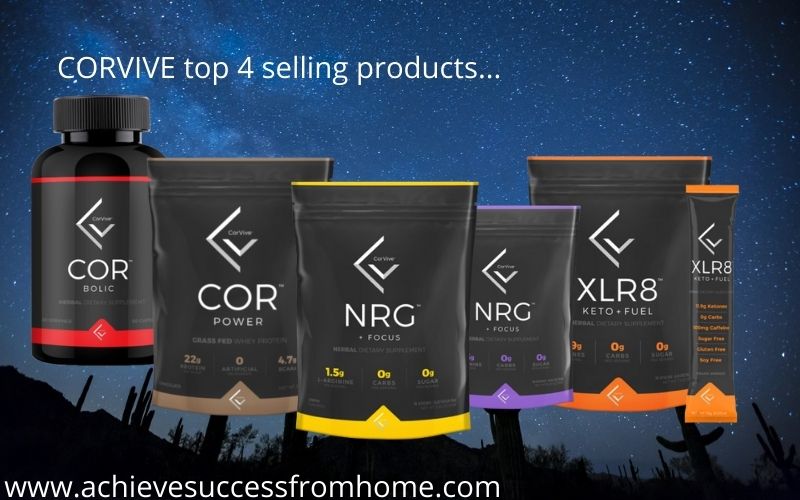 Normal price – $49.94, auto-ship price $39.95

Normal price – $53.69, auto-ship price $42.95
Normal price – $31.25, auto-ship $25.00

Normal price – $81.19, auto-ship $64.55
For further details about the products, we'd suggest you head over to the CorVive website here.
CorVive Business Opportunity – What You Need To Know
For anybody who wants to take it to the next level by taking part in the business opportunity, this section is for you.
How much does it cost to join CorVive?
As of this review, it will cost you $29.95 a year for the membership.
For that, you will get a starter pack that will include your own personal website.
You will also have to choose one of the packs which will cost between $143.80 and $417.00.
To stay active as a CorVive Enforcer will require you to maintain a minimum volume of sales and if you aren't making sales then this can be costly.
How to make money with CorVive
There are 2 main ways to make money with CorVive…
Purchase the products yourself and sell them on
Build a team through recruiting and make commissions from your team when they make sales
Of course, there are incentives when you become a CorVive Endorser which is what they call their distributors.
This is because you become part of the affiliate program where you can benefit through the various ways which are all based around recruiting.
CorVive Compensation Plan
Compensation plans are how you get paid and they often confuse the hell out of people because they are often complex in nature.
Unfortunately, there isn't a document or video explaining the compensation plan in detail.
CorVive's plan combines both retail commissions and several bonuses based on performance.
They operate a uni-level structure as well.
There are 6 ranks to climb…
Endorser
COR4 Endorser
COR12 Endorser
COR40 Endorser
COR80 Endorser
COR200 Endorser
There are 4 ways that you can make money through the compensation plan.
Retail Sales: Where you can earn 20% commissions from the sales from your first level down in your team.
Timed Bonuses: Will get you a $250 bonus each time you recruit in multiples of two's.
Team Commissions: An additional bonus of 8% commission from the entire sales from your team.
Luxury Car Bonus: There is the option of $750 to be spent on the luxury car plan unless you want to exchange it for cash which will be $350.
Are CorVive Endorsers Actually Making Money?
The company is relatively new and this does account for the exclusion of an income disclaimer because of lack of data, or so they say.
They never read well anyway.
You can make money but it depends on whether you want this to be more of a hobby because it is unlikely that it will replace a full-time job.
Not without a serious amount of hard work that is involved.
Hey, but people are earning money but not as you'd expect.
You are not joining this business opportunity just to break even, are you now?
Take a look at what the Federal Trade Commission has to say here.
Is CorVive a SCAM?
CorVive is definitely not a scam!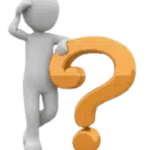 Still, it's the early days for this company, but they are legit and manufacturing and selling products that people like.
There is still not a lot of real data out there to say whether they will stay the course of time as this is a very competitive industry to crack.
The industry you would think is at saturation point but it will continue to grow and many companies will close down as that's the nature of business.
Whether CorVive will be around in 10 years' time is anybody's guess and this is something that you should be concerned about.
You certainly wouldn't want to be building your business and then suddenly without any warning the company closes, now would you?
This does happen all the time and I know people who this has happened to and they have lost thousands so just be aware.
Here are some other businesses that might interest you, all of which are in the nutritional supplements business…

CorVive PROS and CONS
PROS
We couldn't find any positive things to be said about CorVive and that is mainly down to the company in its early days.
We are sure this will change at some point in the future.
CONS
Not Registered With The Better Business Bureau:
Credibility goes with joining various organisations such as the Better Business Bureau and the DSA or Direct Selling Association.
These are organisations where you should be looking first but I guess this can be excused since they have only been operating a short while.
The Health and Wellness industry is one of the biggest industries out there and what comes with that is competition.
You had better be doing it better than the rest otherwise the bottom is going to drop out of your business.
You can make some money with CorVive but the business model restricts just how much.
To achieve a substantial income requires a lot of hard work, attending conferences and showing willingness as well as being great at recruiting.
You have to get noticed for you to ride up the ranks and this can take many years.
Trending Appears To Be On The Up:
Google trending is a good indication that a business has interest from other people.
As you can see CorVive did peak interest around the launch which you would expect and in 2020 when they peaked was probably down to a big marketing campaign.
Since then there has been little activity.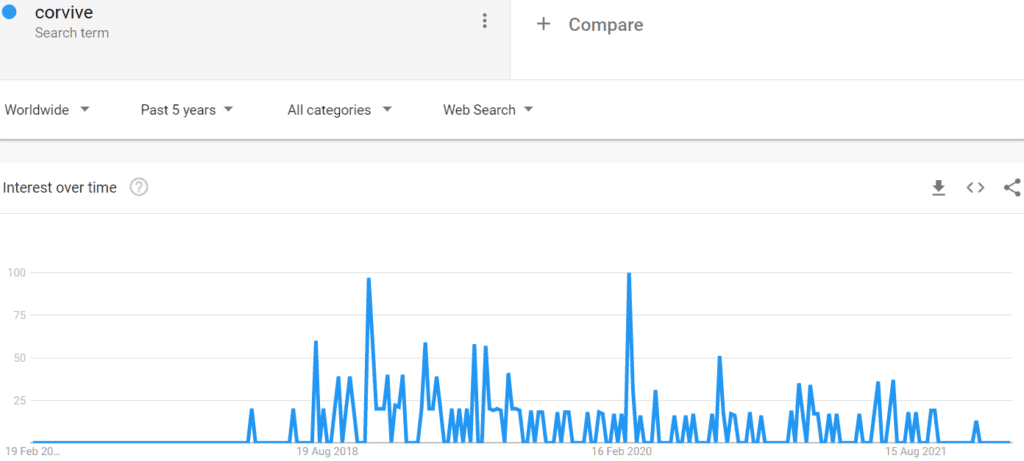 Lacks Any real Data To Confirm Legitimacy:
There is very little in the way of real feedback from past and current members unless you look on the CorVive website.
If you are looking for positive things said then the website would be the place to look but any feedback there is not verifiable.
CorVive Review – Final Thoughts!
Before we wrap up this CorVive reviews we'd just like to mention a few things before we do.
I think we have provided enough information that CorVive is a legit company and whilst the products might be great.
It is the offering of a home-based business that concerns us.
By all means, join this company as a  preferred customer and that is what you'll have to do anyway to ensure the products are as good as they say they are.
Share the products with your family and friends but if you are wanting more then you seriously need to rethink your options.
This has the hallmarks of a pyramid scheme in disguise and that is clearly evident when you look at the compensation plan.
Ask the question, is it really a good investment of my time and money when 97% do not make enough money to replace a job.
With between 60% and 75% leaving within the first year.
Not to forget, what happens if CorVive close down and these MLMsdo all the time?
You are left out in the dark with no business to show of, for all those months and years that you have been there.
Build a business that you can call your own with as much flexibility as you like, with very little costs in comparison.
If that is you, then we would love to share with you what we do in the next section.
How we make Passive Income Online?
You have to agree that creating a business that can generate many passive income streams is what everyone desires.
A business that runs 24/7 with very little intervention, with no marketing costs well there is a way and it's called affiliate marketing.
We found it to be a much better business model and a way to really create passive income streams.
The benefits far outweigh an MLM's…
Promote any product or service you like
No business conventions to attend
No pressure to maintain your ranking status
No pestering from a sponsor
Extremely cost-effective to start and run
No marketing costs
This business is yours and can be run anywhere
No order management to handle
Those are just a few benefits and whilst it is in our opinion one of the best ways to make money online.
It isn't a get rich quick scheme and would require a lot of hard work on your part but then again so does any business venture.
Wealthy Affiliates have been creating thousands of success stories since 2005 with many earning 5 and 6  figure monthly incomes.
We are currently earning a high 4 figure monthly income which is increasing as we speak.
That's between $5,000 and $9,000 a month all within 2 years.
Don't worry we are not trying to sell you anything because it is free to look at and with no credit card details.
If you don't think it's for you then just leave and call it a day but you won't know unless you try.

Feedback, Comments and Subscribe
Hope you benefited from this CorVive Review and that we managed to address any questions or thoughts that you had.
If you have anything to add then please use the section below and we will get back to you.
Until next time, stay safe