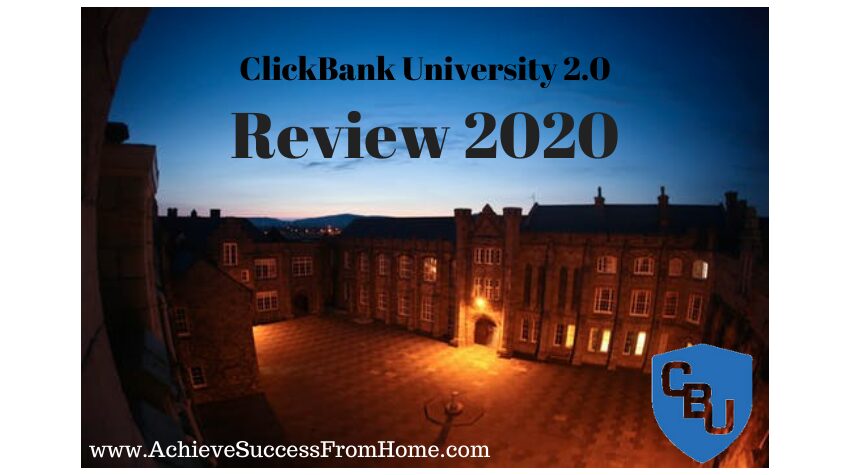 Welcome to this Clickbank University 2.0 Review
Anybody researching ways to make money online will have come across ClickBank at some point.
A very popular platform which vendors and affiliate marketers can make a decent living from.
But if you are just starting out on this journey,  can ClickBank University 2.0 set you up for success?
Throughout your research, as a newcomer coming into the "Make Money Online" niche, you will know that affiliate marketing is a great way to earn a good living with the easiest business model to grasp and with very little outlay.
Easy model it may be, but easy to make a good living from it may not be. More on that a little later!
ClickBank along with Commission Junction (currently CJ Affiliate) were the first 2 affiliate networks that came on stream just over 20 years ago, and since then many more networks have formed making competition high which means more products are required for affiliates to promote.
ClickBank University 2.0 addresses this issue on 2 levels, firstly the Vendor and product creation followed by the affiliate marketer and how to promote Clickbank vendor products.
In this ClickBank University 2.0 review, I will uncover everything you need to know about the training, and whether it is what you are looking for, but more importantly, is it really worth the money and are there better options out there.

Owners: Kinetics Inc
Product: ClickBank University 2.0
Description: A course for budding affiliate marketers and product creators.
Founders: Adam Horwitz & Justin Atlan
Founded: First launched in 2014 and upgraded in 2016 to CBU 2.0
Based: US
Price: $47/month
Upsells: $691
First-Year Costs:

$1255 followed by $564 yearly

Based in: US
Recommended: NO
Description: On reflection, the ClickBank University 2.0 course for anybody coming into this industry does seem like a good course to get a basic understanding, but I believe a little on the expensive side, but all will be revealed.

Clickbank University 2.0 – TOC
What is ClickBank University About?
If you have been researching long enough then you will have seen the many unscrupulous so-called gurus out there showing you their spin on how to create digital products and how to market them to the masses.
Granted there are some very good products/courses out there, but as a percentage of the many hundreds and thousands that are available to you, only a very small percentage have any real value worthy of your time and money.
Adam Horwitz and Justin Atlan saw an opportunity and in 2014 ClickBank University was launched, to focus mainly on Vendors and how to create products and get them to market, within 6 months it had generated over 1 million dollars in sales.
Over the years since the CBU 1.0 was launched, it has had its fair share of negative feedback, but the new improved version which hit the market in 2016 seems to be on a better track, with an improved course where you can not only learn how to create your own products but also touches base on affiliate marketing.
What's happened to the ClickBank Marketplace?
I know in more recent times that the "ClickBank MarketPlace" as taken a hammering regarding the quality of products available and quite rightly so too!
Just a quick look at the marketplace shows me that there are currently  4730 active products for the fixed date period of which only 160 products have a gravity of 20+. When selecting products you should aim for around 20+ for gravity!
Gravity means, most popular and a way of excluding all the crap. Now, I don't know about you but I would say the ClickBank Marketplace is somewhat lacking in great products to promote, wouldn't you think?
This still doesn't actually tell me that those 160 products are worthy of promotion because you have to check all sorts of other parameters first and that would take a little time to explain.
I'm sure this isn't the reason (or maybe it is) but creating the ClickBank University 2.0 training course could sort out a few issues here and could be a clever way of replenishing the ClickBank Marketplace's database! It's just a thought!
What you need to know first before you purchase ClickBank University 2.0
What exactly are you looking for in this ClickBank University 2.0 training course?
If you are wanting to learn how to become an affiliate marketer, then I do believe this course may not be for you, and whilst there is an 8-week course devoted to affiliate marketing, in my opinion, the course doesn't go into this subject in too greater detail.
If its the vendor side and owning your own product that interests you then this course along with the ClickBank Builder 2.0 might be right for you, but creating a product is a massive step because there are so many parameters involved for it to become a partial success, nevermind a complete success where it earns you the big bucks.
What I hate about purchasing online…
…is the fact that most vendors are not upfront with their products before you make that purchase, and you only find this out when you have entered your credit card details and hit the purchase button.
If the product is so good (like CBU 2.0 is saying) then why can't the sales page disclose everything about the product including upsells, down sells, etc before we get to the purchase stage?
It does rile me and the funny thing about this is that the ClickBank University 2.0 course is going to teach you as vendors how to do this very same thing.
So do I really need ClickBank Builder 2.0?
ClickBank University 2.0 try to sell you the ClickBank Builder 2 but only after you have purchased the $47 a month membership, which is not cool because there is no mention of it prior to paying the membership fee!
Although purchasing ClickBank Builder 2 is an option and not compulsory, it is assumed that you will indeed purchase the product, however, I do think you would struggle with the course without it.
Purchasing the ClickBank Builder 2 software also commits and locks you into ClickBank as your host, which sort of restricts you, and as it is early days then we may not want to commit to this!
Whilst I did like the sales video, it does take on a somewhat strange sales tactic towards the end…
Where it's like a script to another Arnold Schwarzenegger movie, where the robots are coming and taking over the world and our jobs, which may be true to some extent, but it all seems that they are trying to mess with your head and then out of the blue ClickBank University 2.0 is here to save the day.
I know you might think I'm going a little over the top in my analogy, but if you watched the video then I'm sure you will understand and know where I am coming from.
If the product is so good then it should sell itself without the corny sales tactics. No need for it ClickBank!
False hopes of earning…
Another thing I don't like are the promises of success and that you will be earning from the 1st day of the course.
Nobody should promise this and the real truth is that joining ClickBank University 2.0 will not guarantee you success and you certainly won't be earning from day 1.
What you get with ClickBank University 2.0 Training Course
For what you get with all the training that is now included with the new version of ClickBank University 2.0 it does appear to be good value for anybody new to affiliate marketing with a view to creating their own digital product.
8-Week Affiliate Marketing Training by Adam Horwitz
This is a course created obviously with
the newbie in mind and therefore anything you know or think you know should be put to one side, because here Adam comes with some pretty impressive credentials.
Not too sure just what you can cram into an 8-weeks training course though, because that amount of time even if you devoted 24/7, in my mind wouldn't be enough.
According to the ClickBank University 2.0 sales page…
"The 8-week Affiliate Track is for those who want to make easy money promoting other people's products. It's great if you're… "
Just starting out making money on the internet
Haven't generated tons of money online yet
Don't want to create a product or even a Website
Not sure I agree with some of what has been said here!
2 Major Issues I can see…
Easy money, really! If it was so easy then everybody would be doing it, right?
If you want to make an impact and an online presence then you do need to have a website and not just a few landing/squeeze pages.
Nothing is easy especially as an affiliate marketer and you will notice this very quickly.
 

Contents of the affiliate marketing course
Week 1 – Intro, affiliate marketing, ClickBank and your goals.

Week 2 – Understanding affiliate marketing and navigating through CB.

Week 3 – Finding a profitable niche and a product to promote. 

Week 4 – About sales funnels and creating landing/squeeze pages.

Week 5 – Creating and outsourcing content to give to your subscribers.

Week 6 – Email marketing and how to nurture your subscribers.

Week 7 – Email marketing, broadcasts, automation, quality content.

Week 8 – Scaling your business and taking it to the next level.

Bonus – Affiliate promotions, soft and hard sells.
The affiliate marketing course within CBU 2.0 is good for anybody who is coming into this industry without any prior knowledge, but wouldn't be my number one choice.
With the ClickBank University 2.0 training, the emphasis is on "Paid Traffic" which can drive the costs through the roof if you don't know what you are doing. Traffic is a massive area to cover!
If you are looking to become an affiliate marketer, then you do need to learn how to build a website and learn how to get traffic for free, and I would suggest taking a look at this training platform, which has been around for over 12 years and covers everything that CBU 2.0 covers but much, much more.
12 – Week Vendor Course by Justin Atlan
This 12-week course is quite extensive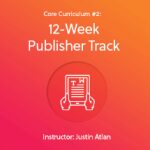 so anybody just coming into Internet Marketing might find everything a little overwhelming.
Specifically geared towards Vendors wishing to learn how to build their own products and all the good stuff with getting the product out to the ClickBank Marketplace.
Contents of the Vendor course
Week 1 – How everything works, mindset, product plan and goals.
Week 2 – Discovering your niche/product,  and your competition.
Week 3 – Creating your avatar.
Week 4 – Course content creation and how to outsource.
Week 5 – How to create the perfect upsell to maximise profit.
Week 6 – How to create high converting sales pages.
Week 7 – How to create a video sales letter.
Week 8 – Completion of the product using the ClickBank builder.
Week 9 – Uploading and selling with the ClickBank Marketplace.
Week 10-What joint ventures are,
Week 11- Checking all the elements by split testing.
Week 12- How to scale up and monetize.
Bonus – How to sell high ticket products on Webinars
Weekly Live Video Webinar
Another addition to the ClickBank University 2.0 is the weekly video live stream where you get to discuss with the trainers any queries that you may have throughout your training.
Just how these are going to work with the short time available is beyond me as I am sure everyone will have numerous questions to ask.
ClickBank Builder 2.0
ClickBank Builder 2.0 has come along somewhat since the first version was launched, which was originally to go hand-in-hand with the vendor course and creating your own product, and everything to do with sales pages and getting the product to market
In this version, they have accommodated the affiliate marketer and expanded it somewhat to help the affiliate marketer more.
Private Facebook Support Group
Access to their private FaceBook group, where you can get support, although answers to questions are not forthcoming, and you might if you are lucky, find Adam and Justin participating within the group.
ClickBank Toolkit
Advice and offers on tools that ClickBank recommend.
Bi-Weekly Classes
Every couple of weeks Adam and Justin will be bringing in experts to pass on their knowledge and experiences which can be good, especially for your morale.
Live ClickBank Events 
These are events reserved for CBU 2.0 members which you can attend at a significantly reduced cost.
The Traffic Centre
They state that the traffic centre will disclose how you can generate unlimited amounts of traffic practically on demand. Really, considering this is the most important aspect of affiliate marketing I find this hard to believe.
Advanced Training
They have added this training to widen the exposure to traffic in more detail and cover the areas listed below.
Facebook advertising
Leveraging YouTube
SEO and more
ClickBank University 2.0 Costs
When I am purchasing anything I like to see just where my money is going before I make a commitment.

There are 2 methods to pay for the course, you either pay upfront or you pay by instalments.
Upfront
$47 for the monthly subscription

$594 for the ClickBank Builder

$97 for the advanced training
Total outlay = $738
Upfront yearly cost =   1st year / ($47 * 12) = $564 + $594 + $97 = $1255
Installments yearly cost = 1st year = $1341
2nd year and beyond = $564
I don't have a problem with upsells, it's the way that they try and sneakily get you to pay for them, because for anybody new to this type of business unless you have researched ClickBank University 2.0 thoroughly, and checked out the sales page, then you wouldn't have a clue until you had paid for the first element of the course which in this case is the $47.
ClickBank University 2.0 Pros and Cons
PROS
The 30 Day Money Back Guarantee
The promise of a 30-day money-back guarantee that ClickBank University 2.0 offers is surely a good thing and should give you more than enough time to decide whether this is right for you or not.
However, get distracted or forget about the time period and you will be sort of committed but at least you will have ClickBank Builder 2.0 for life if indeed you did purchase it in the first place.
CONS
Training locked
We all have different work ethics and work at a different pace so how frustrating can it be to find yourself locked out of the next course video when all you are trying to do is complete the course schedule so that you can move on to making some real money?
The course levels for both the vendor and affiliate are on what looks like some sort of time lock and CBU 2.0 unlocks certain elements when they think the time is right.
Frustrating it may well be because you've paid your money, but CBU 2.0 tells us this is to avoid missing out on any steps within the training. Of course, the way around this would be to create a support ticket but even that doesn't really make any sense.
Focus on Paid Traffic
The 8-week affiliate marketing course covers only paid traffic with an enthesis on FaceBook and Instagram.
Apparently, in CBU 2.0 they have included some advanced training which comes separately to the 8-week course as an upsell which costs $97, which is supposed to cover SEO and getting traffic for free, but if you decide to not pay for this then you will miss out.
As far as I am concerned this should be all part of the 8-week course so there is no reason to miss out on this very important area.
Weekly Webinars
Weekly webinars are just not enough to cover the previous week's training that I'm sure you will have a ton of questions to ask about.
Lack of Real Affiliate Marketing Training
Whilst this 8-week course will give you an insight into affiliate marketing and what it entails, in my mind, the course itinerary seems a little weak. I have heard people mention that they just think it's a bolt-on to widen the audience, but for a newbie, you will at least learn the basics, but a little on the expensive side just to learn the basics, don't you think?
Final Thoughts!
The biggest challenge for anybody taking part in this ClickBank University 2.0 training course is creating your very own affiliate product.
You are going to need to have…
A great idea for a product in a great niche
Depending on the product it can cost 100's and sometimes 1,000's
One that's going to get you sales
Need to get positive reviews
Have to convince the affiliate marketer to promote your product.
Need to create additional great products to promote as upsells.
For anybody coming into this industry and creating your very own product is just beyond many peoples' capabilities and something that more experienced affiliate marketers sometimes only get into a few years down the road.
I do believe that you need a good understanding of affiliate marketing first before you dive into product creation, and having to pay out $1255 upfront for the 1st year followed by $564 yearly thereafter is a little on the expensive side for me.
What they also don't tell you is that Paid Traffic can end up costing you a small fortune unless you know what you are doing.
SEO is the way to go when talking about Free Traffic and once it starts coming it just keeps coming. That's just one of the things they teach you at Wealthy Affiliate.
For the affiliate marketing training, I believe that Wealthy Affiliate University is by far more than capable of providing you with everything you would need to know, and the beauty about this is it is free to join so that you can check it out for yourself. No UPSELLS and NO CREDIT CARDS asked for!

Comments
I hope this review gave you an understanding of what the ClickBank University 2.0 course offers and hopefully helped in your research.
If you liked the review then why not share it with your friends.
Maybe you are already a member or have been a member in the past and would like to share your experiences?
Just ask away, anything you like.
All comments will be answered.
Until next time, take care!