Welcome to this
Forever Living Products Review
You may have come across their marketing campaigns on social media or maybe you were approached by a Forever Business Owner and you are looking for the rundown on this company.
Whatever the reason is you are in the right place and I would like to welcome you here.
Feel rest assured that I won't be trying to sell you any of their products or even their business opportunity, but I will be presenting you with all the facts both positive and negative.
This should give you a better idea of who Forever Living Products are and whether a business to pursue further.
Saying that though, you don't have to become a Forever Business Owner or FBO for short as you can find those products on Amazon and Walmart amongst other retail outlets which are not great for existing FBOs.
So without further ado, let's get right into it!
---
[Affiliate Disclosure: This post may contain affiliate links which means I may earn a small commission if you purchase anything through one of the links. However, this will not affect what you pay!]
---
Product: Forever Living Products International
Location: Scottsdale, Arizona, US
Founder: Carl Jensen, Rex Maughan
Founded: 1978
Website: www.foreverliving.com
Product Description: A multi-level-marketing business in the health and wellness industry.
Cost to join: $306.38
Price of products: $.10 – $428.00
Best For: Experienced network marketers
Recommended: No
Notes: MLMs are a real tough cookie to crack and thwart with issues and therefore it would not be advisable for a newbie coming into the make money online niche. There are much better options.
---
If you are sick and tired of SCAMS, Pyramid schemes, MLMs, recruiting, having to purchase stocks, haggling family, friends and customers. Looking for a proven method of making money online, then check out my #1 recommendation. 
---
Internal Summary and Navigation
---
What is Forever Living Products about and who are the founders?
Forever Living Products International is a Multi-Level-Marketing Business manufacturing and selling products across a wide area.
Covering Health and Wellness, Weight Management, Skin Care, Drinks, Dietary, and Supplementary Vitamins.
The brainchild of Karl Jensen and Rex Maughan founded in 1978 and reside in Scottsdale, Arizona, US.
They have a unique range of products which include the Aloe Vera plant and beehive based cosmetics which we shall cover a little later.
Over the span of 40+ years, they have become very successful and were one of the forerunners in the Aloe Vera industry.
By the 1990s they became self-sufficient and purchased the Texan company Aloe Vera of America and currently have plantations in Texas and the Dominican Republic.
They even expanded into resorts with "Southfork Ranch" now belonging to them.
Rex Maughan is still very active within the company and was in a 2002 edition of Forbes as one of the top 400 richest people in the US with a reported $600 million.
Unfortunately, in recent times their success has dwindled somewhat with a number of lawsuits that have hit them.
Check out this short promotional video.
---
Is Forever Living a Pyramid Scheme?
This must be the first thing that crops up in anybody's mind when researching a company.
Most MLMs do not fall into this category and its only a few that give the networking marketing industry a bad rep.
Often hiding behind a product or service that has very little or no value at all which might be termed a pyramid scheme in disguise.
Although MLMs are structured in a pyramid style and most things are when we are describing a hierarchy.
An MLM business where the sponsor is paid for recruiting others into his/her team would be deemed a pyramid scheme.
It should be all about the products but as we can see in the Forever Living business building DVD below, it is about recruiting.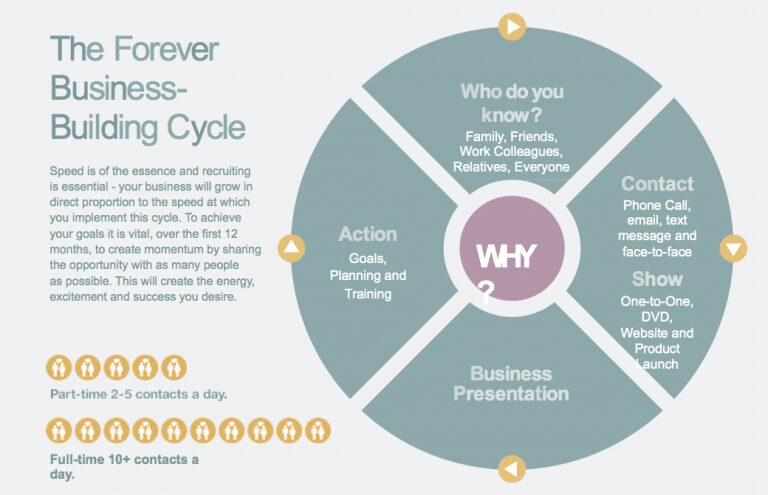 However, to become a success in an MLM you have to be able to recruit others into your team.
---
Let's look at the Forever Living Products range
With nearly 200 products to choose from in the Health and Wellness, beauty, personal care, household, dietary, and weight management industry.
There are even Bee Pollen products available.
---
Forever Living Products best sellers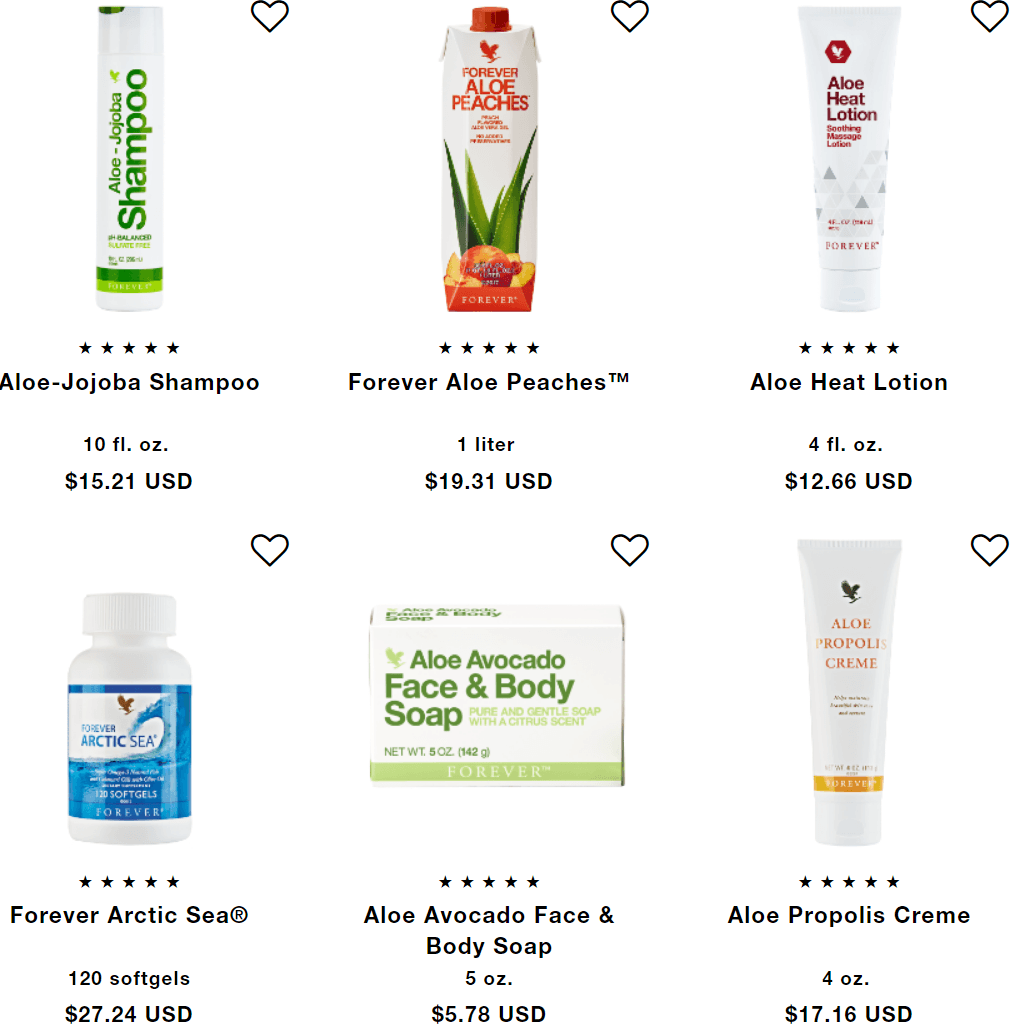 ---
The Forever Living products range can be found within the categories listed below…
Best Sellers (18)
Immune Health (14)
New Products (5)
Drinks (13)
Bee Products (4)
Nutritional (29)
Weight Management (8)
Combo Packs (7)
Skin Care (37)
Personal Care (15)
Household (3)
Essential Oils (4)
Accessories (27)
---
For a closer look at the Forever Living products range with current prices…
Check out the full product range on the Forever Living Products official site here.
---
Forever Living Products Business Opportunity – What you need to know
In 2010 they reported a network of 9.3 million FBOs, so based on those figures this projected number should be well over 10 million.
Based on the Forever Living income disclosure at the end of this section then we are looking at approx 8.9 million who aren't earning a dime.
Hopefully, when you have read this section things will be a little clearer.
---
How to become a Forever Living Business Owner?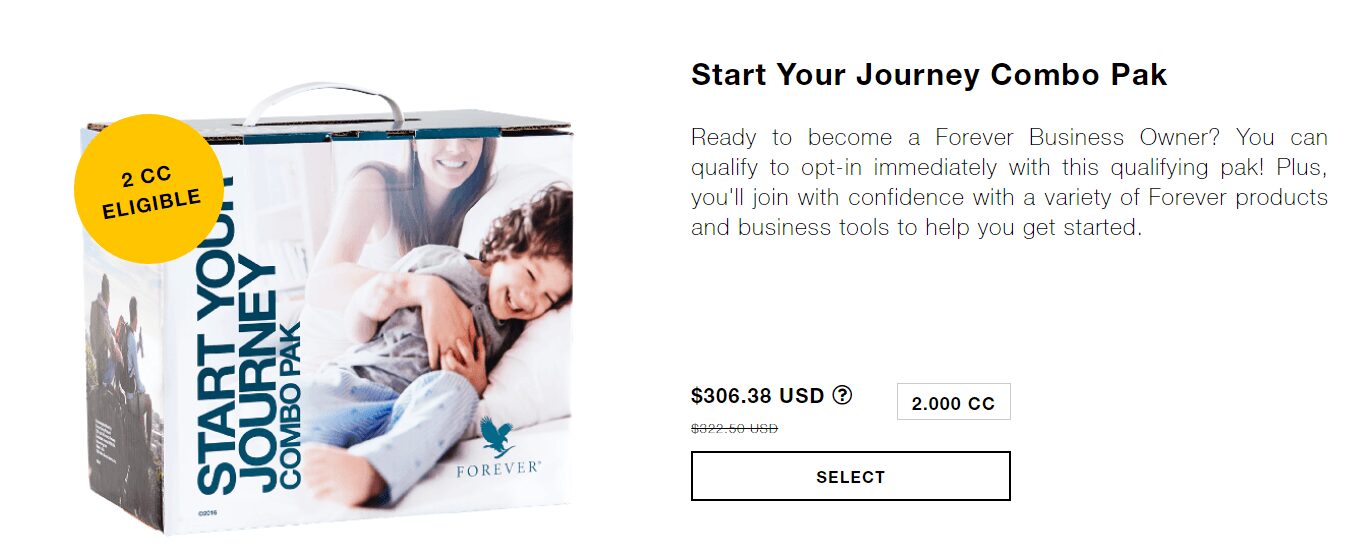 The current price of joining is $306.38
What you get with this business startup pack is a mix of Aloe Vera, personal care, skincare and nutritional favourites…
Aloe Vera gel minis – 12 * 330ml
Forever ARGI+
Forever Supergreens
Forever Arctic Sea
Forever Active Pro-B
Aloe Vera Gelly
Aloe Vera Heat Lotion
Aloe Vera Propolis Creme
Aloe Vera Moisturizing Lotion
Aloe Vera Soap
Forever Aloe Scrub
Forever Bright Toothgel
Aloe Vera Lips
English Product Catalogue
First Steps to Manager Booklet
Aloe as Nature Intended (single)
Why Forever (single)
Bear in mind that these products are to be used as samples to show to your customers and will have to be replaced periodically.
---
How to Make Money With Forever Living Products International
The 3 basic ways to run your business…
Purchase the products for the discounts and sell to family and friends.
Find customers and sell to them.
Recruit others into your team and make commissions on what they sell.
If you want to excel in any MLM you have to be able to recruit others.
Use social media to target your audience and there are many ways to do this through Facebook, Twitter, YouTube, Instagram…
Organize home parties, but these will have limitations.
Rent a stall at an event or fair
Whilst you will all have your own Forever Living Products Official site to use to market the products, I would seriously consider developing your own website based around the products.
Target your audience who are searching for the products in Google instead of wasting your time in social media talking BS.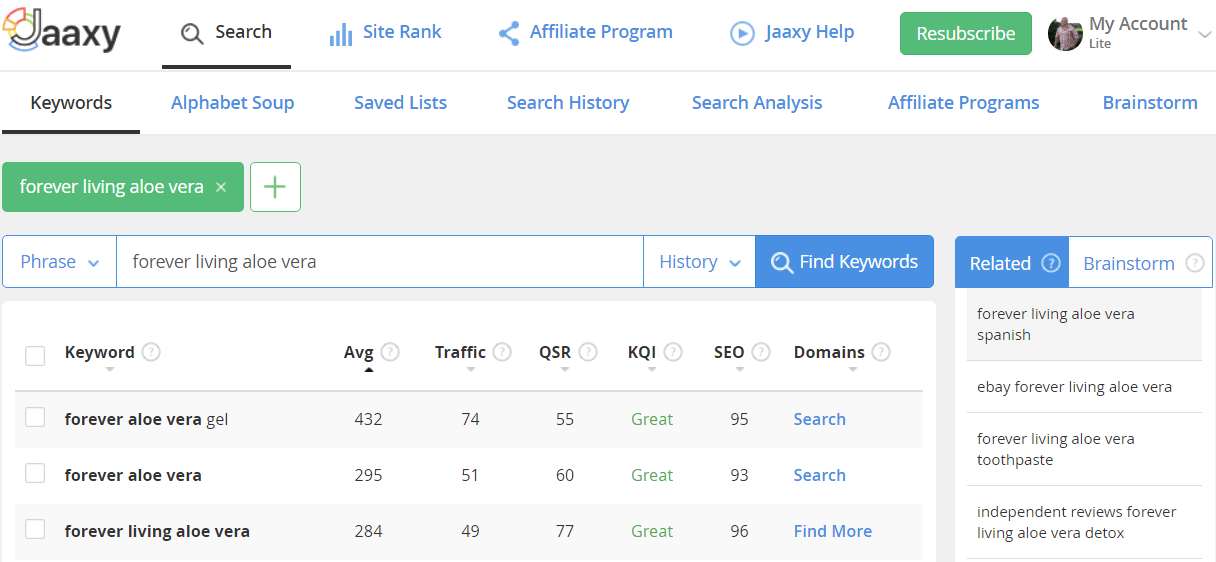 Those 3 keywords (found in a quick search) in the above image are what people in Google are searching for.
You could use these keywords and write some great content that people are looking for.
Why try and convince people in social media when you can target people who are already looking for information related to "Forever Living" and the products they sell? No brainer right?
A little keyword research, that's all it takes.
Bearing in mind that there are approximately 83,000 Google keyword searches every second which amount to over 7 billion searches a day.
That is where your money is, in those 7 billion daily searches.
Once the website is up and running it will target your customers 24/7/365.
If you want more information about how you can learn this then stay with me until the end of the review.
---
Here you can check out the Forever Living Compensation Plan for yourself
---
Are Forever Living Consultants actually making money?
Considering Forever Living Products have been active for over 40 years I find it strange that we can only find something that represents an income disclosure for 2018.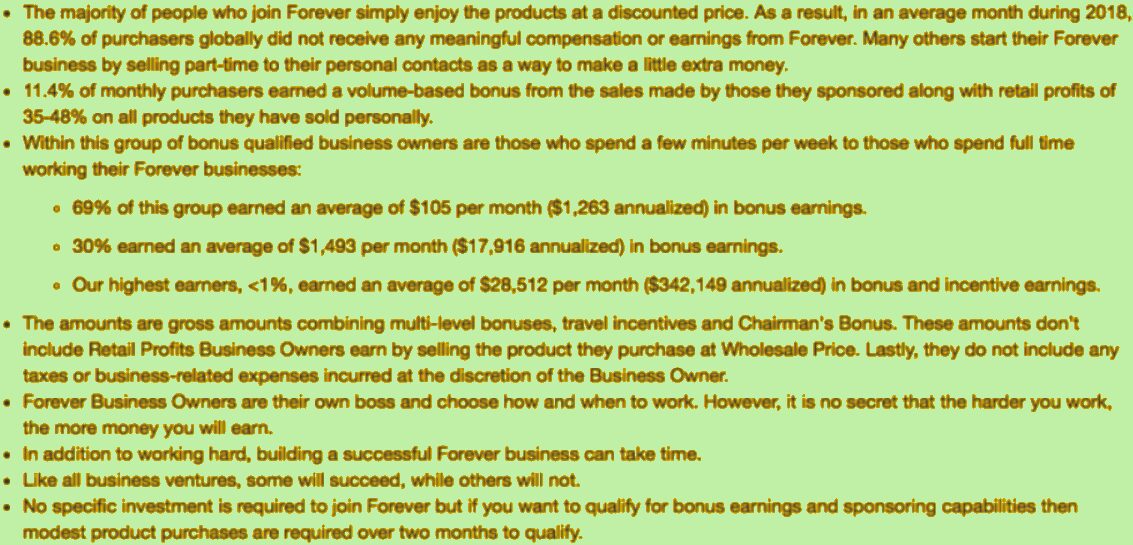 They try and justify these figures by stating that people mainly join to take advantage of the discounts and making a little extra money by selling to people they know.
Let me tell you, people are joining Forever Living because they believe that they can replace an existing income and become rich because that is what they are been told.
Now, this is coming straight from the "horse's mouth" so to speak and this alone should make you "run to the hills".
Alarming figures wouldn't you think?
So why are people still joining businesses like this?
I don't have words, maybe they would rather believe a "sponsor" who is filling their heads with complete "BS" rather than the company themselves?
Here is a breakdown of those figures based on all people who signed up to Forever Living Products in 2018
88.6% earned nothing.
7.86% earned an average of $105 a month.
3.42% earned an average of $1,493 a month.
0.11% earned an average of $28,512 a month.
According to the above figures, you have to be in the top 3.42% of all Forever Business Owners just to average $1,493 and we are being extremely conservative here.
That works out at an average of $17,916.00 for a years salary and remember those figures will be a lot less for many.
Is that enough for you to live on?
---
What others say about Forever Living Products 
The most important thing you should be doing before you purchase any products or contemplate a business opportunity is research and thorough research too.
Reviews whilst a great source for allowing you to make that decision should be looked at with care because it may be that the reviews you are looking at are not genuine and we see that all the time.
---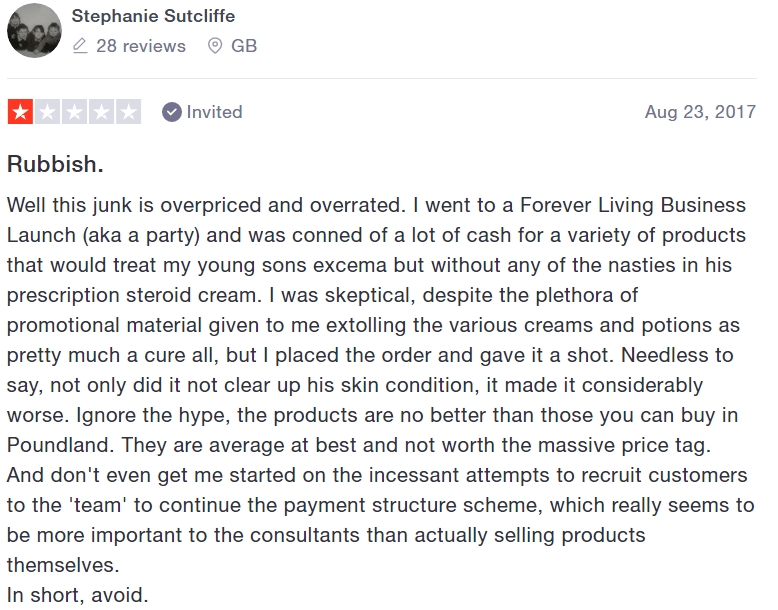 ---
If you have 30 minutes to spare you might like to watch this video regarding MLMs in general.
---
What I like about Forever Living Products 
Whilst I am not a lover of MLMs, I still can see why someone might want to not only purchase the products but take a chance on the business opportunity.
Have been accreditated with the Better Business Bureau since 1978 which is as you can see the length of the time of their existence.
Unique products
Most of their range of products are based around Aloe Vera which as we know have many health benefits.
A member of the Direct Selling Association (DSA).
Couldn't find any complaints on the BBB site.
---
What I don't like about Forever Living Products 
Whilst the products do seem to be well received there are other things to take into consideration that aren't that great and I have managed to highlight a few for you here.
Expensive products
The products on a whole are expensive but so are all MLMs and it wouldn't take you too long to find similar products that are much cheaper.
Very competitive
Not only are you competing with millions of FBOs for marketing space and customers, but you are also competing with Amazon, Walmart, eBay amongst many others.
Marketing tactics
The marketing tactics from many Forever Business Owners are disgraceful and this just shows the desperation to get a sale.
Mind you, this is across the board with all MLMs.
Highly pressurized
What you will find is pressures from above. Your sponsor and their sponsor just to get you to recruit and make sales.
If you have a little time on your hands you might like to read this interview of a mum who had a bad experience with her sponsor here.
Expensive to become an FBO, with a combo pack costing you over $300 and remember this pack will have to be replaced periodically.
Complaints about some of the products that are not as good as they once were. It would seem that these drinks formula have been changed without informing customers who have been purchasing them for quite some time.
---
Is Forever Living a SCAM?
Well, Forever Living isn't going to run off with your money so no it isn't a scam.
They are a legitimate MLM operating over 40 years and they have an extensive catalogue of products that can benefit you in many ways.
As an FBO you are not under any obligation to recruit members into your team and can use the membership to purchase the products at discount and sell on to family and friends if that is what you want to do.
Saying that though most join to become a success and to hopefully replace that 9 to 5 job, but around 99% do not manage their goals and in many cases are left out of pocket.
---
Is Forever Living Products International a Worthy Business to get involved with?
More than enough information here for you to make a decision not only about the products, which do seem to be pretty good but a business opportunity.
So what do you think?
With over 86% that don't earn a dime, and that's not me but Forever Living telling you this.
That's coming from someone who has tried MLMs in the past with absolutely no success at all until I looked into affiliate marketing.
This training platform shows you how to create a website, keyword research and how to target a specific audience, how to write great content, and much much more.

---
Feedback, Comments and Subscribe
If you are reading this then I can take it that you didn't fall asleep and hopefully I kept you entertained, but more importantly,  you are now in a better place about Forever Living Products International.
If you enjoyed this review then why not show a little love and share it amongst your friends in social media.
Until next time, stay safe.