Hi, I'm Mick and welcome to this ClubShop Review
Clubshop has been on our list of reviews to do for some time now and as we have recently been looking at cashback sites.
Thought it was the ideal time to review them.
So, if you are looking for the full lowdown on ClubShop then you are definitely in the right place.
But, before we get started we'd just like to declare that we are not associated with ClubShop in any way shape or form.
This means that what we are about to provide is an honest unbiased review giving you all the facts.
That way you will be able to decide on your own merit whether to join ClubShop or not.
That said, let's get right into it.
---
[Affiliate Disclosure: This Clubshop review has been thoroughly researched from information and testimonials that are in the public domain. This post may contain affiliate links which means we may earn a small commission, however, this won't affect what you pay!]
---
Product: ClubShop
Founder: Richard Burke
Website: www.ClubShop.com
Product Description: Multi-level marketing cashback site
Cost to join: Free or paid membership
Recommended: Maybe
Summary: Reward sites are ten a penny but most of them are free to join and so is ClubShop if all you want to do is use it as a rewards site.
You can save money on any purchases that you make through the many online shops on the website.
This facility extends to over 75 countries throughout the world.
Furthermore, you can join as a paid member and this allows you to build a team.
This way you can not only save money on your purchases but you can make commissions on what your team members purchase as well.
Sounds cool right?
Clubshop Review – Table Of Contents
What is ClubShop About And Who is The Founder?
Clubshop is a rewards site that also uses the multi-level marketing business model.
That started life, not as Clubshop but as the Discount Home Shoppers Club in June 1997 by its CEO and founder Richard Burke.
It started life in an apartment over Richard's garage with the idea of becoming a membership site.
The concept is pretty straightforward.
Where members would be recruited to join a buyers club and as a result, this would give the company leverage power.
To make deals with the merchants to allow the members to save money through purchases and to make commissions on team members' purchases.
In 2002 DHSC acquired 20 acres and turned it into a corporate retreat and in 2009 DHSC became ClubShop as it is known today.
However, come 2018, ClubShop merged with Proprofit Worldwide Ltd which was founded in 2013 by Fabrizio Perotti and Giuseppe Francavilla.
We see that Fabrizio Perotti apparently has some history with a company called Ad2Prosper and something to do with a pyramid scheme.
We can also see that Proprofit Worldwide Ltd is a registered company in the UK and their Linkedin account links straight to the ClubShop website.
Here's a short promotional video…
Who Are The Founders of ClubShop?
Well, we have recently mentioned that ClubShop started life as the Discount Home Shoppers Club and this was founded by Richard Burke.
When you look at Richard Burkes Linkedin account you can see that he is the ClubShop rewards president.
However, the main person we see at ClubShop is Fabrizio Perotti but you can't find any information at all on the website.
In fact, there is very little about Fabrizio Perotti other than he foundered the SFI marketing group which apparently is an affiliate network.
Is ClubShop a Pyramid Scheme?
ClubShop is not a pyramid scheme although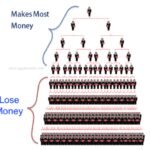 many will declare that they are due to the way they operate.
They are primarily a rewards site that doesn't cost you anything to join and allows you to make cashback or rewards on purchases that you make.
You can however become a paid member and promote the ClubShop website and recruit others.
By doing this you would build a team and make a commission on that team member's purchases.
There could be confusion here because part of the company lends itself to the multi-level marketing business body.
Whereas the other part of the company doesn't.
The consensus is that a company may be declared a pyramid scheme where the affiliates or representatives are paid a commission for recruitment only.
Where there isn't a product or service with an intrinsic value, which is a product that is useless and has no meaning.
In most countries this is illegal and in some countries, people go to prison for a very long time, an example would be China.
What normally happens nowadays is that companies hide behind products which makes it all the more difficult for the FTC to prosecute.
Why aren't these MLMs getting closed down?
There are so many MLMs that operate as a pyramid scheme and because there are so many it takes time for the FTC to get their act together.
After all, they only have a limited resource of people to investigate and by the time they get around to doing anything about it.
The company in question has closed and reopened as some other company probably in the same niche but using a different name.
You might like to check out this short video…
ClubShop Business Opportunity – What You Need to Know

How does ClubShop Work?
As you can see by the above image, there are 3 memberships.
Shopper member
Affiliate member
Partnership
The first 2 memberships are free to join.
Where you can make rewards or cashback.
But with the "Affiliate Membership", you can recruit other people and make commissions from the recruit's purchases.
The 3rd membership is the "Partnership" which allows you to have your own shopping mall or website that you can promote ClubShop.
These memberships are tiered and paid monthly starting from $14.90 and going up to $249.00.
Called GPS or "Global Partner System" you can see the different levels below.
You will notice the mention of Tangicoin and the amount you receive on a monthly basis but before you get excited.
These coins only mean something within the ClubShop website and have no monetary value outside of the site.
This internal coin is actually tied to Tangiworld which is something that was used within Ad2Prosper.
How to make money with ClubShop…
There are basically 2 ways that you can make money with ClubShop.
Either…
Join as a shopper and only use ClubShop as a shopping mall where you can purchases products and get rewards that can be redeemed.
Or, use the 2nd and 3rd membership to recruit others and make commissions on what those recruits make.
If you decide to use the 3rd paid membership option then that is tiered and will depend on which monthly membership you choose.
ClubShop Compensation Plan
If you are interested in the compensation plan then we think it would be wise to watch this video.
Are ClubShop affiliates actually making money?
This is normally a difficult question to answer because there isn't an income disclosure at ClubShop and there isn't a lot of information about it.
If you take TrustPilot for instance then you can sort of get a feel for satisfied people.
Who use the site more for shopping and rewards rather than becoming partners and recruiting others.
How much does it cost to become a GPS partner?
There are 6 memberships which are listed below…
Basic – $14.90/month
Basic Plus – $29.90/month
Pro – $49.90/month
Pro Plus – $89.90/month
Premium – $129.90/month
Premium Plus – $249.90/month
You must ensure that the method of paying is not interrupted otherwise this could affect payments.
Is there an alternative way of making money? 
There are many better ways of making money online but if you are a shopper then why not use sites like ClubShop.
But for actually making real money online you need to be looking at something like this.
Is ClubShop a SCAM?
We can't see anything to suggest that ClubShop is a scam because you don't have to become a paid member to make money.
Nobody is trying to force you into paying because that is entirely up to you.
You could use this opportunity to just make discounts on your purchases and recruit others if you'd like but this won't cost you anything.
At the end of the day, ClubShop is a rewards site and should be treated as such.
If you were looking for a make money opportunity then there are plenty of much better ways than through a rewards site.

What we Like About Clubshop
They do have a pretty good following on TrustPilot which can be seen by the 82%.
What we Don't Like About in This ClubShop Review
Multi-level marketing businesses are notoriously difficult to make money in unless you are at the top of the pyramid.
You have to upgrade to GPS if you fully want to benefit from the commissions coming from the different levels of ranking.
We mentioned there are many rewards sites that don't cost you a dime and we would advise using ClubShop only for the free membership.
ClubShop Review – Final Thoughts!
I think we should have highlighted enough information for you to come to your own conclusions as to whether ClubShop might be right for you or not.
If you are looking for a rewards site you could check out RewardsXP or Swagbucks.
If you are really looking for a make money opportunity then we'd love to share with you a method that we recommend 100% in the next section.
Where do we go From Here?
Recruitment is key to having any success in any multi-level marketing business and most people just hate it.
It might start off fine because you will be trying to recruit your family and friends but once that is over it will feel like you are on your own.
That's when you really find out what cold-calling is all about and rejection from people who aren't interested.
People succeed in MLMs because they have big email lists and followings or they are exceptional at recruiting.
So here's the deal, and you are under no obligation to look, have you ever considered affiliate marketing? You can check it out here!
Essentially it is an extremely cost-effective way of making money online which we recommend 100%.
Where…
You don't have to recruit
You aren't constantly pestered by your sponsor
You don't have to go to events which you will be expected to at cost
You don't have to purchase any stocks
You don't handle any order management
You don't handle shipping
You don't handle returns
You can market any product or service you like
You own the business which you don't in an MLM
If you are looking for a cost-effective solution then I would seriously consider Wealthy Affiliate or at least take a look.
A fully integrated training platform that I would recommend above all others with which I have personally had nothing but a positive experience.
Here you can join and check out the system for FREE, with no credit card details.
If it isn't for you then just walk away, but you won't know until you have tried!

ClubShop Review FAQs
What Is The Cost To Join ClubShop?
There are 3 memberships of which the first 2 memberships are free to join.
The 3rd membership will cost you between $14.90 and $249.90 a month.
Is There Cashback On All The Products On The ClubShop Mall?
On almost every product within the ClubShop Mall, there is cashback.
You can check this by clicking on the button next to the store.
The exception to the rule is if you become a partner and join the paid membership.
Then there is no cashback because you will become part of the compensation plan.
How Long Will It Take To Receive Any Cashback?
Normally it can take as long as 60 days for the merchant to send the cashback to ClubShop.
Which you will notice when the "Pending" status changes to "Payable".
How Can I Redeem My Cashback?
Once you have received the minimum cashback which is $10, you can redeem this through one of the payment methods below.
PayPal
SolidTrustPay
AdvCash
Perfect Money
If you don't have an account from one of the above you'd need to go to the ClubShop Mall, find the appropriate method and create an account.
Feedback, Comments and Subscribe
Ok, guys, we hope you enjoyed this ClubShop review and that we managed to answer most of your questions.
Maybe you are or have been a ClubShop member and would like to share your experience with us. We'd love to hear about it!
Until next time, stay safe