Welcome to the DNAcademy Review
In the digital world, all roads lead to domains, meaning that at some point you will have to come up with a domain name.
DNAcademy is a training course that teaches you how to build a business by purchasing and selling domain names.
With approximately 1.5 billion domains registered in 2020 alone then you might be asking how can we come up with domain names to make this work?
Well, that is why you are here and what we are about to show you in the next few minutes.
But, before we get started we'd like to point out that we are not associated with DNAcademy in any way.
Meaning, that you will only get an unbiased review showing you the facts and whether this might be a business opportunity you might consider.
That being said let's get right into this DNAcademy review.
---
[Affiliate Disclosure: This Dnacadem Review has been thoroughly researched from information and testimonials that are in the public domain. This post may contain affiliate links which means we may earn a small commission, however, this won't affect what you pay!] 
---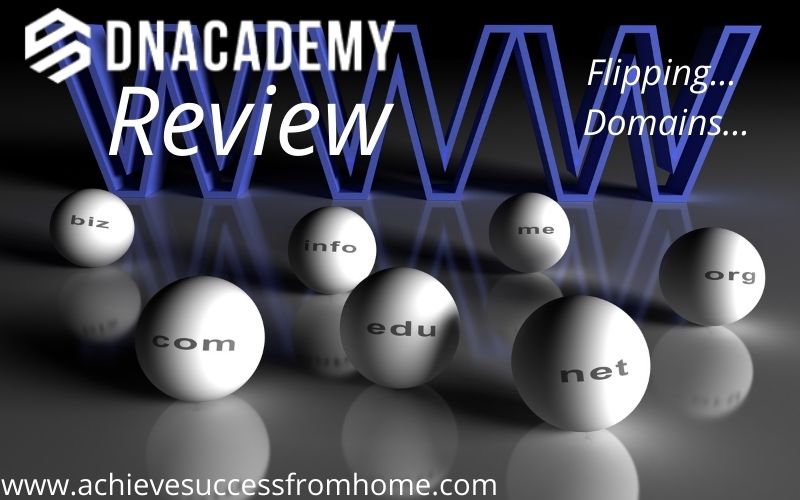 Product: Dnacademy
Founder: Michael Cyger
Website: www.dnacademy.com
Product Description: Purchasing and selling domain names
Cost to join: $499/year, $949/lifetime
Recommended: Maybe
Summary: If you have created websites in the past then you will know the problem you will encounter when trying to find the right domain name.
What about the frustration of knowing that someone already owns the domain that you were looking for.
What about you owning a domain name that a major company is looking to buy now that is where you want to be.
We'd all love to own that domain, the ultimate goal, right?
DNAcademy has been around since 2015 and was founded by Michael Cyger who is a respectable marketer when we are talking about domain real estate.
The course comes at 3 price levels…
$499 for 12 months
$949 for a lifetime membership (best value)
For teams with 5+ but you'll have to get in touch for a price for 12 months.
This is a good course and we can see this from the positive feedback that we can find online.
But running a business buying and selling domains is not going to make you rich but could be another income stream to run alongside others.
It's all about finding the right domain, whether it already exists or not. If it does then negotiate the best price.
If it does exist then you will want to know about traffic going to the domain or if there is any at all.
No traffic then maybe you should walk away because prospective buyers are going to want to see activity.
An Alternative Solution: If it's an online business opportunity that you are looking for that is extremely cost-effective.
Check out the training below as it's one of the better training courses online that we have reviewed.
Dnacademy Review – Table Of Contents
Who is Michael Cyger?
Michael Cyger actually studied and qualified
as a nuclear engineer and took and passed his master's degree but never really entered that industry.
He has had success in the past with selling a media company he once owned.
Since then he has gone on to own and run the publishing company Domain Sherpa which is also based in the domain real estate industry.
This was how he learned his current skill in this industry by interviewing successful people already doing this.
This he started in 2011 and in 2017 decided to move away from being the publisher and hand over the reign to someone else.
So we could say that with around a decade of knowledge under his belt then he could be classed as an expert in this field.
Since 2015 then he has been sharing his experience with other like-minded individuals through the training platform, DNAcademy.
There isn't a great deal about Michael Cyger in the public domain but what we did find was impressive.
You might like to watch a short video discussing DNAcademy by Michael Cyger himself.
How Does DNAcademy Work?
DNAcademy is a complete training course teaching you how to run a business through buying and selling domain real estate.
On the surface of it, you might think well there can't be much to this and you'd be wrong.
I have looked into this business model in the past but at the time had never heard of Michael Cyger.
So I got the idea from some crappy WarriorPlus program and after spending some time realized that this was not going to be as easy as I thought.
In fact, I couldn't see how I was going to turn it into a profitable business and if you listen to Michael Cyger.
He tells you it took a number of years with interviewing somewhere between 300 and 400 people in the industry.
Is it possible to make some money purchasing and selling domains and we have to say yes it is?
But, are you going to be able to turn flipping domains into a full-time business we would have to say that would be highly unlikely.
At the end of the day, it is down to each individual and how much time and effort you put into this business.
If you aren't going to go all-in like with any business idea then I just wouldn't bother trying.
We can't find a lot of reviews from people who are having success through the DNAcademy course.
There is a bunch of testimonials on the DNAcademy website but all they do is praise the course with no indication that they are making any money.
I mean how are you supposed to make a decision whether to spend money on the course if there is nobody bragging about what they are earning?
I think we are looking long-term with this type of business model, talking years rather than months.
But if you are wanting a business model that will give you a 4-5 figure a month then check out the link here.
What You Get With DNAcademy
The DNAcademy or Domain Name Academy training is split across 8 modules which we have highlighted below.
Getting started…
A basic introduction to the course.
Welcome
What to expect
How to navigate the course
Introduction to the instructors
Introduction to domain names…
This second module goes into detail about everything you'll need to know about domains.
What a  domain name is
The history of what domains names are
Goes into detail about ICAAN(Int Corp for assigned names & numbers)
The three R's
WHOIS
Transfer process
Value of a brand
Supply and demand
Keyword SLDs or Secondary level domain…
Keywords play a major part in marketing because if you can choose a domain that includes a keyword that people are already keying into Google.
Then that has to be beneficial for you.
What a keyword is
Generic keywords
Exact match keywords
Brandable keywords
Using acronyms
Using numerics
Using alphanumerics
Characteristics…
All the different types of characteristics that you can use with your domain name.
What are characteristics
Secondary-level domain counts
Top-level domain counts
Search volume and competition
Keyword (SLD) type
Registered counts
Radio test and spelling
Prepending and appending
Plural vs singular
Tenses
Word order
Sounds of speech
Hyphens
Hacks
Google trends
Sales velocity
Historical use
Domain age
SEO benefits
Type-in traffic
Trademark count
Companies using name
Usage limitations
Comparable sales…
What are comparable sales
Comparable sales tools
Order of magnitude value
Wholesale vs Retail
Highest and best use
Automated appraisals
Word and character count
Pagerank
Tutorial valuations…
Guided valuations introduction
Generic guided valuation
Exact match guided valuation
Brandable guided valuation
Acronym guided valuation
Numeric guided valuation
Alternative valuation methods
Buying domain names…
Preparing to invest
Choosing a strategy
Setting a budget
Asset location
Creating a buyers profile
Having and tracking your portfolio
Brands companies want
Lifecycle of buying
Marketplace buying
How to create and find unregistered domains
End-user buying process
Portfolio analysis
Paying for the domain
Escrow payments
Auction simulator
Selling domain names…
Creating a sellers profile
Setting a realistic price
Where to sell
Passive selling
Outbound marketing
Is DNAcademy a SCAM?
DNAcademy is not a scam but a legit business model that is tried and tested and works.
However, it is working for some who have been at it a few years and who have portfolios with 5000+ domain names.
I'm sure you can appreciate it just like every idea that comes to fruition, it is only going to get more difficult to succeed.
The real game-changer would be hitting on a domain that was worth a fortune but it would cost you a considerable amount with no guarantees.
What you are going to find with this type of business is that pretty much all your investment will be tied up.
The course surprised me with just how short it actually was.
If the course can be completed within 40 hours and you can get a full refund within 14 days then might be worth testing the water.
I love the idea of building a portfolio of domains but I remember all too well how long it took me to find a domain name for this website.

What we Like About DNAcademy
The business model is one that works but we feel would be difficult because of the competition already there.
The cost is reasonably priced although we are not sure that paying for a lifetime membership would be the right cause of action.
Considering the course in its entirety can be completed within a week.
There is a full refund policy and to take advantage you have to apply within 14 days.
The founder Michael Cyger is a genuine person who is an expert in this field.
What we Don't Like About DNAcademy
We feel that the domain real estate industry might be met with a lot of competition.
Maybe a few years ago when the internet was in its infancy days but not now.
DNAcademy Review – Final Thoughts!
Overall we thought the course was in-depth and that you did get value for your money.
However, we do think that you will struggle to make a full-time income from this business model.
All the same, if you put in the effort then who knows, we might be proved wrong.
But considering we just couldn't find anybody showing or telling us that they were earning as a result of the DNAcademy course then that was a little disappointing.
If you are looking for a business opportunity where you can see revenue within months rather than years.
Then we'd love you share with you a training platform in the next section.
How we Make Passive Income Online
The business model is affiliate marketing and is extremely cost-effective.
All you have to do is connect the customer with the product and the training comes from Wealthy Affiliate.
A company we would recommend above all others and the beauty about this is it won't cost you a dime to check out.
Take a look and tell us what you think.
If it isn't for you then just walk away, but you won't know until you have tried and we think you will be suitably surprised.

DNAcademy Review FAQs
We thought that we'd add a few answers to questions that you might find yourself asking.
Is the course worth the price?
There are 2 main prices for the course based on a 12-month or lifetime membership.
The 12-month cost of $499 would give you access to the entire catalogue of everything within the course, even videos that are outside.
We feel that the training would give you good value for your money.
Is there a refund?
If fr whatever reason you are not happy with the course you have 14 days in which to ask for a full refund.
The form that you are required to fill in is here.
How long does it take to complete the course?
The course is between 20 and 40 hours and it all depends on how much time you devote to it.
So, in theory, you could complete the course within a week very easily which brings me to the question of just how much detail is within the course.
Why can't I just learn all this from the internet?
You could quite easily but what you tend to find is that who is telling you the right information and seeing everybody is trying to sell you their stuff.
Then the information may or may not be correct and besides, in a lot of cases, the content is usually well out of date.
Is Michael Cyger a real and trustworthy person?
As we have mentioned there isn't a great deal about Michael himself although he does appear to be well regarded in the domain industry.
He did run his publishing company Domain Sherpa which is where he learned all this stuff from and he does have his own Youtube channel.
Is there a payment structure in place?
No, there isn't.
Are there people who are making money with this training?
Hard to say as the testimonials are only to be found on the DNAcademy website and even then they don't explain whether they are making money or not.
We have always said any testimonials on a website dedicated to the training should be taken with a pinch of salt.
Do you have any alternative recommendations?
We do have a recommendation where you could be earning in months rather than years and if that might interest you then you can check it out here.
Feedback, Comments and Subscribe
Hope you enjoyed this DNAcademy review and that we answered most of your questions.
If you have anything you'd like to add, just drop us a line below and we'll get back to you.
Until next time, stay safe