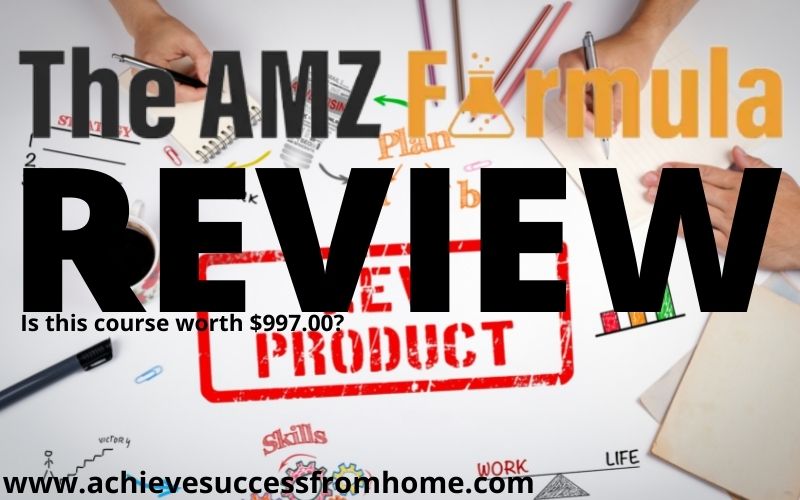 Welcome to the
AMZ Formula Review
If you are looking for ways to make money online then you may have come across AMZ Formula.
However, this is not your traditional done for you system that you see all over the internet for a few bucks.
It's an in-depth course that covers everything you'd need to know about running an Amazon business.
Yes, you heard that right becoming a part of the biggest retail outlet in the world.
Before we go any further I'd like to mention that we are not associated with the AMZ Formula in any way and therefore won't find us pitching to you.
That said, we are here to give you the lowdown on this course so that you are in a better position to decide whether this might be for you or not.
That said, let's dive right in.
---
[Affiliate Disclosure: This post may contain affiliate links which means I may earn a small commission if you purchase anything through one of the links. However, this will not affect what you pay!]
---
Product: AMZ Formula
Founder: Joshua Crisp
Product Description: FBA Private Label Course
Website: www.theamzformula.com
Price of product: $997.00
Recommended: Maybe
Summary: Joshua Crisp is the mastermind behind the AMZ Formula who in 6 years has gone from earning minimum wage to where he is now as a millionaire.
I don't know about you but watching sales presentations showing mansions and flash sports cars doesn't do it for me.
But we are not going to hold anything against Joshua just because we don't like the way he markets himself.
What we noticed with the sales presentation is a total lack of what is involved with this course, in fact, the video is only a few minutes long and tells you absolutely nothing about the AMZ Formula.
If I was to hand over $997.00 I would want to know everything about this course. Through the eye of a needle! Wouldn't you?
Instead, it looks like you have to believe a poor sales page and take your chance.
That said, the course overall appears to be well received by the reviews I can find although there are some who have had issues with trying to get a refund.
If you are looking for a legit training platform that is 100% upfront about everything and it won't cost you to take a look.

---
If you are sick and tired of SCAMS, Pyramid schemes, MLMs, recruiting, having to purchase stocks, haggling family, friends and customers. Looking for a proven method of making money online, then check out my #1 recommendation. 
---
Internal Summary and Navigation
---
What is the AMZ Formula about and who are the Founders?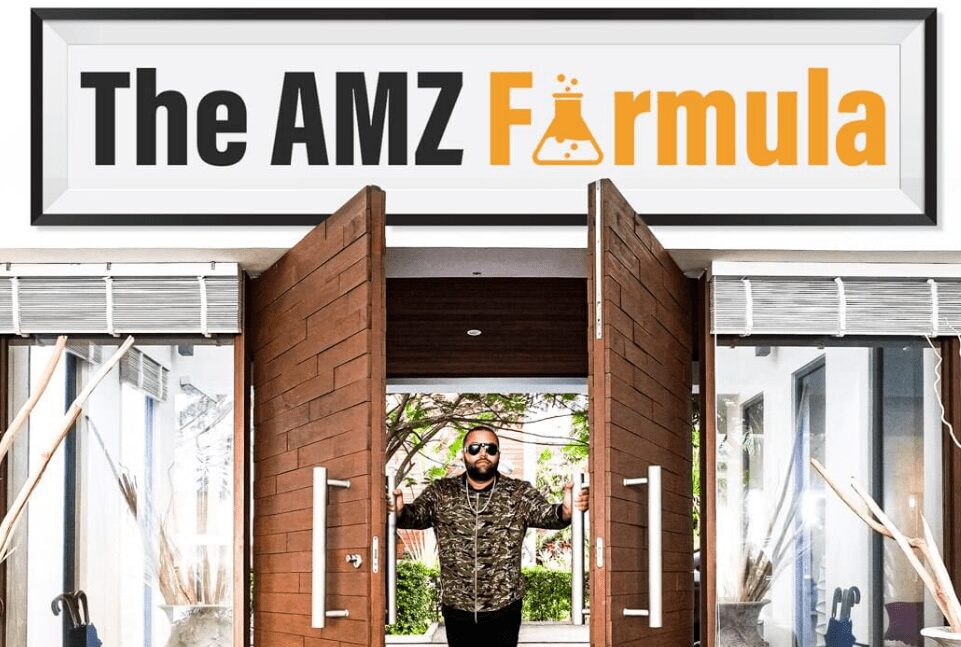 The AMZ Formula is a comprehensive course teaching you everything about FBA (Fulfilment By Amazon).
The course is spread over 8 modules and comes with over 70 videos.
He makes claims that he can take you from 0 to $100k in just 12 weeks, but you know that is all hype and should be taken with a pinch of sale.
That said, all it takes is for you to find that one product like he did and that $100k may well be within reach.
For Fulfilment By Amazon to be a success, there are many things to take into consideration and capital is what you need and lots of it too.
But, the key thing here is the product and how you go about deciding which is the right product to sell, but more on this a little later.
An alternative to running an Amazon FBA would be a drop-shipping business where you dictate the product price but the vendor supplies the product and is much cheaper to set up.
This is very similar to the way affiliate marketing works which is a much simpler and proven business model which anybody can do.
So who is responsible for the AMZ Formula?
Joshua Crisp is the person behind the
AMZ Formula who comes across as a very flamboyant person.
Pre 2016, apparently he went from earning minimum wage for sorting through trash to where he is now, grossing over $10 million.
He failed with his first 3 products but hit it big on the 4th product which is all it takes, but the big thing here is choosing that ideal product. You are only 1 product away!
Claims to be mentioned on Forbes and the Huffington Post, but we couldn't find any mention of him there.
Joshua has a Youtube channel with over 26 thousand subscribers and he does come across as a genuine person and he does seem to know his stuff.
Take a listen to him describing his 3 failures but one thing he isn't going to disclose is the product he made it with.
So, what do you think, someone you could trust?
---
How does the AMZ Formula

W

ork?
Well, before we get into the AMZ Formula and how it works, we are going to talk a little about what is involved with running a Fulfillment By Amazon Business.
So what is an FBA?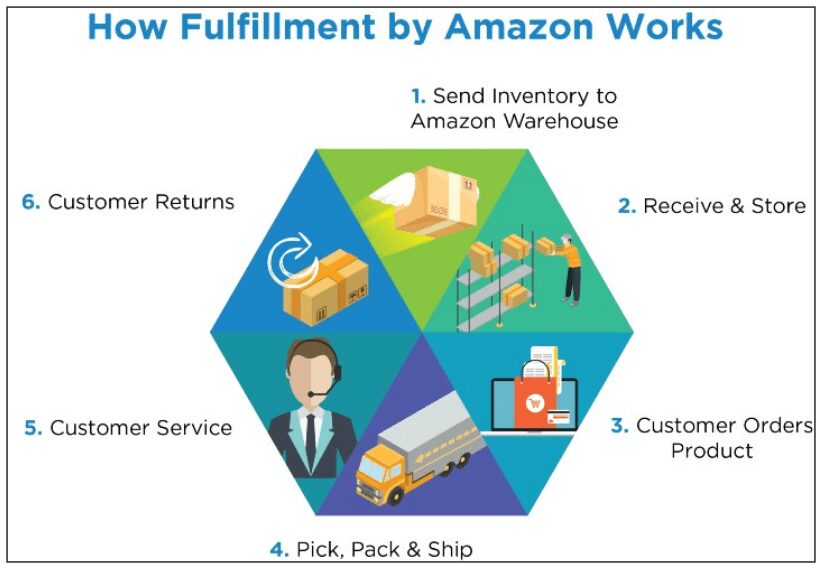 Simply put, you can use Amazon as a warehouse to store your products and let Amazon handle the customer orders, picking, packing, shipping and returns.
They will even handle any after-sales queries.
All you have to do is connect the customer with the product.
Of course, there are fees that need to be factored into the whole process and if you are interested then you can check the fees out here.
This is a brief account of what might be required…Obviously, each step would have multiple things going on.
Decide on the product through research, Jungle Scout
Find a place to source the product, usually somewhere like China
Negotiate the manufacturing costs
Negotiate the shipping costs
Decide the selling cost which as to take into account Manu & Amazon fees
Ensure inventory is replenished
You handle all marketing including Paid advertising
Depends on the product but a good estimate to get this off the ground might be around the $10,000 mark.
So it is imperative that you get it all right the first time but if you know anything about starting or running a business it never runs as expected.
The course is spread across 70 videos…
Yes, you might think the course is expensive but this is a one-off cost with no monthly membership fees which has to be a good thing, right?
As you can see below the course is split into 8 modules and pretty straightforward in terms of layout, although you are sure to want to ask many questions.
Support would be key here and that doesn't mean relying on answers to questions in the private Facebook group.
We can see that this group has around 2,000 members and only 7 posts a week.
However, there does appear to be a live chatroom.
Module #1 – Introduction to the formula and Amazon FBA
All about the AMZ Formula course, what you are about to learn and what an Amazon FBA is and how to approach a business like this.
Module #2 – Creating your account and getting started
How to get started with little or no money. How to navigate the training platform. Learn about branding. Amazon fees and how to calculate and factor them in to maximize your profit.
Module #3 – Product research
This as far as I'm concerned is the most important module because without the right product you can end up going broke.
They go into great detail about what it takes to find just the right product and use Jungle Scout to show you.
That would mean an additional $589.00/year.
They also show you how to do research without Jungle Scout.
You are shown just what's involved when it comes to the time when you are going to launch the product.
Module #4 – Finding suppliers and shipping
Another key module because you need to find the right supplier/manufacturer, negotiate the product costs along with shipping and logistics.
You will need to ensure there is no middleman.
Often, nowadays the products are going to be coming from China so is the language barrier going to be an issue?
Can you keep the costs down but not so that you are losing quality on the product?
Module #5 – Creating a listing and how to get positive reviews
How to create your listing to market the product on the Amazon website and how to make sure the customer is happy.
Amazon is more interested in the customer's satisfaction so it is important to ensure you are getting good reviews.
Too much negative feedback might mean that Amazon could close your business down.
If you listen to Joshua in the video where he failed 3 times he talks about Amazon closing his business down.
Module #6 – Keyword research and PPC advertising
Keywords are extremely important and without the right keywords could mean your products not getting found in the search engines.
Paid advertising is another important aspect of this business and this is where it could cost you considerably more than you budgeted for.
Where is your audience and when's the best time to promote your products.
All important things to take into consideration.
Module #7 – Maintain rank & listing,  how to grow your brand
Learn how to maintain your ranking, listings and stocks along with how you intend to grow your brand.
Module #8 – Advanced methods
Email marketing is very important and I'm afraid an 8-minute video is not going to cover anything near what you are going to need to know.
Social media marketing using paid ads and how to build an audience.
Another cost to factor in, for things like autoresponders which is all based on the number of subscribers. So that could be another $400-$500/year.

As you can see there is an affiliate program that you could use to make yourself some tidy commissions.
---
The AMZ Formula

Pricing 
As we have mentioned there is a one-off fee as of this review for $997.00 which includes $23,470 worth of bonuses.
Unlimited access @ $15,000
Live chat room @ $997.00
Learn the exact formula Joshua uses @ $997.00
Organic sales booster @ $997.00
Advertising growth strategy @ $997.00
Competition elimination strategy @ $997.00
Social media mastery @ $997.00
How to connect with manufacturers and suppliers @ $497.00
Listings security @ $497.00
How to keep the customer happy @ $497.00
Now you have to take these bonuses with a pinch of salt because who gives away $23k in bonuses for $1k?
The course if you compared with others is cheap in comparison and you would expect to pay into the thousands for something similar.
---
Can you make money with the AMZ Formula?
Fulfilment by Amazon is a tried and tested business model that works but everything is down to the individual.
This is not a business that you come into halfheartedly, no not at all.
There are a lot of things to learn and something we do not recommend a complete beginner doing.
However, everybody has to start somewhere and if you have the right mindset and capital that you are prepared to lose then why not give it a go.
This is not a business, like affiliate marketing where you don't have the overheads and fees to payout.
You will have to be on the ball 24/7 and this type of business is going to be stressful at times, more than you probably think.
Bills will have to be paid all the time so getting the product right and making a lot of sales is paramount.
---
Who is the AMZ Formula

 F

or?
The AMZ Formula is pretty much for everybody but we'd expect the person looking to invest in this course as a certain amount of experience.
There is a lot to learn and the curve may be far too much for most.
What we did notice as well, was that training may not be in-depth enough for the complete beginner.
---
Is the AMZ Formula

a SCAM or LEGIT?
The AMZ Formula is definitely not a scam and with the right attitude could be a very lucrative business to get involved with.
Joshua Crisp does seem to know his stuff and comes across as a genuine person and has a big following on Youtube.
His Youtube channel gives a lot of free helpful stuff away and is worth checking out before you get out your wallet.
The course should give you a solid foundation to work from but it's a tough business and very competitive with a lot of things that can go wrong.
For those reasons, we wouldn't recommend a complete beginner venturing into this business.

---
What we like about the AMZ Formula?
There was quite a bit we liked about this course although we were somewhat disappointed that the sale page didn't give too much away about what it is that you'd be buying into.
A genuine business model that works
Fulfilment By Amazon has been going since around 2006 with near to 100 fulfilment warehouses with around 200,000 employees handling everything.
However, for this to work correctly will require a lot of tweaking and what comes with tweaking are costs.
The course is solid with a lot of information
This should cover everything that you would need to know although to what level is unclear.
You will definitely be given a good foundation to work from and that's what these courses tend to do.
It's what you do with that knowledge moving forward is what matters.
Joshua Crisp seems genuine
The product is only as good as the person who owns it, right?
Well, Joshua does appear to know his stuff and does come across as a believable person, but often things change when you pay your money.
I'm not saying that here although there does appear to be an issue with refunds.
Good price
Courses like these are often into the thousands.
You could check out e-learning sites like Udemy which offer similar courses at a fraction of what it will cost for AMZ Formula.
That way you could get a better idea of what is involved before you pursue this opportunity further.
---
What we don't like about the AMZ Formula
An expensive business to get involved with
There are so many things that can go wrong with this type of business.
Fees are always going to be mounting which will put a lot of pressure on you to get it right.
We mentioned a startup fee of around $10,000 but you know that will dwindle away pretty quickly.
This business is not going to happen overnight and we suggest you should be looking at 6-12 months or maybe longer. It all depends on the person!
Refund policy
Always a good thing although we are seeing a few people who are having issues in this department.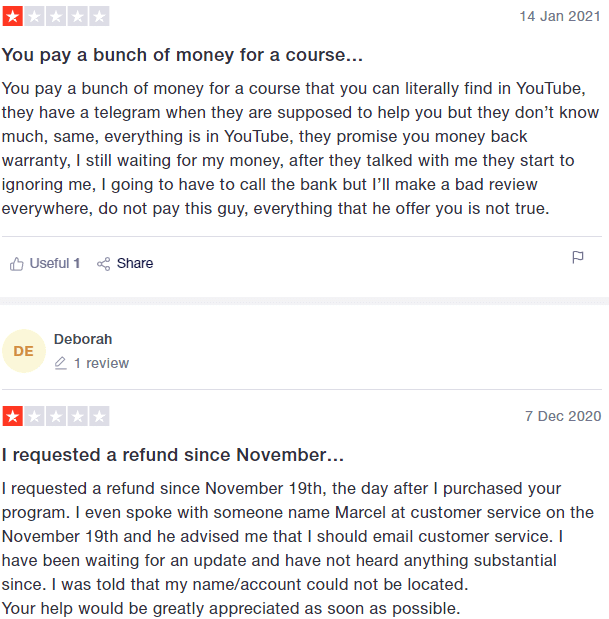 If you check the small print at the bottom where it says "(ALL DISCOUNTED PURCHASES ARE NON REFUNDABLE) Absolutely No exceptions"
The cost of the AMZ Formula is discounted at $997.00 so does that mean there is no refund? Something I would check out before purchasing.
Reviews
There are more than enough positive things being said on review sites like Trustpilot.
Unconfirmed income results 
Always an issue when people start talking numbers and what you can't do is collaborate on what is being said.
---
The AMZ Formula Review

: Final Thoughts!
Ok, so what do you guys think, worth a punt or is it a little too steep for your liking?
Just because we don't recommend this course doesn't mean it won't work.
Our decision is primarily on the risk factor, but hey business can be risky especially something like running an FBA business.
There are far too many things that can go wrong and this model we believe is very competitive.
Get the product wrong and you could lose everything.
However, affiliate marketing is a totally different cookie with far fewer risks and much easier to get up and running and there is only one person to consider, yourself.

---
Feedback, Comments and Subscribe
Well, hope you guys enjoyed this review and if you did why not spread a little love and share amongst your friends on social media.
If you have any questions at all, just add them in the comment section below.
Until next time, stay safe.