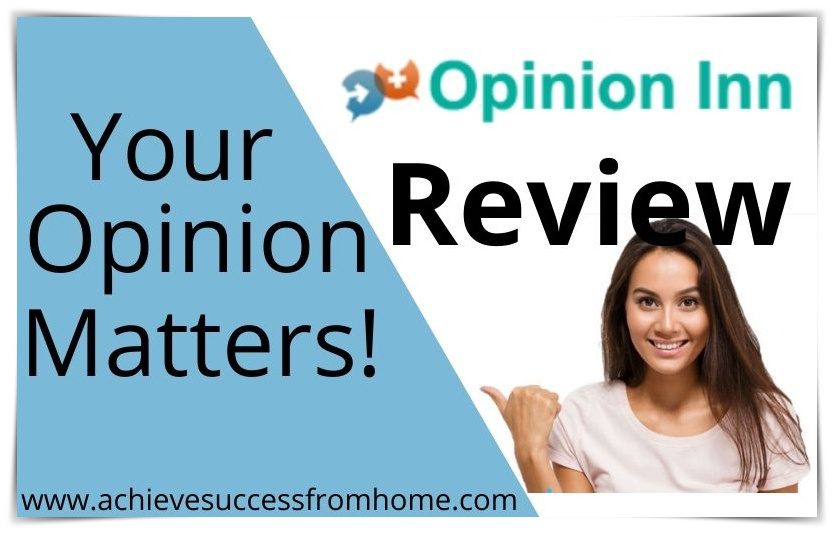 Welcome to the
Opinion Inn Review
Many people when they first start looking for ways to make money online usually turn to online surveys with the promise of easy cash.
Often "easy" turns into "difficult" due to the number of times that you are rejected before you even get to start one.
Maybe you saw one of Opinion Inn's ad campaigns on Facebook offering $10 just to become a member and thought you'd check them out?
If that is the case, then you are definitely in the right place and in the next few minutes, you will have all the facts to decide for yourself.
Whether, this the right survey site or not.
I must praise you for doing research like you are doing now.
It is the only way to avoid wasting your time and the only way to ensure you do find legit make money opportunities.
So, let's dive right in.
---
[Affiliate Disclosure: This post may contain affiliate links which means I may earn a small commission if you purchase anything through one of the links. However, this will not affect what you pay!]
---

Product: Opinion Inn
Founder: Unknown
Product Description: Survey site
Website: www.opinioninn.com
Price of product: Free
Recommended: No
Summary: Many people enjoy doing online surveys and Opinion Inn apparently is one of the better online survey opportunities.
It only takes a minute or two to sign up and you are rewarded with $10 so this should appeal to many.
However, the threshold for redeeming the cash is $25 which may take a little longer than you probably thought.
You might see several surveys in your dashboard but that doesn't necessarily mean that you'll qualify for any of them.
My experience of online surveys was not good at all and most surveys I just didn't get accepted.
Even when I did get accepted most of the time I was thrown out whilst part way through a survey or even when I managed to complete one.
In some cases, I could have wasted 20+ minutes, but hey we do see some good review ratings so maybe Opinion Inn is different?
However, if you really want to make a big impact on your life.

---
If you are sick and tired of SCAMS, Pyramid schemes, MLMs, recruiting, having to purchase stocks, haggling family, friends and customers. Looking for a proven method of making money online, then check out my #1 recommendation. 
---
Internal Summary and Navigation
---
What is Opinion Inn about and who are the Founders?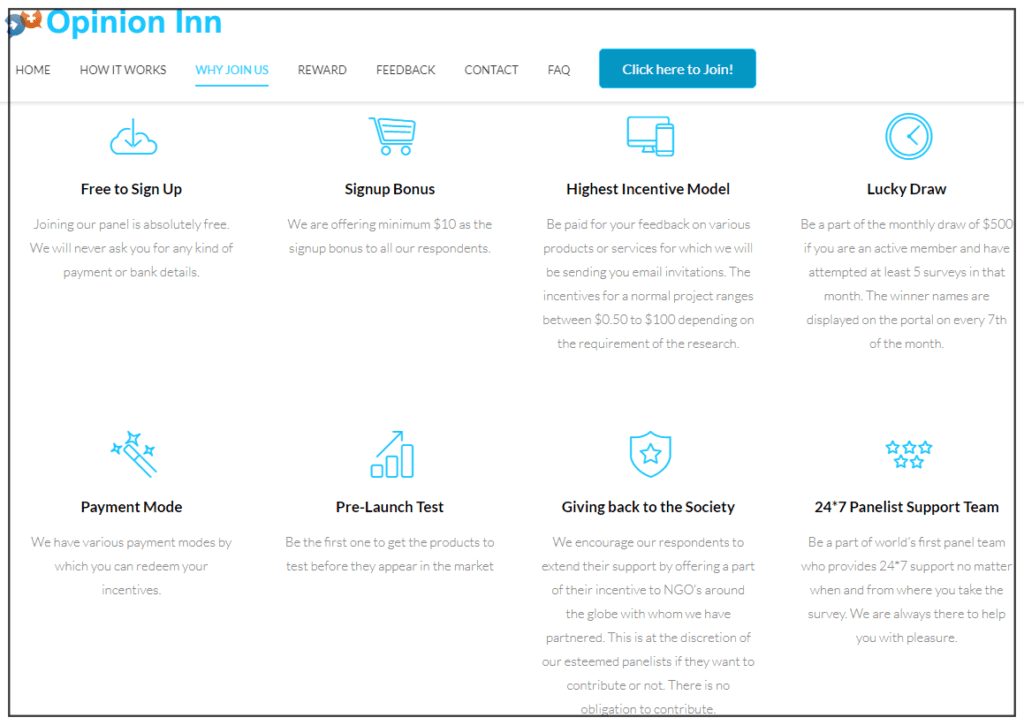 Opinion Inn is a dedicated survey website that was launched back in 2013 and pays its members for giving their feedback.
Dedicated because there aren't any other tasks to occupy your time, which would indicate that maybe it is a legit make money opportunity.
Or maybe because they have been going for nearly a decade, which in Internet terms this is a lifetime.
However, the acceptance process for a survey is complex and often confusing especially as you may have been accepted for one and then thrown out after several minutes of filling one in.
Let me give you an example.
When you first sign in to your survey dashboard you might see something like this…
Looks great because you can see that you might be able to earn $23.50 in a little over an hour.
That's pretty good and you might be thinking all I have to do is 3 or 4 of these surveys a day and maybe earn $100/day.
If you take a look at those surveys you will see they sort of look like they are dedicated to professionals in their chosen industries.
Let me tell you that I got rejected from every one of those surveys and didn't get past the first question.
Take a look at what one person say's on Reddit!

---
So who is responsible for Opinion Inn?
Through extensive research, we couldn't find the actual founder(s) of Opinion Inn but we did find details in the "terms of use" section which mentions Orchid Online Research as their parent company.

Mind you, when we looked into Orchid Online Research we couldn't find any links or reference at all to Opinion Inn.
We did manage to find a founding member of Orchid by the name of Laurel Haak.
However, we couldn't find any mention of the owner of Opinion Inn which we find strange and a bit of a red flag.
When we can't find the owners we usually tell people to tread carefully.
But, let's not jump to conclusions just yet, right?
---
How does Opinion Inn

W

ork?

Opinion Inn is available in most countries across the globe and according to their privacy rules, minors over the age of 13 are allowed to use the site.
Although to cash out and get paid you will need a Paypal account and the minimum age for an account is 18.
So the first thing to do if you don't have one is to create a Paypal account which you can do by clicking here.
Signing up to become a member of Opinion Inn is pretty straightforward and requires a few particulars, such as name, age, agenda, email…
Once you have accepted the email that they send you then you are ready to go.
The first thing you will receive is your $10 bonus to get you started.
There are 2 ways to make money, Surveys…
You will find only certain countries are available for surveys and last I heard it was the UK, Canada, US, India and Australia
Then you'd need to add some additional information so that Opinion Inn can match you with the right surveys.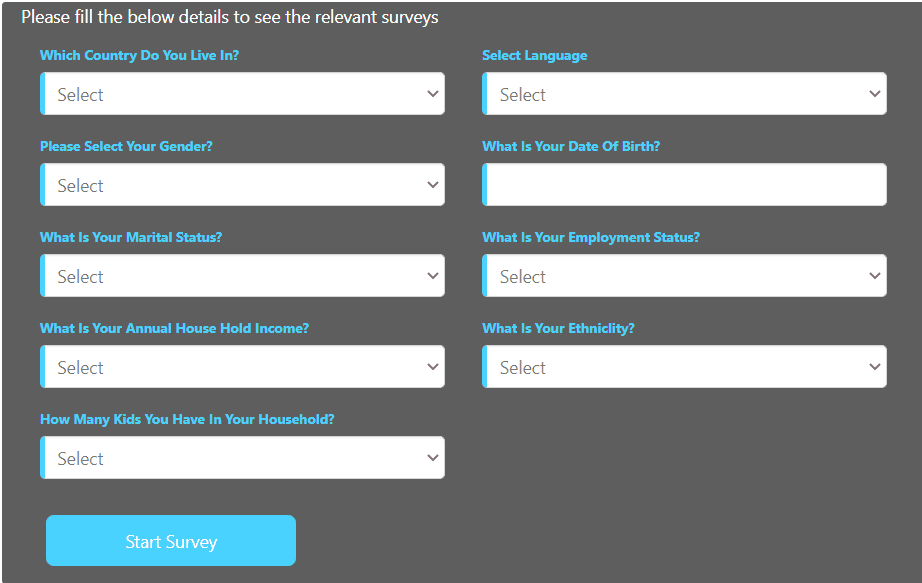 I personally do not think filling in the above details is enough for them to match the right surveys and other details would be required.
In fact, if you click on the "My Profile" tab there's a whole load of categories that you might want to fill in which could save you time in the long run and would open you up to more surveys.
General
Home & Family
Automotive
Employment
Health
Media
Finance
Travel and Leisure
Shopping
Internet
Mobile
Video Games
Sports
Beauty
You don't have to because I wouldn't be happy in giving so many personal details away, but it would help you in the long run.
Of course, once you have done this…
Then hopefully Opinion Inn is going to match you with the right surveys.
So, now you'd select a survey and go through what they call the pre-approved stage which is another process.

I know you have entered all your personal details but now there is another process to go through to finally be accepted for this survey.
You will know immediately after answering each question.

This window I'm afraid you will be seeing a lot of.
Once you have finally gone through the whole process and filled in the survey, then there is an acceptance period which we talk about in the next section.
Even at this stage, you could still be disqualified.
So, what happens when you have filled in a survey and you still get rejected?
Opinion Inn says that this information is not saved, what do you think?
There is also refer a friend…
Normally with survey and reward sites, there would be an affiliate program where you would grab your affiliate link and post it on places like social media.
Once the person clicked and joined through your affiliate link then what usually happens is that you would make a commission from the referrals income.
Opinion Inn does have an affiliate program but there are no details about how it works which is a little strange.
How this works is…
You have to enter the name and email address of the person who wants to join in a form and then it is up to Opinion Inn to send an invitation out.
Not sure just why they'd want to control this the way they are doing because that means more work for them and fewer people joining.
Maybe they will elaborate on this further at some point in the future.
---
Can you make money with Opinion Inn?
It all depends on whether Opinion Inn can match you up to the right surveys and whether you are disqualified or not.
The website states that surveys start from $0.25 and can go up to $20 and sometimes if you are fortunate enough $100+.
It all depends on the length of the survey, with some a few minutes long and some that go up to 20+ minutes.
Based on my previous experience with other survey sites I would look at between $2 and $5 per survey but more on the lower side.
The volume of surveys that you are sent may well be 1 or 2 a day and that's if you are lucky enough.
If surveys are what you enjoy doing then it might be worth joining some other sites as well to improve your earning potential.
So there are a few deciding factors to take into consideration…
Ensure you fill in the entire questionnaire to better your options
It all depends on geographics. The country you reside in
Whether you get disqualified or not
Another thing to be aware of is the timescale for survey approval.
For some surveys, credits are applied quickly within 3-5 days whilst others can take between 6 and 8 weeks.
The latter is down to having to wait for the survey to be closed!
How you get paid?
Once you have filled in the survey and everything has gone through ok, then Opinion Inn will credit your account.
The threshold for redeeming your money is $25.00, which we think is a little steep and requires a lot of patience.
---
Who is Opinion Inn

 F

or?
We have mentioned this earlier but Opinion Inn is available to many countries throughout the world for people who are 18 and over.
But, only certain countries would be eligible for surveys so you might say then that Opinion Inn is not for all the countries stated.
We see this as another red flag.
---
What we liked about Opinion Inn
There were a few things we did like about Opinion Inn which we have highlighted below.
Available in most countries
However, there are going to be restrictions with surveys for a particular country other than, UK, Canada, the US, India and Australia.
Good reviews
Trust pilot gives them a good rating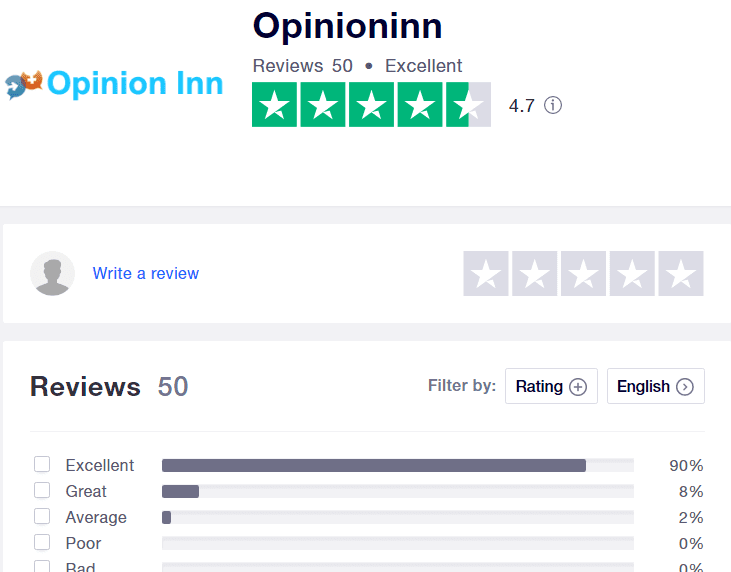 High signing on bonus
We think $10 is pretty good and should entice people into joining and is a good starting point.
---
What we don't like about Opinion Inn
No matter how good an opportunity is you are always going to find something wrong and Opinion Inn is no different.
High payout threshold 
The payout threshold of $25 is high in comparison to many other survey sites which means it is going to take longer to cash out.
Limited earning potential
We have found in the past that these survey sites are difficult to make a consistent income.
Qualifying for surveys is the problem and even when you do qualify there is a good chance that you will still be thrown out of a survey partway through it.
Even when you think you have completed the survey correctly there is still the chance that they will disqualify you.
I found in the past that I'd be lucky if I was given 6 surveys and then found myself not qualifying for any of them.
No owners
When the owners are not visible and hiding you have to ask the question why?
We couldn't even find the links to their parent company either which we did find strange.
---
Is Opinion Inn

a SCAM or LEGIT?
Opinion Inn is definitely not a scam but a legit way of making money online however with the owner missing leaves questions to be answered.
The high threshold may seem not so high to many when you first join but you will find it takes time to achieve.
It is open to most countries but you will find there are restrictions on surveys and which countries will be allocated them.
However, whilst it may not be a scam, this is not an opportunity that we would recommend simply because of the lack of earning potential.
---
The Opinion Inn Review

: Final Thoughts!
Opinion Inn does appear to be a high paying survey site, but that all depends on whether you can qualify for any surveys or not.
Survey sites are in abundance and whilst you can make some money, I wouldn't be thinking about replacing your 9-5 job just yet.
They will frustrate the hell out of you and one thing you will need is plenty of patience because you will be hanging around waiting.
I have tried survey sites in the past and realized very quickly that I wasn't going to be earning enough to do the things I wanted to do.
For that, you need to look at building your very own online business.
But, before you say, "I wouldn't have a clue where to start?"
That's the exact same question that we all ask ourselves, but it really isn't that difficult but it isn't a walk in the park either.
You will have to work, but just look at all the hours you spend with surveys, if only you redirected that energy somewhere else.
Affiliate marketing is a trusted business model that works and can work for you.

---
Feedback, Comments and Subscribe
Anyway, guys, hope you enjoyed this Opinion Inn review and if you did why not spread a little love by sharing on social media.
If you have any questions at all please don't hesitate to add them in the comments section below.
Until next time, stay safe.