Welcome to the
Instagc Review
I guess the reason why you are here is that you have come across those campaigns on social media promoting InstaGC.
Or maybe you arrived here quite by chance.
Whatever the reason, but if it's the former then you are definitely in the right place and in the next few minutes you will know all there is to know about InstaGC.
That way you can decide whether InstaGC is going to be worth your spending time on this site.
I'd like to point out that doing research like you are doing here is the only way to help you save time and find legit make money opportunities.
So, without further ado, let's dive right in.
---
[Affiliate Disclosure: This post may contain affiliate links which means I may earn a small commission if you purchase anything through one of the links. However, this will not affect what you pay!]
---
Product: InstaGC
Founder: Andrew Day
Product Description: GPT Site
Website: www.instagc.com
Price of product: Free
Recommended: No
Summary: If you are looking to make a few bucks then maybe InstaGC is the site for you.
InstaGC is a GPT site that stands for "Get Paid To" do simple tasks, such as download apps, watch videos, fill in surveys amongst other things which we will cover a little later.
For your time, you are rewarded with points that can be redeemed at a later date.
The important thing to note is that all GPT sites have a tendency to pay out poorly and you can end up spending hours with very little reward.
It is also very easy to get your account locked if you do not comply with the rules so it is important to read them first.
However, if you really want to learn a skill that will really make a big impact in your life.

---
If you are sick and tired of SCAMS, Pyramid schemes, MLMs, recruiting, having to purchase stocks, haggling family, friends and customers. Looking for a proven method of making money online, then check out my #1 recommendation. 
---
Internal Summary and Navigation
---
What is InstaGC about and who are the Founders?
InstaGC is a rewards site where you are compensated by way of points for doing simple tasks.
The site was launched in 2011, by Andrew Day and sort of has a mixed reputation.
The name comes from 2 syllables, "Insta" which stand for "Instant" and "GC" which stand for "Gift Cards". Instant Gift Cards!
So the initial basis was to earn points and in return, you'd receive a gift card of some description.
However, you can now accumulate points and convert them to cash and transfer them into your bank account.
They do seem to have a decent following on Facebook with around 250,000 likes and TrustPilot gives it a 3.5 out of 5.0-star rating.
The good thing about InstaGC is that you can redeem your money with a minimum of $1 whereas most sites require a minimum limit of something like $10.
So who is responsible for InstaGC?
Andrew Day started his career as a web and systems developer.
An online entrepreneur, who started his main company, company Day Online Solutions way back in 2007.
Since then he has launched InstaGC, ProxStop and SparkLeads.
---
How does InstaGC

 W

ork?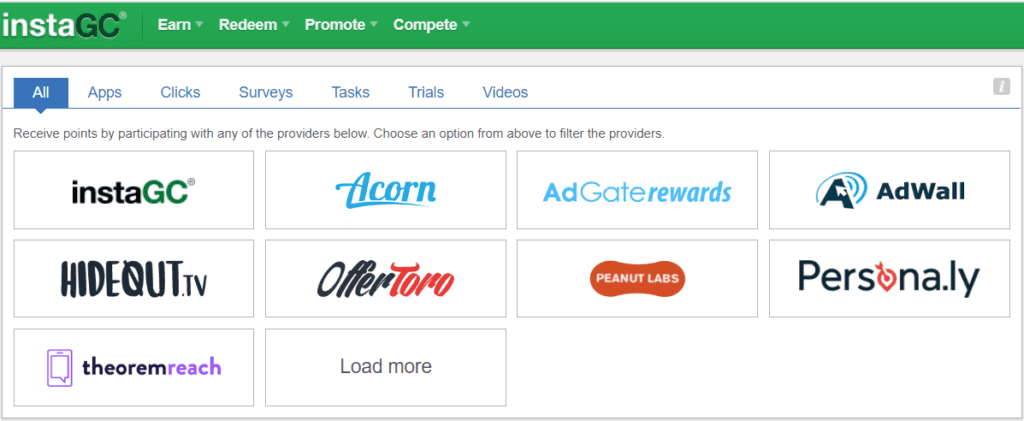 Once you have signed up and filled in a few other particulars such as your address, full name etc then you are pretty much ready to go.
It's just a matter of spending a little time to become familiar with the system first.
There are a number of tasks that you can take part in…
Taking part in surveys
The survey platform that InstaGC use is Theoremreach but thwart with issues for which we wrote a review here.
The problem with most of these survey sites is that they have a tendency to throw you out after you have spent several minutes filling one in.
This is very frustrating and annoying because it can happen at any time, even when you think that you have completed the survey.
All the same, some surveys can pay as many as 120 points which is $1.20.
If you were able to just sit there and take survey after survey then you might be able to build up a few points.
But, that won't happen as you'll be spending a lot of time waiting for InstaGC to send you the next survey.
Watching videos
You can watch videos on InstaGC and get paid a minimum of 7 points per video going up to 14 points.
Mind you watching videos for the sake of watching videos can be a bit laborious, to say the least.
Shopping online
You can shop online but just check with the merchant to see if they have links with InstaGC.
Product testing
This might be one of the better ways to accumulate points on InstaGC.
It might be possible to earn between 100 – 800 points with some testing able to earn as much as 1200 points.
Visiting websites
InstaGC will suggest some websites to visit and for each website that you visit you will be rewarded with 1 point.
Download and testing apps
You can download and tests mobile apps which are mainly free but some do come with a subscription fee.
I would check the terms and conditions before continuing.
Referring other people
You can use promotional banners to promote your affiliate link to others on social media and for your trouble, you would receive 10 points for each person who joined.
You would also earn 10% of everything your referral made except for through any bonuses.
There are other ways to build on your points total which can mean you spending hours on this application.
---
Can you make money with InstaGC?

 
Yes, you can make money with InstaGC
but it all depends on what you interpret as money.
Simply because GPT sites pay out pennies rather than bucks.
However, what is good about InstaGC is that you don't have to build up your points total like many other GPT sites.
The minimum payout is $1 and pretty easy to achieve this and the various ways that you can redeem those points.
Direct Deposit
eCheck
PayPal
Sweepstakes
Gift Cards
---
Who is InstaGC

 F

or?
InstaGC is for anybody who is looking to earn few bucks to help on a day to day basis but don't expect this to replace your day to day job.
---
What we liked about InstaGC
The idea behind these GPT sites is to keep you active on the site as long as possible which they invariably do with all the different activities.
Payout is quick
Most GPT sites have a minimum payout threshold that has to be met which is normally something like $10 and I have seen some at $25 which can take a long time to achieve.
At least with InstaGC that really doesn't apply with $1 being the threshold.
You can even reach this threshold by doing just one survey.
InstaGC has been around a while
They were founded in 2011 and that is a long time for a site to be around on the internet.
Sign up bonus
You receive bonus points for signing up which is only $.10 but at least you are on your way to a minimum payout.
I know earning money online is difficult so I guess many will be happy to see that they don't have to do much more for the minimum payout.
This also means that you can test the payout procedure much sooner to see if you encounter any issues.
Mobile app
Most people have a mobile phone nowadays, in fact, mobiles have overtaken the traditional pc/laptop so it's good they support their own app.
---
What we don't like about InstaGC
I remember the time when I went down this route and tried several of these GPT sites and spent hours trying to accumulate some money.
For some people in countries where money is difficult to come by, just a few bucks can mean so much.
However, there are always going to be issues, no matter how good a company is.
Take too much of your time
These GPT sites can take up a lot of your time and can be very frustrating at times.
Mixed reviews
While Trustpilot do rate InstaGC at 3.5 out of 5.0 there is a mix of reviews where people are complaining of accounts been locked etc.
If you do not abide by the rules then for sure something like this is going to happen.
Gift cards to points ratio
Whilst the points to cash ratio is 100 points = $1 what we noticed with the gift cards is that conversion doesn't apply.
A gift card of $10 would take 1,400 points and one at $50 will take you 7,000 points.
So, what can you do if it is a gift card you are wanting to purchase?
Simply redeem those points into cash, withdraw the cash and purchase the gift card directly from Walmart, Amazon etc
So if you have 7,000 points then converted would be $70.00
That means you'd be able to purchase a gift card for $50 and two for $10.
---
Is InstaGC

a SCAM or LEGIT?
InstaGC is not a scam because it is free to join and you can earn some money however small it may be.
As much as we don't like these make money sites, they do serve a purpose and they do help people out.
You can find a mix of reviews on places like Trustpilot and Sitejabber where some praise the site but also some have had their fair share of issues.
This is to be expected, where often people just do not comply with the rules and end up having their account locked.
We do not agree with the way InstaGC is over-charging for gifts cards.
We have mentioned that it is probably wise to redeem the cash first and purchase gift cards directly from the merchant if it's the gift cards you are looking for.
If you have any issues with this site be sure to get in touch with support here.
---
InstaGC Review

: Final Thoughts!
Sites like InstaGC are a way of life and do serve a purpose but as long as you are perfectly aware that you ain't going to be earning the big bucks then that's ok.
Often we come across GPT sites that are complete scams but InstaGC is not and that's a relief.
You have to remember these sites make the owners a lot of money which was the reason why I decided to find out a better way.
If that is something you might be interested in then you might like to check out Wealthy Affiliate.

---
Feedback, Comments and Subscribe
Well, guys, I hope this review helped you make up your mind whether to pursue this opportunity or not.
If you enjoyed the review please feel free to share it amongst your friends on social media.
If you have any questions for me please add them in the comments section below and we will get back to you.
Until next time, stay safe.