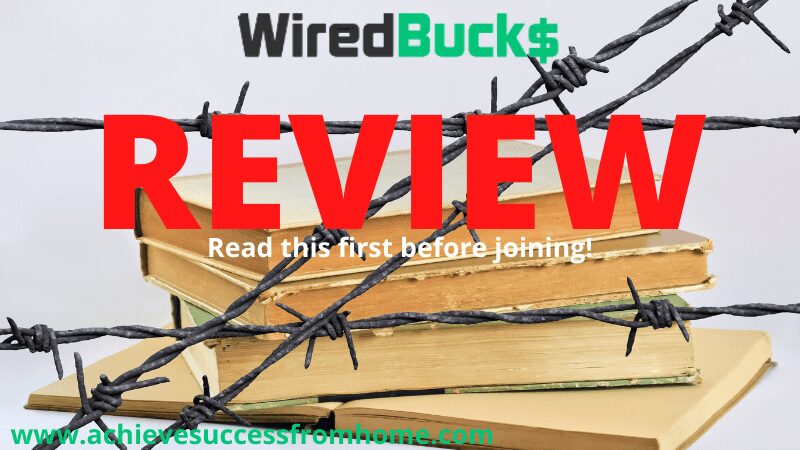 Welcome to this
Wiredbucks Review
.
Everybody nowadays wants to make money online and with so many offers out there people will try pretty much anything there is where they are promising easy money.
Sites like Wiredbucks.com seem like a breath of fresh air when they are offering you money to do very little.
I have spent hours testing sites like wiredbucks.com and take it from me they are extremely hard work, of which I found a total misuse of my time and I'm sure you will too.
What I will tell you is I am not associated with Wiredbucks in any way shape or form and won't be sending you my referral link to join, but what I am here to do is unravel what Wiredbucks is all about and give you a better idea.
So let's dive in.
---
[Affiliate Disclosure: This post may contain affiliate links which means I may earn a small commission if you purchase anything through one of the links. However, this will not affect what you pay!]
---

Product: Wiredbucks
Founder: Unknown
Founded: June 2020
Product Description: Get paid to do activities
Website: www.wiredbucks.com
Price of product: Free to join
Best For: Nobody
Recommended: No
Summary: There are plenty of Red Flags which I have highlighted.
---
If you are sick and tired of SCAMS, Pyramid schemes, MLMs, recruiting, having to purchase stocks, haggling family, friends and customers. Looking for a proven method of making money online, then check out my #1 recommendation. 
---
Internal Summary and Navigation
---
What is Wiredbucks about and who are the founders?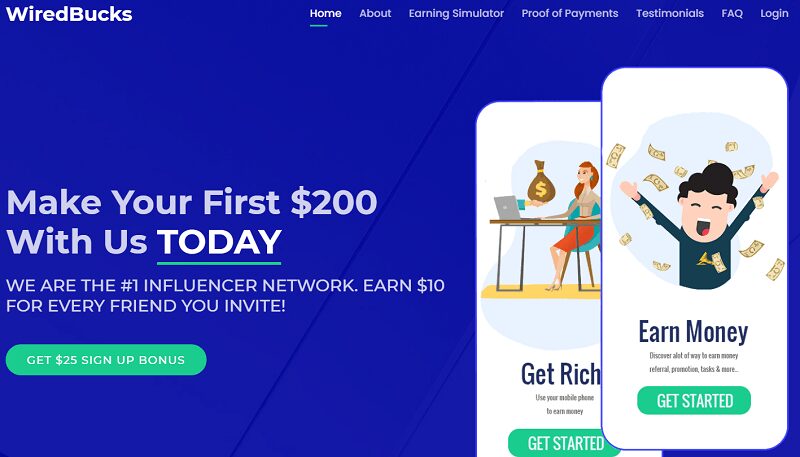 Wiredbucks.com is a GPT (Get Paid To) site that was founded in June 2020, with no reference to the owners.
They claim to be the number one influencer (whatever that means) on the internet and make claims like "Make your first $200 with us today…" just to get you to sign up.
These sites are notorious for grabbing your personal data and passing it to other sites for a fee. Known as Data Dredging or what many people would refer to as Data Fishing.
They claim that just by signing up you are rewarded with $25 and for many that is a large sum but do not be fooled by these sites.
The main emphasis with this site is to get as many people as you know to join.
---
Who is Wiredbucks for?
These sites prey on people who have low incomes, live in countries which are poverty-stricken and people in debt.
With promises of earning big bucks by false advertisements, and when you are struggling to make ends meet you will try anything.
I remember a few years back when I was wanting to learn how to make money online, I found myself trying several of these sites and wasted far too much time only to earn a few cents in any given day.
A few cents or dollars to people who don't have any money can help a lot but this is definitely not the way if you are looking for a way to properly learn how to make money online.
---
How does Wiredbucks work?
From the main console, you will see a number of options down the left-hand side of the display.
Where you can share your referral link on WhatsApp, Facebook, Twitter and Instagram.
Where you take part in tasks for gift cards, mobile phones, grocery vouchers etc
Complete a task against the promotion and you will receive between $10 and $30 which is added to your account.
However, what I have found out through my research and looking at the complaints from members is that this money is not real until it is cashed out, but the problem arises when a member tries to cash out and the payment is refused with memberships cancelled.
More on that a little later!
Promotional posts, YouTube Submission, Instagram Submission, FaceBook Submission, Twitter Submission.
An area which makes it easier to post your referral link.
---
The more people you can get to join the more revenue that Wiredbucks.com will make.
This works by participating in the tasks from the $30 TaskWall for which Wiredbucks will be paid a fee by the advertisers.
---
Wiredbucks: Red Flags to watch out for
If you have reviewed as many products and opportunities as I have then you just know when something isn't right.
Do not believe what others tell you or at least put that to the back of your mind but do your own research first.
Normally with many of these products, there are Red Flags all over the place, find one and the rest will follow.
Find one and any credibility should be thrown out of the window.
Here I have highlighted a few
Fake Testimonials
A quick way to assemble any negative facts is to check out any testimonials that the business offers you and on the very first page across the top, there is a testimonial link.
If there are photographs attached just place the cursor over the image and right-click, search Google for the image.
All the testimonials below are fake as the images can be found on royalty-free image sites like Pexels, Unsplash, Pixabay…

Fake Payments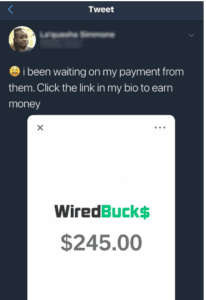 Same with the payments disclosure; the payment that you can see to the right I found on several other similar sites.
Those sites that came up when I did a search were, Click4Cash and CloutBucks.
A quick search for www.Cloutbucks.com and I found that the domain has expired and up for sale.
This fake payment along with the fake testimonials should be more than enough for you take a hike.
Fake Business Address
The address (A108 Adam Street, New York, NY 535022) that Wirebucks.com claim to be at doesn't exist as the zip code is too long.
---
So, what does a #1 Influencer Network actually mean?
Quite frankly this is a term that somebody has dreamt up to attract people into believing that they have stumbled across an amazing high paying website.
They are making claims that their parent company have been active since 2008 and that they have grown wiredbucks.com to more than 200,000 members that have earned over $400 million.
Considering this website came on stream early 2020 and the fact that there is no mention anywhere of a parent company, I find it highly unlikely that they have paid out over 400 million dollars.
They strive to provide straight transparency to its members.
False testimonials and fake payments, does that look like transparency to you?
---
What I like about Wiredbucks
There is literally nothing that I liked about this company.
The fact that it doesn't cost you anything to join is probably the only positive thing to say about Wiredbucks.com.
---
What I don't like about Wirebucks
Fake testimonials.
Fake payment disclosures.
Members are not able to cash out and end up having their memberships blocked or cancelled.
No way of contacting anybody from Wiredbucks.com because the contact form just doesn't work.
There is no mention of a parent company anywhere.
False disclaimer, claiming that they have paid out over $400 million in 6 short months.
---
Is Wiredbucks a SCAM or LEGIT?
It's not very often, in fact, I very rarely disclose an opportunity as a scam, but in this case, Wiredbucks.com is definitely in that category.
In my eyes, a scam would be you paying for a product or service but not getting either, but this is free to join so this wouldn't apply.
However, earning money within this platform and then Wiredbucks.com failing to pay you could be deemed as a true scam.
There would seem to be a pattern here, where everybody who tries to cash out is given this type of notice. Cancelled as a result of fraud stats!
It looks to me that once you have achieved inviting others into this scheme then your worth is no longer required.
---
Wiredbucks Review: Final Thoughts!
The promise of earning the big-bucks is always going to be a hook that convinces people to join but I can't stress enough that you do proper research first before you waste many hours and days.
The promise of easy money online just doesn't exist and what WiredBucks does is they give you false hope and then they take it away.
When you see the promise of easy money, that alone should stop you in your tracks because there literally isn't such a thing other than winning the lottery.
Having said this I did in fact waste time on similar sites a few years ago, I guess until I decided what I really wanted to do.
I decided to look into affiliate marketing and found this to be the right fit for me and it could be for you too.
So if you are serious about learning how all this works then I can highly recommend this training platform from Wealthy Affiliate.
It is 100% free to join with no credit card details asked for, so you can check out the site first to see if this would be something that might interest you and besides you'd have me there to help you all the way.
---
Feedback, Comments and Subscribe
Well, after reviewing many products online this was by far the easiest to declare a product that I definitely would not recommend.
If you enjoyed this review then show some love and share it amongst your friends on social media so that they can avoid this type of so-called opportunity.
Any questions at all or maybe you are or have been a member of WiredBucks and want to share your experience please add your comments below.
I'd love to hear them!
Until next time, stay safe.