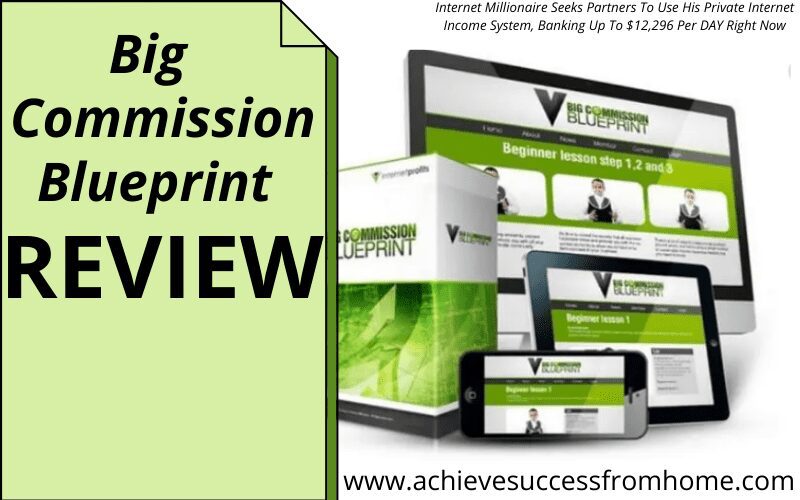 Welcome to the
Big Commission Blueprint Review
We have seen a fair amount of interest recently with Big Commission Blueprint and thought we'd check it out and see what all the fuss was about.
This is an affiliate marketing system that claims to teach you how to make money online by promoting high-ticket offers.
But is it all a clever marketing ploy by Dean Holland to get you to promote his product and make him a ton of money?
Don't worry because all will be revealed in this BCB review.
Before we get started, I'd like to mention that…
I am, however, not associated with this product in any way and therefore what you will get from us is an unbiased review.
That way you can decide for yourself whether the Big Commission Blueprint is a right fit for yourself or not.
With that said, I'd like to point out that it is good you are researching BCB first before making a commitment to buy.
That tells me that you are serious about finding a legitimate way to make money online.
So, with further ado, let's get right into it.
---
[Affiliate Disclosure: This post may contain affiliate links which means I may earn a small commission if you purchase anything through one of the links. However, this will not affect what you pay!]
---
BIG – COMMISSION – BLUEPRINT
Product: Big Commission Blueprint
Founder: Dean Holland
Product Description:  Affiliate marketing training course
Website: www.bcbsystem.com
Price of product: $19.95 – $4997.00
Recommended: No
Summary: The training in Big Commission Blueprint is pretty decent and you can get a lot out of it, especially if you are new to making money online.
The product comes with some hefty upsells though which are not explained until you purchase.
There are 11 modules which will be explained a little later, but this is the type of training where you have to pay the full price in order to get the full benefits, which we will be discussing.
But, you better have deep pockets because it isn't cheap.
However, if you don't have a spare $7,000 lying about and let's face it who does?
Then why don't you check out this training course that is so different on many levels and without the massive price tag?

---
If you are sick and tired of SCAMS, Pyramid schemes, MLMs, recruiting, having to purchase stocks, haggling family, friends and customers. Looking for a proven method of making money online, then check out my #1 recommendation. 
---
Internal Summary and Navigation
---
What is Big Commission Blueprint about and who are the Founders?
Big Commission Blueprint is a training platform that specializes in teaching affiliate marketing and how to promote and sell big-ticket items.
In order to do this, we have to target a specific crowd of people that might be interested in shelling out large sums of money.
If you thought selling small-ticket items was difficult then you will not be surprised when I tell you this is a whole new ball game.
Remember, when watching experienced marketers like Dean making presentations like this, they are experts at it.
So, do not be taken in by all the flash indications of wealth and their inflated income claims.
You can check out the BCB Presentation here given by Dean Holland himself!
Who is Dean Holland?
Dean is a British entrepreneur who has become very popular within the online community.
He started his internet marketing career way back in 2005 and like many struggled until he found his way.
Decided in 2010 to start Internet Profits which focuses on helping people like you and me to break into the online marketing industry.
Although you won't find Big Commission Blueprint there amongst the other products he promotes.
He discusses the many failures en route to finding what worked for him.
He does explain that affiliate marketing can be a tough industry especially if you are not taught in the right manner and isn't a "Get-rich-quick-scheme".
However, I found the sales presentation somewhat misleading especially for someone new coming into this industry, but more on that later.
---
How does Big Commission Blueprint

 W

ork?
If you listen to the actual 47 minutes sales presentation he talks more about himself and how he got to where he is now.
Rather than discuss what the training in BCB is about which I didn't like.
There is nothing extraordinary about his course other than the mention of promoting high-ticket products.
These are the basic steps that you would need to take anyway.
Choose a niche, an interest, a hobby
Create a website or blog to showcase your niche
Creat content and promote products in his case high-ticket offers using affiliate links
Make commissions when you make a sale
Email marketing
He will use an email list to promote his campaigns and over the years Dean has probably accumulated a few hundred thousand subscribers.
Like people who are looking for the next big thing that he is going to promote.
In essence, his training is no different to many other courses you can find online for a fraction of the cost.
---
Big Commission Blueprint

Features and Pricing 
What everybody should do after watching this type of sales presentation is take a break and digest just what it is you are getting yourself into.
Instead of jumping right in!
They all start with a ridiculous offer, in this case, $19.95.
What this allows, is for you to get a glimpse, that's all, and this is where the sales funnel will kick in and take over.
3 upsells are presented to you and might feel that in order for this all to work as it should that you will need to purchase them.
Training videos by Dean himself @ $197.00 – A collection of 8 professionally recorded videos. If you decline this offer it will be heavily discounted down to $99.00.
Social media training – A strange one here because there is no mention of the actual price.
One thing I wasn't prepared to do was spend the time sitting through another sales pitch only to find out that I didn't need it anyway.
Just remember this, they now have your credit card details so do not get trigger happy because you might get billed.
Affiliate members club $47.00/month – This gives you access to additional training and tools.
Becoming a member allows you to promote Big Commission Blueprint and make further commissions.
---
The Actual Big Commission Blueprint Members Area
There are 11 modules that come with Big Commission Blueprint which we are briefly going to look at here.
Module #1 – How the system works
An introduction by Dean Holland himself about the system and how it works, what it has done for his business and what it can do for you.
He goes on to explain the process of building an email list and how he does this by offering something FREE through a single webpage.
Which is commonly known as a landing page?
This FREEBIE has to be of quality and something that people want, but more importantly, you are after a certain type of subscriber.
Once the person has entered their details and subscribed you will normally receive a sequence of emails so that a relationship can be built.
It might be a few days down the road but there will come a point in the email sequence when an offer will appear.
A low-ticket offer, like the $19.95, the initial purchase of Big Commission Blueprint.
Once you have purchased this product then additional offers will be promoted to you which increase in value which are known as upsells.
This is not rocket science and it certainly isn't some secret method that Dean has dreamed up either.
Now for this to work correctly the products on offer have to be of quality for your subscriber to purchase.
Otherwise, your subscribers might unsubscribe from your email list.
Providing the product is of quality and your readers like then your readers might purchase additional products way into the future.
All about treating your email list with respect and building a relationship.
Module #2 – Having the right mindset
All about planning ahead and having the right mindset.
Something that many people don't think about, me included when I first started in affiliate marketing and nearly the reason why I was going to call it a day.
Dean goes into details about what you want out of life and how to train your mind to focus in the right manner.
Module #3 – Your income blueprint
All about the numbers and how you are going to achieve a certain lifestyle promoting his products.
Module #4 – Creating your free account
This will allow you to promote Big Commission Profit and for everyone who purchases through your affiliate link you receive a small commission of $10.
Module #5 – Joining the affiliate members club $47/month
As this is a membership site then you will feel obliged to join which opens up the whole course.
A recurring monthly fee which now increases your spending to $583.95
Module #6 – Upgrade to iPro Platinum for $1997.00
This module comes with additional training and tools to help you promote and make sales with this product.
This is a one-off fee that allows you to make a $1000 commission each time someone purchases this module.
Module #7 – Upgrade to iPro Masters for $4,997 
As above this module comes with additional training and tools to help you promote and make sales with this product.
This is a one-off fee that allows you to make a $2500 commission each time someone purchases this module.
There are many affiliate marketing courses available that don't come with a price-tag as BCB does.
Module #8 – Traffic and what works
Without traffic, people are not going to see your offers.
You can't make sales and therefore won't make any commissions.
Probably the most important topic if you are looking to succeed as an affiliate marketer.
Here you will learn about free and paid traffic.
Dean goes into details about using forums like Warrior for getting free traffic albeit very slow and you have to keep constantly at it.
This takes time and patience and a major reason why people fail.
People want to see results quickly and Deans goes into PPC which is Pay-Per-Click advertising, but you better know what you are doing.
Otherwise, this could cost you dearly.
Dean talks about Solo Ads which for me I wouldn't recommend.
This is a paid method where you send your campaign + money to a person who promotes the offer to their email list.
These email lists as far as I am concerned can't be trusted.
Just think about it.
People in these lists must be totally peeved with the number of offers that they receive on a daily basis which a high percentage just ignore anyway.
In fact, you and I are on such lists.
Have you not noticed the offers you receive often and you can't understand why?
Take it from me Solo Ads are a complete waste of your time and money.
If you are going to focus on paid advertising I would be looking at Google, Bing and Facebook.
In this module, Dean talks about the strategy he used to make his first sale.
Module #10 – How to scale up
Scaling up is all about what you need to do when your campaigns are starting to work and generate revenue.
Normally means increasing the budget, so what you are earning goes back into your campaign.
Module #11 – Where to now and completion bonus
So what do you think?
Is it worth the $7000.00, actually $7,577.95 price tag?
Let's Recap 
If you are serious about becoming a member of Big Commission Blueprint and looking to fully benefit from the course.
You are going to have to go all-in, meaning it is going to cost you around $7577.95.
Mind you the following year will only cost you $583.95
You need to own the products first, otherwise, you won't make a commission on the sale of…
iPro Platinum valued @ $1997.00
iPro Masters valued @ $4997.00
That's you missing out on $3500.00 in commissions.
In addition to the initial costs, you need to take into consideration how much you are going to be paying for Traffic amongst other things as well.
---
Who is Big Commission Blueprint

 F

or?
BCB is for anybody who has money to burn.
No seriously, it's a high-ticket product that I would not recommend to anybody new to the make money online niche.
It's going to cost some serious money to get it off the ground with no guarantees.
It's going to take an experienced marketer to get this to work in the manner it should.
---
What I like about Big Commission Blueprint
There is an abundance of training courses available online that are far better than Big Commission Blueprint and cost much less.
If a product was so good then why not promote it to the public for free then allow them to make a decision whether to purchase or not.
Money-back guarantee
It comes with a 30-day money-back guarantee which is always a good thing, but I would seriously check out the rules for a refund first.
I have seen products in the past that will only refund your initial investment, so in the case of BCB, this would be $19.95.
You wouldn't want to be in a position where you'd invested the full amount of $7000 only to be told that the refund didn't cover those upsells, would you?
Basic training
The training is pretty basic at the initial buy-in cost of $19.95 and it's only when you purchase the upsells that the course really opens up.
That's something I don't recommend if you are new at affiliate marketing and looking for some effective training.
---
What I don't like about Big Commission Blueprint
The big-ticket product is Big Commission Blueprint and whilst Dean does promote it to anyone, even complete beginners, this really (in my eyes) would only be for experienced marketers.
Paid Traffic
I think we'll agree that paid traffic gets you quicker results, the problem we have is there are many traffic sources.
I found the course wasn't in-depth enough with this topic and could seriously make a dent in your budget if you got it wrong.
Solo ads are what Dean talks about but that wouldn't be my choice and I think I covered that earlier in the review.
Hidden costs
Upsells are always a problem for me but more so with BCB because you are sort of forced into purchasing them to make the whole system work.
Particularly the 2 of the high-ticket products which you have to purchase if you want to make sales and commissions on them.
After all the course is about high-ticket offers which you need to purchase first before you can promote them and make commissions.
Where are the great testimonials?
Testimonials are somewhat lacking and something that I go looking for first otherwise what is the point.
Reviews and testimonials are what allow you to make a firm decision to purchase or not.
Unrealistic expectations
Everybody loves good rags to riches story but is the sales presentation just that a story?
Let's be fair with Dean and assume that what he is saying is in fact true about his journey but his income claims are certainly unrealistic.
Certainly for complete beginners anyway.
Paid to play
The whole course is about promoting high-ticket products, specifically the 2 iPro products that come with Big Community Blueprint.
But, to promote these products you have to first purchase them otherwise you are going to miss out on commissions.
It's only when you purchase these products that the course opens up and goes into more details giving you the additional information that's required and key to your success.
It's also a big risk with no guarantees.
---
Is Big Commission Blueprint

a SCAM or LEGIT?
Like always, it's down to each individual to determine what their version of a scam is.
Big Commission Blueprint is not a scam, but for me it's overpriced and unless you pay for the upsells you just aren't going to get the benefits of the course.
The training is ok if you are looking for some basic information.
However, this program is all about selling Big Commission Blueprint.
In other words, Dean wants you to go all-in and purchase his products but he also wants you to promote them as well.
So, is it all about Dean?
---
Big Commission Blueprint Review

: Final Thoughts!
This is definitely for experienced affiliate marketers who know what they are doing and who also have the money.
If you don't have the $7000 that's required then this program is not for you, but even if you did, would you be prepared to risk it?
There is absolutely no need to pay vast amounts of money to learn affiliate marketing.
I have been a member of Wealthy Affiliate now for 3 years and has been very good to me.
I will still be here in the next 3 years because you get everything, a great community, all the tools, training, support, it's free to join, no upsells, no credit card details and no BS.
Has to be worth at least a look, right?

---
Feedback, Comments and Subscribe
I hope I answered most of your questions about Dean Holland's Big Commission Blueprint and that you found this BCB review helpful.
Like always, if you have any questions about the course or anything in general just leave a comment in the below section.
I read all my readers comments and will get back to you at my earliest convenience.
If you found the review helpful, then feel free to share it amongst your friends.
Until next time, stay safe.