Welcome to my Ipro Academy review
If you are looking for an online business opportunity and you need help to decide on which route to take.
You might like to take a look at Fred Lam's Ipro Academy.
But before we get started we'd just like to inform you that we are not associated with Fred Lam or his Ipro Academy.
This means we are not getting paid for this review.
That means that what you are about to get from us is an honest, in-depth account of who Fred is and what Ipro Academy can offer you.
Then you can decide on your own merits whether Ipro Academy is right for you.
In the next few minutes, you will know whether Ipro Academy is a scam or a legit opportunity.
Well, let's get started.
---
[Affiliate Disclosure: This Ipro Academy Review has been thoroughly researched from information and testimonials that are in the public domain. This post may contain affiliate links which means we may earn a small commission, however, this won't affect what you pay!]
---
Product: Ipro Academy
Founder: Fred Lam
Website: www.iproacademy.com
Product Description: Training platform
Cost to join: Free – $997 or become an Ipro Premium member for $20/month and get access to all the courses.
Recommended: Maybe
Summary: Fred Lam is a popular online marketer who created Ipro Academy as a training platform.
This is a place where you can find all the programs and courses that he is involved with.
If you are new to making money online then this platform could be what you are looking for.
With so many dubious opportunities online in the make-money niche, it is extremely difficult to find the right opportunity.
Whilst there are 2 memberships, Free and Paid, you will still have to pay for some of the courses as they are not included within the paid membership.
Therefore we would suggest checking out the courses first before becoming a paid member.
Ipro Academy Review – TOC
What is Ipro Academy About?

Ipro Academy is a training platform that came onto the scene in 2015 where you can find as of this review 17 training courses.
The courses teach you many aspects of internet marketing which is great for people who are new to making money online.
The courses cover a wide array of business solutions such as Facebook mastery,  Dropshipping, Google Ads, Email Marketing, YouTube Ads plus many more.
The training platform is constantly having courses added and updated and we feel that you are getting real value.
So if you are new to all this then you are probably going to learn some useful skills that you can apply in the real world.
The idea behind iPro Academy is to provide an education platform with current skills which is constantly been added to.
Who is The Creator of Ipro Academy?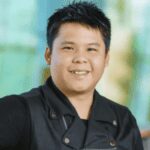 Fred Lam is the creator of Ipro Academy, an online entrepreneur well respected amongst like-minded entrepreneurs.
Originally from Hong Kong came to Canada with his family when he was very young.
Started his first business in 2007 when he founded iPro Interactive Marketing although that was dissolved in 2014.
In the early years whilst struggling he spent some time as a dishwasher until he discovered how to make money online.
Since those days he has accumulated a wealth of experience
He is the creator of many products, can be found on Udemy and is an author of several books.
Apart from his Ipro Academy, there are many other projects that keep him busy.
Water Liberty
Trees For The Future
Lam has a Youtube channel with over 90k subscribers and millions of views, where you can find over 340 videos with all sorts of free information.
You can get a good feel of his teaching style if you head over to his Youtube channel.
What do They Teach at Ipro Academy?
As we have already mentioned Ipro Academy is an education training website where you can find an assortment of courses.
Covering many aspects of the internet marketing arena.
There is a big catalogue of courses on the website which are constantly been added to and updated.
Who is Ipro Academy For?
Ipro Academy is for anyone who is looking to branch out and start an online business.
If you don't have a clue about which route to take it might be worth heading over to the iPro Academy website for some inspiration.
What you must know is that you will have to work hard with any of these courses in order to make things happen.
How Much Does it Cost to Join Ipro Academy?
There are 2 memberships, you can join for free and have access to a handful of free courses.
Or you can join and become an Ipro premium member which will cost you $20/month.
This will give you access to all the courses.
If you decided to not become a premium member then the courses would have to be paid for individually.
Which are between $29 and $997.
So for the premium membership, you have access to over $4,500 worth of training which is a good return for your money.
It is clear that Fred Lam did in fact market his courses for the usual amounts that we normally see online such as $997, $1997…
It's great to see that he has made a complete u-turn where you get everything, even one-on-one coaching for just the $20/month.
There are no contracts and therefore you are free to end your subscription fee anytime.
What do you get with Ipro Academy?
If you are looking for some real training then you really need to pay for the monthly membership otherwise the information is only going to be basic.
But that might not be an issue especially if you have no idea of what the course is about.
Get access to the entire catalogue of courses
Weekly live Q&A sessions by one of the coaches
Access to weekly mentorship with Fred Lam
Access to an hour of coaching with Fred Lam
Discounts on any future Ipo Academy events
Exclusive third-party deals on programs and apps
Over 100 hours of training videos
Now let's take a brief look at the courses that are currently available…
Marketplace Engine – $696 
A course that teaches Drop-Shipping using FREE marketing strategies also comes with a 90-day money-back guarantee.
According to the website, this course isn't included with the premium membership so you will have to pay for this.
What you get with this course…
Marketplace Workshop Recordings
Marketplace Engine Academy
7-Week Marketplace Masterclass
High-Ticket Product Vault
Invitation To Marketplace Mastermind Forum
Zero-Up Software Access
Google Playbook Display – $297
This is a complete guide on how to use Google display ads and turn them into a profit-generating business.
This platform is often neglected mainly because of cost, but around 93% of people use Google nowadays is a no-brainer if you know what to do.
Dropship Leads Academy – $497
Learn how to find leads that cost next to nothing and turn those leads into as much as $50 profit per lead.
Full Training & Systems
Client Hunting Strategy
Local Facebook Ads Domination
Onboarding Checklist
ECOM Challenge – $20
This is a course where the challenge is to create a print-on-demand business within 21 days using Shopify as the fulfilment warehouse.
You can read about a review we created here about the Ecom Challenge.
Facebook Leads Formula – $97
Learn how to master a 3-step formula to build an email list rapidly.
Email marketing can be a very profitable way to generate passive income but often this can take years to develop.
Coding For Profit – $27
Learning how to program is not a requirement nowadays unless you are looking to do something different.
Shopify themes are basic and have limitations and this course teaches you how to modify them through HTML, CSS and JavaScript.
Here's what you get with this course…
Maximise Your Results With Simple Coding
The Key Fundamentals To Coding Success
Understanding Html For Your Store
How To Use CSS To Customize Your Store
The Ins and Outs About Javascript
Understanding The Liquid Language That Shopify Uses
How To Remove Unwanted Products From Search Results
Customizing Your Product Page To Increase Conversions
Easy Edits To Eliminate Promotional Products From Related Products
How To Easily Customize Your Add To Cart Button
As of this review, you can find the remainder of the courses available at Ipro Academy…
Facebook Playbook Advanced – $97

Google Playbook Basics – $97
Chatbot Bootcamp – FREE
6 B.S. Framework – $47
Ecom Studio – $7
Bing Ads Playbook – $47/$97
Facebook Playbook – $7/$47
Print Profits Bookcamp – FREE
Print Profits – $997
Zero Up Lite – FREE
Zero Up – $1497
To Take a look at the catalogue of programs and courses just click on the link here.
Is Ipro Academy a Scam?
Is Ipro Academy a scam? Absolutely not!
Fred Lam is a legit entrepreneur who appears to know his stuff and should be commended for creating a training platform like Ipro Academy.
Whilst the number of courses is limited if you can find a course that would cost you $1k+ that's included within the paid membership then that's great.
However, as we have pointed out some of the courses do have to be paid separately and aren't covered by the $20/monthly membership fee.

Ipro Academy PROS and CONS
PROS
Fred Lam Is A Legit Internet Entrepreneur:
Fred Lam is a serial creator of many products and courses and a popular marketer who offers a lot of free information.
CONS
Limited Number Of Courses Available:
As of this review, there are 17 courses available with most of them offering basic information.
The Paid Membership Includes All Courses:
Currently, the free membership only offers you 3 courses which is hardly going to teach you anything.
The paid premium membership which costs $20 a month gives you access to all the courses.
There are no refunds but the membership can be cancelled at any time.
Although Fred Lam is popular on Facebook and his YouTube channel we couldn't find any real information to confirm who he is.
Or whether he actually has the type of wealth that he claims.
We also could not find any third-party reviews from past and present members.
Support Doesn't Appear To Be Great:
As far as we are concerned help and support should be right up there when it comes to purchasing any product or service.
This is what makes or breaks any product or service.
Lam's website holds all his programs and services there which is not good.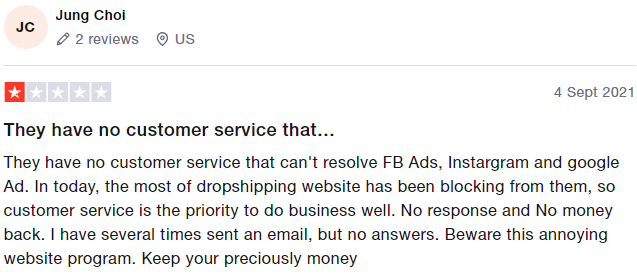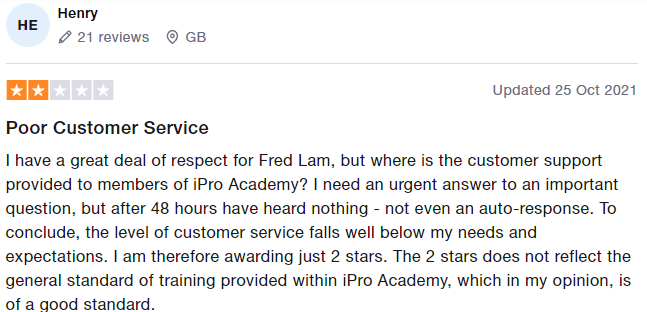 Ipro Academy Review – Final Thoughts!
We have come across several internet marketers who have adopted this type of training platform and turned it into a membership site.
With the likes of Udemy which also covers these types of courses and in most cases a hell of a lot less money.
In fact, at Udemy there is no membership fee and you can find upwards of 100k courses that are available which are heavily discounted.
We are not trying to deter you away from the iPro Academy, we are just mentioning other alternatives.
Lam may be a popular entrepreneur but when we see this type of marketing it just seems that he is trying to squeeze as much as he can from you.
So before you decide to go with Fred Lam we would consider you check out alternatives before making a commitment.
If you are interested then we might have something for you in the next section, so please stay with us because we would love to share what we do.
How we Make Passive Income Online?
Having a business that creates a passive income is the dream of most.
It's where once your business is up and running you don't have to intervene much as it generates 24/7.
There are many business models that allow passive income but the one we would recommend is affiliate marketing.
Where you are allowed to promote and sell pretty much anything you want with very little work involved when it comes to customer orders.
In fact, all you have to do is connect the customer with the merchant and everything else is taken care of for you.
The company that supplies the training is Wealthy Affiliate and they have been heavily involved in developing thousands of successful marketers.

Fred Lam Ipro Academy Review FAQs
Is Fred Lam's Ipro Academy Worth The Money?
There are currently 17 courses on the Ipro Academy website which range from between $29 and $997 with a few free courses in the mix.
If you join the Ipro premium membership which is currently $20/month then you get access to all the courses.
I guess then that you could say that you are getting value for your money because you can cancel at any time.
Where Is All The Great Feedback?
Unfortunately, we couldn't find any real positive feedback from past and present members which we thought surprising.
Especially as he has such a big following on social media.
Can You Really Start An E-commerce Business With $100?
You need a considerable amount of money invested, so no $100 is just not going to cut it.
Getting started with an advertising cost of $5/day is just pure BS and then you have the margins that you are going to make per product.
You will need to purchase tools such as an autoresponder and landing page creator plus other tools to make your job easier.
What Is E-commerce Examples?
There are 6 different types of e-commerce business models.
Online stores like Shopify, Etsy, Ebay and Amazon are examples of e-commerce sites.
Feedback, Comments and Subscribe
Ok guys, thank you for being so patient and hanging on till the end of this iPro Academy review.
We hope you got some benefit from this review and remember, any questions just add them in the section below and we'll get back to you.
Once again thanks and stay safe.