Welcome to What is the Blue Edge Financial
If forex or crypto trading interests you then this company might be worth a look.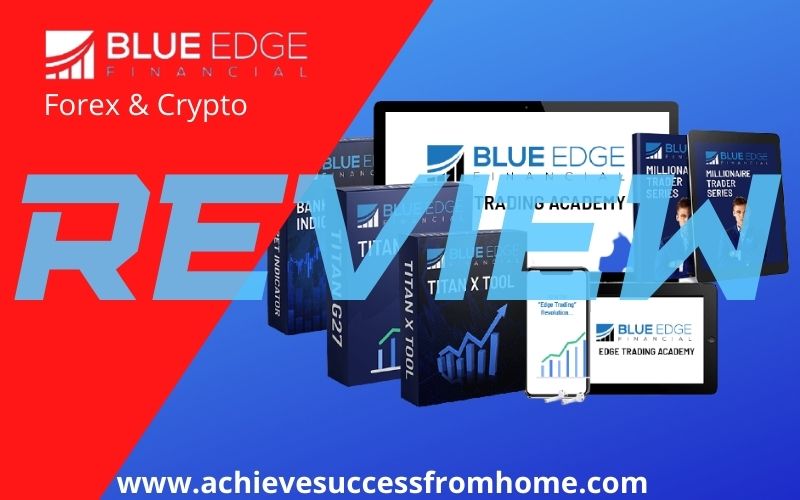 This company has been on our radar for a while now so thought it was about time that we took a look and see what all the fuss was about.
We can't stress enough that thorough research is paramount when researching online opportunities.
It's a sure way to avoid the vast number of scams and help you find legit opportunities.
Whilst we entered into this research with optimism it didn't take us very long to decide that this opportunity would not be a wise one to invest in.
Before we get started we'd like to point out that we are not associated with Blue Edge Financial in any way.
This means that what you will get from us is an unbiased review of all the facts and whether Blue Edge Financials is a scam or not.
This hopefully will put you in a better position to decide whether to give this business opportunity some further research.
With that said, let's get started.
---
[Affiliate Disclosure: This Blue Edge Financial Review has been thoroughly researched from information and testimonials that are in the public domain. This post may contain affiliate links which means we may earn a small commission, however, this won't affect what you pay!]
---
Product: Blue Edge Financial
Founder: Adam Wenig, Joe Hicken, Tyler Turner
Website: www.blueedgefinancial.com
Product Description: Forex and Crypto MLM
Cost to join: 7 days free trial followed by a $147/month membership fee
Recommended: Maybe
Summary: Trading currencies and crypto are highly volatile and you should tread carefully because you stand to lose a lot of money.
In fact, my suggestion to you would be to find a reputable broker and stay away from multi-level marketing businesses.
In this case, it's a 3-way business, currencies, crypto and recruitment.
Recruitment is the key element here.
So, if you excel at recruiting then it doesn't matter whether you can crack the code with trading currencies or crypto.
As long as you know beforehand that the top 1% is where the money goes then at least you know what you are letting yourself in for.
An Alternative Solution: If it's a business opportunity that you are looking for where the risks are zero then the link below might be of interest.
Blue Edge Financial – TOC
What is Blue Edge Financial and who are the founders?
Blue Edge Financial is a multi-level marketing business that operates in the Crypto and Forex markets.
They offer Crypto and Forex education along with an opportunity to make money through their affiliate program.
Founded in September 2019 by three individuals,  Adam Wenig, Joe Hicken and Tyler Turner.
However, these guys come with zero knowledge in this industry!

Adam Wenig…
A first look at Adam and you would probably be saying something like, "This guy is hardly out of nappies, why would I listen to him?"
I mean come on guys, just what experience has he got?
Other than a few photos and mentioned amongst people like Tony Robbins then there isn't a real lot about him.
Yet, here he is trying to sell you a business opportunity trading currencies and crypto.
One thing we noticed is that his Linkedin account relates him to Wenig Enterprises LLC.
As far as we can see was a dummy corporation registered in the UK but since 2019 has been dissolved.
Why would anybody set up a company outside their own country if it wasn't for some unscrupulous dealings? Well, we'll leave that with you!
Joe Hicken…
There is very little about Joe Hicken, other than he has spent time in places like Cambodia as a language teacher.
He can also be found on the education platform Udemy as a fitness trainer which you can see here.
So his background is 9 months in sales, language teacher and as a personal trainer.
All great skills to be running a business in Forex and Crypto wouldn't you think?
Not sure what skills allow him to be in product research and development but hey who am I?
Tyler Turner…
Once again there isn't much about Tyler Turner other than his Facebook account and that the Blue Edge Financial website states he is responsible for education.
So what have we found out here?
That neither one of the three founders have any background knowledge in software, forex or crypto trading.
But, you are to believe what they tell you as gospel.
I joined their private Facebook group to see what sort of activity was going on in the background.
With over 10k members the number of posts averages at 1 post a day.
As we understand a lot of the posts are censored so that could account for the number or lack of posts that we are seeing.
Not a good start at all but maybe it will get better.
Is Blue Edge Financial a Pyramid Scheme?
According to the FTC, a business would be declared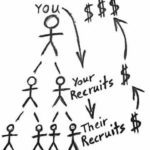 a pyramid scheme if the intention.
Was to pay associates or members for recruiting others into the scheme.
Without a product or service that had retailable value.
In other words, a product or service that had no value at all.
Blue Edge Financial claims that any trades are done externally through reputable brokers and that any money is handled by brokers.
Could using a broker be classed as a service that had value?
Well no, because all you are doing is "Gambling"
Blue Edge Financial offer what they call education which is handled by Tyler Turner who has no previous experience with Forex or Crypto.
So, is Blue Edge Financial hiding behind a product (education) that has no sellable value? We believe so but we'll leave that for you to decide.
Trading the markets is not something you can pick up through reading a few books and I certainly wouldn't be trusting the software either.
You might like to check out this short video…
How does Blue Edge Financial work?
Blue Edge Financial is a software platform that offers education in trading the markets.
There are 3 options that you can take when you join.
Blue Edge Forex
Blue Edge Crypto
Blue Edge Funding
The top 2 are self-explanatory.
Pay particular attention to the funding option, this is where you are funded by Blue Edge themselves.
Which comes with several funding programs ranging from $297 – $997.
There is also an affiliate program that you would be part of when you become a member and recruitment is key here.
What you get with Blue Edge Financial
Blue Edge Trading is a software and education platform that offers training through the various modules that come with your membership.
We are not going to be going into details because whatever we say is going to be meaningless to you.
We have listed them below…
Module #1 – Introduction to Forex
Module #2 – Forex Basics
Module #3 – Essential Chart Knowledge
Module #4 – Support and Resistance
Module #5 – Japanese Candlesticks
Module #6 – Fibonacci
Module #7 – Moving Averages
Module #8 – Popular Indicators
Module #9 – Leading and Lagging Indicators
Module # 10 – Chart Patterns
Module #11 – Pivot Points
Module #12 – Breakouts and Takeouts
Module #13 – Time Frames
Module #14 – Trading the News
Module #15 – Develop a Trading Plan
Module #16 – Styles of Trading
Module #17 – Building Your Trading System
Module #18 – Keeping a Trade Journal
Module #19 – Metatrader 4
Module #20 – Risk Management
Module #21 – Position Sizing
Module #22 – Stop Losses
Module #23 – Scale in and Out of Trades
Module #24 – Currency Correlation
Module #25 – Final Advice
Bonus #1 – Titan G27 – A.I. Powered Trading Software
Titan G27 is Blue Edge Tradings' artificial intelligence trading software that they believe is the world's most advanced trading software.
This software comes free with your membership fee.
Now the actual traders on Wall Street and the Stock Exchange are using software that would cost millions and they would have a massive development team to ensure everything runs smoothly.
Yet, we are to believe that Titan G27 is the most advanced software on the planet.
Bonus #2 – Banks Secret Indicator
According to Blue Edge, around 95% of retail traders are doing it wrong and what this software highlights are those trades so you can do the exact opposite.
Bonus #3 – Titan X Tool
Titan X Tool was designed to deliver a smooth equity curve dues to its cost averaging capabilities.
The risks are greater than using Titan G27 but the rewards can be greater but they can also backfire.
Bonus #4 – Edge Trainer Simulator
Basically is a simulator that works on past history trades and allows you to run forecasts.
It's a way of looking at trades before you actually go ahead and make live ones.
Bonus #5 – Trade Ideas and Live Coaching
Through the use of discord which is a social media platform, you have access to answers to questions and tips from live coaches.
Is Blue Edge Financial a SCAM?
I think we have produced more than enough information for you to form your own opinion on whether Blue Edge Financial is a scam or not.
The 3 co-founders have no previous knowledge at all about trading the markets but yet they set themselves up as experts.
The mission of Blue Edge Financial according to their website…
"Our mission is to make trading easy. Lucrative and fun!"
Trading is definitely not easy and didn't they mention earlier that 99% of traders make losing trades?
I guess they believe with absolutely no knowledge at all that they are going to be in the winning 1%.

What we like about Blue Edge Financial
There really isn't anything we liked about Blue Edge Financial.
What we don't like about Blue Edge Financial
Facebook is censored which is what you'd expect to see to some degree but when people are wanting answers to questions based on poor results then how is this possible?
Far too expensive and all you appear to get is some education and we have to question just where this information is coming from especially as nobody has any knowledge in this area.
Emphasis on recruiting is how multi-level marketing businesses operate and they would not survive without new blood coming into the scheme.
It is therefore just a matter of time before the ship sinks.
Reviews are hard to come by with Blue Edge Financials but there are a few on TrustPilot that you can take a look at here.
As you can see there are only around 8 reviews with a poor rating of 90%.
If this business was any good then wouldn't you expect to hear members shouting from the rooftop?
Blue Edge Financial Review – Final Thoughts!
Forex and Crypto have always been difficult markets to trade in.
But we continue to see more and more of these multi-level marketing businesses coming on stream and many of them closing down too.
They are using Forex and Crypto markets because "in theory" they are where you'll get the quickest results.
Trading the markets, in general, is pretty much just like gambling.
So you might as well just go to your local casino and place all your money in black or red. The odds are much better than trading currencies.
The software that comes with Blue Edge claims to be the best on the market, well quite honestly they all claim to be the best.
The actual guys on the trading floors are working with the best software.
That cost millions with development teams there for support when things go wrong.
The traders are the first to receive results and beyond that, it is normally too late.
Where do we go from here?
MLMs can be very lucrative for some however they weren't for us which leads me to where we are today.
It is always down to costs and we found affiliate marketing to be the most cost-effective solution.
Where…
You don't own a product and there is no inventory to consider
You don't handle the customer orders
You don't even ship the products
You don't handle returns or after-sales
You can promote anything you like
This business can be done anywhere
All you do is connect the customer with the merchant

Blue Edge Financial FAQ
Is the membership fee worth it?
You are paying $147 a month which amounts to $1764 for a full year and what you get for that is education.
So, no we don't think you are getting value for money especially as nobody has any prior knowledge of trading.
Is there a refund policy?
According to the website, there is a 30-day money-back guarantee where you can cancel your membership at any time.
If you cancel within 30 days then you will get your first instalment of $147 back.
Does this system actually work?
We can't see any proof of whether anybody is making any money through Blue Edge Financial.
We even joined their Facebook group to see if we could find out if anybody was reporting positive results but there weren't any to be found.
Why should I join when the co-founders have no prior knowledge of trading?
That's a good question that should be at the very top of your list.
Nobody has a clue whether the markets are going to go up, down or round in circles especially not Warren Buffet.
So why should we believe these 3 guys?
What kind of returns can I expect to see?
Trading can be volatile and the 2 methods that they are adopting are probably the riskiest markets to trade with.
We couldn't find any results to prove that this business does what it says it will.
How much would you suggest I start trading with?
According to the website, their clients are starting to trade with a minimum of $1000.
Bearing in mind that you should be prepared to lose the money invested and therefore if you are entering into this for a quick buck forget it.
Do you have any alternative recommendations?
We do have an alternative recommendation that is cost-effective and there is no recruiting involved and with zero risks which you can check out here.
Feedback, Comments and Subscribe
Hope you enjoyed this review and if there were any questions then feel free to add them below and we'll get back to you.
If you happen to be or have been a member we'd love to hear from you to hear about your experiences.
Until next time, stay safe