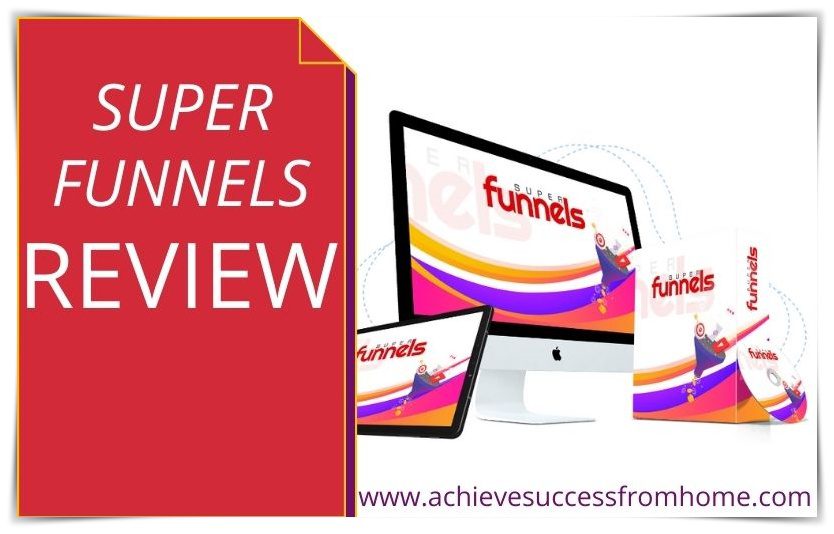 Welcome to
The Super Funnels Review
We are always looking for solutions that make our lives easier as an affiliate marketer, but often shortcuts can get you into trouble.
So what is it that Brendan Mace and his friend Jono Armstrong have come up with today?
Well, this is an all-singing and dancing ready-made, done for you system that can be producing results for you within 60 seconds of you signing up.
A never before seen super funnel software that does it all for you and the exact software that has made Brendan $339,754.69 in the last 30 days.
That's what they are claiming anyway!
Whenever you read stuff that product owners claim where they have found a shortcut to untold riches you need to step back and rethink things through.
Even though it may only be costing you $7 to find out.
So, you are here looking for answers as to whether these claims have any substance or not.
For starters, it's good that you are doing your due diligence as this is the only way to save money and to ensure you find legit make money opportunities.
I, however, am not affiliated with Super Funnels in any way and therefore what you are going to get from us is an unbiased review.
This way you will have the knowledge to decide whether this system is a right fit for you or not.
So, let's get right into this Super Funnels review and see if their claims can stand up.
---
[Affiliate Disclosure: This post may contain affiliate links which means I may earn a small commission if you purchase anything through one of the links. However, this will not affect what you pay!]
---
Product: Super Funnels
Founder: Brendan Mace, Jono Armstrong
Product Description: Done for you affiliate marketing system
Website: www.thesuperfunnels.com
Price of product: 
Recommended: No
Summary: Super Funnels is one of the hundreds of done for you systems that you can find on affiliate networks like WarriorPlus and Jvzoo.
They are aimed at the complete beginner, the person just coming into the make money online niche who is trying to work it all out.
These products are always overstated especially when you look at the sales page and because of the low initial fee, they do make you want to try them out.
I mean, what have you got to lose? Nothing really right?
Wrong!
When you pay your initial fee you are more than likely going to be hit with many upsells that they make you think you'll need.
Then your $7 fee suddenly turns into an expensive few hundred dollars.
I have tried a few of these in the past, and never made a dime, simply because there is always something else that you need to know in order to make them work.
This means the complete beginner isn't going to have a clue no matter what training may come with the system.

---
If you are sick and tired of SCAMS, Pyramid schemes, MLMs, recruiting, having to purchase stocks, haggling family, friends and customers. Looking for a proven method of making money online, then check out my #1 recommendation. 
---
Internal Summary and Navigation
---
What is Super Funnels about and who are the Founders?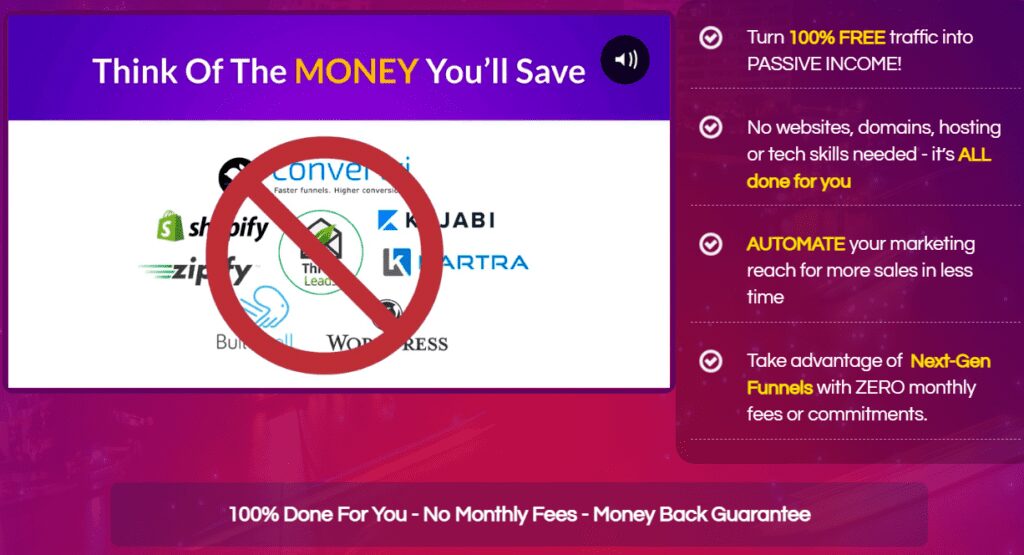 Super Funnels is nothing that we haven't seen before and certainly isn't some secret piece of software.
As always with these products, what you find is that the sales pitch doesn't give too much away and is always super-hyped to get you in that same frame of mind.
However, these done-for-you systems are notoriously bad because you do not learn anything that you can take away with.
What happens if they closed the system down, that means you do not have a business, then what do you do?
You have to move onto something else and start all over again.
The owners talk about "Next-Generation" funnels like this is something they have come up with when all they have done is given it a new fancy term.
All a sales funnel is, is a way of promoting many products in a particular order.
Normally, with the cheapest first so when you subscribe and go onto an email list they can just promote the sales funnel.
That's it and it won't deviate from the way I described it but some people state otherwise and if you are new to all this making money online then you wouldn't have a clue.
The reason why product owners can bring so many of these products to market is simply that they are cloned systems with a few modifications.
So who is behind Super Funnels?
Teamed up again are Brendan Mace and Jono Armstrong who appear to be at it pretty regular away lately.
It would seem that Brendan at least in the last 12 months has brought out more than his fair share of products that promise to have come up with some secret method or other.
Somewhere in the region of 1-2 every month.
You have to always question the quality of these products when product vendors are bringing so many products to market so quickly.
It would cost a fortune if they had to pay development costs for a brand new product each time.
That's why what you normally get is the same product just rehashed and changed slightly and given a new name.
Just think about it, if the products were so good there would be reviews all over the internet praising the software.
As it is, the only positive reviews you will find are ones from affiliate marketers trying to sell the product to you for a hefty commission.
That's why finding reviews that are unbiased is the only way to avoid been conned and to ensure you find legit products.
---
How does Super Funnels

 W

ork?
All these systems, especially Super Funnels work within the affiliate marketing business model.
Affiliate marketing is a tried and trusted business model that works and revenue has consistently increased by 10% each year for the last 10 years and no better time than the present to get involved.
You can check out a post I wrote recently that will give you a thorough understanding here.
This look at the inner workings of…
Super Funnels is going to be very brief as there is no substance at all which can be seen by the quality of the landing pages this system creates for you.
Super Funnels allows you to create your own landing pages which are used to grab someone's contact details so that you can send them offers at a later date through email marketing.
However, the standard and quality of these are pretty poor, to say the least, and my granny could make a better job.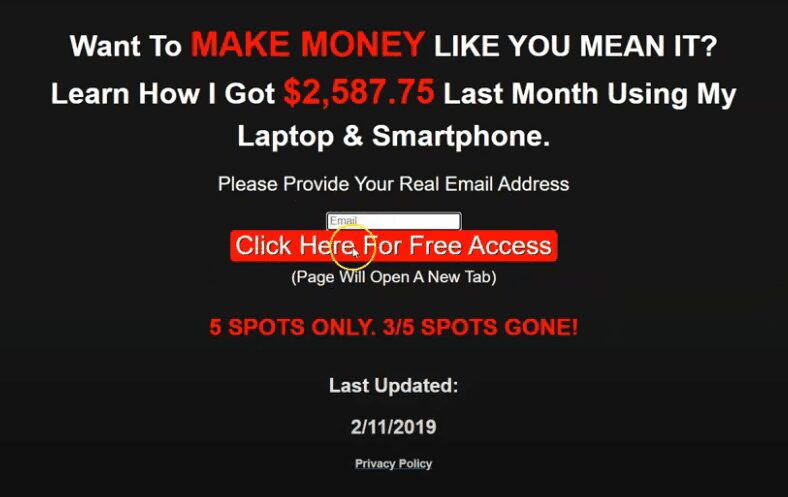 Now anybody new to the make money online niche probably wouldn't know the difference between a good landing page and a bad one.
Take it from me, this is a terrible landing page and the rest of the product is pretty much in the same vein.
If that isn't bad enough, when anybody tries to exit this landing page, they receive a pop-up display that tries to get you to buy one of their products.
The thank-you page that will be sent after you make a purchase can be changed to include a photo of you or one of the default ones.
Which sort of indicates hiding your identity.
So, they are promoting tactics to deceive people, which I am totally against.
The Training is somewhat lacking but…
For anybody new to making money online you might get some benefit but the information is pretty basic.
Super Funnels is promoted as a 100% free traffic solution, however, this product would require paid advertising otherwise it may take you a long time to see any rewards if at all you do.
There is basic training in
Google Ads
Facebook Ads
Bing Ads
But, it is basic as well with only as much as 20 minutes devoted to each discipline.
The other paid marketing method which they are promoting is Solo Ads which I am totally against which I will go into later.
Looking at the training with Solo Ads and we see the person responsible is trying to promote his own Solo Ads site at discount.
Quite frankly the Super Funnels system is really poor and nobody is going to benefit from using it.
---
Super Funnels

Pricing

 
So the initial cost of the Super Funnels System as of this review is $7 which I'm sure will entice you to give it a shot.
However, when you get inside there are a number of upsells and bonuses which we shall list below and describe in little detail.
Upsell #1 – Max Commission, one-off price of $67.00
A number of campaigns already done for you which are fully loaded with 4 high-converting offers ready to promote.
Upsell #2 – Super Funnels that are done for you, one-off price of $197.00
Email swipes with follow up sequence of emails
Upsell #3 – Unlimited Traffic, one-off price of $197.00
Around 4 hours of video training explain what traffic is and how to go about getting it. This covers paid and free traffic.
Upsell #4 – Compete in the $1k, one-off price of $197.00
Everything that is included to show you how to find high ticket products.
Upsell #5 – Licensed rights, one-off price of $97.00
This license will enable you to sell Super Funnels and make 100% commissions on all the products that are included.
Bonus #1 – A video training course that goes into details about affiliate marketing and how to use retargeting tactics to keep in touch and continually send out offers.
Bonus #2 – Another course that shows you how to get traffic through Instagram and how to promote product offers as an affiliate marketer as well as your own products.
Bonus #3 – A course that focuses on how to sell $100, $500, $1000 or even $1500 products in a way that is simple and straight forward.
Bonus #4 – The Secret Weapon video training, which basically goes into details about how to use "The Secret Weapon". In other words, they are promoting another one of their products.
Bonus #5 – This course includes 10 videos about product launching.
However…
Once you have paid the initial fee then it's only when you are in the actual system that you really find out what the extent of the entire cost could be.
They always imply that without the upsells that you won't get the full benefit of the entire system.
So what you initially thought was going to be a bargain is now going to cost just short of $800.
---
Can you make money with Super Funnels?

 
Well, that all depends on what you actually mean by money?
A few bucks maybe, but not real money, that is just not going to happen.
In fact, I will stick my neck out and say no new beginner will make a cent from this product.
Those fictitious amounts in the above image, I can for certain say are not through using this system.
But, quite possibly from selling this junk to people like you and me.
I'll explain.
Let's say that everybody went all-in and purchased all the upsells of Super Funnels which would cost you $762.00.
That's approximately 450 units that he would have to sell which isn't many really when you think about it, is it?
So, that figure Brendan is pointing at in the above image could in fact and probably is the number of sales of the product.
---
Who is Super Funnels

 F

or?
Whilst the product owners insist that the ideal candidate for Super Funnels would be complete beginners, I disagree 100%.
There is always something that you need to know and you can't rely on the system to answer all or even a portion of your queries.
It just doesn't work that way.
You are not going to even find experienced affiliate marketers using this product either.
---
What I like about Super Funnels
Any product that I see telling you that you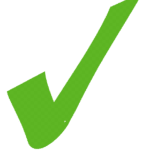 can be earning money within a short period of time, which in this case is within 60 seconds is just pure BS.
We see many ridiculous claims such as Brendan claiming that he made just short of $340k within 30 days is just ludicrous.
That's certainly not using this system, but if he managed to sell around 485 units with everybody going all in then that is indeed possible.
Money-Back Guarantee
A money-back guarantee is always a good thing to see but you need to know just how they actually work.
You might find this only applies to the initial cost of the product, which is as of this review is $7.
That means that any upsells that you purchased may not be covered, but I would certainly check that out first before making a commitment.
Another to watch out for is getting your refund in on time because more than often your refund request may well be ignored.
---
What I don't like about Super Funnels
As with most products like Super Funnels,
there are often more negative things to say than there are positive.
Not For Beginners 
Even though the owners of these products always claim that anybody could make money from using them you can't.
They are certainly not for complete beginners although those are the only people who would ever purchase something like this.
Too Expensive
All the product owners are interested in is selling as many units as possible and that is clearly evident with the number of products that they bring to market.
If a product was so good then you would build upon it and market it in the right manner.
The small initial fee is just a hook to get you inside where they hope to tempt you with the additional upsells.
Where Are The Great Reviews
If the product was so good then you would be seeing positive reviews all over the internet praising the system.
But, as it is the positive reviews you do see dotted around are only coming from affiliate marketers trying to sell you the product and make themselves a tidy commission.
Unconfirmed Income Results 
The product owners can talk all day and give you income results until you go blue in the face but they have nothing to back their claims up.
These images you see showing income results could be coming from anywhere.
Traffic And What Works 
The sales page indicates 100% free traffic but that is not how this is going to work.
Free traffic works if you have a massive subscriber list but even that takes time to nurture.
Unless you know how to drive traffic through SEO or search engine optimization and this takes time.
That leaves PPC or pay per click advertising and the method which is covered in this course is Solo Ads which I do not recommend at all.
Paying a set amount for someone to put your campaign in front of someone else's email list.
These lists can not be trusted, in fact, I often wonder just who are on these lists in the first place?
If I was on one of these lists and I was getting spammed with offer after offer which is what they do, I would be unsubscribing pretty quickly.
In any case, if this was the route you choose it would be costing you hundreds, possibly thousands with absolutely no guarantees.
---
Is Super Funnels

a SCAM or LEGIT?
It all depends on how you determine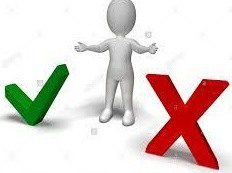 just what a scam would be.
Many people will call Super Funnels a scam simply because they tried it and didn't make any money.
A complete beginner is definitely not going to know anything but all it will take is for you to have a problem and you are stuck.
You can forget about support because in my experience with these products you are waiting days for a reply and then it's not the reply you wanted.
Affiliate marketing is a great way to make a substantial living from but it takes time and besides you really do need some prior knowledge.
Let's be realistic about this and I don't care who you are but you ain't going to be making money within 60 seconds of signing into this system and that is for sure.
So, in answer to the question, Super Funnels is not a scam but it is also not a legit way either and I would certainly not recommend it to anyone.
---
The Super Funnels Review

: Final Thoughts!
OK, guys hope I didn't spoil your bubble, but the reality of it all is that these done for you systems do not work.
They promote an industry such as affiliate marketing where they let you believe that it is difficult to master when in fact it just isn't.
Affiliate marketing is a simple concept where you…
Choose an interest, a hobby or a passion
Create a website to showcase that interest
Create great content that your readers are going to love reading
Get paid commissions
That's pretty much it so why would anybody want something that is supposed to be done for you that doesn't work anyway?
Just check out these people who started affiliate marketing just like you are doing here, but they decided to find the proper training and do something about it.

---
Feedback, Comments and Subscribe
Hope you enjoyed this Super Funnels review and that it helped answer your questions.
However, if you have any questions either regarding this review or anything in general then please leave your comment in the section below.
Likewise, if you did enjoy the review then why not share this on social media so that your friends are aware of Super Funnels.
Until next time, stay safe.