Welcome to The Commission Code Review
If you are looking for ways to make money online you are sure to have come across Commission Code on your travels.

A complete done-for-you affiliate marketing system that claims can generate you $1,226.75 every day using only 10 minutes of your free time.
Strange that they come out with such a precise figure!
If you can point and click a mouse or copy and paste then these are the only pre-requisites that you'd require for this system to make a massive impact on your lifestyle.
We have reviewed many of these systems in the past and found that they never hold up to their end of the bargain.
I'm not saying that you can't earn a couple of thousand dollars a day, but it is going to take a little more on your behalf to produce that kind of figure using the commission code system.
However, maybe Commission Code is different which is what you are here to try and find out.
Doing your own research like I can see you are doing here is the only way to avoid scams and save your money.
This ensures that you at least give yourself a chance to find legitimate make-money opportunities.
I'm sure you have read many Commission Code reviews and what you will find are biassed reviews by affiliates trying to pitch to you and make a commission on the sale.
However, we are not associated with the Commission Code in any way and what you will get from us is an unbiased review.
That way you can make your own decision as to whether this system is right for you or not.
So, without further ado, let's get right into it.
---
[Affiliate Disclosure: The Commission Code Review has been thoroughly researched from information and testimonials that are in the public domain. This post may contain affiliate links which means we may earn a small commission, however, this won't affect what you pay!] 
---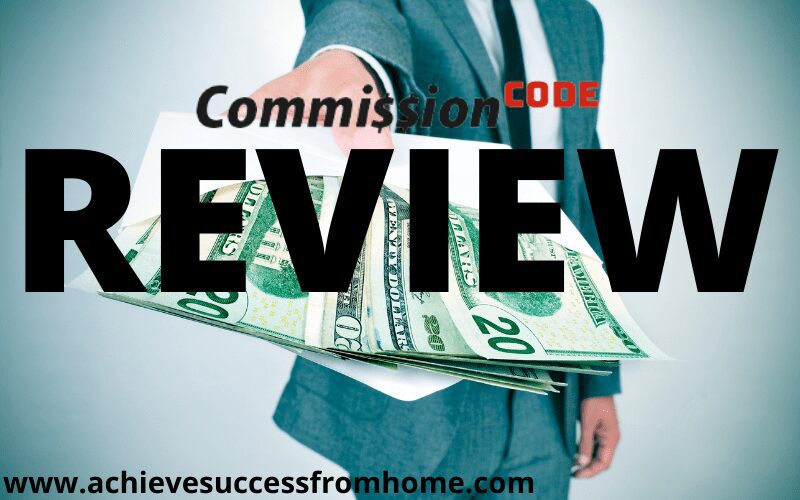 Product:
Commission Code
Founder: Bill McRea
Product Description: Done 4 u Affiliate Marketing Membership Site
Website: www.thecommissioncode.com
Price of product: $17 – 14 Day Trial period followed by $47/month
Recommended: No
Summary: Affiliate marketing if you didn't already know is a very popular business strategy for making money online.
Since 2010 in the US alone revenue has increased 10% each year with forecasts to be around $9 billion industry by 2022.
Many affiliate marketers are making great lifestyles for themselves as can be seen in this review.
I should know and I also know that it takes hard work to get to a certain lifestyle and isn't put on a plate, as the Commission Code claims.
I have seen the workings of the Commission Code system myself and whilst it might look impressive to complete beginners let me tell you it isn't.
These products are aimed at complete beginners who are looking for a quick solution and tend to believe what they are being told.
After all, wouldn't we all like to believe that just by pressing a few buttons we'd become wealthy even with absolutely no previous experience?
If you look close enough you will notice red flags all over the place, like fake testimonials which we'll cover a little later.
They even forgot to take another product's name from the disclaimer for Commission Code.

Notice it?
EcomProfitSniper.com
If you don't believe me check out the actual URL link here.
The system. you might be able to make something but not as a complete beginner and I know this is not what you want to hear.
But, the reality is that whilst these systems are always pitched to newbies it is going to have to take a certain amount of knowledge.
However, if you want to learn how these affiliate marketing systems do work and build a real business.
One that you are fully in control of, just see what these guys have to say.

The Commission Code Review – TOC
What is Commission Code about and who are the Founders?

Commission Code is a done-for-you affiliate marketing system that claims you can be earning thousands every week by pressing a few buttons.
In fact, according to the sales presentation, all you need to do is spend 10 minutes each day on this system.
Then just sit back and watch the money come rolling in.
If only life was so simple, eh?
As you can see at the moment it will cost you $17.00 for a 14-day trial period.
This system has everything so you don't really need to do anything or purchase any other external products to ensure it all works.
Although there is a catch here which we'll discuss a little later!
According to Bill or William, he stumbled upon this money-making formula quite by chance when he was down on his luck and his mother was poorly.
A friend who he had not seen for a number of years, visited him one day and it was like they had never been apart.
They got straight back into chatting about the good old days.
When it was time to part his friend slipped him an envelope and said there is much more where this came from and they parted ways.
Bill pulled out the envelope and to his amazement, found a cheque for $40,000.
Long story short, Bill was curious and met up with his friend to find out what he did for a living.
He found that he was promoting products from "ClickBank" and getting paid a tidy commission for doing so.
That same night Bill found out how this all worked and within a few days was earning thousands doing the same thing and the Commission Code was born.
Who is Bill McRea?
Well, as we find with most of these products it's hard to determine who the actual Commission Code owner is.
Whether the name Bill McRea is an actual person or just an alias like most are.
With the fake testimonials then anything is possible but what I do know is that if this system was as good as he says then I'd want everybody to know who I was. Wouldn't you?
How Does Commission Code

 W

ork?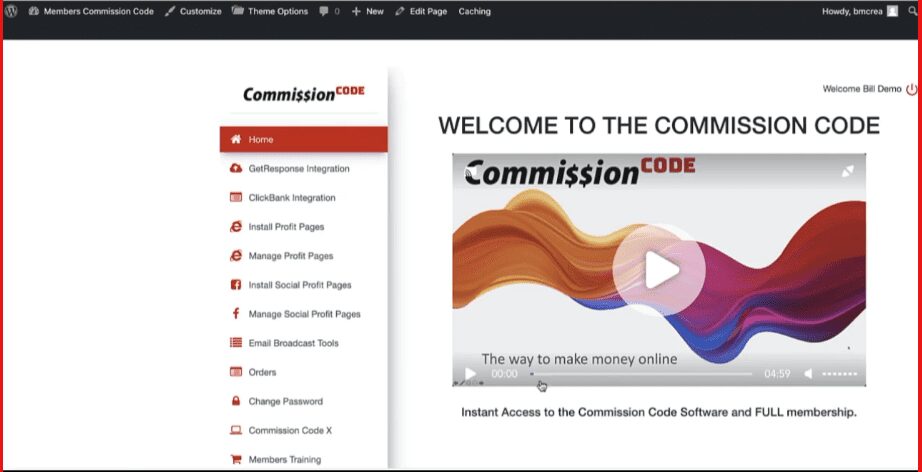 Commission Code is a membership site so bear that in mind if you choose to take a look because when the trial period comes to an end you will be automatically charged $47.00.
Email Marketing System
Bill takes you through how the system works and the first thing he will be getting you to do is purchase an email marketing system.
GetResponse is pretty good but this is another membership site that comes with a free trial but then starts at around $15/month.
This figure goes up in value the more subscribers you get on board.
Bill will be making a tidy commission from you if you decide to take his advice and purchase.
ClickBank Account Set up
Then the process takes you to ClickBank which is an affiliate network where there are a ton of products that you can promote and make some tidy commissions.
At ClickBank, you can find products where there are as much as 70% in commissions.
A point to make here is that ClickBank is not great for finding quality products to promote, in fact, it's crap.
It used to be good a few years ago but there are many affiliate networks available now which do the same thing.
Once this is set up then you are pretty much ready to go.
The Commission Code system provides Landing pages, sales funnels, email swipes and hosting plus some training material however this is pretty basic.
In fact, one of the products that Bill will be recommending you promote is this very product here, Commission Code.
Sell this product and all the upsells that come with it and you could be earning as much as $844.00 in commissions.
Sounds cool right, but you have just purchased this product yourself and to reap the maximum commission you will have to purchase those upsells yourself first.
Which is going to cost you a considerable amount above $844.00.
The Commission Code

Pricing 
Your initial investment of $17.00 may seem like a great investment but that is only to get you on the inside.
This initial fee is for a 14-day trial period, but don't forget that after that period has lapsed you will be billed automatically for $47.00 and now it becomes a membership site.
That alone is going to cost you $564.00 for the entire year.
On top of that cost, there are a number of upsells that you are probably going to purchase because you are serious about this, right?
The Commission Code – Pro, $147.00
The Commission Code – ATM, $196.00
The Commission Code – Traffic, $246.00
Of course, you thought all this was going to cost a minimal fee, but there are always hidden costs that you don't take into consideration.
After all, you are a complete beginner so why would you know?
GetResponse comes with a free trial and once the 30-days is over you'll be paying a minimum of $15/month until you reach the threshold of the number of subscribers, then it will go up in price accordingly.
Solo Ads are the choice of the Commission Code owner and this traffic route is not something I would recommend, all the same, it is going to cost at least $200.00 for testing.
Who is Commission Code

F

or?
I can tell who it certainly isn't for and that's a complete beginner who is wanting to learn how to make money online.
I know this because I have been down this road myself and all it did was give me a massive headache.
The one major thing that is missing from this type of product, in fact from any supposed training is SUPPORT.
You'll find that you are left to your own devices and when you do ask for any support you are going to be waiting days rather than minutes.
So, who is this system for then?
Well nobody, although an experienced affiliate marketer might get something out of it, although you aren't going to find them purchasing it anyway.
Commission Code is promoted to the complete beginner who knows nothing about making money online.
Once they have listened to the sale presentation which promotes an incredible lifestyle then you might think it's worth trying.
The Commission Code Review – PROs
There really isn't anything that I liked about the Commission Code other than the money-back guarantee.
The Money-Back Guarantee
At least you have the money-back guarantee to fall back on but you have to be careful with this and check this out fully first before you make a purchase.
What we have found out in the past, is that often the guarantee does not cover the upsells which is naughty because that is where the main costs are.
You Might Find Some Of The Information Useful
Anybody new to affiliate marketing is going to think that they are getting a quality product simply because they don't know any different.
The information at the initial fee might give you a sort of grounding about affiliate marketing but this information is readily available for free.
Like on this website!
The Commission Code Review – CONs
This product is just full of red flags which you would notice if you knew what you were looking for and a complete beginner just wouldn't.
Overhyped Sales Presentation 
Sales presentations should be taken lightly because they are designed to fill your head with all sorts of nonsense.
They always promote a wealthy lifestyle which of course is what we all would love to have, but they very seldom go into details about what you'd be buying into.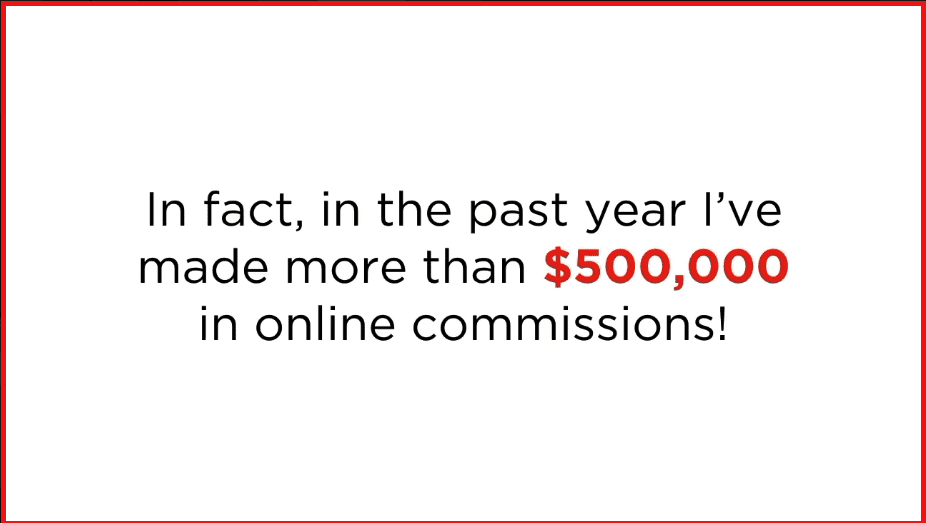 Considering if you look at the statistics, then they claim that 96% fail at marketing online.
However, it could be very true that he has made $500k by selling this product.
Hidden Costs
Upsells are what I hated when I was starting out and they don't get any better now.
Only when you are inside the product that you find out what they are and with the Commission Code they add up to some serious money.
That's without taking into consideration everything else and that's before you have made a dime.
That's $589.00 of upsells
Just look at the money we are talking about for the 1st year.
$1333.00 and that's without TRAFFIC so I guess if you are going down the Solo Ad route then who knows. $100s, probably $1000s that's if you can afford it.
Fake Testimonial
If you watch the entire sales presentation you will see the guy below claiming that he has made $500,000 using the Commission Code for only 6 months.
Guess what, he was only paid about $5 to actually make this video!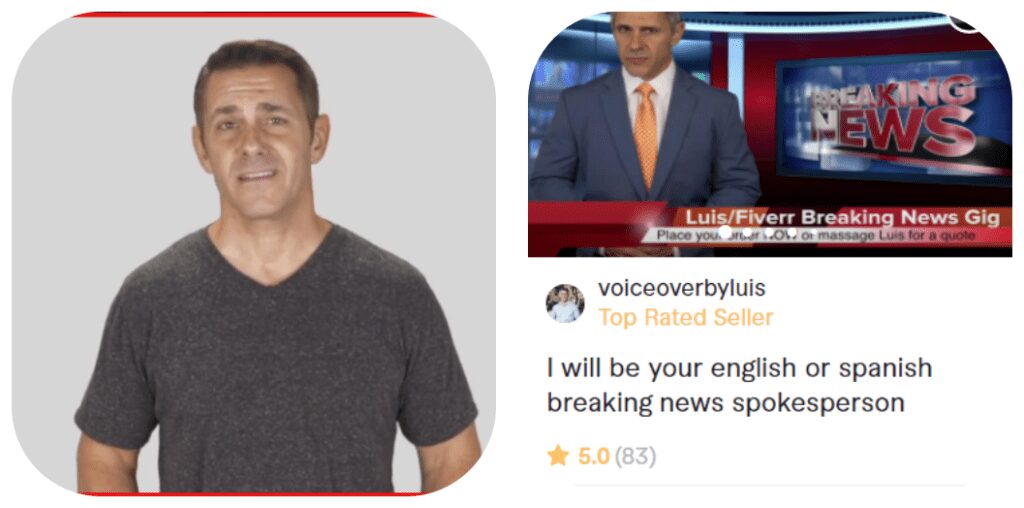 Seeing fake testimonials like these should be enough for you to call it a day with the Commission Code System and move on to something else.
This Is A Re-Hashed Product
Which is what we mentioned earlier and just goes to show how slack these product owners are.

EcomProfitSniper is another done-for-you system which is used the same but as these product creators are always doing joint ventures
Is Commission Code

a SCAM or LEGIT?
All systems like this do is promote a lifestyle which we are all looking for.
So what do you think? Is Commission Code a scam?
I'll leave that up to you to decide because as much as I'd love to call the Commission Code a scam, you could get something out of it.
How a product, is deemed a scam or not is in the eyes of the beholder because we all have our own interpretation.
However, this system is certainly not a legitimate way of making money online.
Fake testimonials alone should answer this question for you, with fake promises and of course the product owner's lifestyle which we all want.
But, we ain't going to be getting it with spending 10 minutes of our time each day on the Commission Code System, that is for sure.
What about the story where his friend whom he hadn't seen for years, gave him $40k, did you believe that? Seriously!!!
The Commission Code Review

: Final Thoughts!
Well, another done for you affiliate marketing system which we aren't going to recommend but feel free if you don't believe me to try it for yourself.
Mind you, we love to hear what your experience was like.
I know you probably didn't want to hear this, especially as you have probably read many positive reviews about the Commission Code system.
The difference is that they were trying to sell you the product hopefully for a hefty commission but we aren't.
I can't stress enough that I have been down the same road that you are currently on and it is a depressing one.
However, there are plenty of legitimate training companies out there but the longer you listen to these sales presentations the less chance you will give your self find one.
Simply because you will come to a point where everything you see may well be deemed a scam.
Making a substantial income online is not easy because you have to be serious about it otherwise you won't go into it wholeheartedly.
Wealthy Affiliate is a training platform that has been turning out success stories since 2005 and you will struggle to find training like it.
Don't take my word for it, try it yourself.
It won't cost you a dime because it's free to join, with no credit card details and no upsells.
You might find it overwhelming because there is so much to the system and you will have to work so if you are looking for an easy ride then I would give it a miss.
But you'll never know until you have at least checked it out and besides if it's not for you then just call it a day, but you know unless you have tried.

Feedback, Comments and Subscribe
Hope you enjoyed the Commission Code review and it answered many of your questions.
If you did enjoy then feel free to share it with your friends on social media to ensure they are better informed.
Maybe you have tried this system and would like to share your experience with our readers.
If you have any questions about Commission Code or anything in general.
Then just add them in the comments section below and we will get back to you at our earliest convenience.
We reply to all our reader's comments.
Until next time, stay safe.