Welcome to this Rain International Review
Another MLM company in the Health and Wellness industry with a very unique approach to product development uses seeds, in particular, "Black Cumin" as the base ingredient.
If all-natural and organic are what you are looking for then maybe your answer will be found in this Rain International Review.
You've obviously seen the marketing campaigns dotted around on social media or maybe you were approached by a Rain distributor.
Whatever the reason, research is key for many reasons and you are certainly in the right place which I hope to prove in the next few minutes.
But, before we carry on I'd like to mention that I am in no way associated with Rain International LLC and therefore you won't find me trying to sell you their products or their business opportunity.
Anything you need to know about this company both positive and negative will be addressed.
So that you are in a better position as to whether to purchase their products or have a punt with their business opportunity.
So less of the chit-chat and let's see what this Rain International MLM review can come up with.
---
[Affiliate Disclosure: This review has been thoroughly researched from information and testimonials that are in the public domain. This post may contain affiliate links which means we may earn a small commission, however, this won't affect what you pay!] 
---
Rain International Review – Summary
Product: Rain International, LLC
Location: Utah, US
Founder: Byron Belka
Founded: 2011
Website: www.rainintl.com
Product Description: A multi-level marketing company in the Health and Wellness industry.
Cost to join: $39.95 with additional costs that may apply
Price of products: $40.00 – $180.00
Best For: Network marketers with plenty of experience
Recommended: Maybe
Summary: Rain International is a multi-level marketing business in the health and wellness industry.
The products are manufactured in a unique way by using seeds from plants which obviously come with a price tag.
For anybody who is interested, there is a business opportunity, we will be discussing a little later on.
Rain International – Table Of Contents
What is Rain International about and who is the Founder?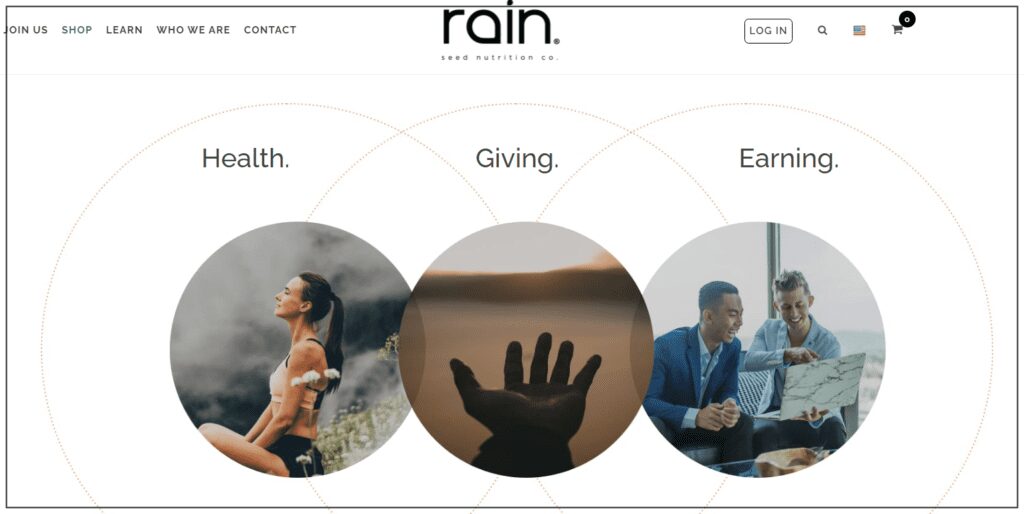 Rain International LLC is an MLM in the Health and Wellness industry developing products based around the seed industry to help rejuvenate the body in a natural way.
They claim to be one of the top companies in the seed nutritional field, with only natural nutrients found in their products.
The business according to the website was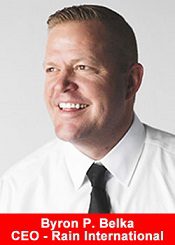 founded by Byron Belka in 2011 in Utah, US, although my research tells us that Rain International LLC was already founded before Byron Belka came onto the scene.
That said, Mr Belka does have a wealth of experience in network marketing at all levels and has been involved with Nu Skin Enterprises and eXfuze, both MLMs in the health and beauty industry.
It is reported that whilst at Nu Skin as a distributor he was one of the top 20 earners back in 2003.
Check out this short promotional video.
Giving to worthy causes is always a great thing in my book.
Everybody who enrols in the business opportunity has a tree planted with over 300,000 trees planted so far.
Seeds for Change foundation was set up to help women in Uganda, which allows them to create their own jewellery sets which help to support poverty-stricken areas that they live in and give them a sense of worth.
Is Rain International a Pyramid Scheme?
Considered to be a very popular search criterion when people are researching things especially multi-level-marketing businesses.
So what is a pyramid scheme?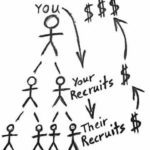 In short, a business has to have a valid product(s) or services that have an intrinsic value otherwise quite simply there isn't a business.
If you "The Sponsor" is getting paid merely for recruiting others into your team, which is known as a "Down-line" then without a product or service that would be deemed a pyramid scheme.
In this case, Rain International is not a pyramid scheme as you do not need to recruit others to earn money and the products do appear to be well-received amongst the people who are using them.
Let's look at the Rain International Product Range
Rain International products are all based around seeds with "Black Cumin" used as their base seed.
Nature started from seed, which is the philosophy behind all this, and with no chemicals used means that the products come enriched with the nutrition that comes from the seeds.
As you will notice Rain International LLC doesn't have many products at their disposal meaning that the products they do have should be top quality.
Rain International's flagship product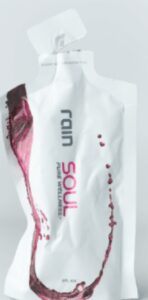 The product that started it all off.
In a form that is drinkable, which supports healthy joints, relieves any minor muscle pain after any exercise and helps to maintain a healthy immune system.
Rain International also claims that rain soul can increase and stimulate anti-ageing properties by as much as 62%. Very Interesting!
The Rain International product range can be found within the categories listed below…
Anti-inflammatory – Rain Soul supplement priced @ $88.75
Contains – Black cumin seed, Black raspberry seed, Chardonnay grape seed, D-ribose
Greens – Rain Core is currently priced @ $93.00
Designed for people who do not eat enough greens. Like a green smoothie. Helps to support the brain, blood flow and immune system.
Contains – Kale, Wheatgrass, Spirulina, Chlorella, Dandelion, Aloe vera, Chlorophyllin seeds, Milk thistle seed, Cranberry seed
Joints – Rain Bend is currently priced @ $99.00
Rain International came up with a formula to naturally support joints and the way that they move and bend.
Contains – Glucosamine Sulphate, Flaxseed, Black cumin seed oil, Curcumin, Levagen
REVRI Purifying cleanser currently priced @ $40.00
REVRI Serum is currently priced @ $70.00
REVRI Moisturizer is currently priced @ $80.00
Used to cleanse, address the ageing process and moisturize the skin.
That will set you back, $190.00.
Digestive Health
PURE Probiotic Fruit Punch is currently priced @ $59.00
PURE Probiotic Peach Mango is currently priced @ $59.00
Supports the digestive system and reduces any inflammation in the gastrointestinal tract.
Contains – Pumpkin seed oil, Watermelon seed oil, Flaxseed oil, Prebiotic profile, Probiotic profile, Inulin
Soul red – Rain SOUL RED-15 is currently priced @ $44.00
Weight management promotes a healthy heart with increased stimulation of anti-ageing properties, boosts energy levels and suppresses the appetite.
Contains – Red raspberry seed, Black cumin seeds, Chardonnay grape seed,
D-Ribose
Some big claims but can they be scientifically proved?
For a closer look at the Rain International product range with current prices…
You can check out their website here.
Rain International Business Opportunity – What you need to Know
Typically with any MLM business opportunity, it's all about finding the right sponsor and if you don't know one, at Rain International, one will be appointed.
This is very important if you are new to this type of business.
Most people who join an MLM are new to the "making money online" niche so finding the right sponsor is extremely important.
You are looking for a sponsor who is experienced in network marketing and is prepared to pass on their knowledge to you.
Otherwise, you will be sat on your own without any clue what to do and it won't take you long before you leave.
Having said that…
How to Become a Rain International Distributor?
There are several ways that you can join and become a Rain distributor and it all depends on whether you are going to purchase the products or not.
Virtual Business Kit – $39.95, if you want to join without purchasing any products, which includes a personal website and access to the back office.
or
Basic Pak – $143.00, which includes 1 Soul, Business software, Referral site, Rain connect and 1 Business Center.
Builders Pak  – $260.00, which includes 1 Soul, 1 Core, 1 Bend, Business software, Rain connect and 1 Business Center.
Pro Pak – $540.00, which includes 2 Soul, 2 Core, 2 Bend, 2 Pure, Business software, Rain connect and 3 Business Center.
Elite Pak – $1,320.00, which includes 8 Soul, 4 Core, 2 Bend, 2 Soul Red 15, 1 Pure, 1 Form, 1 Revri kit, Business software, Rain connect and 3 Business Center.
Super Elite Pak – $2,625.00, which includes 14 Soul, 6 Core, 6 Bend, 6 Soul Red 15, 6 Pure, 2 Form, 2 Revri kits, Business software, Rain connect and 3 Business Center.
How to Make Money with Rain International
There are 3 basic steps to earning money.
Purchase the stock yourself @ discount and sell it to family and friends, that way you could test out the products first to see if they are any good.
Find your customers and sell to them.
Recruit others into your team, train them and make commissions on their sales.
Selling to anybody who hasn't a clue about the products is termed "Cold-Calling", and you should know this is difficult to do.
Great at recruiting is where you have to be if you want to give yourself the best chance of succeeding.
Hopefully, you will have found the right sponsor who can teach you all this.
Rain International Compensation Plan

Compensation plans can and usually are complex in nature, maybe to hide the fact that they get you to think you are getting a better deal than you actually are.
I am therefore not going to get into the compensation plan because it will take far too long.
Rain International's compensation plan is typical of this very fact so if you love deciphering compensation plans and you have a spare hour or two.
Then maybe you'd like to read this document, or make yourself a coffee and listen to a Rain International partner describing it in more detail.
Are Rain International Distributors actually making money?
This is a bit of a closed shop when trying to find out if distributors are actually making any money, after all, wouldn't you want to know before contemplating joining?
That being said, with all the income disclosures I have seen I've yet to find one that reads well.
They all have something in common, and that is, they are usually a bad and depressing read.
Despite Rain International being around since 2011, they don't have anything that resembles an income disclosure and that should be a major red flag.
A few facts about MLMs that you should be aware of…
The top 1% is usually where the big money is earned. As high as maybe .11%.
That leaves 99% that don't earn enough to replace a full-time job.
Between 50% and 65% leave within the first 12 months with many in debt.
Around 75% say they will never join an MLM again.
MLMs are notoriously difficult to succeed in and designed in such a way that you are probably going to fail miserably.
What others say about Rain International
We are now at the point where we try and dig out a few reviews to give you both sides, but you should take these with a pinch of salt as they can't be verified.
---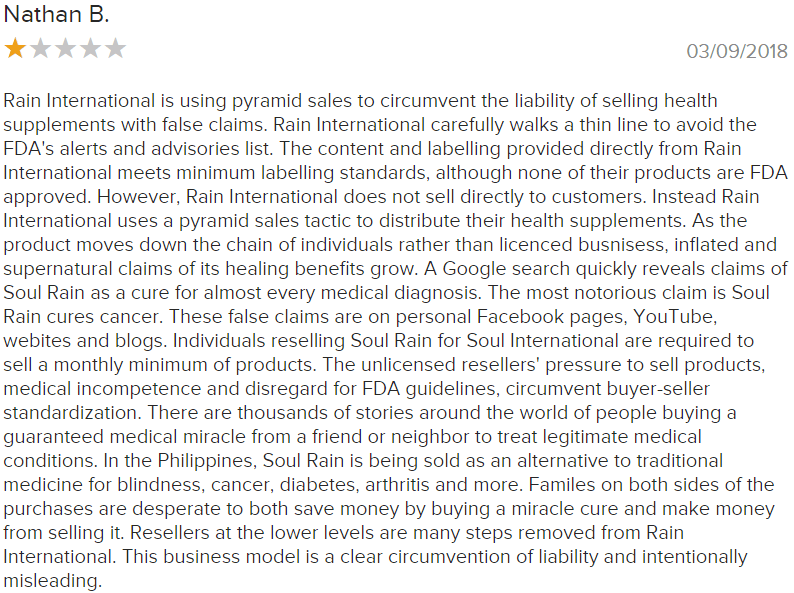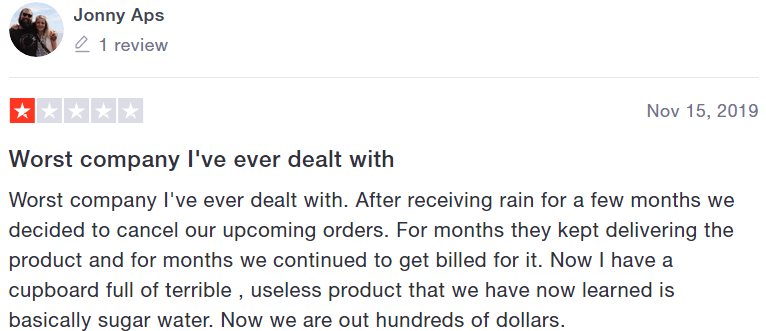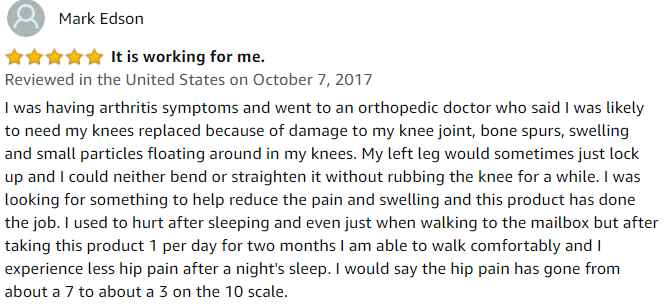 You can check out a mix of reviews on Amazon for their flagship product, the Rain Soul supplement here.
If you have 30 minutes to spare I would take a look at this video. Mind you if you are still contemplating joining an MLM then maybe not such a wise thing to do.
What we liked about Rain International
Unfortunately, I didn't get any real good vibes

for this company and did struggle to find any real positive things to say.
Approved by the GMP (Good Manufacturing Practices)
This is what we found in Google Trends
What we don't like about Rain International
Unfortunately, we

found more than enough issues that we have listed below.
At the end of the day would you purchase your vitamins from a business that you didn't know or go to a reputable supplier?
Rain Bend, which is for joints and priced @ $99 includes Glucosamine Sulphate which is the main vitamin for joints.
For around $24 with postage to the US, you can get almost a year's supply and these do work as I have tried them in the past.
Not accredited with the Better Business Bureau
The BBB is the place to go for complaints as this is where the company has to respond and take action.
Not a member of the Direct Selling Association
Another place to check when researching a direct selling business is because the DSA are there to help people like you and me and do investigate how someone is running their business.
I noticed a number of complaints where people were set up for the auto-ship facility even though they hadn't selected this option when they ordered the products.
You can find their products on Amazon
This I don't like, because it just goes to show that Rain International isn't taking into consideration their own distributors. As if it wasn't hard enough to make sales!
Is Rain International a SCAM?

Rain International LLC is a legitimate multi-level marketing company although they have a few issues which I have discussed.
They were complaints about some of their products when tested, were found to have no nutrients present at all.
The products have not been approved by the FDA so I guess it's just a matter of time before the FDA will be questioning the product claims.
Some claims from customers and members about the fact that they had been set up for the "auto-ship" process when they made an order.
That means you would receive the same product order monthly without you needing to do anything.
Is Rain International a Worthy Business to get involved with?
We are at a crossroads where we have to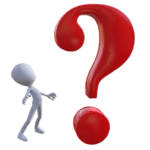 decide whether this Rain International Review has given you enough information for you to make a decision whether to try their products or do both.
If you are in a place where you still think the products might be legit, what we would suggest is to try the products first and do not commit beyond that.
MLMs, as I have said are extremely difficult to succeed in, I should know as I have tried them myself, lost money and wasted a couple of years.
Through research into other opportunities, I found that affiliate marketing was a better choice, I just had to find the right training.
Just think…
No recruiting
No pressure from your sponsor to meet targets
No purchasing of stocks
No going to events, which will be expected if you want to advance
No selling to family and friends
No restriction on which products you can sell
No marketing costs because you will be learning SEO
You'll have a website that will run on autopilot 24/7/365
You'll have a business that you can pass down to your children
Run this business anywhere you like
So if you are still looking for a business opportunity then may I suggest affiliate marketing, which means you are in control and not somebody else.

Rain International MLM Review – FAQ

What Is Rain International?
Rain International is a unique multi-level marketing company manufacturing and selling seed-based nutritional products.
They claim to be the world leaders in seed nutrition by extracting the concentrated antioxidants which are found in seeds.
How Do I Join Rain International?
First, you need to register as an IBO (International Business Partner) then you can take advantage of the business opportunity if you like.
How Much Does It Cost To Join Rain International?
First, you will need to find a sponsor and then you will have to select a business pack which varies from $149 for the basic pack.
But they do rise steeply in price and could end up costing you as much as $2,727.00 which depends on how serious you are.
Who Is The Founder Of Rain International?
The current CEO of Rain International is Byron Belka and has been since 2015.
What Is So Special About Black Cumin?
Many Eastern cultures have used black cumin for everything from a common cold to more serious conditions.
However, the seeds do have to go through a process to actually extract healthy nutrients such as Omega-3/6.
Feedback, Comments and Subscribe
We are just about to wrap things up with the Rain International MLM Review and hope we achieve what we set out to do.
If you have anything to add, feel free to pop down any questions in the section below.
Thank you for your time, until next time, stay safe.