Welcome to Is Shaklee Products a Scam
A question that is often asked and therefore thought it was about time we did a thorough review.
But the simple and straightforward answer is no Shaklee Products is not a scam but you will know this by the time you have finished reading this post.
Could it be that you have been approached by a family member or friend, maybe a Shaklee distributor telling you about this amazing company?
You could quite easily have seen their marketing campaigns on social media or maybe you came across them by chance.
Possibly searching for a work-from-home opportunity and because Shaklee has been around for a number of years thought they might be a good company.
First and foremost we should commend you for doing your research as that is the only way to avoid scams and find legit opportunities.
Most people have a tendency to jump right in after listening to some sales patter instead of holding back and spending a few minutes.
So why should you listen to me?
Well, this very website that you are on was created for people like you to help and offer advice to hopefully avoid the pitfalls.
Another important thing is that we are not associated with Shaklee in any way and therefore aren't getting paid for this review.
That means that what you are about to get is an unbiased, honest account of who Shaklee really are with all the facts.
Then maybe with all that information, you can decide whether this company is right for you or not.
With that said, let's get started.
---
[Affiliate Disclosure: This Shaklee Products Review has been thoroughly researched from information and testimonials that are in the public domain. This post may contain affiliate links which means we may earn a small commission, however, this won't affect what you pay!] 
---
Shaklee Products Review – Summary
Product: Shaklee
Founder: Dr Forrest Shaklee
Website: www.us.shaklee.com
Product Description: Nutritional Health and Wellness MLM
Cost to join: From $19.95
Recommended: Maybe
Summary: Shaklee is one of the longest-serving MLMs in the world and therefore this should stand for something.
After all, most MLMs don't usually hang around for very long with most never reaching the five-year period.
The products are key to any business and this is something we will be covering a little later in this Shaklee Products review.
There is also an opportunity for you to make some extra money or maybe even turn it into a lucrative business if you are interested.
Which we will also be covering in-depth, so stay with us and see what you think before jumping in head first.
However, if you are a complete newbie to all this and want an easier and more cost-effective way to make a passive business.
Then check out this affiliate marketing training platform that I would have no hesitation recommending 100%.
It is where I learned affiliate marketing and where it helped me go from zero to mid-4-figures a month.
Shaklee Review – Table Of Contents
What is Shaklee Products?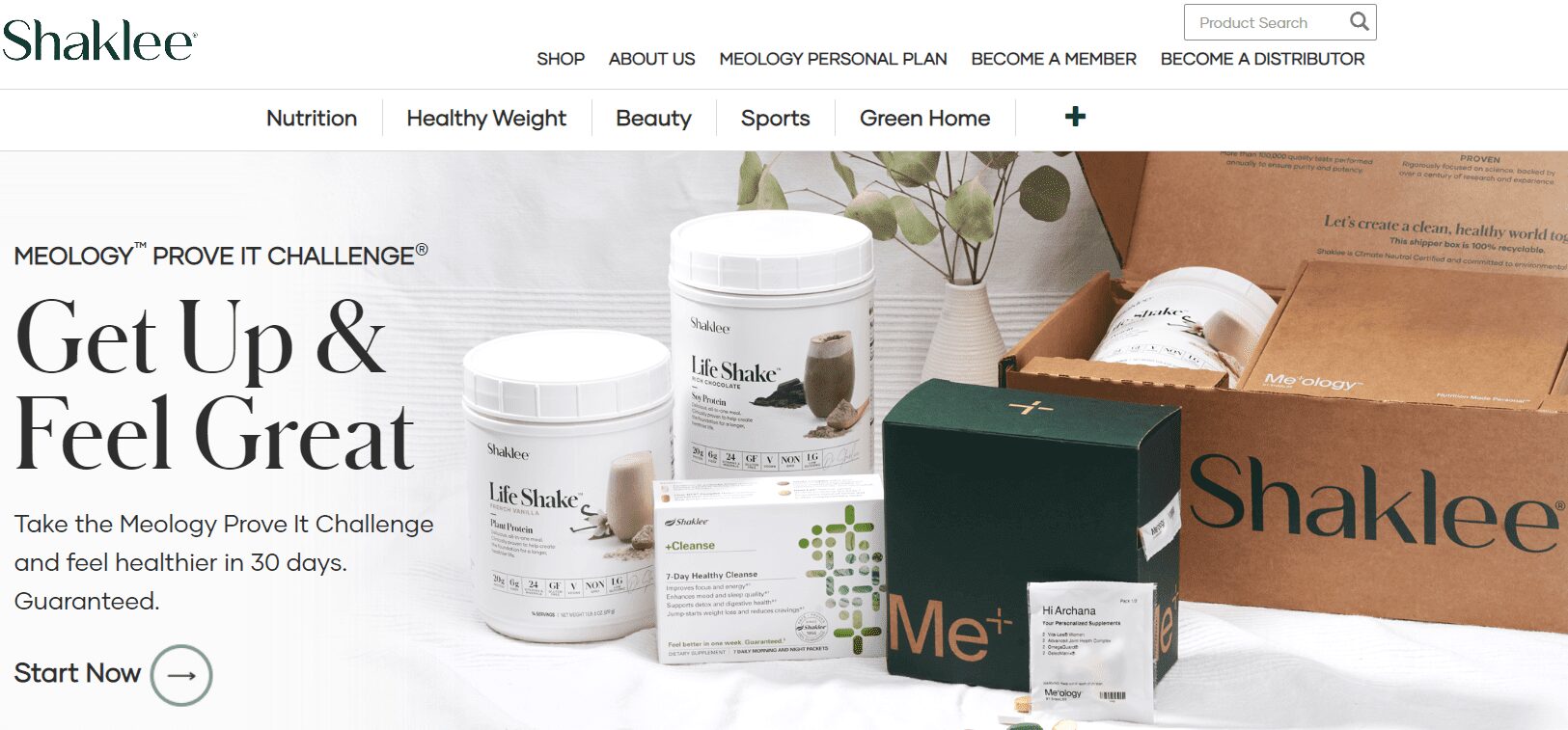 Shaklee is a direct-selling company in the health and wellness industry that was founded in 1956 by Dr Forrest Shaklee and is based in California.
They manufacture and promote nutritional supplements, weight management, and household and beauty products.
As well as an opportunity to work from home through a network of distributors, with global operations in…
Canada
China
Indonesia
Japan
Malaysia
Taiwan
They were the first company to produce a multivitamin supplement in the US and the first company on the planet to be certified climate neutral.
A green company through and through as can be seen by their beyond carbon neutral certificate.
They even make claims to support US athletes who have won 146 medals and even an astronaut with supplements whilst in space for 12 months.
All the products are organic and 100% safe and free from any animal testing and they support many great causes. 
Since the 50s Shaklee has seen steady growth in sales to where they have gone from around $25 million in the 70s.
To where they currently are as a multi-billion-dollar company.
Here's a short promotional video that might interest you…
Who is Forest Shaklee?
Dr Forrest Clell Shaklee was the founder along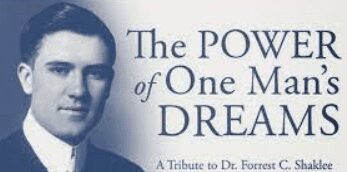 with his sons of the Shaklee Corporation to manufacture and sell food supplements.
He was a chiropractor and philosopher who started in vitamins way back in the early 1900s and open his first clinic in 1916.
At birth, he was diagnosed with tuberculosis and was not expected to live very long but a change in climate helped him to overcome the symptoms.
Unfortunately, he is no longer with us but lived to the ripe old age of 91.
Is Shaklee Products a Pyramid Scheme?
Shaklee Products are definitely not a pyramid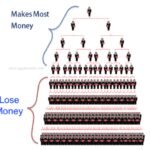 scheme as they have an extensive range of products that cover many areas.
A true pyramid scheme does not have any products or services and relies predominantly on recruiting.
However, some people are saying that Shaklee is a pyramid scheme in disguise because to survive its distributors have to recruit.
Where they are handsomely rewarded with various bonuses.
But for anyone who wants to know more about this then continue to read…
Just for clarity on what a Pyramid Scheme is…
A true pyramid scheme promotes a lifestyle and relies on convincing rich people that the company is investing in something big.
This is a blatant lie but these investors pass on the word and convince others to join and for their time they are paid handsomely.
You might like to check out Charles Ponzi, Bernard Madoff and Lou Pearlman for further reading.
A pyramid scheme in disguise is when a company hides behind a bunch of products or services that have no real value.
As you can see, Shaklee is neither but the FTC did a thorough report on everything an MLM is and not which you can read about here.
You might like to check out this short video…
Success is Rare With Shaklee
Success is rare not just with Shaklee but with all MLMs for many reasons.
But mainly down to not making a full commitment and expecting too much too soon.
When we say a full commitment we are talking about going all-in for at least 2 years.
Another factor is that you have to be good at sales and especially recruiting and this is not for most people me included.
It's a known fact that as many as 99% that start a work-from-home opportunity within an MLM.
Do not make enough to replace a full-time income and as many as 70% leave within the first 12 months.
Those are extraordinary facts but a reality and something you need to know even if you take what we say with a pinch of salt but at least research it further.
How Shaklee Products Works
Through science, Shaklee manufactures and sells an extensive range of nutritional products that cover many areas.
A massive cost in any business is usually down to marketing campaigns which are needed to convey the message.
Recruiting others into the company enables them to save on marketing costs as this is all taken care of by the distributors.
Not only that but the distributors help to reach a wider audience in other countries.
This means the company can save and filter this down into bonuses to their distributors.
In all this is a win-win for all concerned.
Shaklee Products Line
Over the years Shaklee has gone from one product to where they currently are with in excess of 200.

The products cover areas like…
Heart
Immunity
Weight Management
Bone & Joint
Sports Nutrition
Kids Nutrition
Mind & Brain
Anti-ageing
Beauty – Skin, Body
Home
Some might argue that having such an extensive range of products might interfere with the quality.
But Shaklee really has got their act together on so many levels.
To check out the full range we suggest heading over to their website here
Here are a few other companies manufacturing and selling similar products…
Shaklee Products Business Opportunity – What You Need To Know
If your interest in Shaklee is down to the ability to make some money or maybe even turn it into a lucrative business then this section is for you.
How Much Does it Cost to Join Shaklee?
There are 2 ways to join Shaklee, either as a member which means you are not actively part of the compensation plan.
This is the route we would always recommend because it means you can take it for a test drive first with around 75% that take this route.
This would cost you $19.95 which means you can take advantage of discounts.
For the entrepreneurial types who have decided to make a bigger commitment then it will cost you $49.95
There are 3 business packs…
Meology Personalized Nutrition Kit
Prove It Starter Kit
Business Starter Kit
At the next stage of the application, you can take advantage of the business starter packs which are all heavily discounted.
Best Sellers – $610 – $723.90
Immune Health – $145 – $164.20
Healthy Family and Home – $159 – $194.40
Best of Beauty – $260 – $318.75
 Medicine Cabinet – $200 – $244.35
Healthy Weight – $185 – $225.70
How to Make Money With Shaklee
There are 3 ways that you can make money as a Shaklee distributor.
Sell the products yourself
Recruit a large team and make commissions from their sales.
Climb the ranks and take advantage of the bonuses
The 3rd one is explained better in the compensation plan.
As you will see shortly the only way to excel within Shaklee is to recruit and build a large team and when you look at some of the top earners.
Some of those have thousands in their team.
Shaklee Products Compensation Plan
The compensation plan is how you get paid and is what defines the company's business structure as a pyramid.
They are almost never simple and straightforward and I often think that they are designed that way to confuse the hell out of you.
Furthermore, in some cases, we believe they make you think that you are getting a better deal than you really are.
More the reason why we don't go into the finer details is simply that they often change and we wouldn't want to confuse the issue.
So we give you 2 alternatives, the pdf which you can find here and gloss over in your own time or you can just listen to one of the distributors below.
Are Shaklee Affiliates Actually Making Money?
As you can see by the image below out of 100% of people who join Shaklee only 27% are business owners.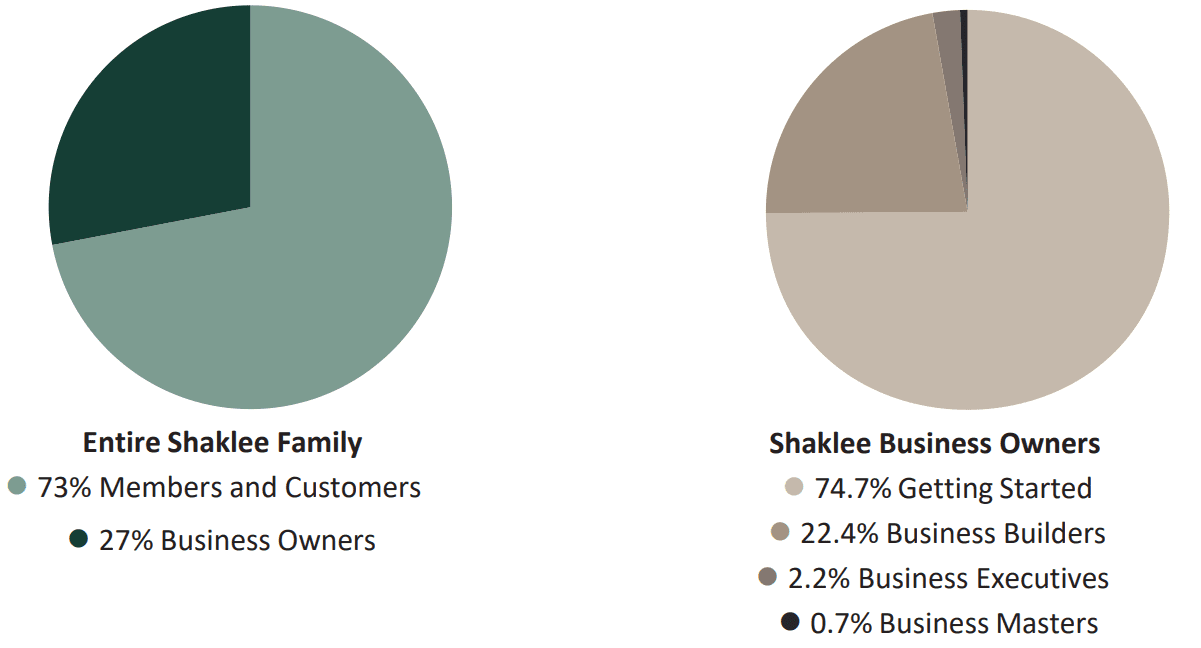 What that means is that out of a million people, only 270,000 actually take on the business opportunity.
Let's break the actual average income figures down a little…
74.7% earn on average $1,391 for the entire year
20% earn on average $25,494
So that means 94.7% of people who join Shaklee do not earn enough to replace a full-time job.
There are exceptions to these figures and amongst those are some who are doing well, could that be you do you think?
Anyway, for a full breakdown, we would suggest you head over to the income disclaimer pdf for 2021 here.
Can You Make Money With Shaklee?
Of course, you can make money with Shaklee Corporation otherwise Shaklee would have closed down a long time ago now.
But the question would be, "What do expect to get out of this opportunity?"
You have to make a full commitment if you want to stand any chance of having success with Shaklee meaning at least 2 years.
You can expect to earn as much as 36% provided you are prepared to work hard and grow through the ranks.
I understand that you can get paid daily as opposed to monthly which is a good thing too.
What About The Monthly Costs at Shaklee?
Something that tends to not be brought up when approached by one of their distributors is overall costs on a monthly basis.
We would call them hidden costs simply because a discussion most probably would put you off entering any agreement with Shaklee.
These costs are not dissimilar to other MLMs so what applies here will almost certainly apply to other MLMs.
There are sales quotas to meet on a monthly basis and whilst they may not see big over the year it all adds up.
With Shaklee, staying active requires 100PV (personal volume) which equates to around $100.
Now if you are good at sales and recruiting this sales volume shouldn't be a problem but if you struggle.
Just to stay active and stay qualified for the bonuses would mean that you would have to purchase the products yourself.
Now as you can see $100/month = $1200/year just to stay active.
We haven't even factored in what it would cost…
Autoresponder – $25 -$30/month
Shaklee products to show and demonstrate to customers
Marketing costs – $50 – $150/month
Truth in Advertising
Truth In Advertising or TINA for short is a non-profit organisation where you can find all sorts of interesting facts about companies.
It is a good place to check first when researching a company because whatever information is on the database is there to stay.
There are a couple of entries that we found which go into Health and Income claims which you can read about here.
Is Shaklee Products a SCAM?
It goes without saying that Shaklee Products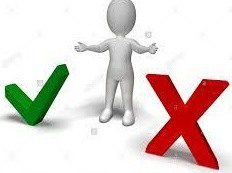 is not a scam but a legit and one of the longest-surviving MLM companies.
You are sure to find many people stating otherwise but you will find that with all MLMs.
A lot of this comes from disgruntled past distributors who joined Shaklee hoping for an easy ride and it never happens.
Any business no matter what it is takes a lot of time, hard work with plenty of patience.
The MLM business model is a tough nut to crack and not many have the sales and recruiting combination that is required.
You also have to be fully committed and have the right attitude as it's no good going in with the mindset that I'll give it a few months.
Straight away you are setting yourself up for failure just like we did when we tried a few years back.
This is why we wouldn't recommend Shaklee but it's not to say that you couldn't succeed.

PROs
Legitimate Company That Has Stood The Test Of Time:
MLM companies come and go all the time with many not surviving the first 5 to 10 years. in fact, many do not reach the five-year period.
At least with Shaklee if you decided to take on the home-based opportunity you can be certain they aren't going to close in the next few years.
The Better Business Bureau is a non-profit watchdog group that most companies do not even bother with.
It is also a place where people will go if they have a complaint since being a member usually means something will get done about it.
This all goes to a rating and as you can see they opened an account in 1965 and since then they have been accredited and have a rating of A+.
The DSA or Direct Selling Association is an organisation for direct selling companies and is not easy to get on their database.
It is not a matter of joining and paying your dues because you have to be vetted first and there are some stringent rules to pass before acceptance.
The Shaklee Corporation are an active supporter of safe alternatives to testing on animals and all their products are animal-safe.
Independent agencies have and do test any products as and when for confirmation and safeguard.
All The Products Are Organic:
Beyond Organic is a term coined by Shaklee and basically means that they go further than the normal organic certificate.
Which is the GMP or Good Manufacturing Processes certificate.
They Are A Environmentally Friendly Company: 
We all know about the governments banging on about saving the planet by cutting back on carbon emissions.
Well, Shaklee was the first company on the planet to be certified as a carbon-neutral company.
CONs
They Have An Entry In The TINA Database:
Truth in Advertising is a non-profit watchdog that reports on companies doing shady stuff.
There are 2 entries regarding health and income claims which we have mentioned earlier.
A major concern with all MLMs is having to stay active as a distributor, this isn't a problem if you can sell but most people find this a struggle.
Cold Calling Is Not For Most People:
When you become a distributor one of the first things they teach you is to get all your family and friends involved.
Now that is definitely a no-no if you value your friendships so what next?
Cold calling and spamming people on social media and guess what that has never worked unless you are an exceptional salesperson.
Interest That Is Shown In Google Trends Is Dwindling:
Unfortunately, we could only go back to when records started in 2004 and as you can see the company peaked around 2013.
But since then interest has somewhat dwindled.
Shaklee Products Review – Final Thoughts!
At the end of the day, Shaklee has survived over 6 decades and there are only 1 in 3 MLMs that don't even achieve 5 years in business.
Then you have to commend them for that.
But, knowing what you know now could you honestly say that this is a good work-from-home opportunity?
Yes, you might earn some money but I can tell you that you are going to have to put in a lot of hours and hard work.
The big problem you have is trying to keep your team (if you can build one) motivated and stop them from leaving.
Considering between 50 and 70 per cent leave within the first 12 months, you are constantly having to replace those just to keep the income coming.
Would you be prepared to disclose all these facts to the people you are trying to recruit?
No, you wouldn't because they would run a mile, so that means you have to deceive those people and it's only a matter of time before they find out.
Wouldn't you feel much better knowing that you can legitimately help someone?
It's all about helping and guess what you will be rewarded generously when you do.
Want to Know a Better Way to Make Money Online?
Affiliate marketing is what we settled on as it gives you so much more flexibility and it allows you to promote any product and service you like.
There are no restrictions like you will find in an MLM business and probably one of the better business models for creating multiple passive income streams.
Wealthy Affiliate is a company that teaches complete beginners and has been doing now since 2005.
The education is extensive and with a community that you will struggle to find anywhere online just willing to help in any way they can.
No sales quotas to meet
No recruiting and been pestered by a sponsor
No customer orders to handle
What better way than to create a business about something that you love?

Shaklee Products Review FAQs
You can see that Shaklee is a popular nutritional company not just because they have been around for over 6 decades.
But because of all the interest shown in the search engines so we thought we'd grab a few of the questions that may interest you.
Are Shaklee Products Made In China?
Shaklee is first and foremost an American family-run company that supplies over 200 products and is still based in California.
It would be a mistake to allow the products not to be manufactured in the US and certainly wouldn't go down well with their distributors.
Does NASA Use Shaklee Products?
Shaklee products have been supplied to NASA since around 1993, and have been used by Mark Kelly who was a commander of one of the space shuttles.
As well as captain Scott Kelly on his 12-minute stint on the space shuttle.
Why Is Shaklee Good?
A study suggested that people who used Shaklee supplements were healthier all around although there is no real concrete evidence of this.
Is Shaklee Safe?
All Shaklee products are organic and free from harmful chemicals which go through stringent third-party testing.
They go beyond the normal organic certificate and are tested for over 350 pesticides.
All the products are free from animal testing as well as all gluten-free.
Is Shaklee All Natural?
Shaklee coined the term "Beyond Organic" which basically means they go beyond the Good Manufacturing Processes or GMPs.
Regarding the testing of raw materials.
Are Shaklee Vitamins Plant-Based?
Every capsule comes with 100% plant-based DHA and Omega 3 fatty acids which are sustainably sourced.
Are Shaklee Products Third-Party Tested?
There are over 100k quality tests performed each year to ensure potency and purity.
Much of the test is done in-house with a large portion done through third-party companies.
How Many Countries Is Shaklee In?
There are over 50 patents and patents that are pending throughout the world.
With operations in the US, Mexico, Canada, China, Japan, Malaysia and Taiwan and has over 1 million members worldwide.
Who Is the President Of Shaklee?
Roger Barnett is the current Chairman and CEO of the Shaklee Corporation which was founded in 1956.
Feedback, Comments and Subscribe
We hope that enjoyed this review of Shaklee products and that we managed to answer most of your questions.
Remember to do your research thoroughly and check out other Shaklee Reviews to get a better all-around feel before taking the plunge.
Until next time, stay safe