Hey Guys, welcome to my International Silver Network Review
Which is a company that promotes and sells gold and silver with an opportunity to make some money through their affiliate program.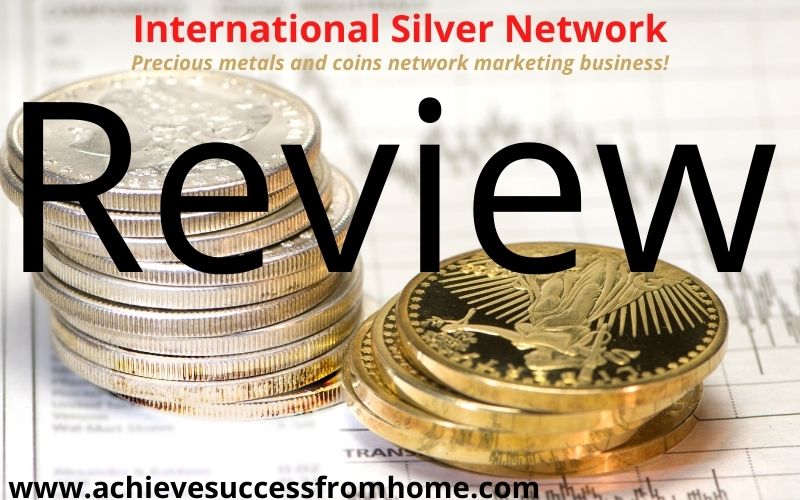 If you are looking for the whole rundown of this company, then you are definitely in the right place.
So before you even think about investing in what may seem a good business hold fire for the next few minutes.
Whilst we give you all the facts of whether this is a legit business opportunity or just another one to leave by the wayside.
With that said, let's begin.
---
[Affiliate Disclosure: This International Silver Network Review has been thoroughly researched from information and testimonials that are in the public domain. This post may contain affiliate links which means we may earn a small commission, however, this won't affect what you pay! 
---

Product: International Silver Network
Founder: Vincent Roy and Matt Barkes
Website: www.isncoins.com
Product Description: Gold, Silver and collectable coins MLM
Cost to join: $198 + monthly membership fee.
Recommended: No
Summary: International Silver Network or ISN as it is also known, is a multi-level marketing business.
That promotes and sells gold and silver and collectable coins.
There is also a business opportunity for anybody who wants to take this to the next level.

International Silver Network Review – Table of Contents
What is the International Silver Network about?
International Silver Network or ISN is a multi-level marketing business that markets and sells unique gold and silver coins.
They came onto the scene in 2010 and were the responsibility of the current CEO and founders, Matt Barkes and Vincent Roy.
we are hearing that the International Silver Network may well be the direct selling part of ISN Modern Coins.
Which if you didn't know is one of the biggest dealers in the USA operating in this sector.
Precious metals as always been a great way to invest your money and in recent times Silver has become the metal to get involved with.
Although as of this review Gold is currently at an all-time high for the last two decades.
Check out what Matt Barkes has to say in this brief video…
Is International Silver Network a Pyramid Scheme?
Such is the case with the multi-level marketing industry it always carries the stigma of is it a pyramid scheme or not and a question that many ask.
The International Silver Network or MintBuilder as it is also known offers some first-class silver and gold products.
For coin collectors, this might seem a good choice although the products will not be for everyone and niche.
Meaning that you may find it difficult to sell the products on.
This tells us that ISN or Mintbuilder is not a pyramid scheme.
Just for clarity on what a Pyramid Scheme is…
The consensus is that a company may be declared a pyramid scheme where the affiliates or representatives are paid a commission for recruitment only.
Where there isn't a product or service with an intrinsic value, which is a product or service that is useless and has no meaning.
In most countries this is illegal and in some countries, people go to prison for a very long time, an example would be China.
What normally happens nowadays is that companies hide behind products which makes it all the more difficult for the FTC to prosecute.
Why aren't these MLMs getting closed down?
There are so many MLMs that operate as a pyramid scheme and because there are so many it takes time for the FTC to act on them.
After all, they only have a limited resource of people to investigate and by the time they get around to doing anything about it.
The company under investigation usually closes down and reopens as some other company probably doing the exact same thing but using a different name.
You might like to check out this short video…
International Silver Network Product Line
For more details of the whole product range, you can take a look at their online catalogue here.
ISN Business Opportunity – What you need to know
How much does it cost to join the ISN?
There is a one-off payment to join International Silver Network which currently is $198.
In addition to that, there is a monthly membership fee which as of this review is $119.90.
This for a multi-level marketing business is quite expensive and as you can see for a year's membership is going to cost $1438.80.
Which is going to be a bit of a challenge to recoup those costs back.
How to make money with the ISN?
There are 2 main ways to make money with the International Silver Network.
Purchase the products yourself and sell them on
Recruit other members and build a team
The ISN Compensation Plan
Often compensation plans are complex and they can change at any time so this is an area that we tend to not get too involved in.
We have however found a video that will explain everything that you would need to know if you did decide to move forward with this opportunity.
Are ISN Affiliates actually making money?
Always a difficult question to answer because there tends not to be an income disclosure and the ones you do see never paint a nice picture.
You may make some money but you'll have to excel at recruiting because that is the only way to make it with this type of business model.
You might like to take a look at what the Federal Trade Commission has to say about the MLM income figures here.
Is the International Silver Network a SCAM?
The International Silver Network has been operating for a number of years now and the products are legit.
The coins are unique and may appeal to some but trying to sell them on makes them too niche and you may find yourself struggling.
Having said that though it's the metal where the value is and as long as the quality is there then you might make your money back.
If you take a look at the ISN website it gets a little confusing because there are links to their new website which is called MintBuilder.
Does that mean that they are winding down ISN?
International Silver Network PROS and CONS
PROS
Which are a bit gimmicky in our eyes and maybe something that someone is going to want to collect.
CONS
Extremely Difficult To Succeed In MLMs:
Unless you have a large enough following then you are going to find it difficult to succeed.
Recruiting is not for everyone and whilst they always recommend that you get family and friends involved first, that is the worst thing that you can do.
We couldn't find the right type of information to convince us that this was a feasible business to get involved with.
The co-founder Matt Barkes does appear to have a bit of a shady past
The products do appear to be expensive and you will be paying a premium for what you can find on eBay.
The Market Is Very Limited:
Granted precious metals have always been a good investment but purchasing specific coins you are going to be stuck with.
The ISN Review – Final Thoughts!
The International Silver Network company do offer modern coins and is a legit multi-level marketing business.
If you are interested in precious metals and unique coins then providing you can purchase them at the right price then this might be something to consider.
However, as a business, we would suggest looking elsewhere.
We can see that the actual website for International Silver Network might even be defunct as the ownness does appear to be.
Their new website, MintBuilder.
It is not that we have anything against the MLM business model but it is a known fact that only around 1% is where all the money is made.
Yes, you might make some money but it isn't going to be enough to replace a full-time job.
It's all about having the right skill set to succeed in any MLM and recruiting is key to any success.
Unless you have a big enough following then you will be left cold-calling through social media and I'm afraid that doesn't work.
Not to mention all the negative feedback that you will have to put up with knockback after knockback which is what you have to be prepared for.
It is a very frustrating business model to get involved with but all is not lost because we do have something that is much easier and more rewarding.
If you want to know more then continue reading because we'd love to share with you what we do in the next section.
How we make Passive Income
In our eyes, affiliate marketing is a much better business model and allows for much more flexibility.
Just a few things to consider when comparing MLM to affiliate marketing…
Cost-effective and can be executed on a very low budget
No recruitment
No handling of customer orders
No stocks to purchase
Promote any product and service you like
This is a business you own and not like an MLM where you don't
One important thing you should be asking yourself is, what happens if/when the multi-level marketing company closes down?
Now, this happens more than you may think but when this happens you lose your business and all the contacts.
That is why affiliate marketing is a no-brainer when it comes to building an online business.

Feedback, Comments and Subscribe
Ok, guys, thank you for reading and if there is anything you'd like to ask us just put it down in the section below.
Until next time, stay safe